When you sit in an interview room waiting for Mila Kunis, Kristen Bell and Kathryn Hahn to arrive to talk about their new film, A BAD MOMS CHRISTMAS, there's a moment you pause to reflect on life and appreciate how damn interesting it can be!  I attended this press junket courtesy of STX Entertainment, who provided travel, accommodations, a fabulous preview showing of the film and arranged for the cheeky-fun interview session.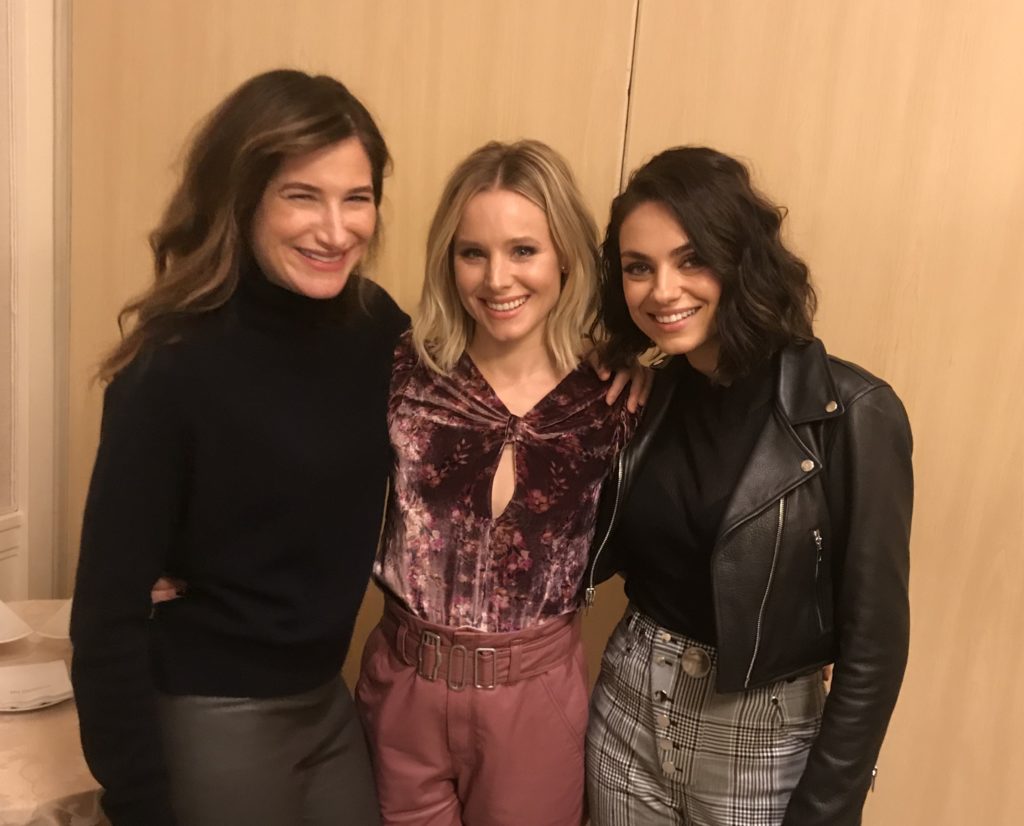 The first thing that's ridiculously-apparent when these three superstars walk in the rooms is the infectious, plucky vibrancy of personalities that permeates the crowd.  Mila, ever the consummate cool girl next door.  Kristen, the out-going pep squad of perky you might like to dislike (because you wish you had a quarter of that charisma,) but can't help but love.  Kathryn, who knocks out one-liners with the ease of sipping a caramel macchiato but is surprisingly genuine, warm and genial, they kind of person you'd totally love to have around on a girl's night out or when your boyfriend just dumped you.  In either circumstance, you know you'd be left smiling at the end.
We quickly learned these three power-house actresses are a lot more than fluff, showing tremendous depth of character on-screen and off.  It was awesome to have a glimpse of the person behind the character in A Bad Moms Christmas (in theaters November 1,) and to also see how much they had in common as all we moms generally do.  There's one thing you can count on when it comes to being a mom, whether you are a high-paid actress or a work-at-home writer, we all find immediate common ground.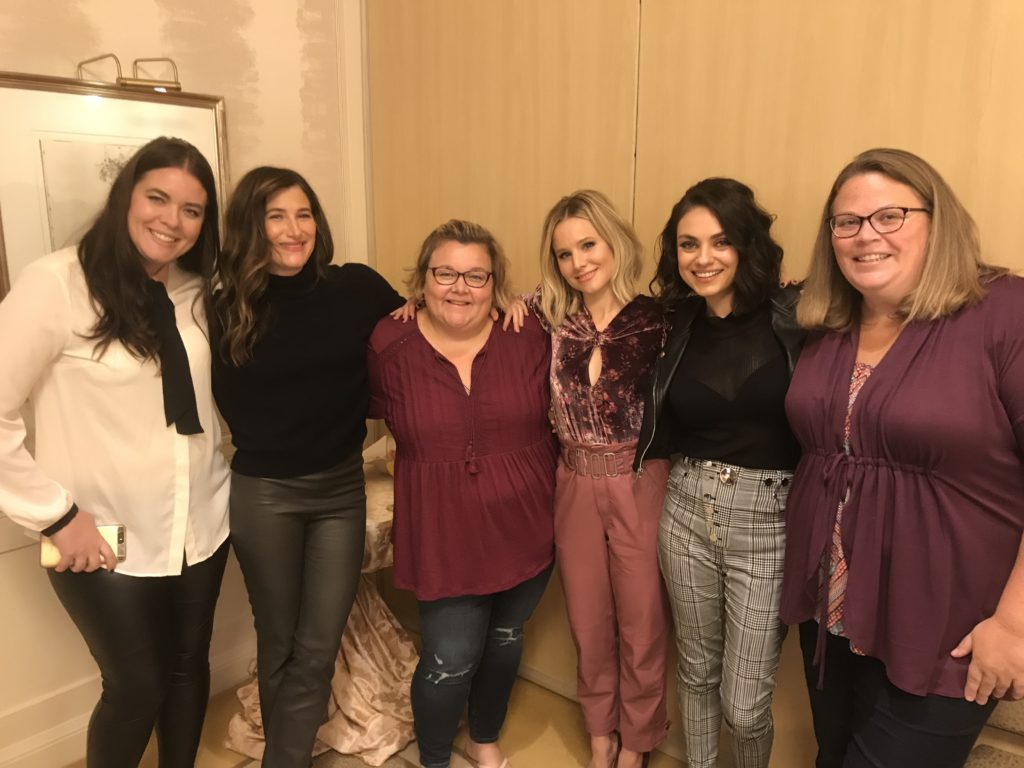 This is the joy that A Bad Moms Christmas brings to the big screen, it's a hilarious romp infused with over-the-top comedic moments, but at the heart of it are three moms (Kunis, Bell and Hahn) who speak to with the basic mom language we all understand.  The new film also introduces a fun element for the characters, the mom- daughter relationship, again tapping at our heart-strings throughout the laughter.
Below you'll find a bit more about the film and some fun facts and quotes from Mila Kunis, Kristen Bell and Kathryn Hahn from our interview session.  If you wish to avoid spoilers, you may want to stop reading here, bookmark the page and return after you've had fun seeing the film!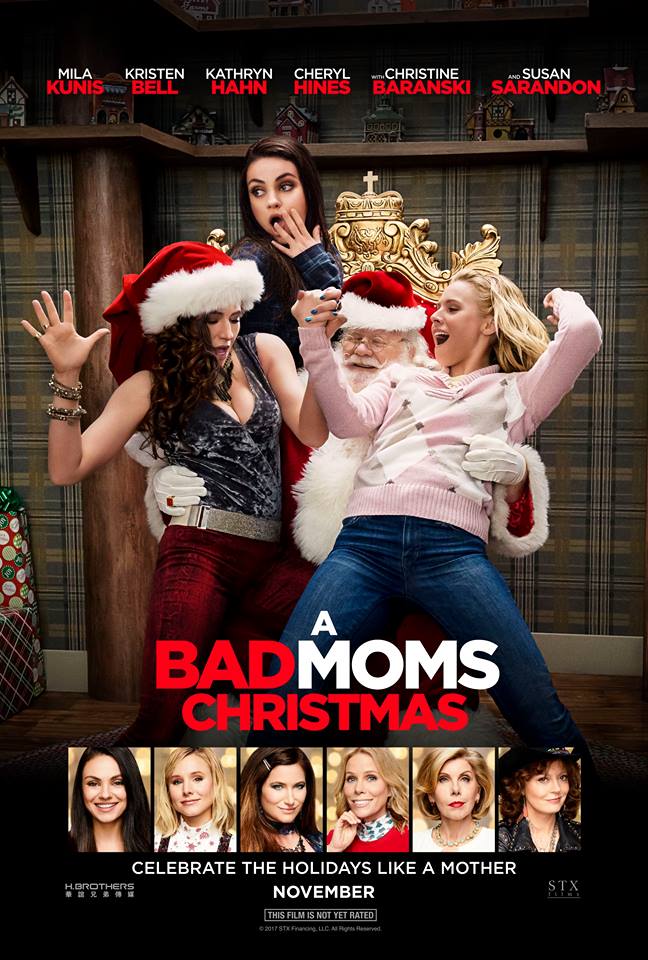 Fun tidbits from A Bad Moms Christmas interview with Mila Kunis, Kristen Bell and Kathryn Hahn
Thoughts on…
Life balance:
BELL: "This is what I say to all my friends.  Do you know how many times I'm here? Once on Earth, one time. So like I want it to be joyful, and happy and exciting. And a good portion of that joy, and happiness and excitement is my kids, and then every now and again you hit capacity, and you've got to switch it up, and you've got to take a girls night.  And that's healthy, and that's actually healthier than not doing it. "
Mom guilt: 
KUNIS:  "I'm not going to pretend like I have no problem going out my girlfriends.  I absolutely have guilt over it.  I have an amazing partner who is like get over it.  Get out.  So I do have somebody that's constantly like pushing me to like, you know, be my own human being.  That doesn't stop me from having guilt… Once I have that night it's like the greatest sense of relief ever."
BELL:  "It is okay to be a paradox sometimes.  So you can feel guilty, and you can also know that you need a night out with your girlfriends."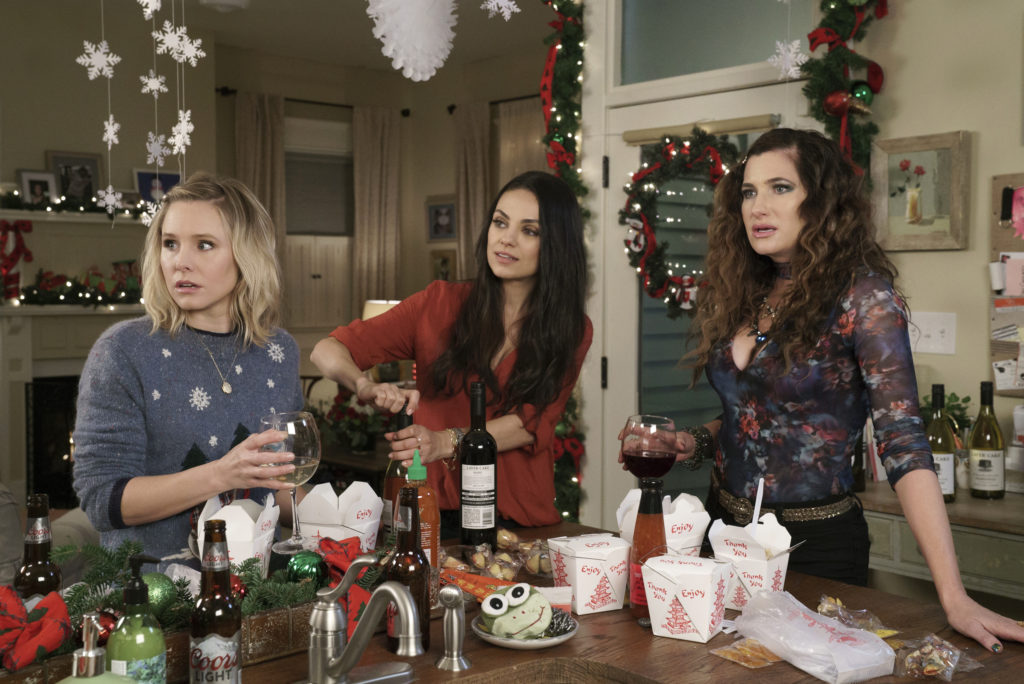 Lessons from A Bad Moms Christmas: 
BELL: "Self-care, and forgiveness and not feeling ashamed for anything and just being confident in your decisions is a really important part of life that no one talks about.  And for me that's what this movie is about.  It is okay to want to go get a massage.  It is okay to say to your husband I need seven hours off tonight, point blank period."
HAHN:  "It really is comforting to know we have each other's backs.  I also think one of the important messages of both movies is just the lack of judgment and self-criticism, to try to let that go because, like Kristin was saying, we only are mommies to these little people for a very short amount of time, and if you don't want to spend like any excess nonsense worrying about crap, like what your cupcakes look like."
Mom-daughter relationships in the film:
HAHN:  "My mom is going to freak out on the fact that Susan Sarandon is playing her on-screen forever."
BELL:  "I think that's what made this movie really worth it for me.  I mean I would've done it anyway because I'll do anything with these girls (Hahn and Kunis,) but what made it intensely interesting is not just having another situation that we take back, but a situation where we're taking something back, and we are like thrown like up against a wall because our moms come home, and we are not just overworked moms.  We are now rebellious teenagers as well.  Again, it is okay to be two things at once."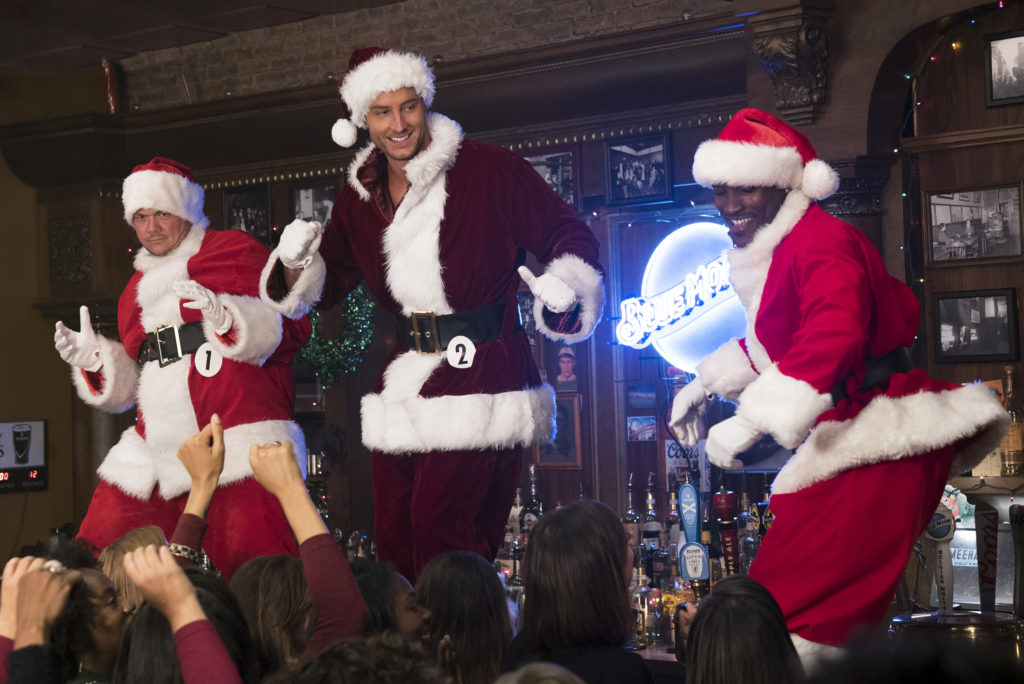 Working with Justin Hartley:
When asked about her scene work with Justin Hartley and how many takes it took to film their show-stopping first encounter, arguably the most memorable scene in the film, Hahn told us there were "Just not enough. Not enough takes…There were still things to be mined I feel like.  I'm left unsatisfied." (If you haven't seen the film yet, be sure to come back and read this tidbit, you'll totally agree with Hahn's sentiments!)
What their ideal mom's night out is: 
Hahn is keen on karaoke but also enjoys a "nice digested meal," where the pace is slow and you have time to enjoy the food with friends.  Kunis also prefers a night out that involves food and drinking "at a leisurely pace."
About A Bad Moms Christmas
A BAD MOMS CHRISTMAS follows our three under-appreciated and over-burdened women as they rebel against the challenges and expectations of the Super Bowl for moms: Christmas. And if creating a more perfect holiday for their families wasn't hard enough, they have to do all of that while hosting and entertaining their own mothers. By the end of the journey, our moms will redefine how to make the holidays special for all and discover a closer relationship with their mothers.
The film stars Mila Kunis, Kristen Bell, Kathryn Hahn, Christine Baranski, Susan Sarandon, Cheryl Hines, Jay Hernandez, Wanda Sykes, Peter Gallagher, Justin Hartley, and Oona Laurence.
To quote myself, my first reaction to the film was:
"Film was the bomb-diggity! Brilliant acting, fun and poignant story and a joyful bundle of laughs that will truly brighten up every mom's holiday season. Absolutely flippn' loved every bit of it!" – Barb Webb, RuralMom.com
For more information about the film, check out the Bad Moms Facebook page, follow along on Twitter and Instagram, and watch for hashtag #BadMomsXmas on all social media.
Take a tip from the Bad Moms and take a break to treat yourself this holiday season. Get your tickets now: BadMomsTickets.com
A Bad Moms Christmas arrives in theaters November 1!