Before energy efficient lighting options came out, there were so many ways to light up your space. Unfortunately, many were costly, and others were fire hazards! When more and more companies started introducing energy efficient bulbs, the options were limited. Thankfully, technology has advanced quite a bit in that area. Now there are all sorts of options for lighting up your life! Don't worry, though – you don't have to be techie to take advantage of them.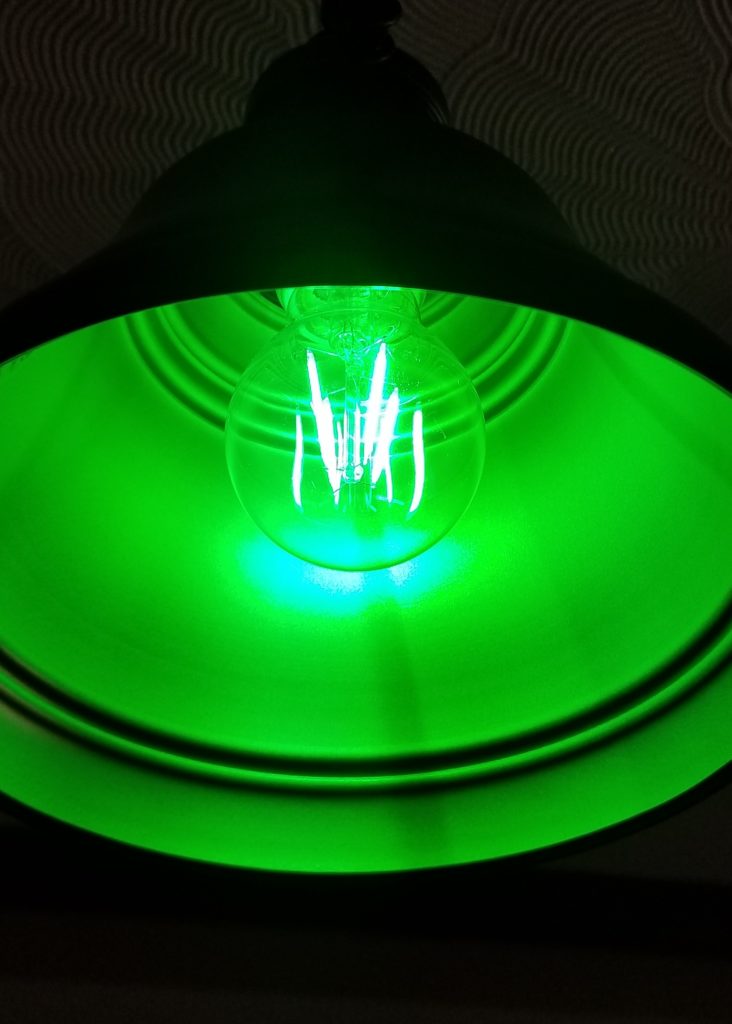 For example, Intellibulb is a lighting solution for consumers who are hesitant to adopt smart home technology. Thanks to Intellibulb, we had the chance to sample a few lighting option and are quite impressed with the quality and impress features of each bulb.  There is no additional hardware and no apps are needed to integrate it into your home. All the intelligence is built right into the light.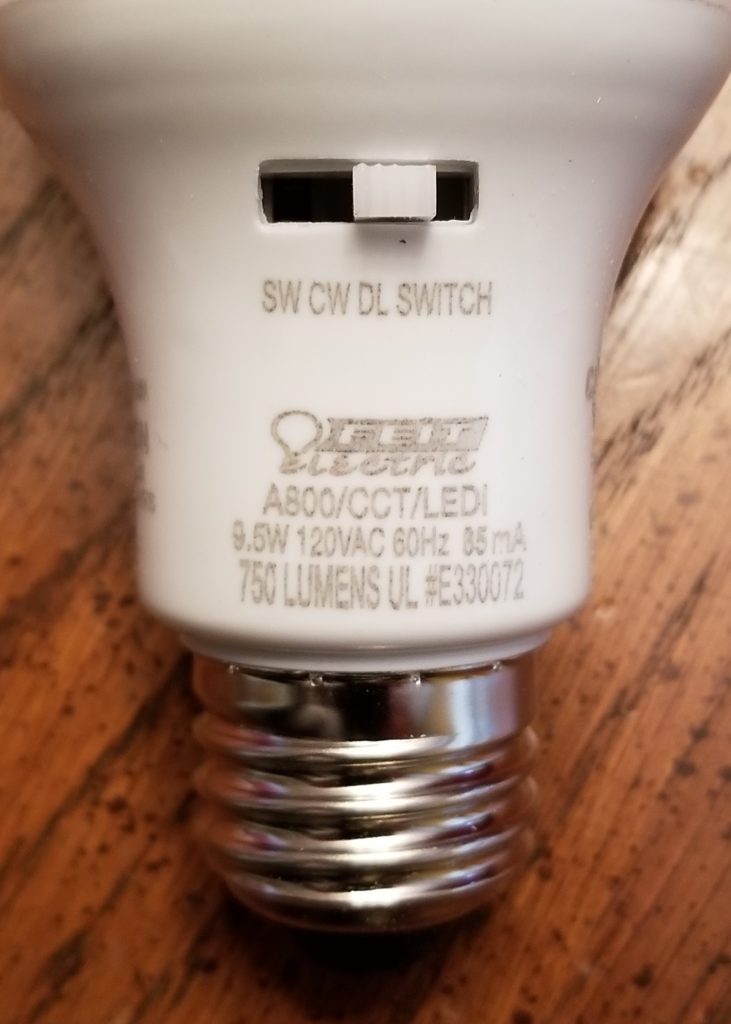 Intellibulb comes in five different solutions that each solve a specific need a consumer has:
Dusk to Dawn – You'll never have to leave your lights on all day because you plan on coming home after dark again. The built-in light sensor automatically turns the bulb on and off. It's the perfect solution for outdoor lighting. These bulbs make great security lights. The latest in LED technology only uses electricity when you need it.
Switch to Dim – These bulbs allow you to dim your lights 100%, 60%, or 10% with a standard light switch so that you can choose the best lighting for any activity. Because there is no additional hardware required, Switch to Dim really suits renters. You don't need to ask the landlord for a lighting upgrade!
Color Choice – With this bulb, you simply adjust your color temperature setting with your standard light switch. Choose from soft white, cool white, or daylight. You'll reduce eye strain and your energy costs!
Motion Activated – The motion activated bulb works both indoors and outdoors. It detects motion up to 19 feet away, making it a good security bulb option. The light will come on as soon as anyone goes near it. Motion activated lights are also great in homes with small children – if a little one gets out of bed to go to the bathroom at night, motion activated lights will turn on, safely guiding them to the bathroom and back again.
Battery Backup – These bulbs are nothing short of genius. They're reliable and rechargeable. If you lose power, the bulb will stay lit. If you've ever lived in an old house or an area prone to power outages from storms, you know how valuable these can be!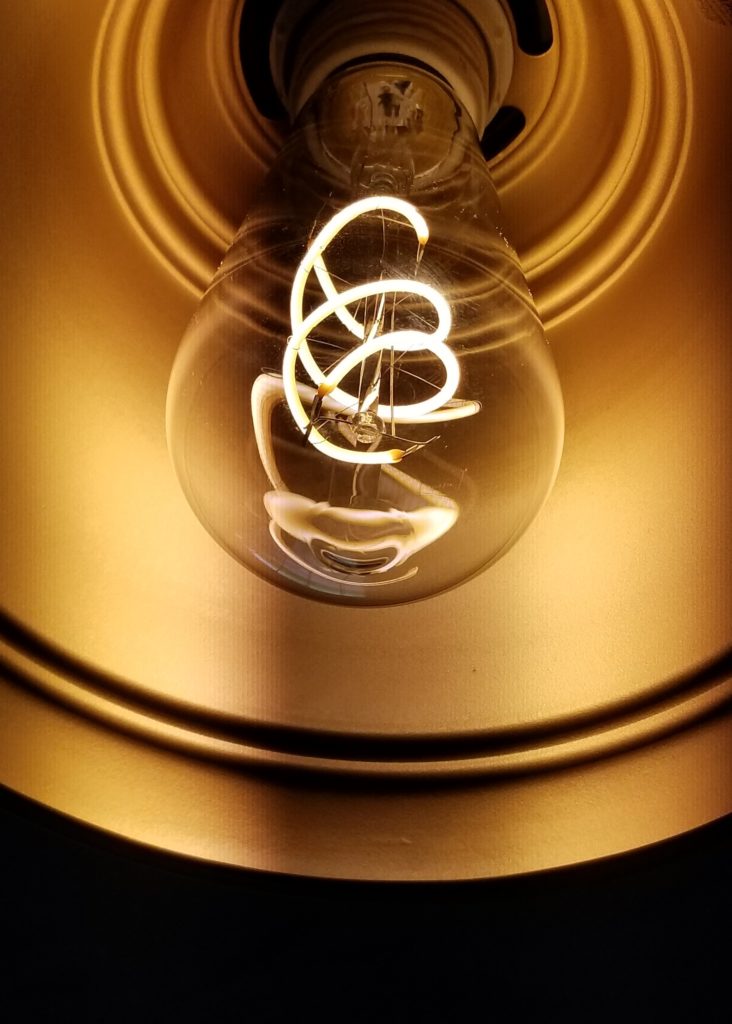 If those options don't suit you, LED Original Vintage Glass Curved Filament bulbs are a gorgeous choice for energy efficient lighting. They look traditional, but offer efficiency right along with their beauty. The bulbs are perfect for decorative and accent lighting. They come in seven different designs featuring a swirl, knotted, or loop filament.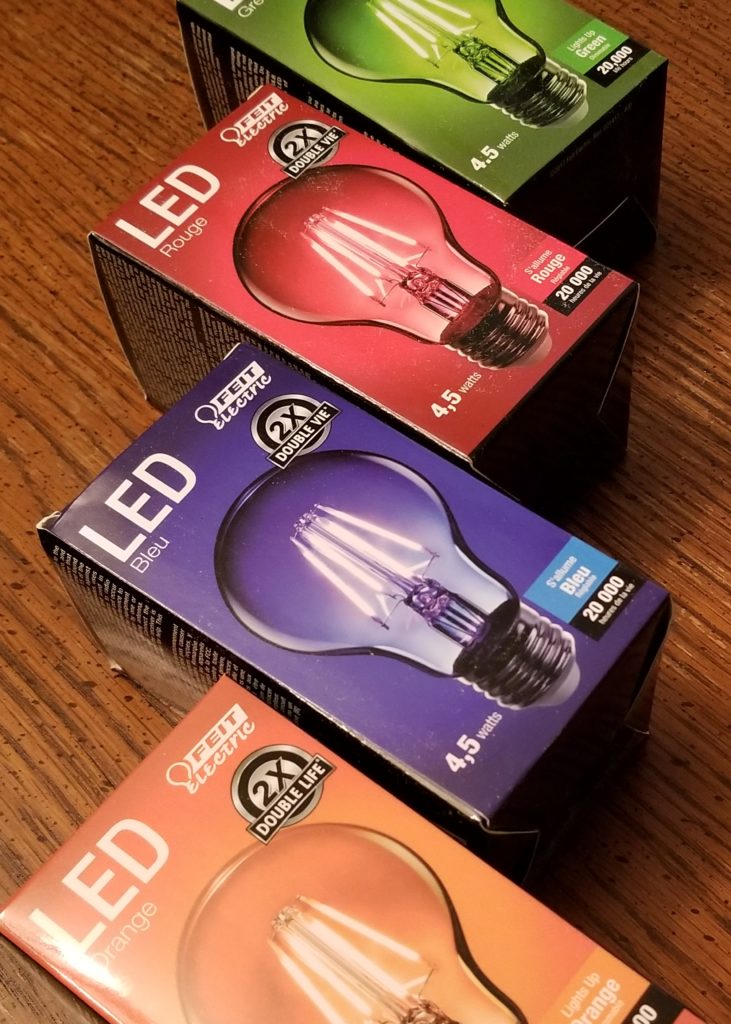 When you're looking for a little more expressive light, Glass Color Filament Bulbs give you a new and fun way to show off your personality throughout your home. They're designed for both indoor and outdoor installation. I can think of a million fun ways to use them! How about lighting up the outside of your home with your favorite team's colors during game season?  We tested out the blue lights outside our home to show our "Kentucky Blue" pride and I simply love the effect! I thought the lights may be too dim for nighttime use, but they truly light up the area in a fun way where we can still be safe and have a clear view of the entryway.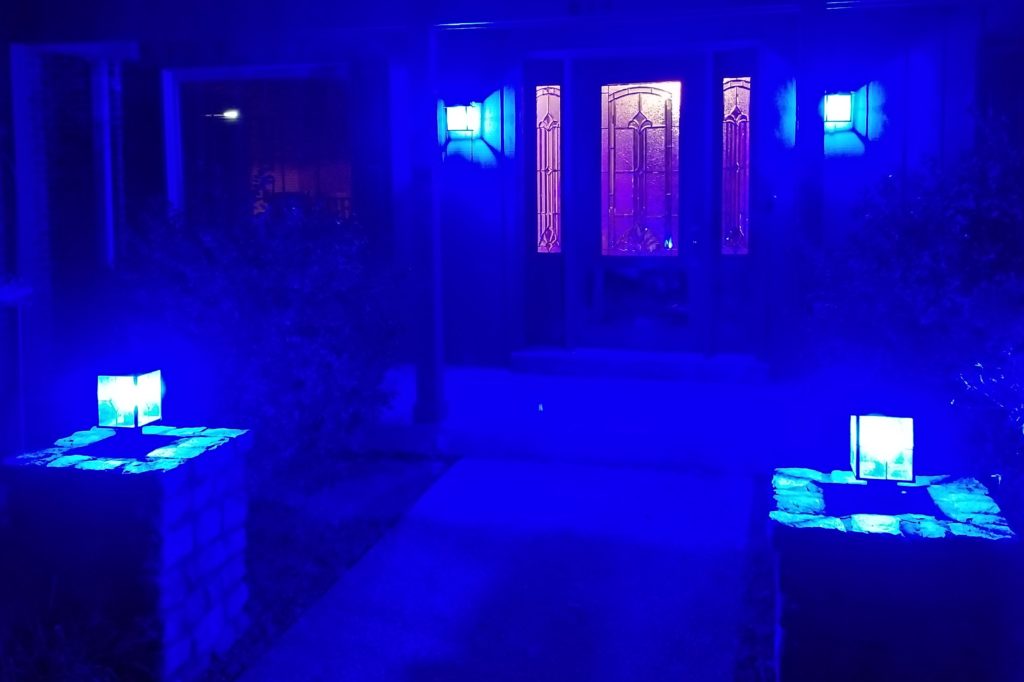 Along the same lines, you could do your local school's colors for homecoming too! Why not add a little accent to your holiday lighting? Purple glowing lights make perfectly spooky Halloween décor. Colors available include red, orange, yellow, green, blue, and pink. The possibilities are endless. These bulbs last up to 18 years – think of all the energy you'll save while enhancing your home's decor!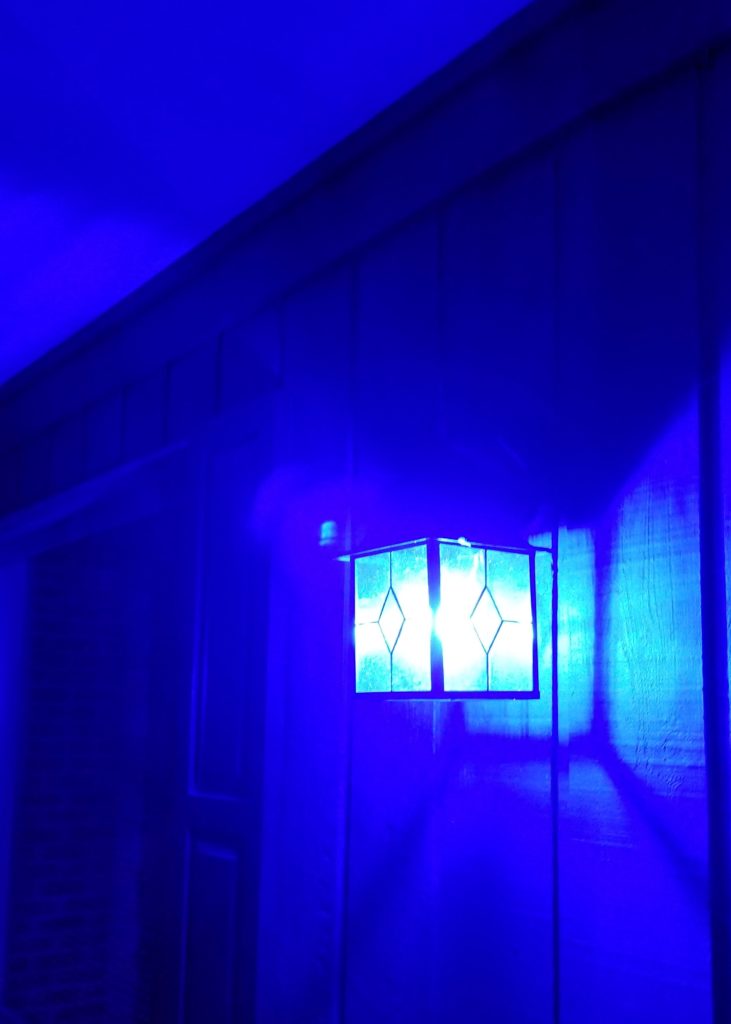 With so many energy-conserving options, you're sure to find something that will spruce up your home's lighting. Being eco-conscious definitely doesn't have to be boring!