If your home's walls could talk, what would they say? Never mind. I probably don't want to know!  In partnership with Magnolia Paints, I'm testing out some new farm chic paint colors in our new homestead.  Wonder what our walls will have to say? Read on!
Painted walls actually do speak, though not with words. They affect your mood and also the overall vibe of your home. When you walk into your front door, do your walls welcome you, or do you feel like they could use a little bit of a summer spruce up?
We recently purchased a new farm and most of the home was freshly painted in beautiful, soft earth tones with the exception of the main bathroom.  The cartoon green was jarring and not in harmony with the rest of the home.
If your interior walls also need a little bit of a boost, let's talk about paint colors! I've recently fallen in love with Magnolia Paints. They're crazy-perfect for farm homes, but also for those who love the country-inspired farm chic look that's so popular right now. The colors are charming in both color and character, with awesome names like "Southern Grown", "Weathered Windmill" and "Garden Trowel". Just saying them makes me want to repaint, even if I didn't have to.
The fun part – and often the most difficult – is choosing a color to suit your space. Think about the rooms you want to paint. What are they used for? Once you decide how you want to feel, you can decide what color you should paint them.  I know for our bathroom, I wanted something subdued, but also something that would fit in with a fun "Star Wars" shower curtain and accessories (we are huge fans!)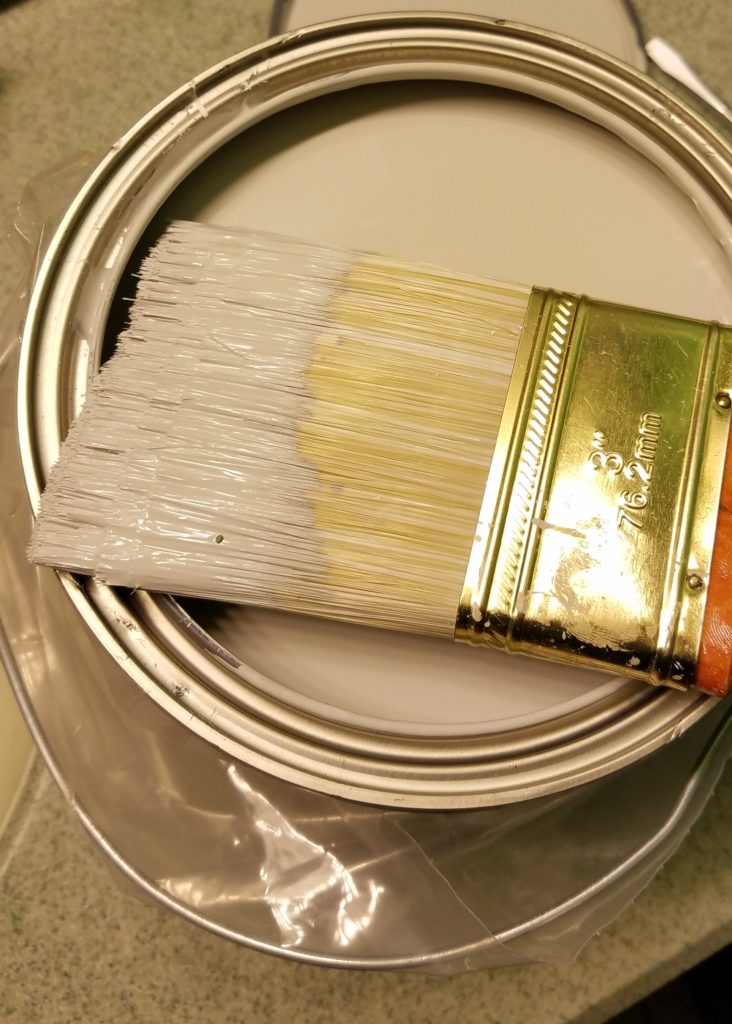 There have been quite a few studies done on the impact of paint colors on emotions and mood. For example, warmer tones will give a room a more "homey" feel, sunny tones will brighten up a room, lighter colors will brighten up a room and give it a little bit of a boost.
There may be a few that you're not aware of, however. For example, the color red makes people hungry. If you're looking to shed a few pounds, you probably don't want to immerse your kitchen in red paint. Navy blue walls inspire creativity, and therefore it's the perfect color for a craft space. How about your children's rooms? Will they benefit more from a bold and energizing yellow room or a calming lavender hue?
For our bathroom, I opted for a gray with a blue undertone from the Magnolia collection named "Loft." It was quite a bit lighter than the bright green I was covering up, so I was hesitant about whether it would cover well, but my concerns were quickly alleviated when I started painting.  On the first coat, the Magolia Paints covered that cartoon shade right up!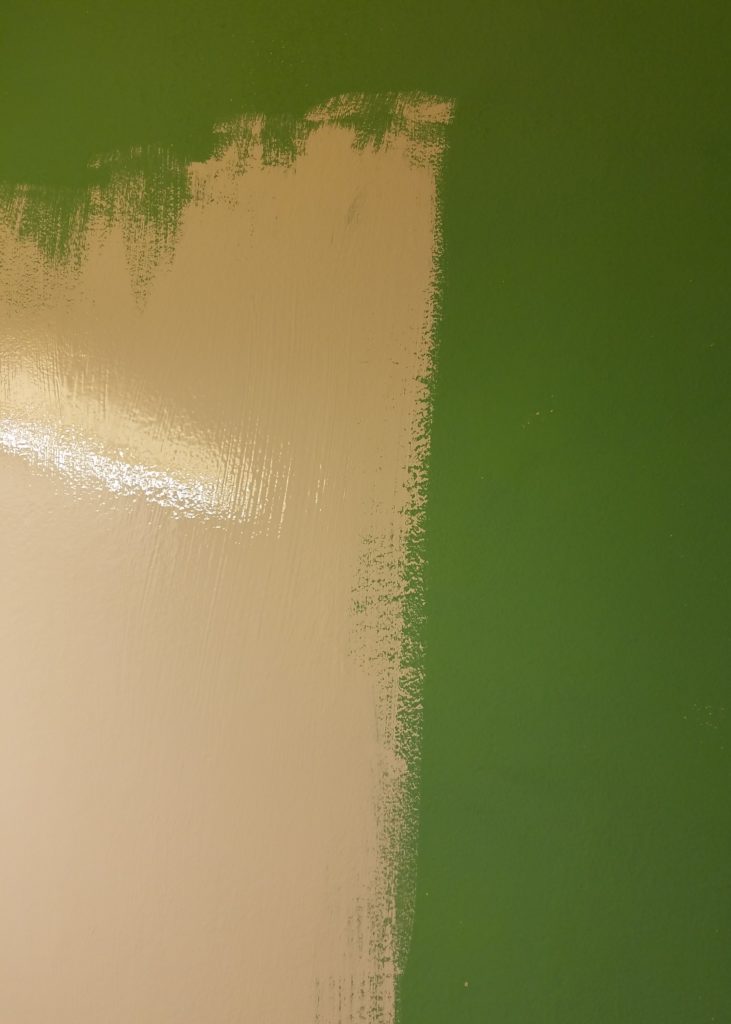 After a second coat that sealed the deal, I'm in love with the new tone in our bathroom!  While I'm still adding accessories and tidying up, I already feel more comfortable in the space.  It's a timeless, sophisticated color that gives a cool new neutral look to our bathroom.
If you are uncertain of the color you want prior to painting, an added bonus to the Magnolia paints is that you can order their most popular colors in peel-and-stick form. It's the perfect way to know how a paint color will look on your walls without investing time and money first.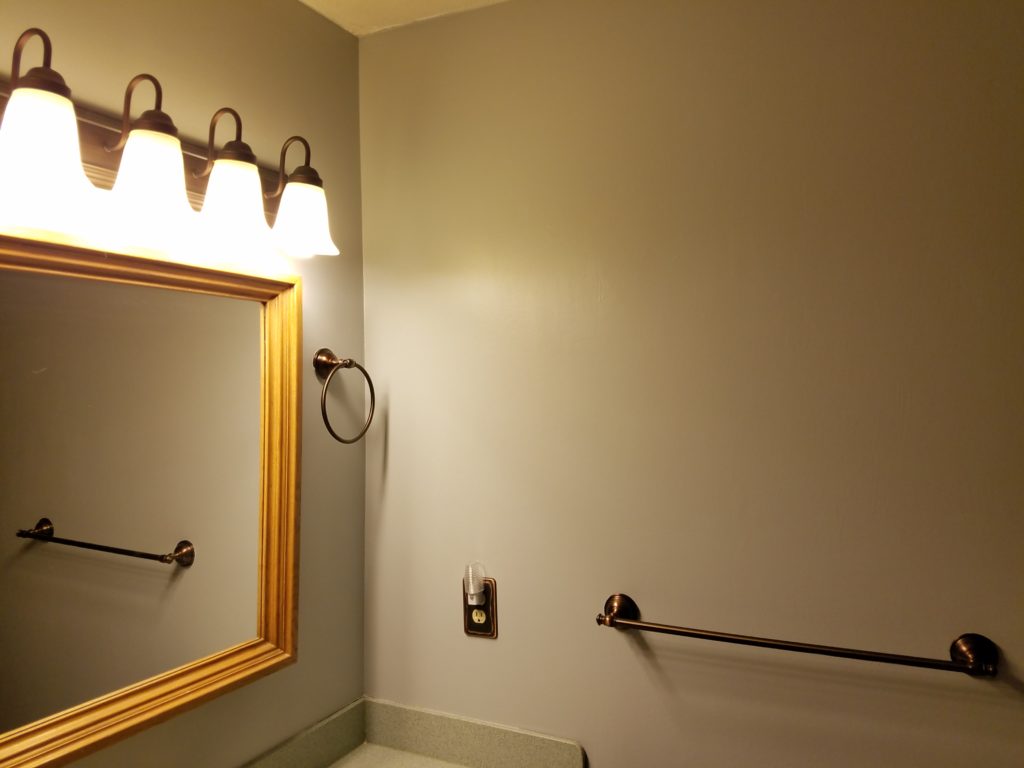 Magnolia also has some great paint tips on their site. Whether you're looking for a tutorial for cutting in corners, how to properly clean your brushes for future uses, or just general tips for painting your rooms like a pro, you'll find a tip to help, even if you've got a lot of painting experience under your belt. Once you get going, you may find that you want to do all of the rooms in the house!
What is your favorite paint color? Have you tried Magnolia Paints yet?