What is the new "grassfed dairy" label all about? Naturally I was curious to find out, so I did a little bit of research. In a nutshell, it's a label stating that the dairy product comes from cattle and farms that pass a new standard.
Previously, "grassfed" could mean that a cow was fed grass for part of the year – even if it was a very small part – and ate everything else for the rest. Consumers that aren't educated on the matter are often misled to believe that they're getting something they're not. The new American Grassfed Association (AGA) label will apply to products that come from 100% grassfed cows, and this means a lot less guesswork and confusion for the consumer.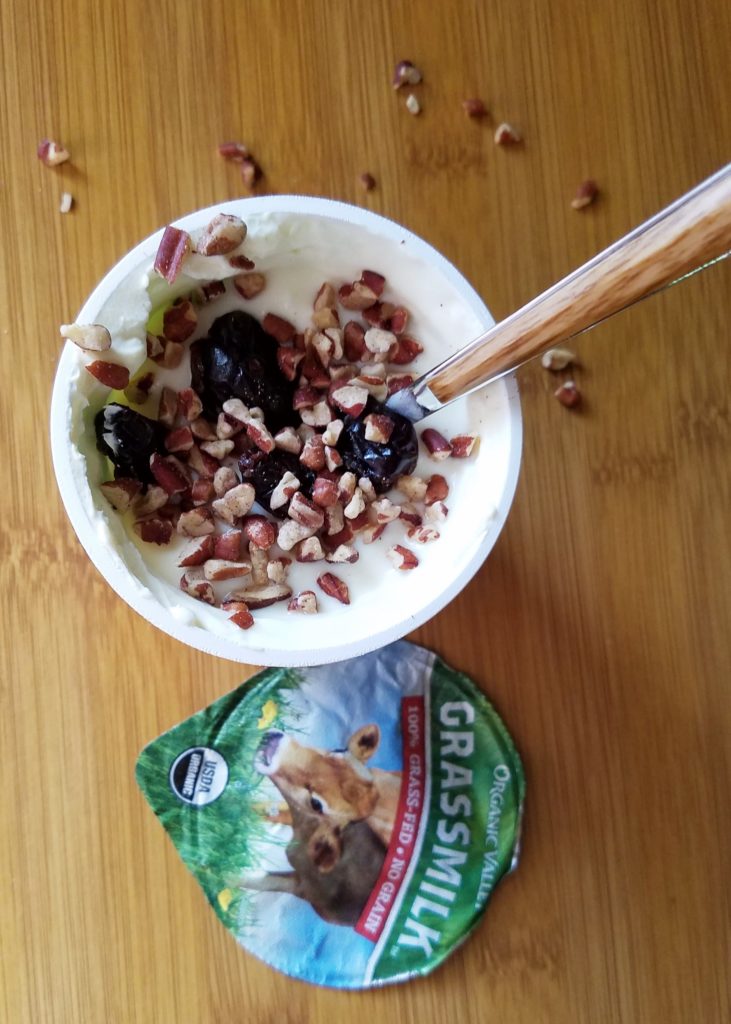 The new label will also hold farms to a higher standard. To receive the label, farms must meet certain guidelines that include animal health and welfare requirements and even farm sustainability. Farms with dairy products receiving the new AGA label must have a "written pasture management and grazing plan that supports biological diversity, natural resources, and soil fertility". All around, the label revolutionizes dairy farming and consumption.
The label is brand new, so right now there are only a few producers that have been approved to receive it. One of those is Organic Valley. I was recently given an opportunity to try out their Grassmilk Yogurt, which comes in plain, strawberry, vanilla, and wild blueberry flavors. They're all delicious, but the vanilla is definitely my favorite. It's smooth and creamy and tastes a lot like dessert.
In general, I love dairy products. Occasionally, I love ice cream and cheese a little too much, but that's a different story for another day. Yogurt is one of my go-to snacks. It's healthy and convenient. I'll often grab a container of yogurt and eat it while watching TV or when I need a little pick-me-up in the middle of a particularly active day.
Because you can easily add toppings, yogurt is a snack that doesn't ever get boring either. I try to stick to berries, organic granola, flax seeds, and healthier options, but my kids like to add things like mini chocolate chips or cookie crumbles to theirs.
I also use a lot of yogurt in smoothies. A lot of days I go from farmgirl to basketball mom to CEO to grandmom and back to farmgirl by the end of the night, and a smoothie gives me a nice refreshing boost whenever I need it the most, whether I'm sitting at a game, working on a spreadsheet at my desk, or feeding animals.
I'm really happy with both the Organic Valley Grassmilk Yogurt and the new AGA Grassfed label. It means a lot to me that the companies I support have the same ethics as I do, so I'll be looking for the label whenever I buy any dairy products.
I encourage you to learn more about where your dairy products come from and to support companies that align with your values as well.