Just when I think I love Disney as much as a person possibly can, I experience something new that makes me love it even more. Recently, it was a Disney Cruise as part of my Disney Moms Social Media Celebration adventure. You'll be hearing about my experience in a few blog posts, but today I want to talk primarily about Disney's Castaway Cay, the Disney Cruise line's private island. It's reserved solely for cruise line guests on the Bahamian and Caribbean cruises.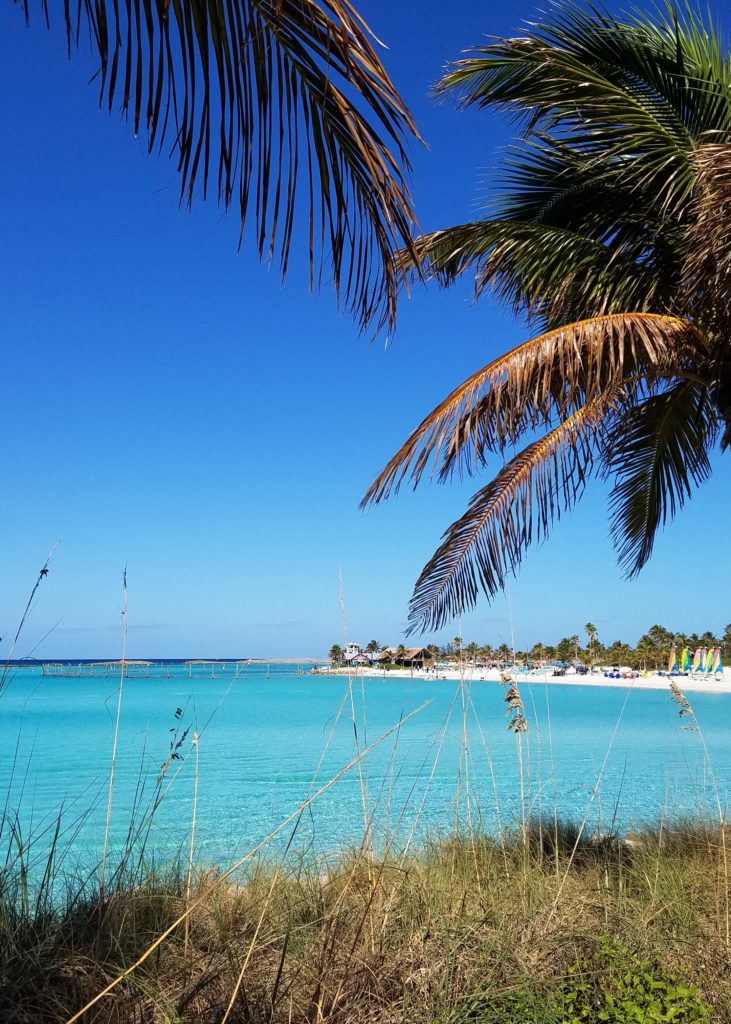 I received a special discounts and perks via my attendance at the special event, but my experience at Disney's Castaway Cay was comparable to what I would experience on my own. The island is full of beaches, lagoons, dining locations, walking trails, and even a few souvenir shops. You can walk till your feet can't take anymore or enjoy the free tram transportation around the island.
It's Disney, so there are certainly plenty of things for people of all ages to enjoy, like the 2400 sq. ft. Spring-A-Leak water play area for the little ones. Basically, it's a water playground made to look like a washed away beach dwelling – complete with twisted leaking pipes and portals. My boys are older, so we didn't spend too much time there, but the littles we saw sure were having a blast! There are a few other water play areas on Castaway Cay – Pelican's Plunge looked to be lots of fun as did Scuttle's Cove, a club for kids 2-13 with its own water play area.
The Castaway Family Beach is a popular spot on the island. Whether you prefer to swim, snorkel, sail, or just hang out and eat, there's fun to be had everywhere! Sports Beach offers sports like volleyball and soccer, and there are supervised games for the littles at the Grouper Pavilion. You'll also have plenty of opportunities for character sightings there.
While off the ship, you're totally welcome to hang out and do your own thing or sign up for one of the amazing Port Adventures. Even though we would have liked to, there was no way that we could do them all! Our boys decided to check out The Wild Side Teen Adventure, which offered them some independent fun.
The Wild Side is a 3-in-1 tour. The three parts are snorkel, cycle and speedboat. The adventure begins with bicycling along the airstrip and bike path to a high-speed boat ride on open waters. Then the teens bike back to family beach to snorkel in the 22 acres of lagoons. After all of that, they go back to the Teen Hideout, a place for relaxing with new friends for lunch or to meet up with family. It's a thrilling and age-appropriate experience for teens. The boys had a blast.
While they were out thrill-seeking, the hubs and I spent a romantic day at the beach. It was so beautiful and nice to have that little bit of downtime together.
Other port adventures include a glass bottom boat scenic voyage, parasailing, walking and kayak, and fishing adventures. You can also go with the Extreme Getaway Adventure, which includes biking, snorkeling, ocean floating & a close-up stingray encounter.
As if the experience wasn't enough, I found out that Disney Cruise Line is committed to the environment as much as I am! Disney Cruise Line Crew members help to protect and monitor the loggerhead sea turtle nests on Castaway Cay, and researchers work to restore the health of coral reefs by transplanting vital sea life there.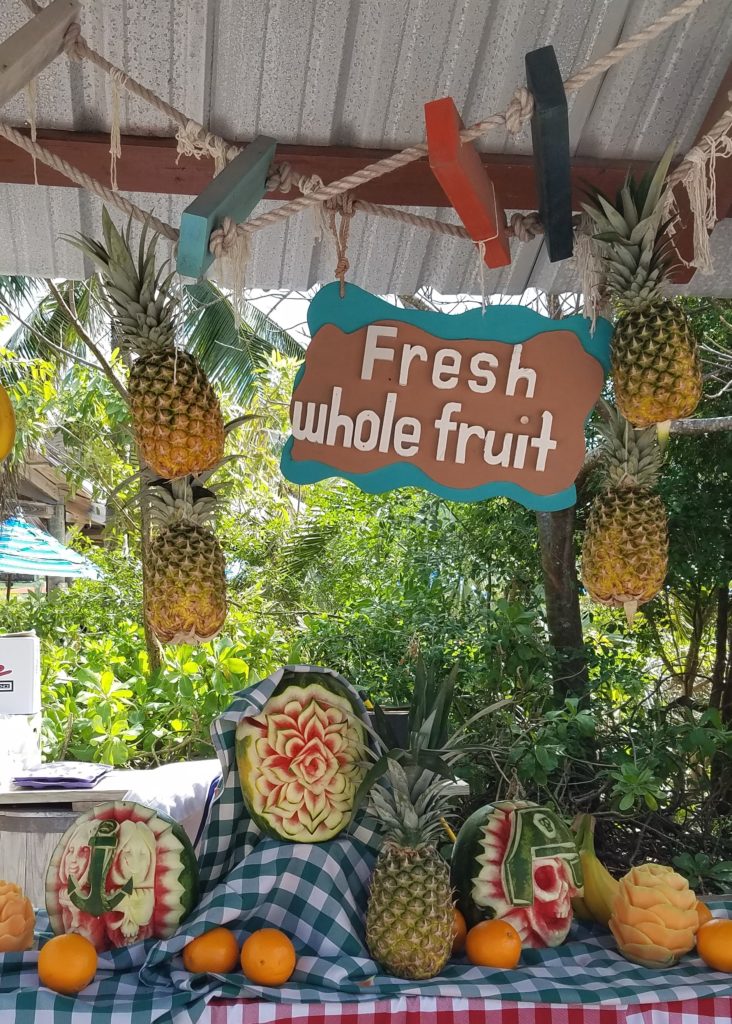 Further, much of the island is solar powered, with the sun generating power for water heaters in the cast member living areas. Disney Cruise Line also recycles cooking oil – 7000 pounds a week! – to power a fleet of Bahamas Waste Management Vehicles. Talk about environmentally friendly! The more I know about Disney Cruise Lines, the more I love!
We had such a great time and the food was delicious, as expected. I wish we'd had a little more time there, but that's okay – we'll just have to go back!
Looking for more tips and information about Disney's Castaway Cay?
Have you ever visited Castaway Cay? What was your favorite part?