Are you interested in beekeeping?  As the need to protect our bee population increases, this is something our family is researching to learn the basics and decide the best way to establish hives on our farm.  If like us, you have questions on how to begin, read on!  We reached out to Kim Lehman, author of Beekeeper's Lab to get beekeeping advice for beginners to make sure we're on the best path.
Kim Lehman has been a beekeeper for over twenty years, and through the American Beekeeping Federation she founded and coordinated the Kids and Bees Program.  According to Lehman, there are three valuable steps everyone who is thinking about or starting a beekeeping journey should take –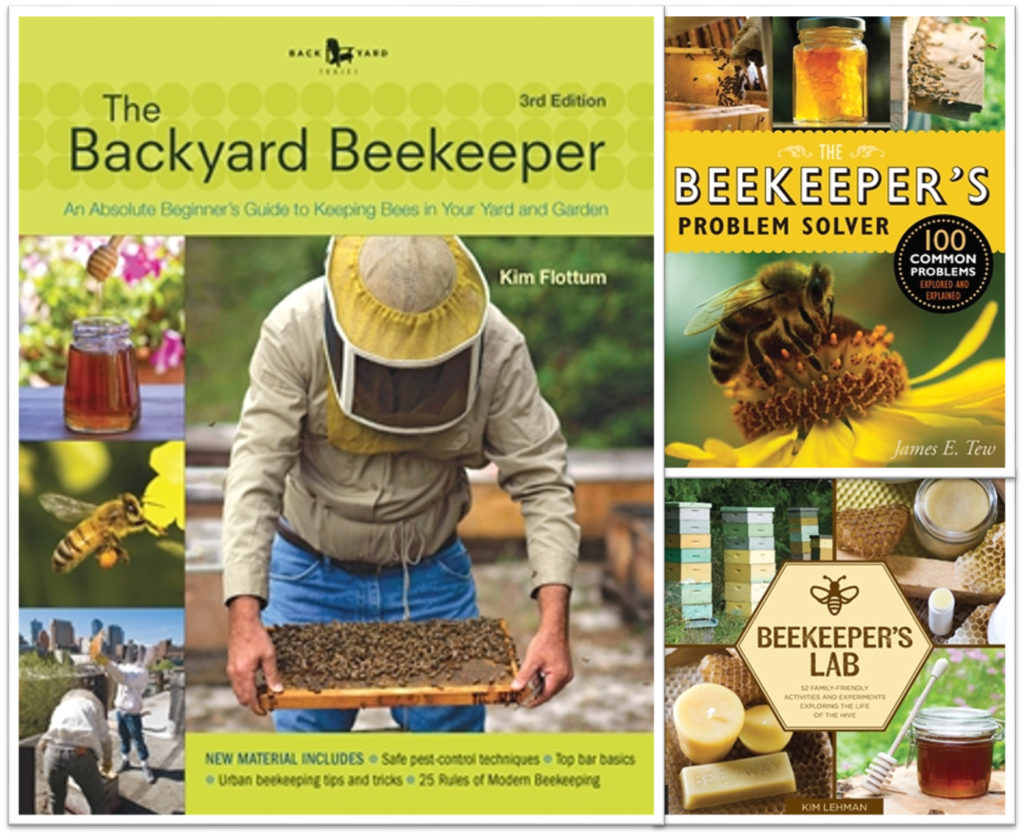 Read, Read, Read!
"First of all, read as much as possible about beginning beekeeping," says Lehman. "Kim Flottom's book The Backyard Beekeeper is excellent.  Beekeeper's Lab is not a basic beekeeping book but more a book of activities to celebrate the hive. Included are things to do with honey, beeswax, pollination activities and more for families to do together."
[amazon_link asins='1631593323,1584799188,1479298034,1119310067,0785829172,1548024252,B0762SP2HL,1465443835,1680520830,0395883245′ template='ProductCarousel' store='ruralmom' marketplace='US' link_id='15d98155-4005-11e8-8113-071b8a7696bd']
Reading resources to get started with include:
Backyard Beekeeper – Revised and Updated, 3rd Edition by Kim Flottum
An Absolute Beginner's Guide to Keeping Bees in Your Yard and Garden. The Backyard Beekeeper, now revised and expanded, makes the time-honored and complex tradition of beekeeping an enjoyable and accessible backyard pastime that will appeal to gardeners, crafters, and cooks everywhere. This expanded edition gives you even more information on "greening" your beekeeping with sustainable practices, pesticide-resistant bees, and urban and suburban beekeeping. More than a guide to beekeeping, it is a handbook for harvesting the products of a beehive and a honey cookbook–all in one lively, beautifully illustrated reference.
Beekeeper's Lab by Kim Lehman
52 Family-Friendly Activities and Experiments Exploring the Life of the Hive. If you keep bees or are interested in keeping bees, Beekeeper's Lab is the book for you. Filled with 52 beekeeping and hive-inspired projects to keep you involved with your bees and hive all year long. The tutorials are brief, accomplishable, and rewarding. Try a new technique each week with how-tos and sidebars with tips that are perfect for including the whole family.wo decades! Beekeeping a fun and educational for the whole family to enjoy and is a highly impressive skill to possess!
The Beekeeper's Problem Solver by James Tew
While keeping bees certainly isn't rocket science, doing it properly does involve decent levels of understanding, commitment, and attention to detail. Getting the basics right is essential, and this demands a solid appreciation of important areas such as hives management, breed choice, and health requirements. There is plenty to think about for those getting their first bees, and careful planning is the key to a successful initial experience. One thing that complicates matters is the bees' ability to disguise problems. Although this might seem a useful ability, it actually makes recognizing trouble in the crucial, early stages that much more difficult, even for experienced owners. And although bees are remarkably resilient creatures, they remain vulnerable to predators, disease and climate changes. There is plenty of potential for things to go wrong and, unfortunately, it's always the bees that suffer when problems strike.
Join a Beekeeping Group.
"Joining a beekeeping group is the best way to find a mentor and learn what to do throughout the year in your area," says Lehman.  "I cannot stress this enough. Some beekeeping groups have scholarships to help youth get started keeping bees. They will supply all the equipment, bees, protective gear and a mentor."
Bee Culture Magazine has a list of local beekeepers http://www.beeculture.com/find-local-beekeeper/ to use as a starting point and Bees On The Net offers a Bee clubs by state list http://www.bees-on-the-net.com/bee-clubs-by-state/
Consider Your Space, Time and Finances.
"Keeping bees is much different than having chickens," says Lehman. "There is much maintenance to do and there is some expense to starting a colony of bees. You may want to join forces with another family to work together on your first hive."
Illinois State University has put together an excellent resource sheet discussing the costs of beekeeping
Though there are certainly costs and time commitments to consider, getting started with beekeeping will be a rewarding experience.
"Bees are fascinating creatures," says Lehman.  "Just watching them coming and going from their hive is mesmerizing. Knowing that you are supporting pollinators is very satisfying."