Are you interested in finding ways to encourage your child's interest in STEM subjects?  Thanks to our partnership with Basher Science, we have an exciting new way to share for you to introduce your child to the fun side of science. We also have an awesome giveaway for you… read on!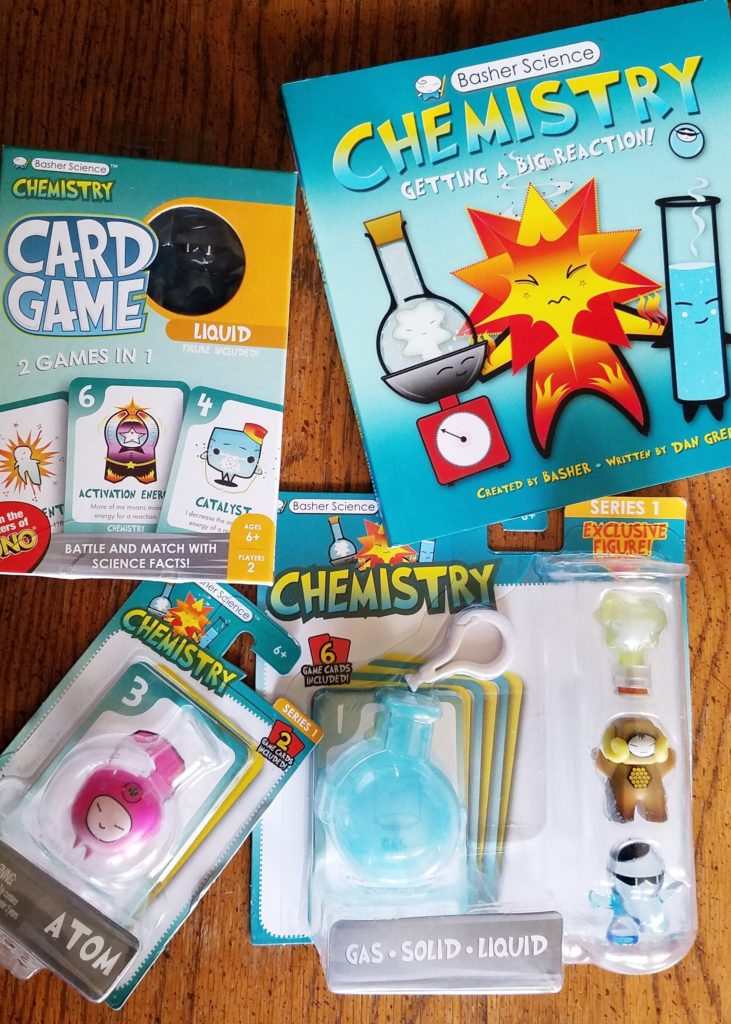 I was raised to appreciate all school subjects but I really never found my groove when it came to science.  Now, I have a son who gravitates towards all sciences from geology to physics.  My challenge is to find ways to continue to fuel his interests and to find ways to enjoy the subject matter with family activities.  What I most appreciate about the new Basher Science toy line is it allows me to meet both objectives in an exciting way.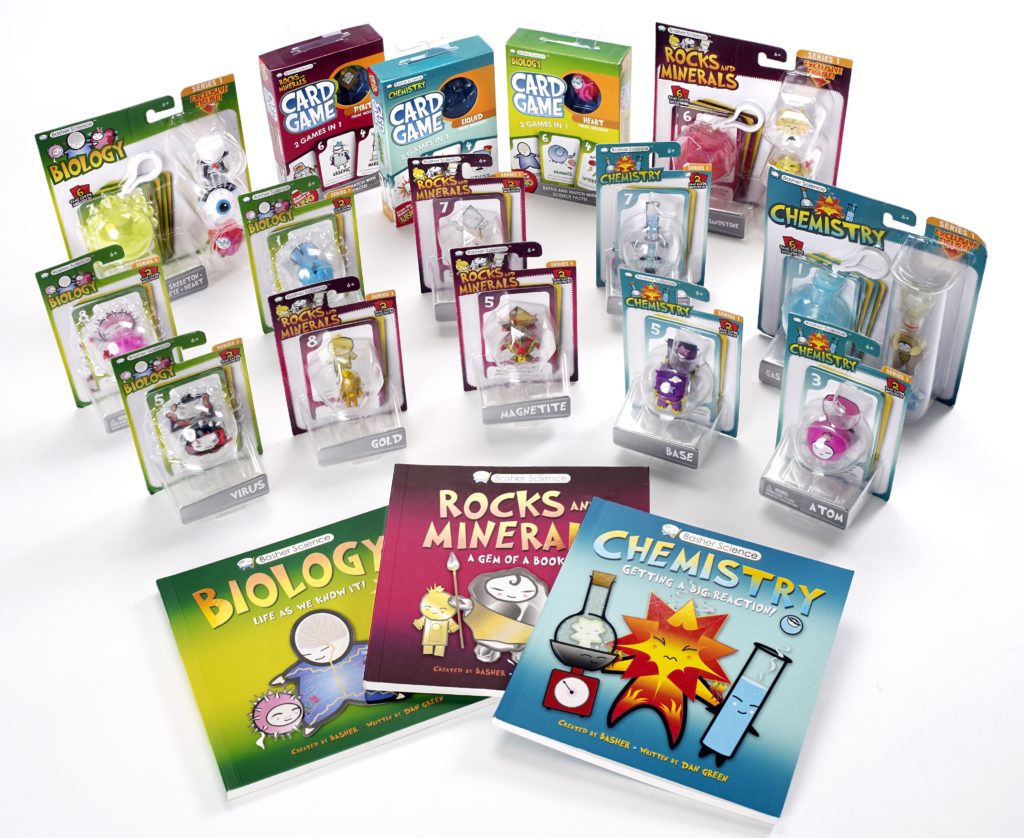 The Basher toy line, brought to you by Mattel, is exclusively available at Target online and in stores nationwide.  Based off bestselling Basher Science books, the figurines, playsets, experiment kits and games bring science to life.  The first wave of toys based on Biology, Chemistry and Rocks and Minerals have made their debut and additional themes will be released throughout the year.
We received a sampling of the Basher Science Chemistry toy set, which is a perfect fit for our young aspiring physicist.  The Basher Science Chemistry Card Game was a clear hit with my sons.  Each game pack offers two choices of game play – a matching game and a strategic battle game.  The matching game is more suited for young learners and the battle game is very well suited for the Middle School and High School crowd.  It's similar in style to other popular card games where opponents compete in a game of strategy to capture the other persons card.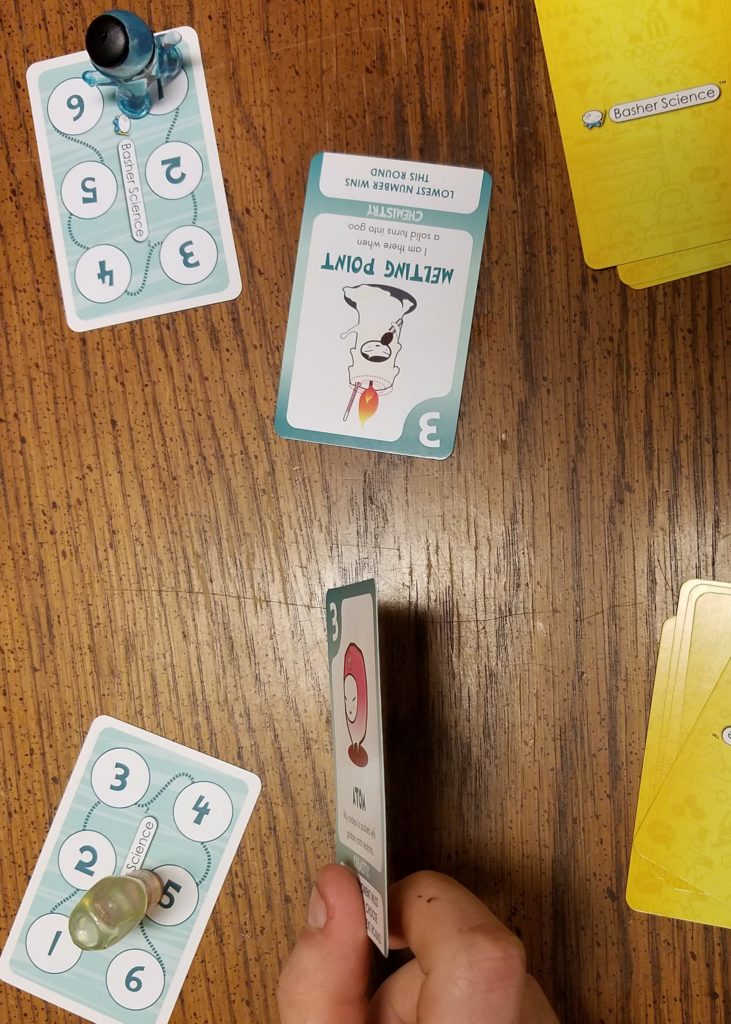 On each card of the Basher Science Chemistry Card Set is a chemistry-related term so children are learning while using their wits to win the game.  There are also twists on each card like "If your opponent played a 5 or 6 power card, you win!"  As you can imagine, this definitely amps up the fun of play (and as the set is from the Makers of UNO, we expected no less!)
Playsets like the Basher Science Chemistry Gas/Solid/Liquid 3-Pack contain exclusive figures, cards that can be used in the card set game, and a portable display case that holds the mini-figure which can later be attached to a backpack or keychain.  I think the mini-figures and case were simply adorable and instantly wanted to clip one to my purse to carry around.  My sons (14 and 16) were not as interested carrying around the figures, but they enjoy having them displayed and love having the extra cards for the game.   Single figure sets with playcards are available, too.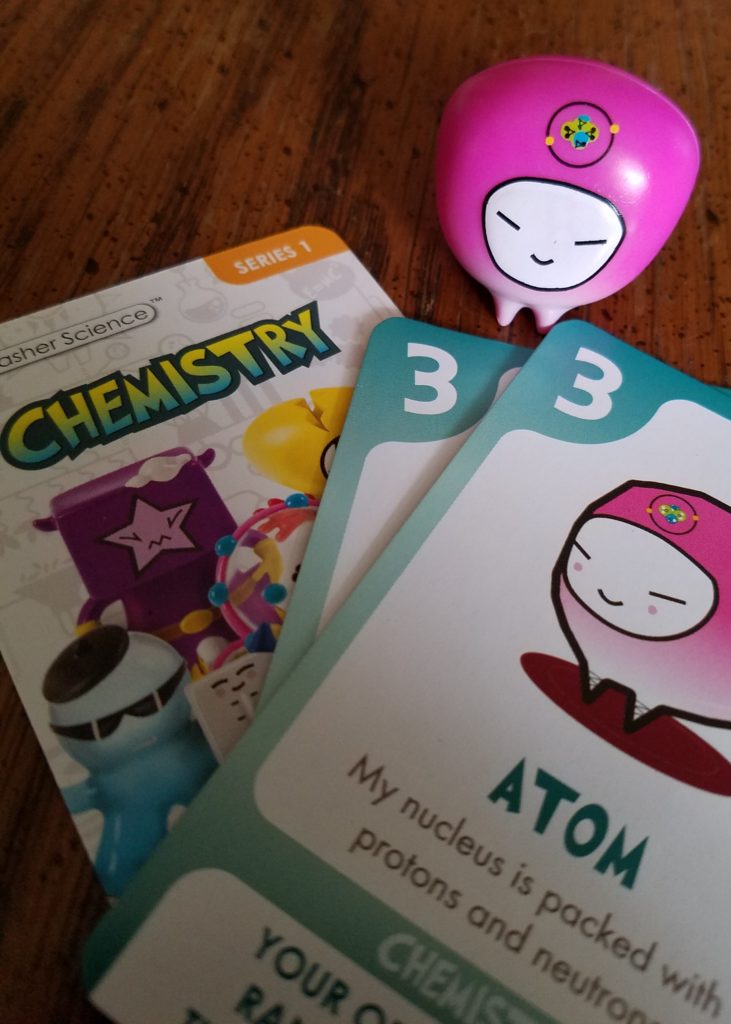 Basher Science toys are recommended for kids ages 10-14 and this visual science series is ideal for classrooms, home bookshelves, libraries, and STEM/STEAM enrichment programs.  Want to learn more?  Visit http://www.basherscience.com/toys
Win a Basher Science Prize Pack
Thanks to the fun folks at Basher Science, one (1) Rural Mom reader will win a Basher Science Prize Pack filled with books, figures, stickers, a poster and a game!
Giveaway open to US addresses only.
Prizing and samples provided by Basher Science.
ENTER via the Rafflecopter below:
What ideas or methods do you use to introduce your child to the fun side of science?