If thinking about what to buy for the nature-loving or sustainable living folks on your Christmas list leaves you scratching your head, this post with our top dozen gift picks for farmers and homesteaders is for you!
Even if you new to homesteading or if you have no clue what life on a farm is like, it's easier than you think to select gifts for your the farmers and homesteaders on your gift list.  You may even decide you want to pick up several of these gifts for yourself! Here are some of my favorite gift ideas: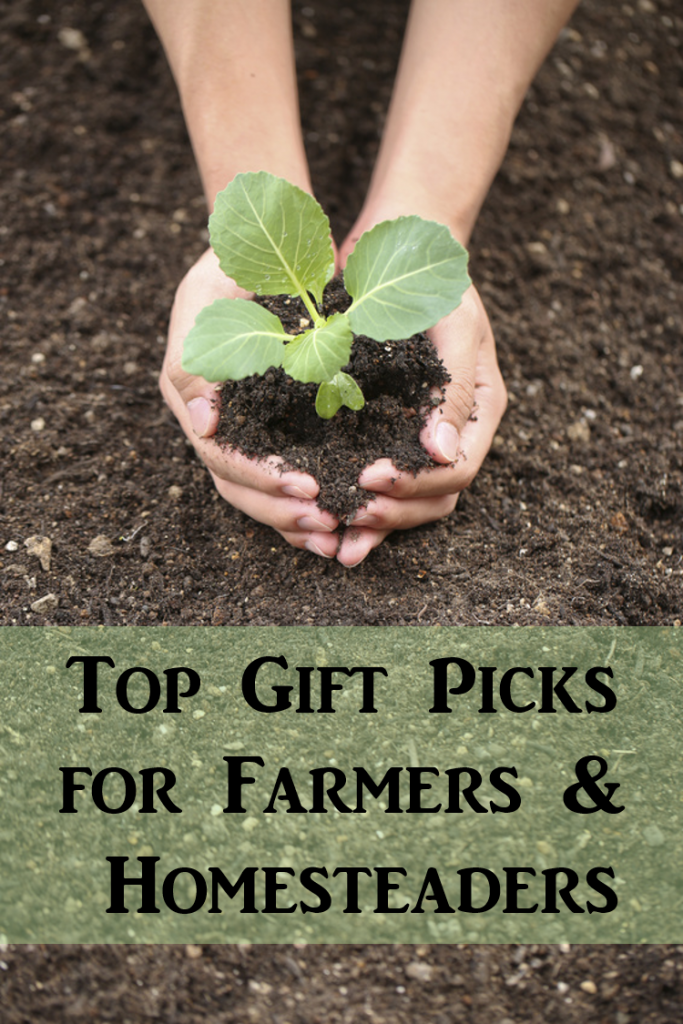 Solar Powered Automatic Gate Opener – Once you've had an automatic gate opener, you'll never go back to the manual type again! I prefer solar powered automatic gate openers because they're eco-friendly, but they'll also save money on utility bills and will still work if you experience a power outage. What more could you ask for?
Dehydrator – A dehydrator is a great tool for saving money and preserving your harvest all through the winter months. Whether you dehydrate meat, fruits, or spices, you'll find that a dehydrator is a staple for any farmer or homesteader.
Electric Pressure Cooker – Forget about what you've heard about pressure cookers of the past. Today's electric pressure cookers are safe, multi-functional, and easy to use. New homesteaders will love the short cooking time and one-pot convenience.
Moto Z Force Phone – This phone does it all, and I love it even more every second that I use it! The snap-on mods are great tools. The extra battery, speaker, and projector are helpful for many things around the farm, like checking weather, playing music, and keeping track of everything going on. It's a must-have gift for any farmer or homesteader! You can see my full Moto Z review here.
Gathering and gardening apron – This is a must here at the farm. My favorite apron has plenty of pockets for seeds, tools, eggs, and produce. While I still have "good" clothes and "work" clothes, the apron has saved me from many stain mishaps. The many pockets hold everything – from eggs to seeds to cell phones. It's definitely a must-have item.
Solar Phone chargers, flashlights, and lanterns, or better yet, combo units – You never know when you're going to have a power outage, and it's always better to be overly prepared. Solar chargers and lights are actually a great gift for anyone who lives in a rural area. The power tends to go out more often and stays out for longer periods of time than it does in a city setting.
Warm socks and work gloves – This is something farmers and homesteaders can't get enough of. They're welcome gifts every single year. Working hands and feet wear them out quickly!
Mushroom growing kit – Growing mushrooms is so much fun! There are several different types of kits, and even those who don't garden appreciate being able to have a little bit of gourmet mushrooms on hand to add to their meals!
Getting Laid – my book. I'm sure you already own this and have given it as a gift to everyone you know, right? Just in case you missed it, it's a great book with everything you need to know about raising chickens, gardening and preserving. The book is all about sustainable living and how you can save money, live "green", and help protect our planet.
Colorful Mason Jars – You can never have too many of these. They're good for food preservation and storage, organization, and even for use as dishes. The colorful ones add to your décor as well!  Want ideas?  Check out our 30 incredible mason jar crafts feature.
Music – A great playlist can make work go faster and smoother. Whether digital or in the form of actual CDs, the gift of music is always a good one! Hint: If you're not sure what type of music your favorite homesteader likes, gift cards work!
Boot Dryer – because wet boots are awful. A simple boot dryer can make all the difference in the world for a farmer or homesteader. You can't put a price on warm, dry feet.
There are many, many great gift ideas for the farmer and homesteader in your life, but this list is a great start! Do you farm or garden? What are your favorite gift ideas?