Do you struggle with gift ideas for your child's teachers?  I do, too!  Every year I search for clever and creative ways to express our appreciation without busting our holiday budget.  Sometimes I resort to small gift cards, but that often seems impersonal.  This year, thanks to our partnership with At Home, I found some awesome mason jar gift ideas for teachers they'll love. This is a sponsored post, but all ideas, opinions, inspiration and obsession with mason jars are that of Rural Mom… read on!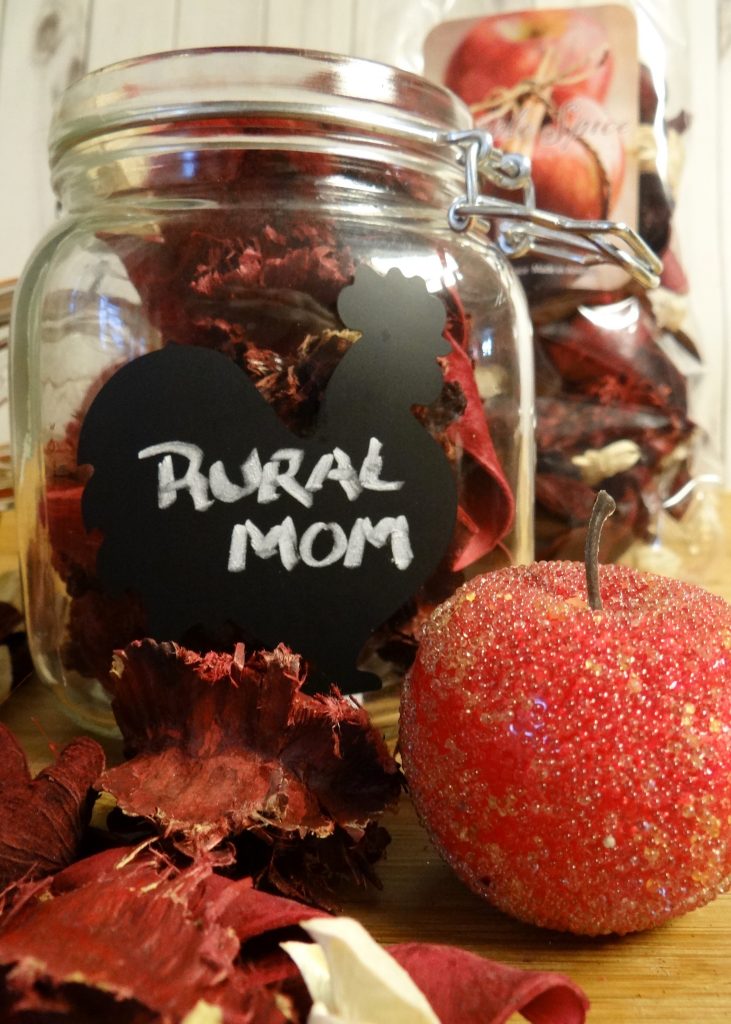 When I stepped into my local At Home store in Lexington to look for teacher gifts, the merry sights and sounds of Christmas swept me away into a whirlwind of winter wonderland – truly!  My heart brimmed with holiday spirit and I practically skipped through the aisles "oohing" and "ahhing" over all the amazing decor and holiday-themed products.
I particularly loved seeing so many rustic holiday trends and it immediately sparked the idea to gift the teachers with a little something that would celebrate our rural setting.
Thinking about how to best "package" a rustic rural theme, I immediately thought of placing gifts inside mason jars.  In my opinion, mason jars are perhaps the world's most versatile and handy little product creations that definitely spell out c-o-u-n-t-r-y with their easily recognizable shape and simple charm.
Whether you live in the city, suburbs or a rural area, mason jars are a highly practical house ware to have on-hand, which also makes them an idea vessel for gifting.  Your gift recipient will easily be able to re-purpose the jar in all kinds of ways.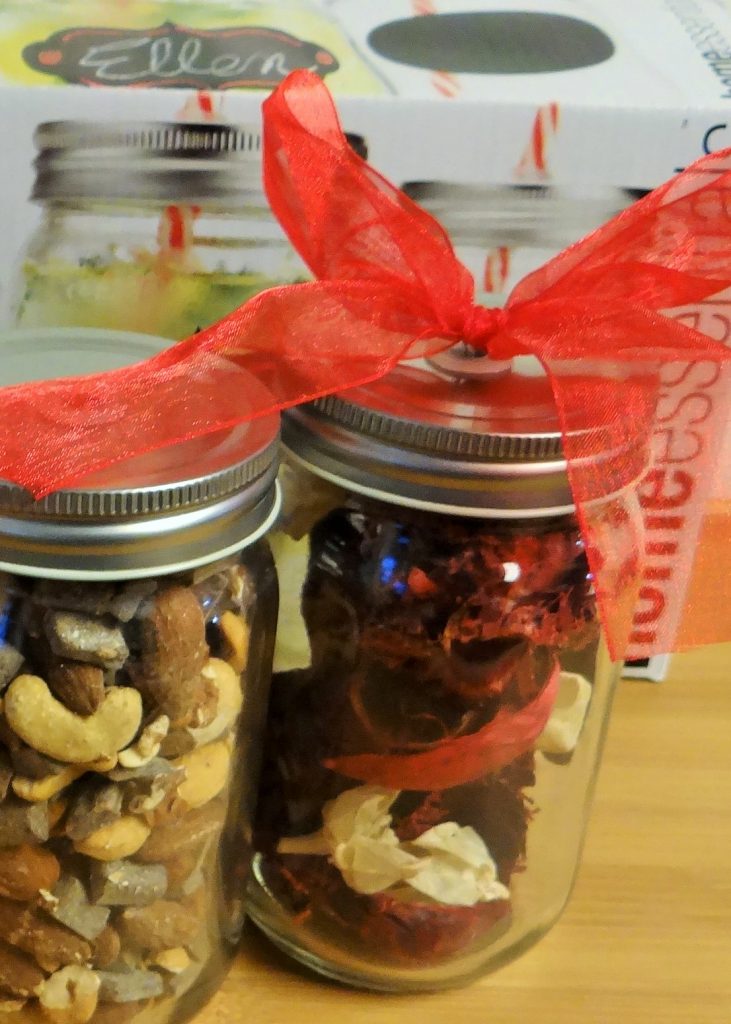 Any mason jar will do, in any style or color you choose.  I found plenty of fun options at At Home, but I really loved the Chalk It Up 15 oz. Mason Jar Glass Set I found in the housewares section.  Not only are they great gift containers, they are a gift in-and-of-themselves as they will be cute, functional drinking glasses for the teachers to use after they enjoy the gift we package inside.  Perfection!
Some people think of what to gift first, but I tend to visualize how I want the gift to look before I fully formulate a gift idea.  Either way you go about it, genuinely putting the thought into the gift, really is what counts.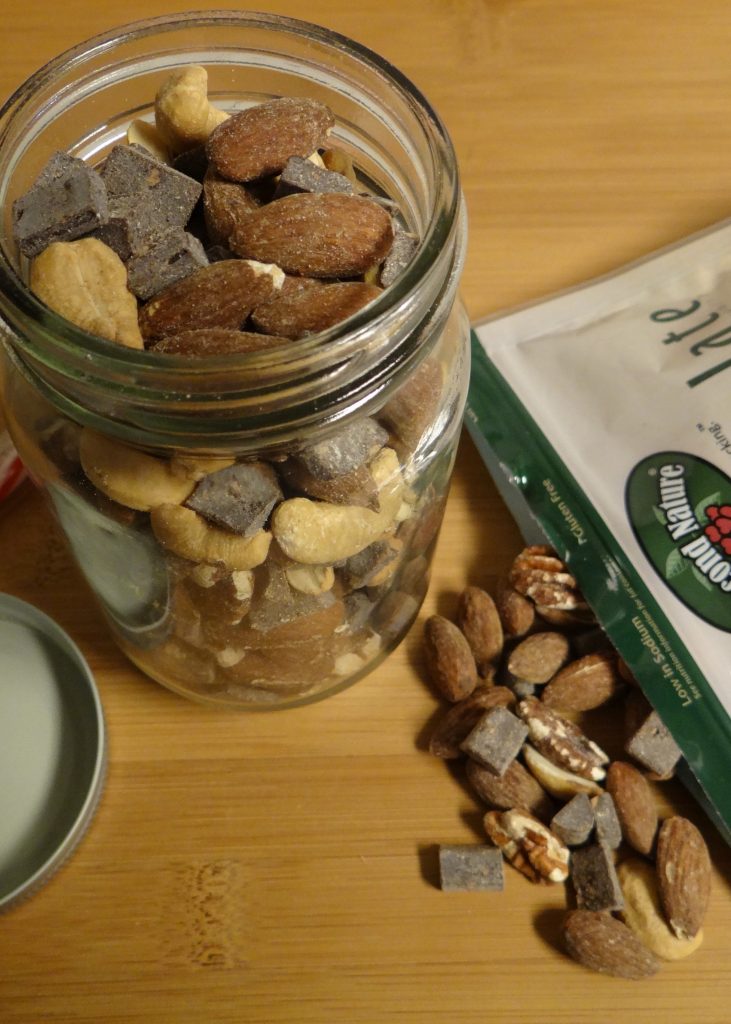 One I had the vessel picked out, I had to determine what I wanted to put inside each one.  I wanted to do something a little different for each teacher based on their personal preferences and tastes, but could have easily made each gift identical, if desired.  I totally wasn't at a loss for ideas shopping at At Home.  Have you been there?  The store is immense, filled-t0-the-brim with magical items just waiting to be discovered.
For my son's math teacher, I picked out a chocolate nut assortment to fill the mason jar cup with.  After I picked up the mix, though, I thought about the lid having a hole for the straw and decided that I need to have a solution to enclose it fully so the nut mix wouldn't get stale.  Threading a ribbon and sealing with a little piece of tape became the obvious (and beautiful) solution. (as pictured below.)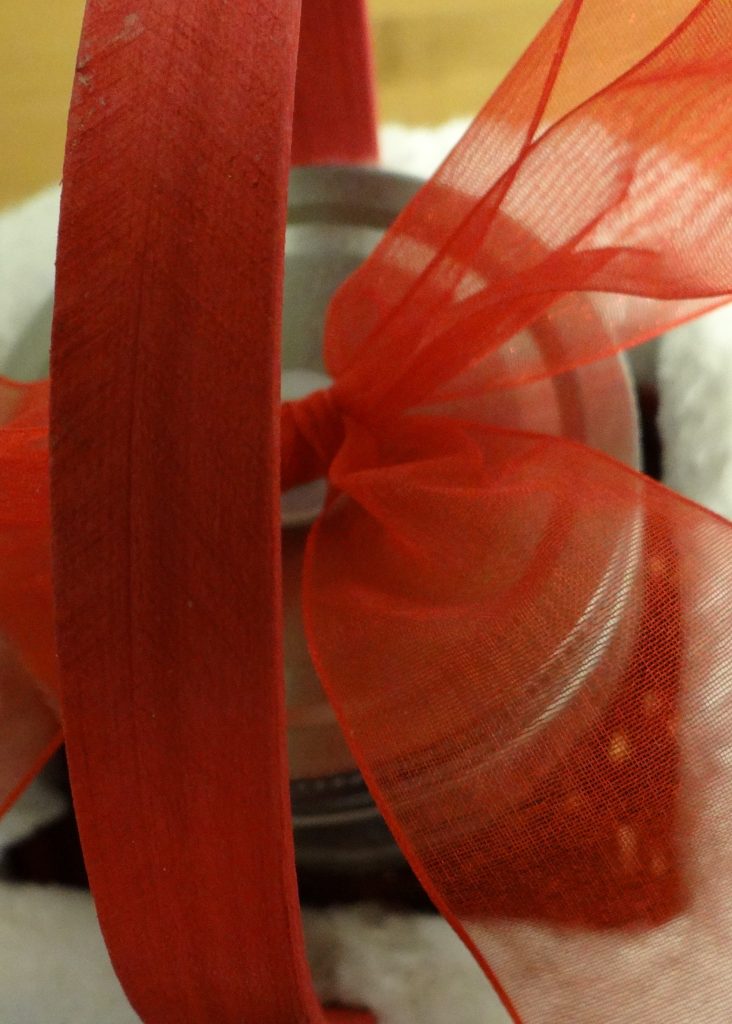 The other packaging dilemma I had was how to best handle the straws that came with each glass.  For some, I figured I could simply tuck the straw with the jar into a gift bag.  For others, I thought wire ribbon would be a festive solution for securing it to the jar (as pictured below.)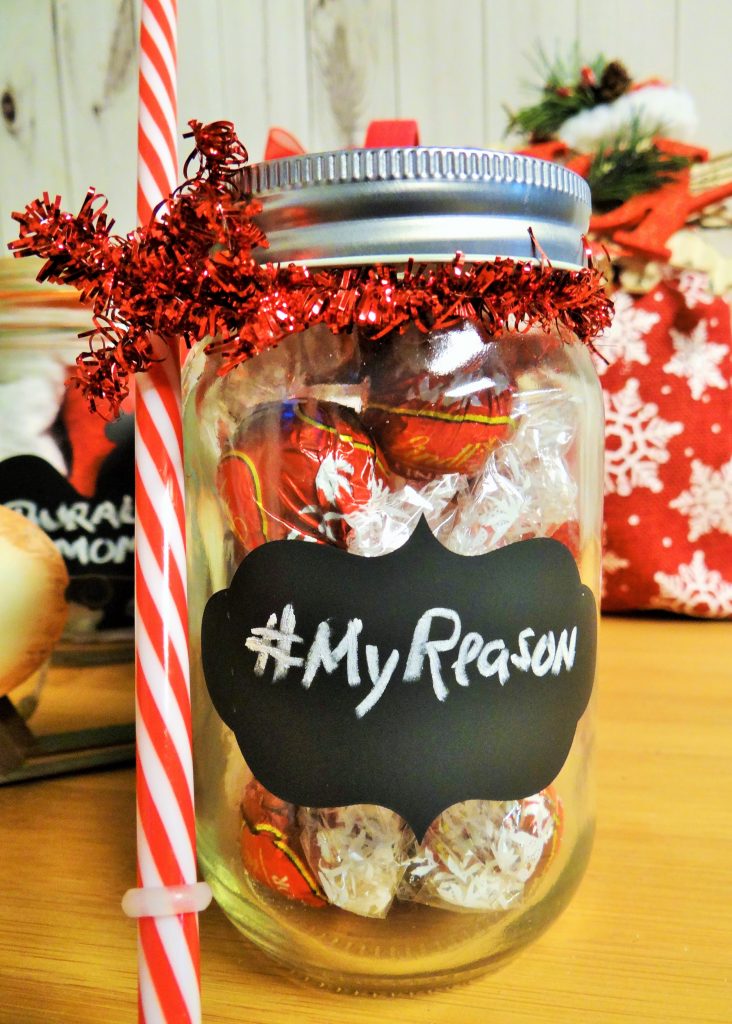 Additional items I chose to fill the mason jars with were:
chocolate candies
potpourri with holiday scents
holiday hand towels
I found plenty of other fantastic items I could have easily incorporated at At Home.  So many to choose from!  Here's a few other ideas I considered to help inspire your gift-giving:
small office supplies like binder clips and mini staplers
hot cocoa packets
soaps and wash cloths in holiday colors (or shapes)
peppermints
ornaments
holiday candles
craft supplies
cookies
and yes, even gift cards!  Just wrap a little holiday print tissue around a gift card, secure in the mason jar and viola!  You'll create a lovely gift presentation.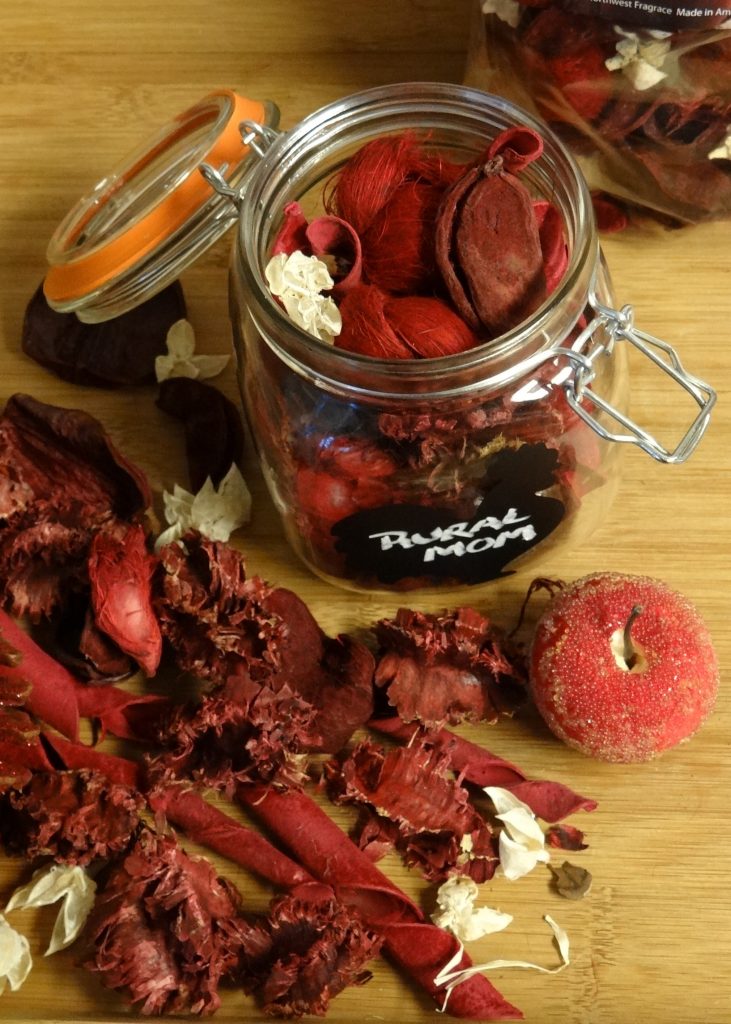 If mason jars are too small to contain other ideas you have, At Home has a crazy-big selection of glass jars and other containers available.  I found this adorable Rooster Decal Glass Food Container that was perfect for filling up with goodies.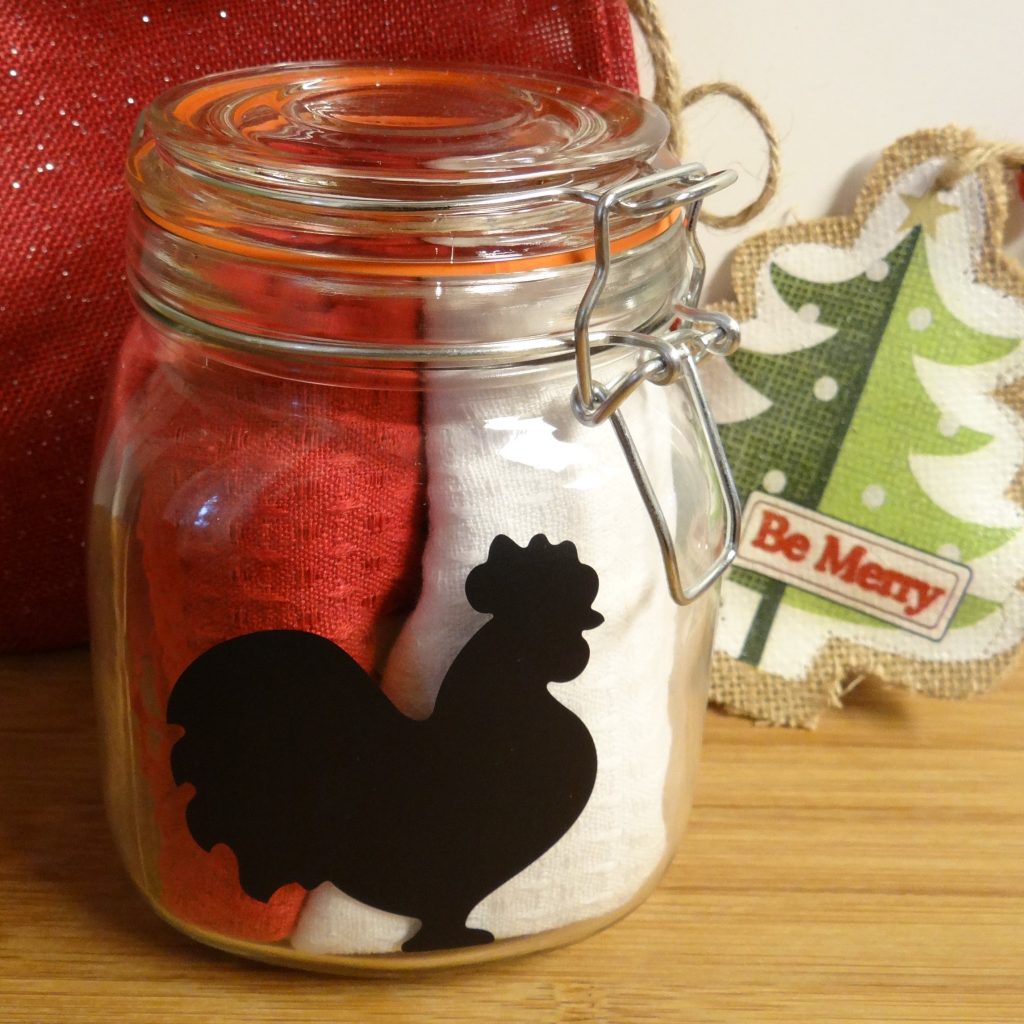 Once you have all your containers and gifts to fill them with picked out, you can simply stop there and create some fabulous presents.  If you want to jazz things up a bit to create an even more stunning presentation, mix and match your gifts with holiday wrapping, bags and baskets to create a unique look.  Again, At Home has row after row of selections available for you to wrap your gift in a special way.
The Mini Santa Belt Basket really captured my holiday heart and happens to be the perfect size for the mason jar glasses I selected.  Isn't it adorable?  Again, I love the ability for this basket to be re-purposed as a holiday decoration, which tripled my gift-giving!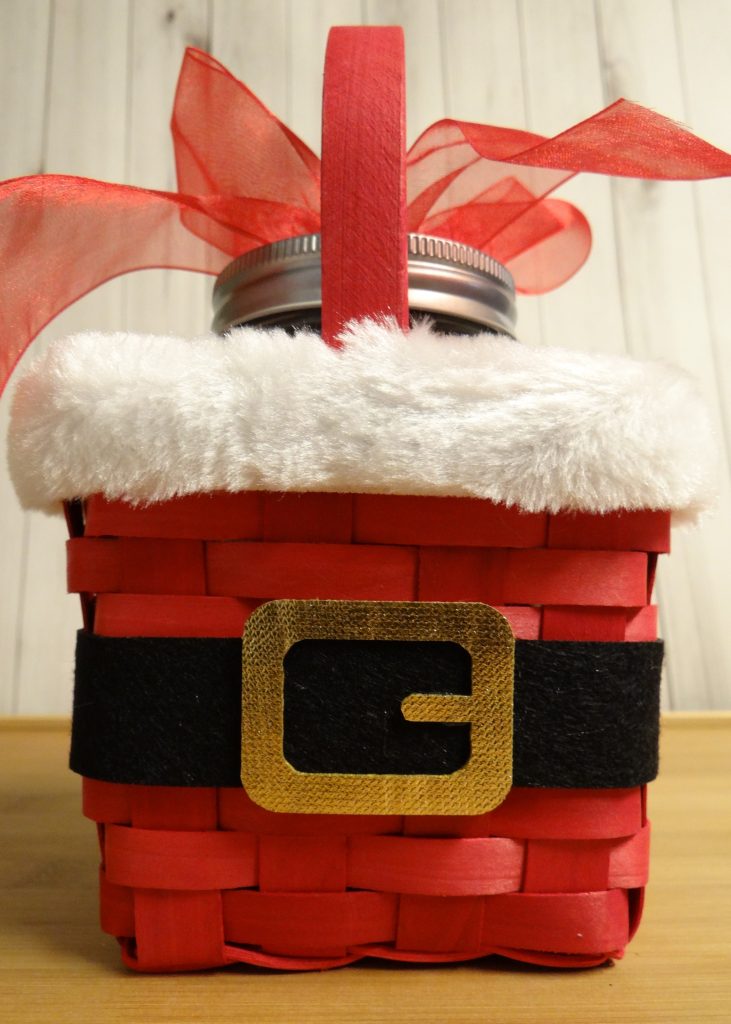 Another quick, easy and impressive idea is to match a gift bag to an ornament to create your final look.  With all the rustic Christmas designs available this year, I had an easy time picking out gift bags and ornaments that would compliment the country style I wanted.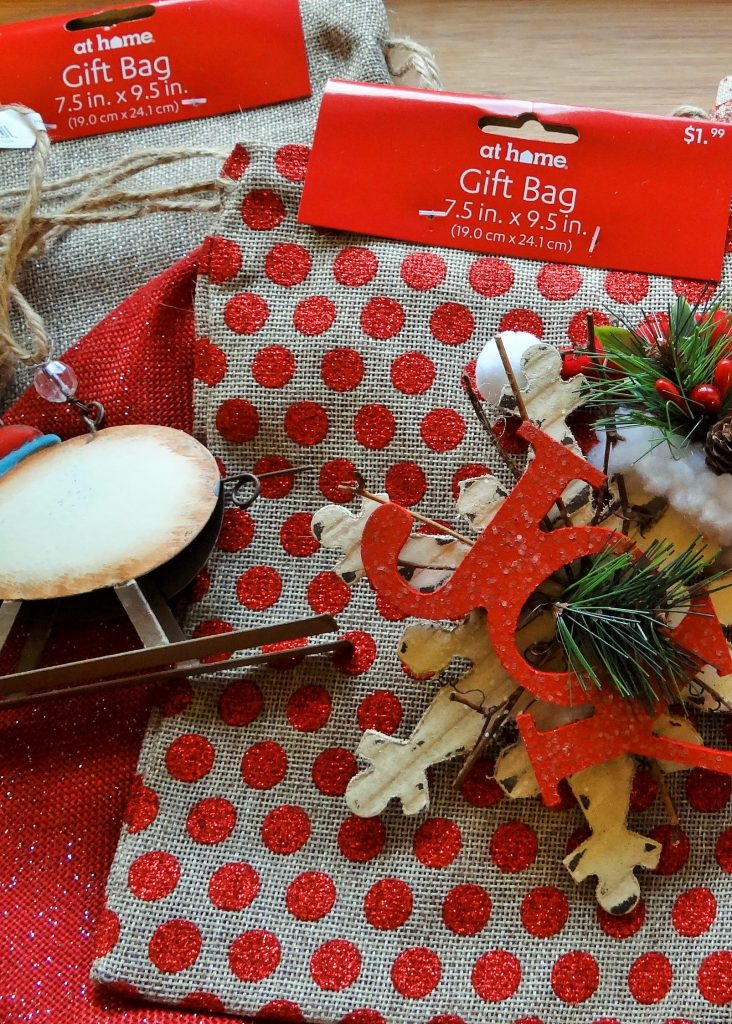 Simply, pick your favorite gift bag style, pair it with an ornament, slip the mason jar gift inside, secure the strings and you now have a very clever mason jar gift idea for your teacher all wrapped up!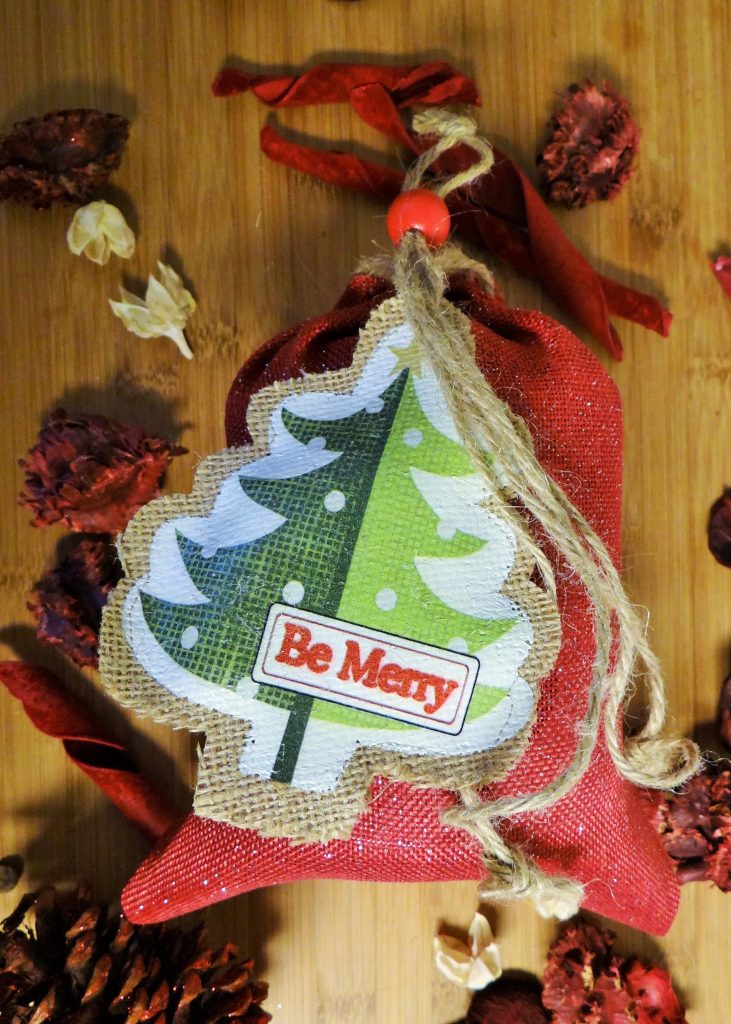 And did I mention the best part, yet?
All of these gift ideas cost under $10 each! 
That's a whole lot of joy in my world and to my holiday budget, too!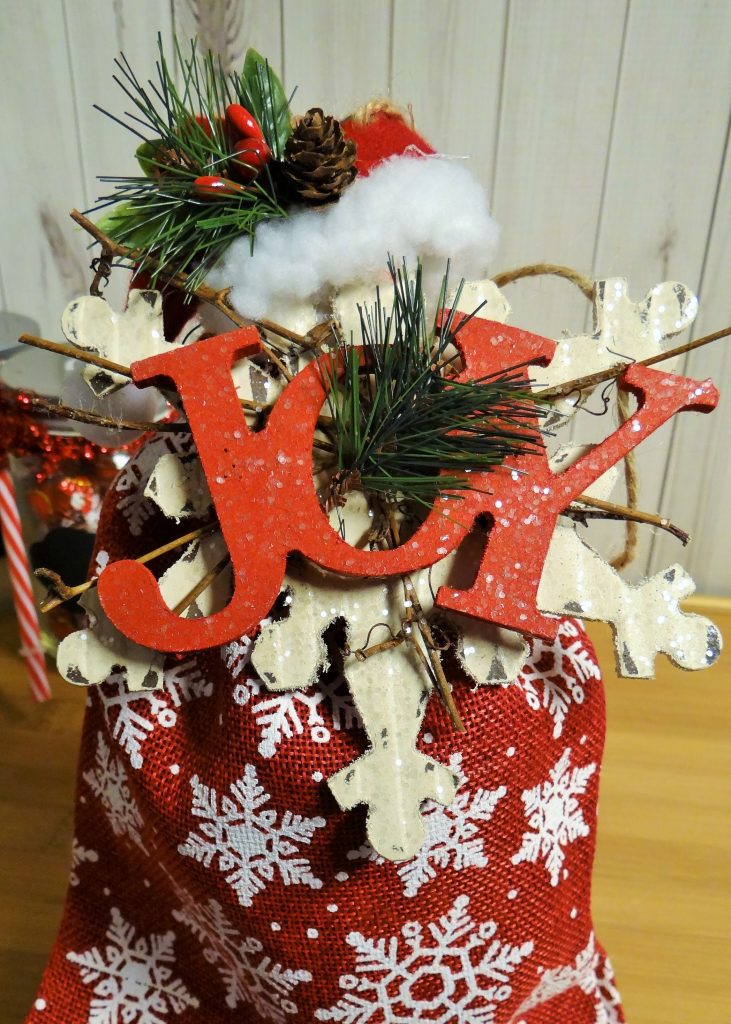 In summary:
Pick up a mason jar (or mason jar glass or other container of choice)
Fill it with awesome goodies
(Optionally) embellish with ribbon
Find a gift bag, basket or holiday wrap to match
(Optionally) embellish with a festive Christmas ornament
Repeat as needed
Gift to teachers
Enjoy the holiday season!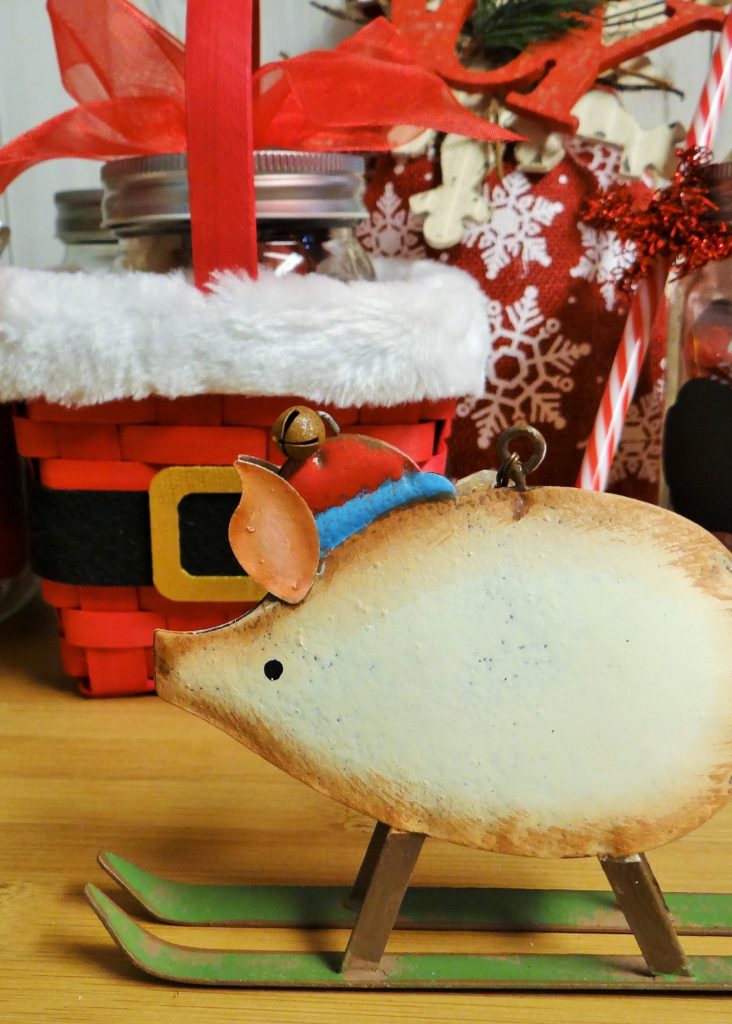 Do you have a favorite mason jar gift idea for teachers?  What items would you fill the mason jar up with your favorite teacher?