Have you thought about trying to cook using the Sous Vide method?  Maybe, like me, you first heard this intriguing term while watching a popular cooking show or chef challenge on TV.  Quite possibly you drooled over the results of the chef's preparation but were still a little intimidated to try cooking Sous Vide at home.  Thanks to my partnership with Hamilton Beach, I've found out that cooking Sous Vide at home is just as easy as using a slow cooker!  In fact, the new Hamilton Beach Professional Sous Vide and 6QT Slow Cooker lets you choose either method, all in one little handy machine.  I'm sharing my thoughts and experience today with a wonderful Sous Vide salmon with orange zest and dill recipe… read on!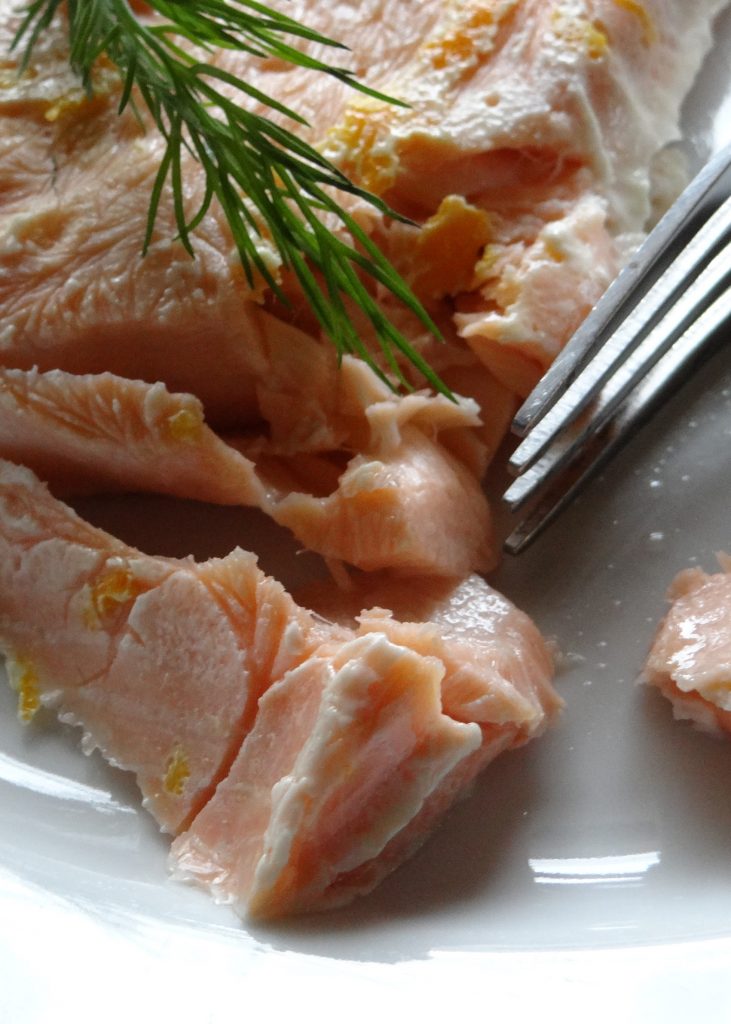 Hamilton Beach is one of the biggest names in small kitchen appliances, and most of that is because they've developed a great reputation over the years. From blenders to toasters to my favorite – slow cookers, the company has made it super easy and affordable to be a master chef at home. Being a huge slow cooker fan, I'm super excited to see this fantastic appliance get a gourmet makeover, making it perhaps the most versatile and rewarding new appliance around. How do you make a slow cooker even better? Sous Vide!
In case you're not familiar with the term, Sous Vide is literally translated to mean "under vacuum". This method of cooking involves placing the food in an airtight bag and submerging it in a precise temperature-controlled water bath. Because the food is in the bag and surrounded by the same temperature, it heats evenly and the risk of over and under cooking is reduced. Cooking Sous Vide is possible with a pot of water on the stove, but you'd really have to watch it pretty closely. I don't know about you, but I have zero time in my day for watching pots boil, especially during the holidays!
With the Hamilton Beach Professional Sous Vide and 6QT Slow Cooker, my time in the kitchen just got a whole lot shorter.  The variation in meals you I can prepare just got a whole lot larger! Even if you've only been cooking for a short time, you can look like a gourmet chef. The appliance takes out the guesswork for you.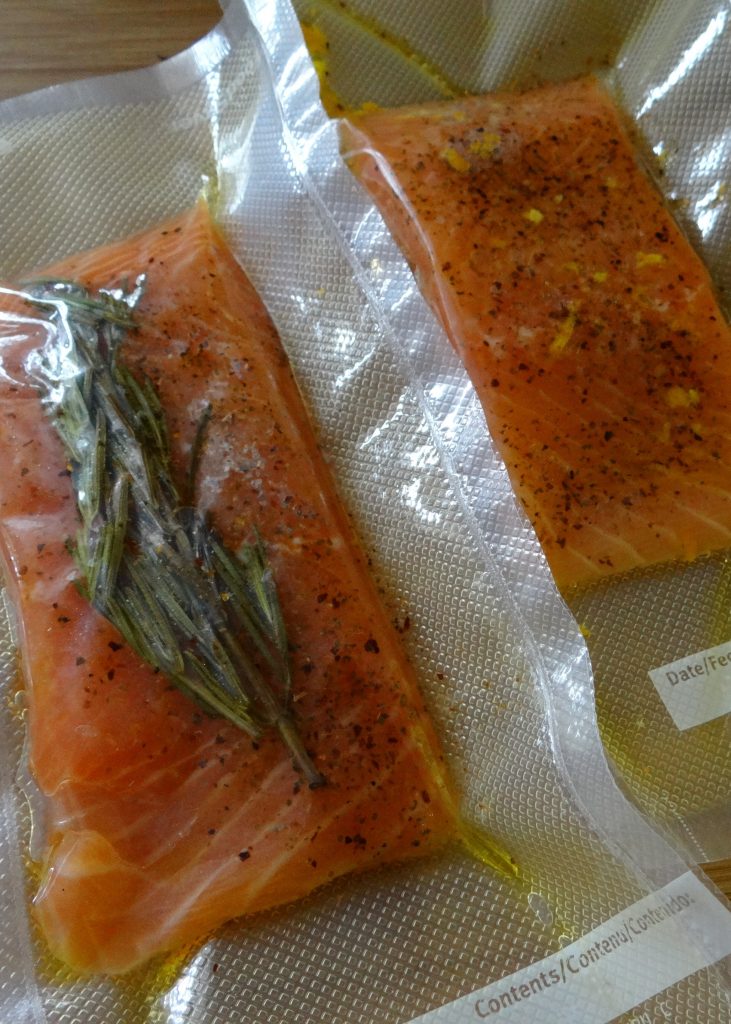 It's very simple:
Prep your food and put it in a bag (you can do Ziploc-style bags or vacuum sealed – I like vacuum sealed.
Place the bag in the water bath.
Set your preferred time and temperature using the flexible programming controls.
Walk away. It's okay if you're gone a little too long; when the specified cooking time is over, the unit automatically switches to warm.
That's it. In a few hours, you'll enjoy a hassle-free home cooked meal with easy cleanup. This method of cooking is awesome for those who like to do one day of prepping and store it all in bags for the week. Sous Vide is also great if you go out of town for a few days and leave the kids with dad or a sitter. It's pretty much fool proof (or husband proof!) Just prep the food, write down instructions for cooking times and temperatures, and let whoever's home do the rest.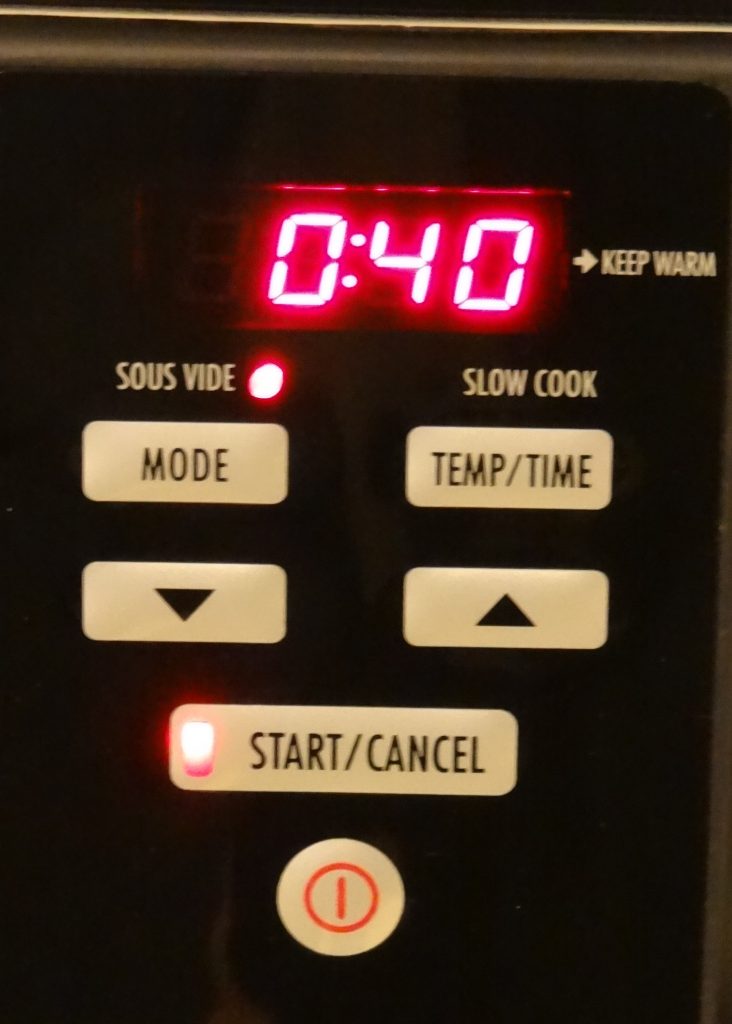 You can also use the oven as a "regular" slow cooker, of course. It's got all of the features you'd look for – easy to use programmable controls with a LED display to tell you what's going on, nonstick coating, large capacity, carrying handles, and a nice glass lid for easy viewing. All in all it's a great little appliance at a great price. I'm pretty thrilled to add it to my kitchen.
My first experience using the Sous Vide method was with a simple Sous Vide Salmon with Orange Zest and Dill recipe that I've prepared in the oven hundreds of times.  I was able to easily adapt it to the Sous Vide method, using all the same ingredients I normally do, but the results were spectacular.  Unlike my oven recipe, which can sometimes dry the top of the salmon fillet out if I don't keep a close eye on it, the Sous Vide method kept the entire piece of salmon moist and perfectly cooked throughout.
I also felt that the seasonings permeated the fish better than with other methods.  Rather than having a top coat of dill and orange zest flavor, the salmon had these layers of flavor in every bite.  Cooking the pieces individually also allowed me to easily season each piece to my family member's preference.  As I'm the only one in my home that likes dill, I generally have to place my piece of salmon in a separate skillet (if I make on the stove top) or on a separate piece of foil or tray when I bake salmon to avoid the dill flavor from affecting the other salmon fillets.  With Sous Vide this isn't a factor.  Each packet is fully contained, making it easy to season away without fear of the seasonings transferring over.  If you like spicy spices on your meats or fish, this is a great bonus, too.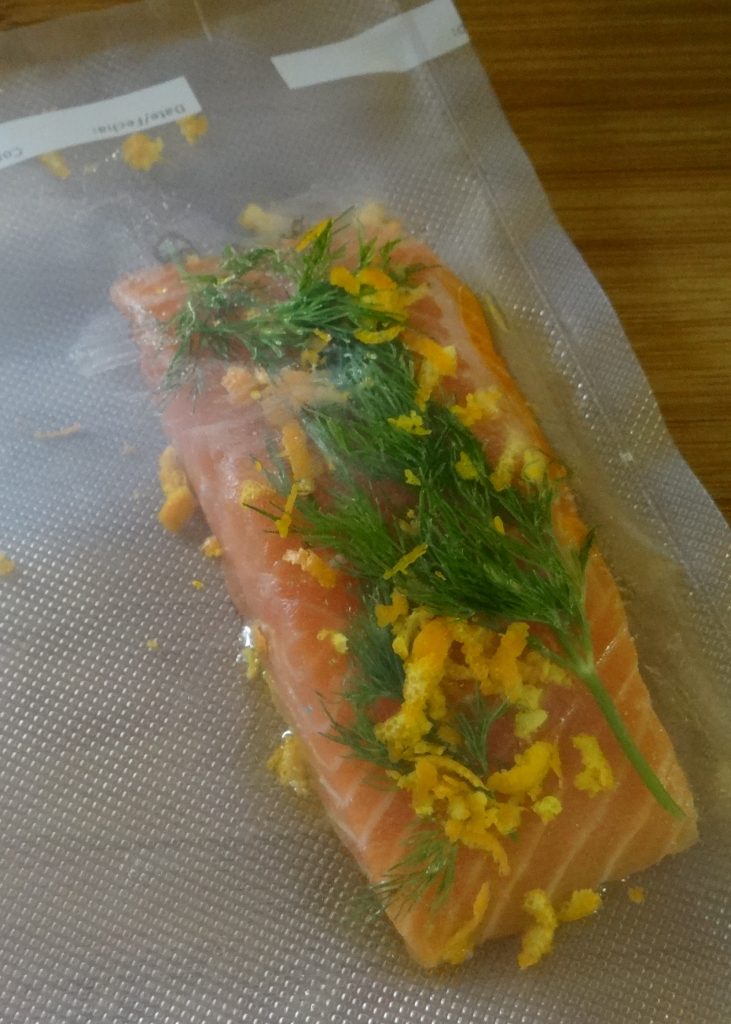 Sous Vide Salmon with Orange Zest and Dill Recipe
Just as I described above, I used vacuum-seal bags, placing one salmon fillet, a little olive oil and my preferred seasonings in each bag, then vacuum sealed each bag.  For the salmon with orange zest and dill, I used a 1/4 teaspoon of orange zest and four sprigs of dill for each salmon fillet.
Following the instructions, I set the Hamilton Beach Professional Sous Vide and 6QT Slow Cooker to 140 degrees Fahrenheit for a 40 minute time setting (note: always consult your manual for settings recommendations prior to cooking.)  According to the guide, this setting would deliver a firm, well-done piece of salmon, which is how I prefer it to be cooked.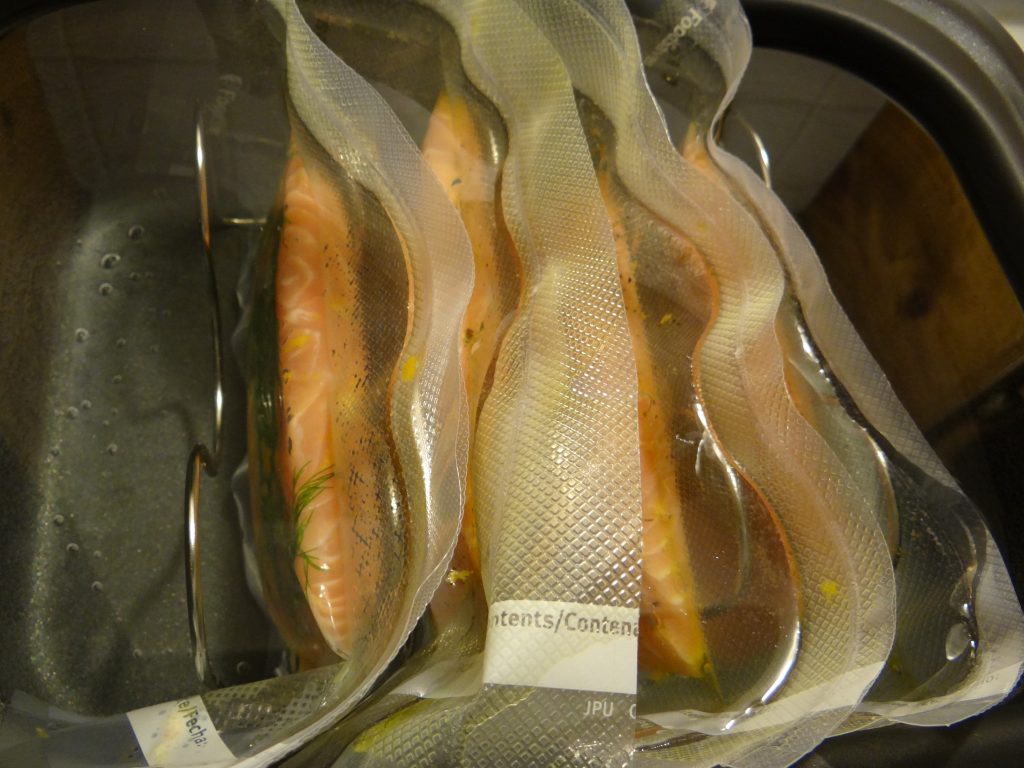 When the desired temperature was reached, I submerged my salmon in the water bath, placed the cover back on and pressed the "start" button.  40 minutes later, I removed the bags from the water bath and open them to find the most tender, perfectly cooked and flavored piece of salmon that I've ever made.
This is my 100 percent honest result and reaction – I'm incredibly impressed with how easy it was to cook and how amazing the results are!
Win a Hamilton Beach Professional Sous Vide and 6QT Slow Cooker
Thanks to the kitchen-savvy folks at Hamilton Beach, one (1) Rural Mom reader will win a Hamilton Beach Professional Sous Vide and 6QT Slow Cooker to make Sous Vide this holiday season in your home!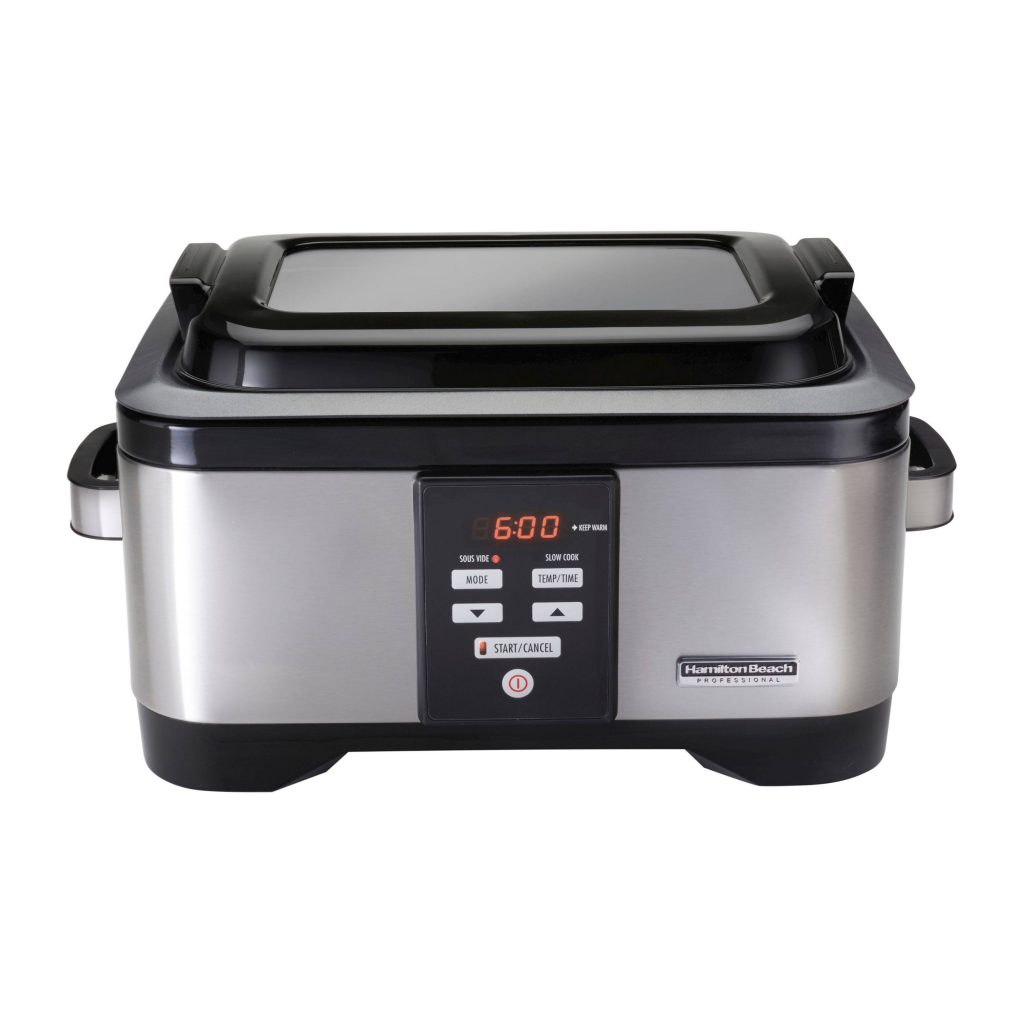 Open to US mailing addresses only
Prizing courtesy of Hamilton Beach
ENTER via the Rafflecopter below: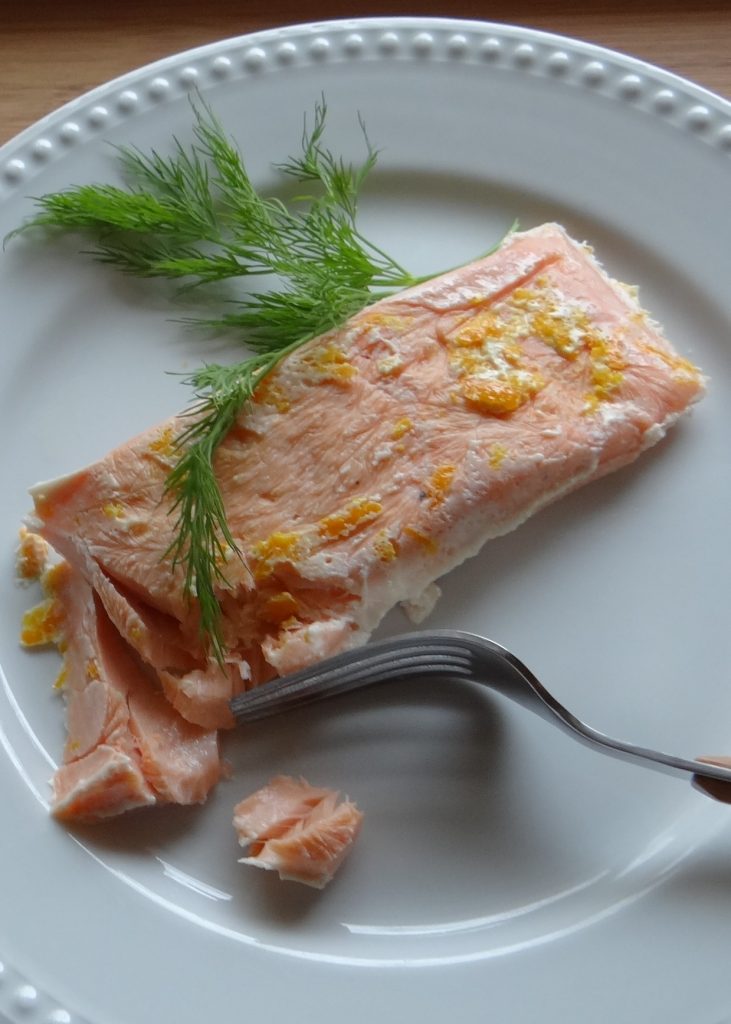 Have you ever tried cooking Sous Vide?  What's your favorite recipe?