One of the things I like best about Halloween is that age doesn't matter. Adult Halloween parties can be even more fun than the ones you remember as a kid. As we have a member of our family turning 40 this year – a milestone viewed by many as a bittersweet time – I wanted to create an Halloween party that keeps the spooky spirit of Halloween alive in the tradition we all recall from our childhood.  With a little help from my partnership with Oriental Trading, I think I've come up with some of the best ideas yet!
Every Halloween party celebration needs a few basic elements to be a success.  Here are some things you'll need to create the best adult Halloween Party ever, too: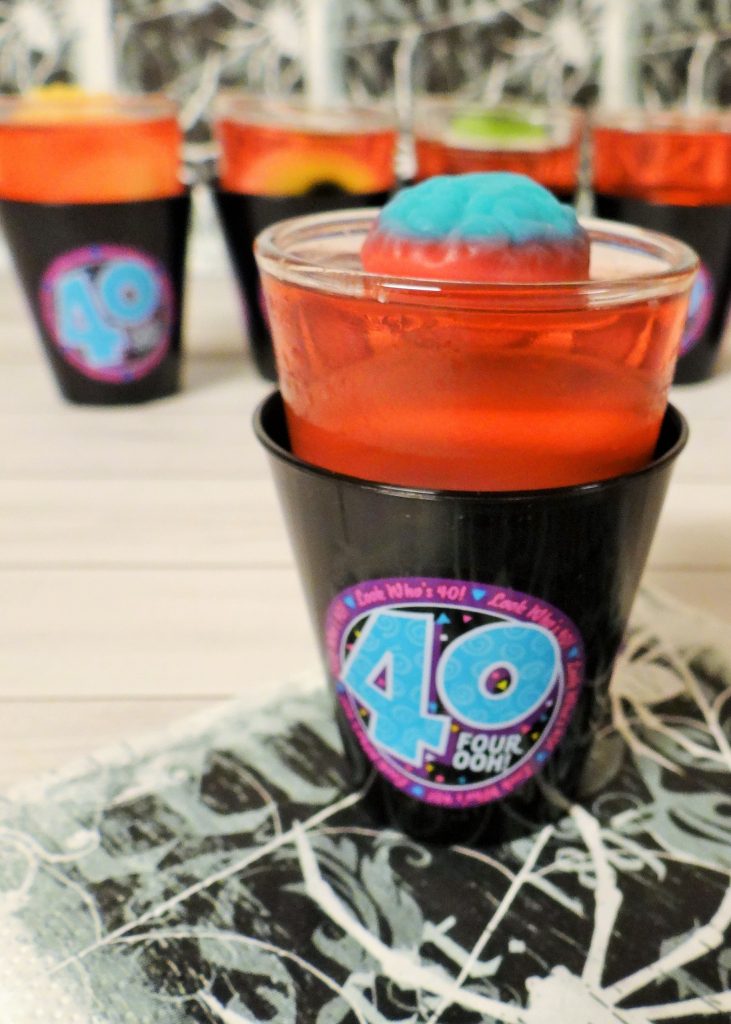 Devilishly delightful decorations. Don your party space with ghastly decorations like spider webs, black lights, skeletons, and jars of (fake!) body parts. Purple lights can be found for next to nothing this time of year and add a little bit of an extra flair. Decorations can be found just about everywhere this time of year at great prices.
You can also DIY them for even more fun. There are some really awesome ideas on Pinterest and on Oriental Trading's website: http://www.orientaltrading.com/  Whether you use them for all your party supplies (all of the pictures in this post feature items from Oriental Trading,) you should still check out the clever and fun party ideas for inspiration.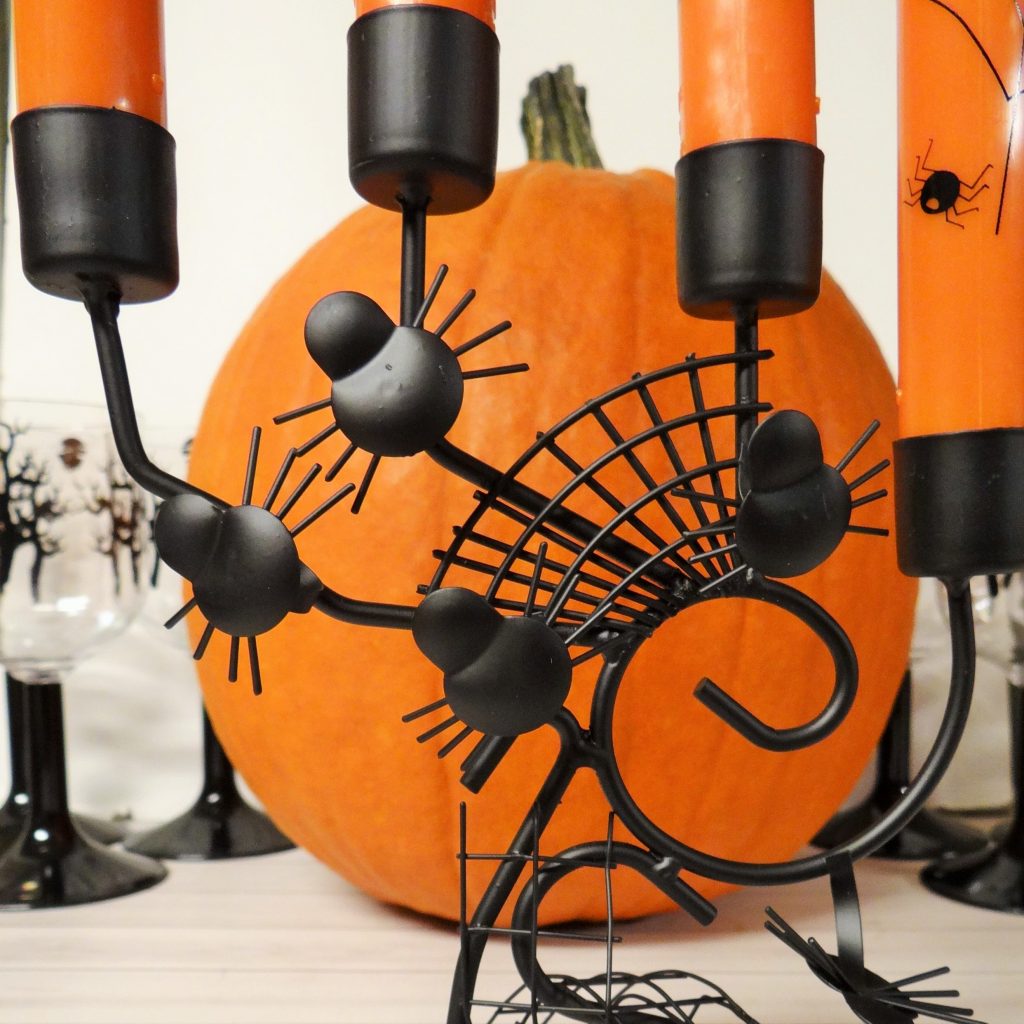 Terrifically terrifying tableware! Oriental trading has some serious Halloween style when it comes to plates, napkins, and utensils. I love the ease of the one-stop shopping and how everything matches. You can't beat the prices either! I'm always happy with their selection of party accessories.
I'm in love with the Spooky Soiree dinner plates, napkins, cups and more from Oriental Trading that I selected for our adult Halloween party.  Paired with simply black dinnerware, plates and other accessories, it's a classy, yet fun touch for our celebration, reminiscent of the spooky shows we watched on television as kids.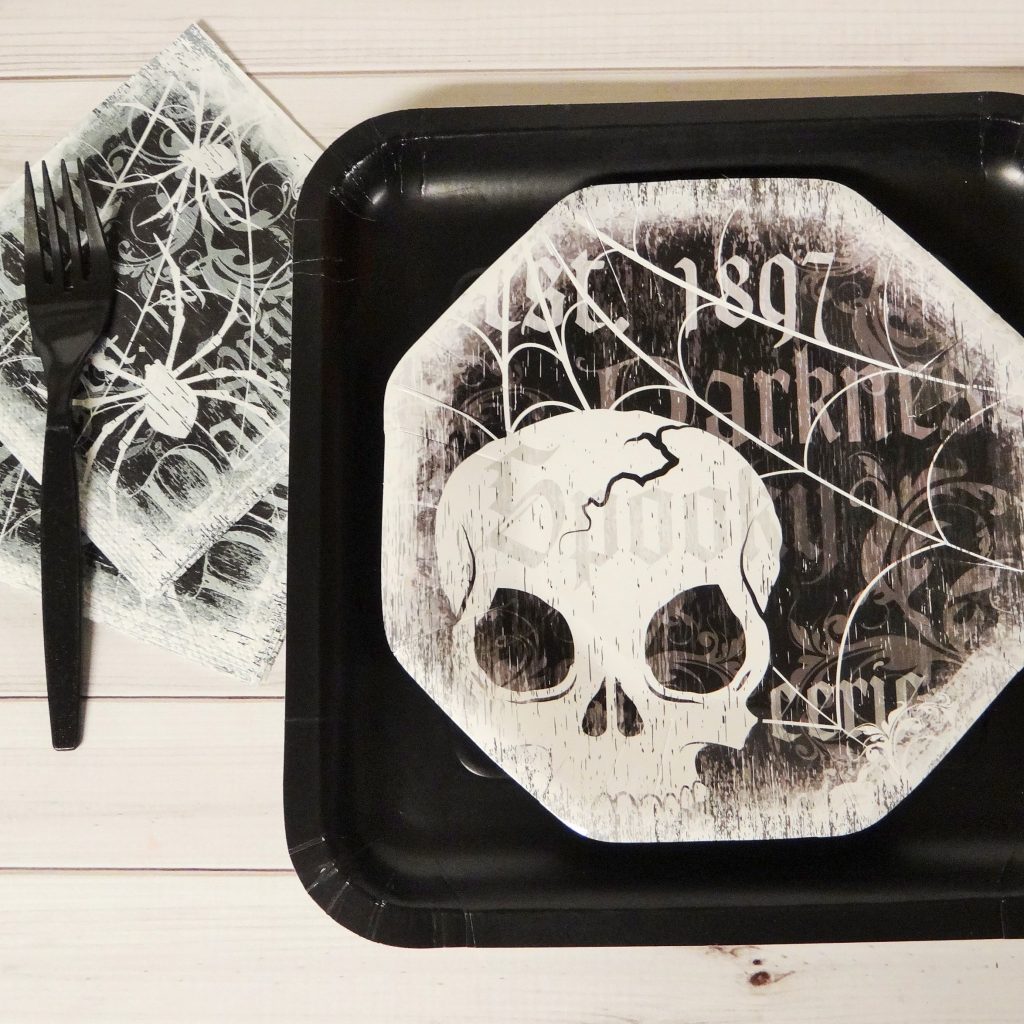 Freakishly fun food choices and Ghoulishly good drinks. There are lots of options here, and just about any food can be transformed into something Hallo-weenie (pardon the pun).  Whether you shape the food into fun ghost or spider shapes (like our spider brownies,) or serve chilly out of a carved pumpkin, there are plenty of ways to transform your dinner fare into an exciting Halloween spread.  Don't have time to create special Halloween foods, just give what you're serving a fun name like hamburgers can be "Boo-gers" and ketchup "vampire blood."  Whip up a few cute signs to display the names of the foods and viola! you'll have a Halloween-worthy feast for guests.
In my experience, ever great party has a signature drink! You might want to make two signature drinks so that the designated drivers can join in on the fun too. For our Halloween birthday festivities, I decided to make some Spooky Halloween Science Lab Body Parts Jello Shots that look like body parts from a spooky science lab.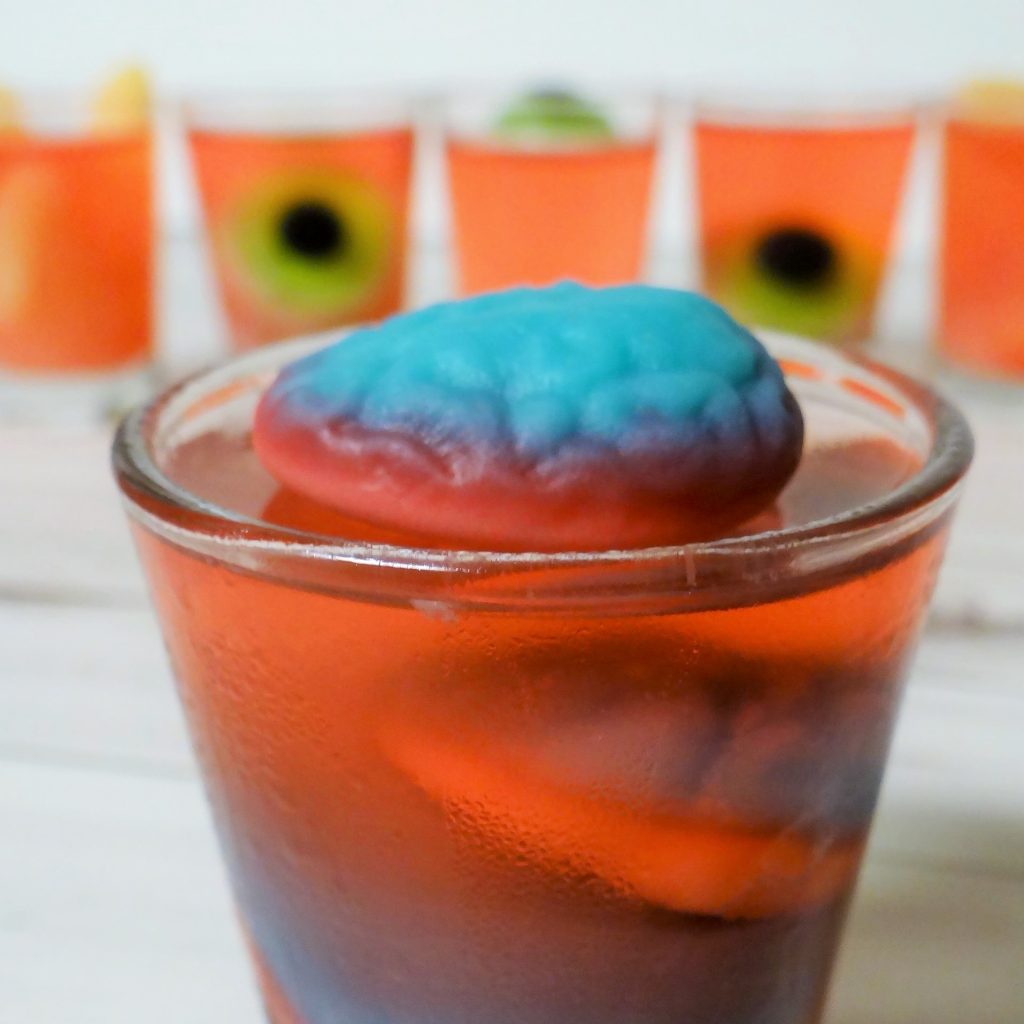 To create these creepy Jello shots, I used Gummy Body Parts, Clear Shot Glasses, watermelon-flavored Jello, water and Vodka.  That's it!  So simply and so adorable, I know all our guests are going to love this special treat.  If you don't want to make individual shots, you can just mix the ingredients into a bowl and let the Jello set a bit before adding the body parts (or simply pile them all on top of the Jello) and let the guests serve themselves.  This also works great for kids parties (just be sure to omit the Vodka!)
Spooky Halloween Science Lab Body Parts Jello Shots
Ingredients
2 packages (3 oz. each) of Watermelon Jello
1 cup Vodka
Gummy candy body parts
3 cups Water
Instructions
Boil 2 cups of water.
Empty Jello powder into a large mixing bowl and add the boiling water.
Stir for two minutes or until Jello is completely dissolved.
Add in 1 cup of cold water and 1 cup of vodka.
Stir until fully mixed.
Add gummy candy body parts to shot glass (1 to 3 candies per shot glass)
Pour Jello into shot glasses, fill to 3/4th full.
Place shot glasses in refrigerator and chill until firm (about 2-3 hours.
Remove from refrigerator and serve.
Optional- place a gummy candy body part on top of the Jello shot for decoration.
https://www.ruralmom.com/2016/10/easy-ideas-for-adult-halloween-parties.html
copyright 2018 by Barb Webb, RuralMom.com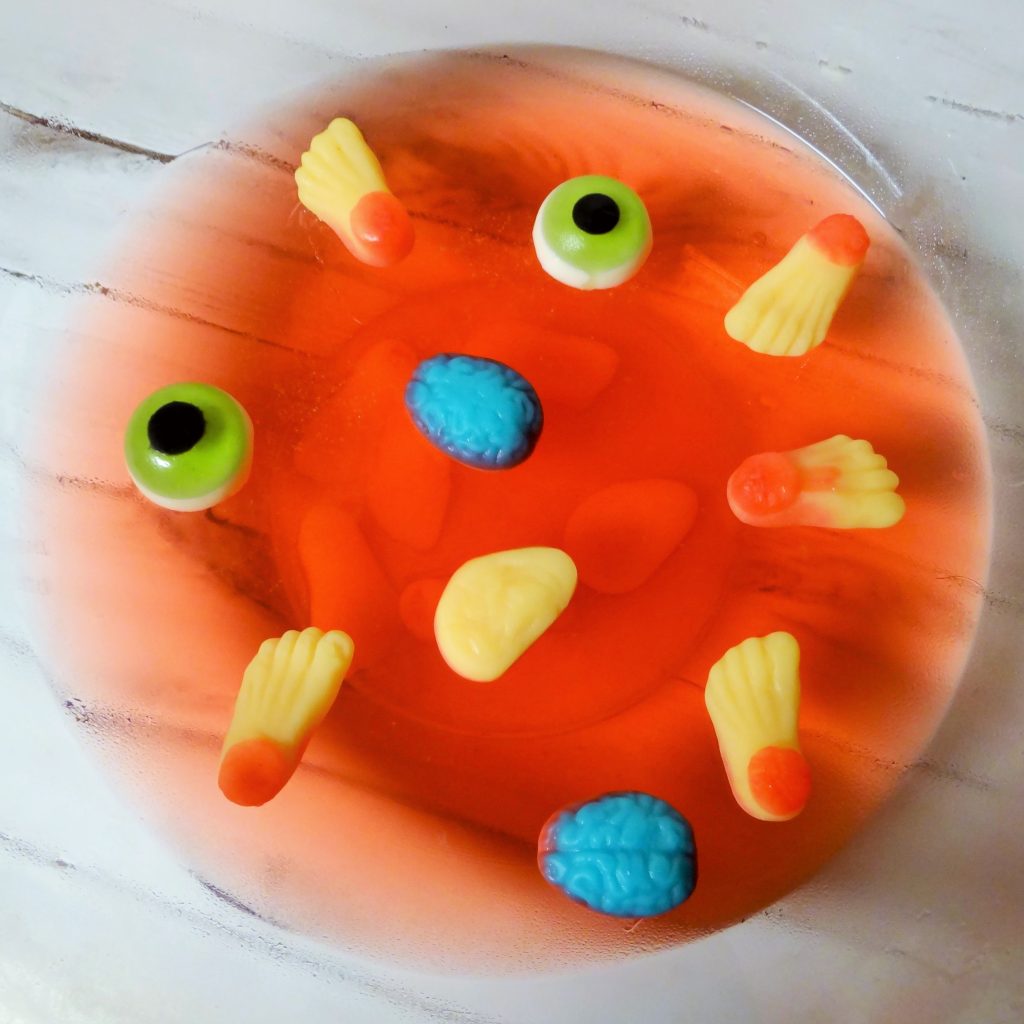 Monstrously Mandatory Costumes. Part of the fun of the party is being someone you're not! You can take things a little bit farther by holding a costume contest. Offer a prize for the most original, scariest, prettiest…etc. Encourage your guests to go shopping early, though – the best costumes are often rented and purchased first!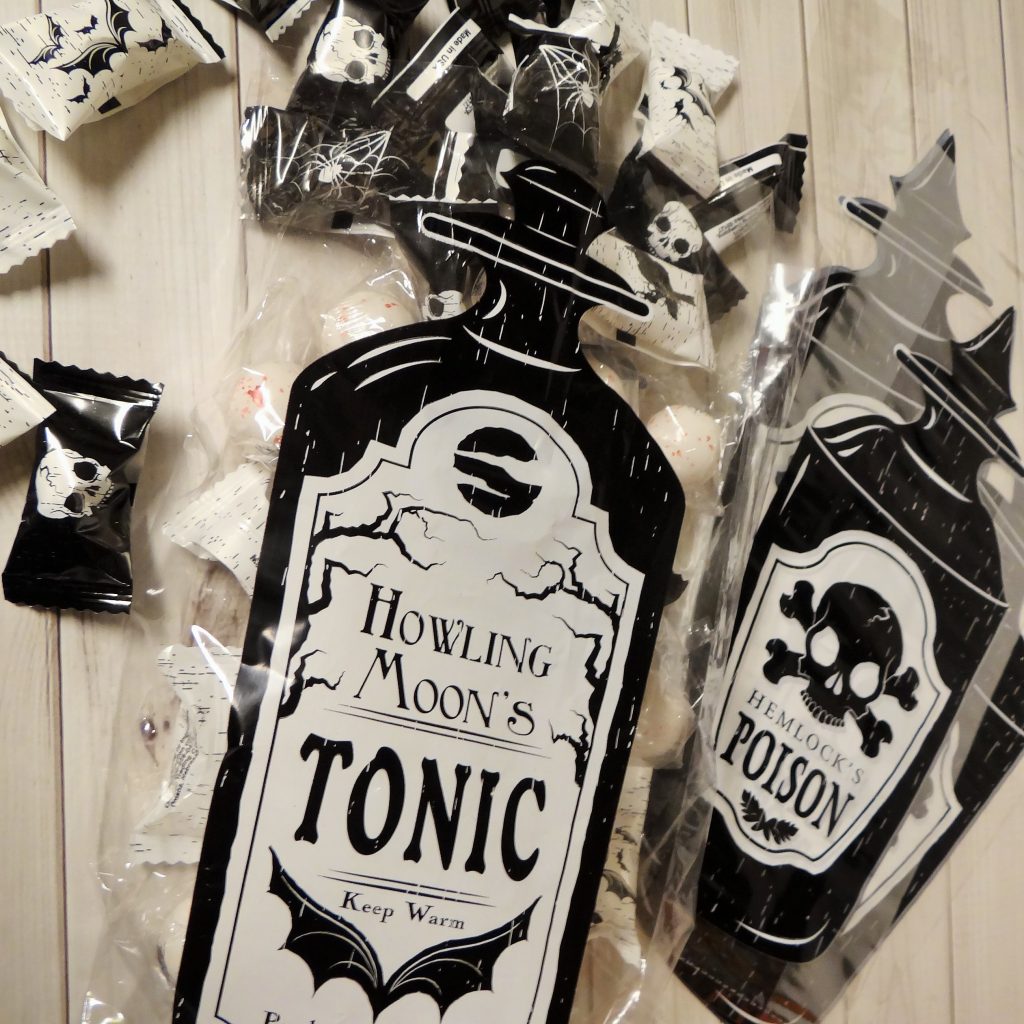 Consider the littlest ghouls and gals. Even though it's a Halloween party for adults, remember that Halloween is also a big holiday for children. You might have a bigger turnout if you have a little bit of a set up for kids on the side. Hire a babysitter to entertain and play games them so that you know they're safe and secure while you enjoy your evening.  Have a few treat bags or finger foods available on trays for them to snack throughout the night.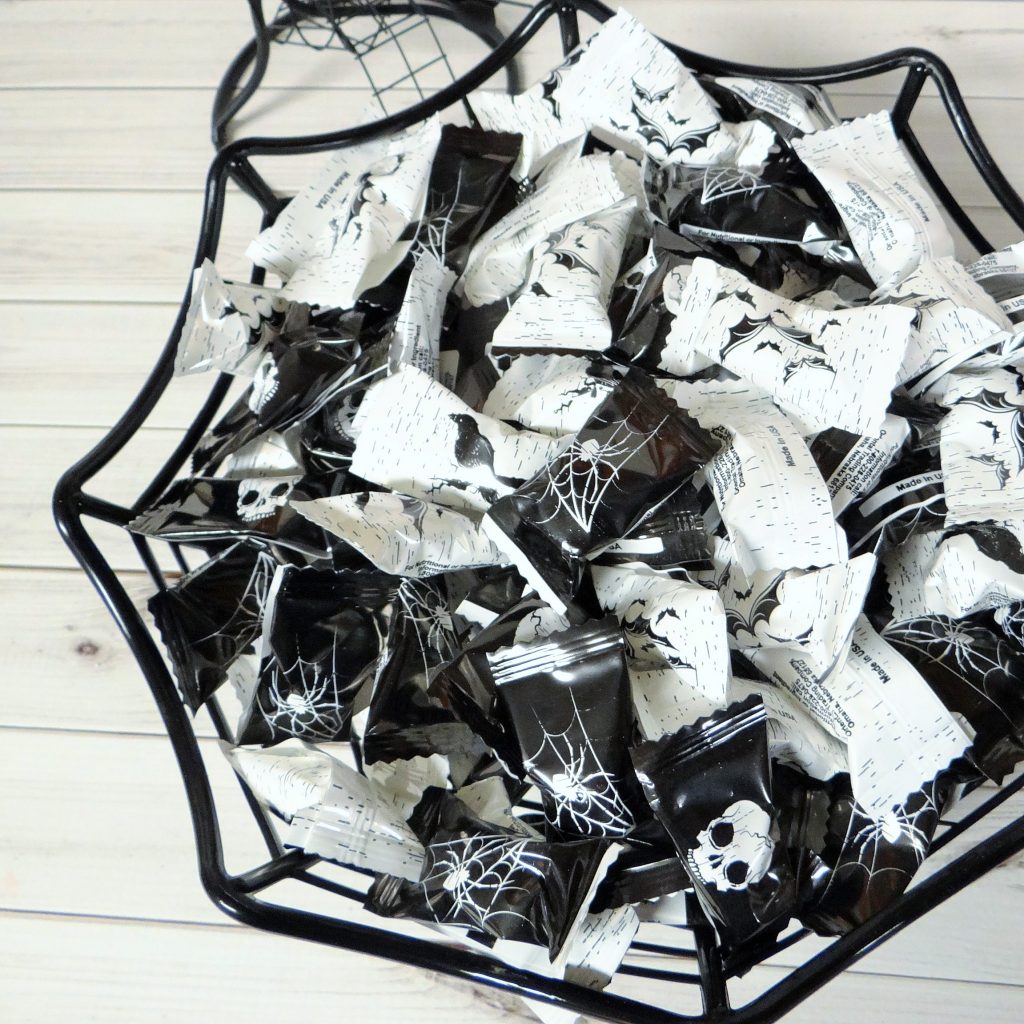 Dust off your spell book and get planning! With a little bit of thought, you'll have a wickedly amazing Halloween bash that your friends and family will be begging you to repeat next year. No sorcery necessary.