There's a wonderful sense of jubilation that bubbles up inside you when you watch someone who is passionate about life and their profession.  This is how I've always felt about Fabio Viviani, a chef I've admired since my husband and I first caught his appearances in his online show "Chow Ciao" and his appearance on Bravo TV's Top Chef.   Thanks to this amazing Italian culinary wizard, my hubby learned to make the best meatballs and pasta we've ever had!  You can definitely say, we're definitely a bit smitten with Chef Fabio and continue to follow his career.
When I first learned that Fabio Viviani had a wine collection available, I was excited to try it and thanks to my awesome hubby, a case full arrived at our home Christmas day.  We've had to continue ordering online (not that I mind getting a case at a time,) but it does take a little planning in advance if we want more to serve at a party or impromptu gathering.  Which is why I'm over-the-moon to find out and to share that Fabio Viviani Wines are finally available in Kentucky at the Whole Foods store in Louisville and Lexington!
Fabio's four wine varietals include the Cabernet Sauvignon, Chardonnay, Signature Red Blend (my favorite!) and the Signature White Blend. The diverse flavor profiles of the four bottles can satisfy a wide range of palates whether it's for an tailgating party for the upcoming football season or a friendly gathering and is sold for an affordable price of $14.99/bottle.
We love pairing Fabio's wines with all our favorite Italian dishes or just enjoying steaks, fish or any style meal.  I'm looking forward to sipping a glass while watching the fall sunsets and enjoying a bonfire or two, as well.
Suggested Dish Pairings for Fabio Viviani Wines
Fabio Viviani Cabernet Sauvignon
Dark chocolate, fresh black currants and vanilla with caramelized oak and a rich mouthfeel. Balanced tannins and focused acidity leads to a long, structured finish! This wine pairs well with BBQ dishes, roasted/grilled meats, pasta with heavier sauces or seasoned fish.
Fabio Viviani's Dish Pairing: Flank Steak with Mint Pesto Rolled
Fabio Viviani Chardonnay
Lush and fresh with accents of golden apple and summer pear. Toasty vanilla spices compliment a long, smooth finish. This wine pairs well with chicken, fish, light meats or pasta with white sauces.
Fabio Viviani's Dish Pairing: Sauteed Sea Bass with Romesco Sauce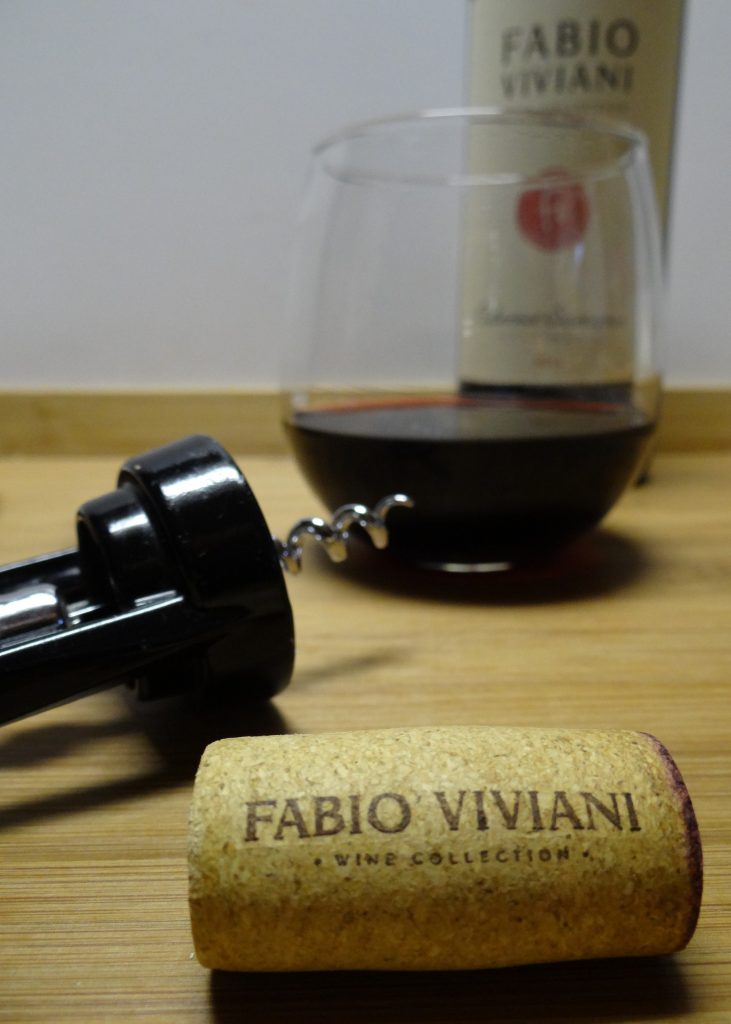 Fabio Viviani Signature Red Blend
You'll enjoy a melody of plum, cherry, raspberry, wild strawberry with soft tannins and a long and vibrant finish! A proprietary blend of Cabernet Sauvignon and Pinot Noir (Russian River) this wine pairs well with pastas, roasted chicken and charcuterie.
Fabio Viviani's Dish Pairing: Quick Chicken Parmigiana
Fabio Viviani Signature White Blend
Sweet peach, nectarine, green apple and honey with balanced acidity and a mouthwatering finish, the Signature White Blend pairs well with fresh and soft cheeses, creamy pastas and seafood. It is a proprietary blend of Riesling, Gewurtztraminer, Grenache Blanc, Sauvignon Blanc, Viogner, Chardonay and Moscato
Fabio Viviani's Dish Pairing: Spaghetti alla Carbonara
Now that we have both Fabio Viviani recipes and wines in our home, I hope our next step will be to see Chef Fabio in person someday at one of his many fabulous restaurants or when he's on tour with a food show.  Definitely what our culinary dreams are made of!
Have you tried Fabio Viviani Wines yet?  What's your favorite pairing?