Honestly, there was little doubt in my mind that my teens would enjoy a day at Kings Island in Ohio (located just a few minutes outside of Cincinnati.)  As we live fairly close to the area, our school has hosted class trips to Kings Island, and my sons have always raved about their fun time spent there.  This is the first year they have both visited as teens, and thanks to a press visit to Warren County, the first time we visited the park as a family.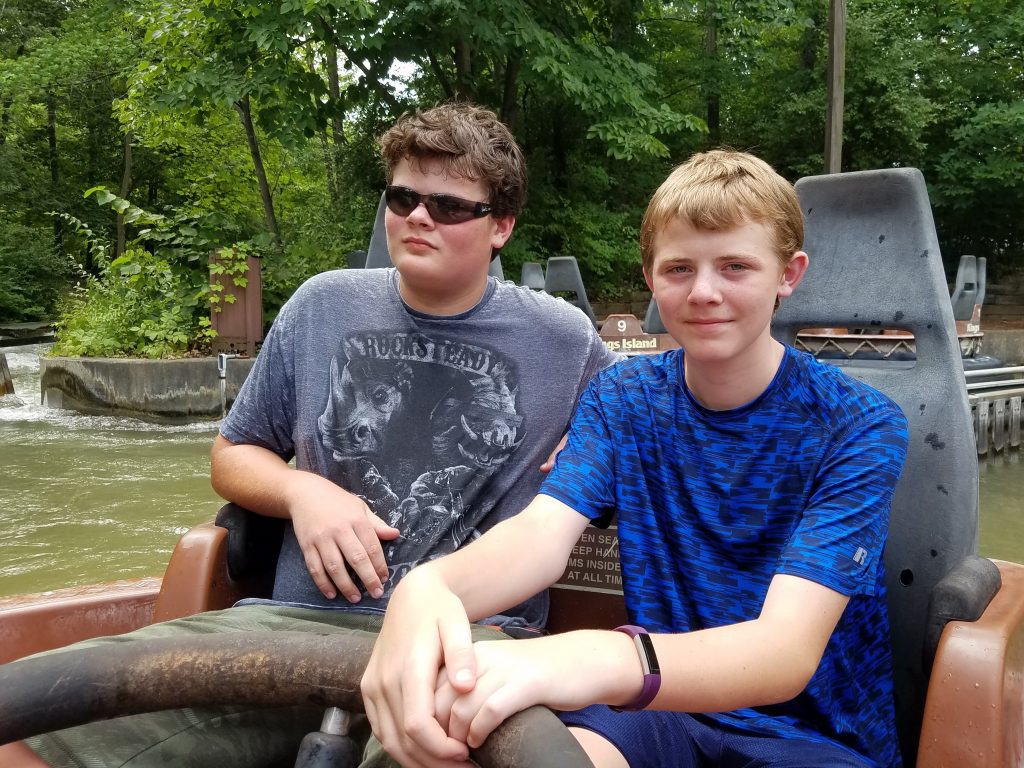 You know how teens can be a bit moody and fickle, so I was curious to view their experience first-hand at theme park, to see if they would still be as enthusiastic and whether a family visit would be as exciting for them.  Any trace of concern disappeared from the moment we pulled into the parking lot, you could physically see their anticipation and elation increase by the moment and by the time we parked, they bounced out of the vehicle, ready to hop on the rides at Kings Island!
I had a real mommy moment after we got through the front gate and officially started on our adventure.  Both my teens were bubbling over with ideas for the day and how to best map out the rides… but best of all, they were eager to play host to me and show me all the rides and share their former experiences at the park.
Now, if you have teens, you know that common responses to "did you have a good time?" generally result in short answers like "Yep."  From the second we entered the park, to the time we left, they were sharing, sharing, sharing all kinds of details and memories with me and that, my friends, is truly priceless!  When a theme park like Kings Island gets your teens talking, their positive attitudes shining, and their zest for fun lit up, it's worth every second you later might have to wait in line for a ride.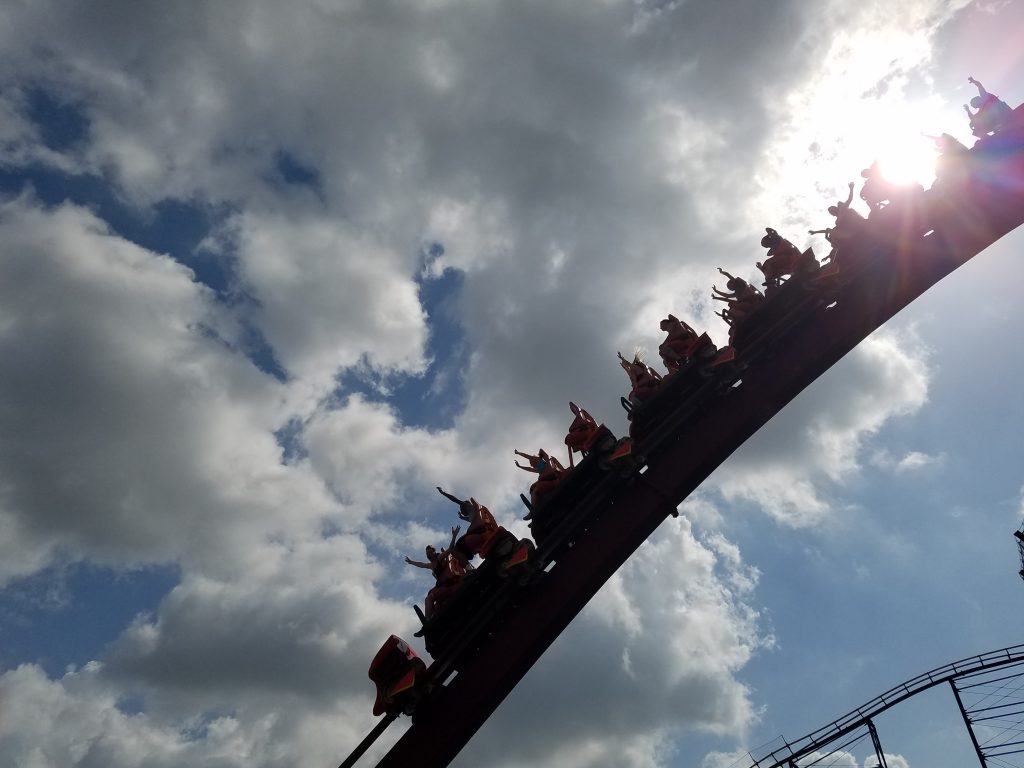 Kings Island Top 10 Attractions for Teens
I asked my sons to share their top 10 attraction choices from Kings Island. They had no problem quickly selecting ten and both were in full agreement on them. So here you have it, authentically from the view of 13 and 15-year-old visitors, the top 10 attractions for teens:
Diamondback – One of the top-ranked steel roller coasters in the world, it has 5,282 feet of steep drops, twists and turns through 10 acres of terrain at speeds up to 80 miles per hour with a spectacular splashdown ending
Invertigo – The only face-to-face inverted roller coaster in the Midwest, has speeds reaching 55 miles per hour through three inversions forward, and then backward.
Banshee – World's longest steel inverted roller coaster with 4,124 feet of track and seven stomach-churning inversions at speeds up to 68 mph.
The Beast – World's longest wooden roller coaster in the world sprawls across a densely-wooded, 35-acre site at speeds up to 65 miles per hour.
Tidal Wave Bay – Ride on a tube or swim together as Tidal Wave Bay breaks waves bigger and stronger than wave pool around. (Have to agree with my sons on this one, riding on the tubes at Tidal Wave Bay was a highlight to my day!)
Zume Flume – Family raft ride zooms around corners and along slide walls with up to three of your family members or friends.
Backlot Stunt Coaster – Riders experience what it's like to be a stunt car driver as your car races out onto the track and transported into the stunt chase sequence. (They even convinced me to ride this one and I have to say, it was a little scary to me, but still fun!)
Firehawk – Flying roller coaster takes willing test pilots 115 feet in the air through five inversions at speeds of more than 50 miles per hour, all while facing the ground.
Flight of Fear – Catapult from zero to 54 miles per hour in just four seconds in total darkness through four inversions.
The Racer – Twin Racing trains compete for the finish on this traditional out and back wooden roller coaster. (As I have two teen sons, they absolutely loved getting in opposite trains and competing.)

Kings Island Tips and Tricks for Parents
Now that you have the top 10 attractions to add to your list for a day at Kings Island, I wanted to be sure to share a few tips that also contributed to our amazing memory-making moments (and helped keep my parental sanity intact throughout the day!
Get a Good Night's Rest –  One big mistake that parents often make is getting up way too early to drive out to spend time at theme parks.  If you live over an hour away from the theme park, it's generally worth every penny to stay at a comfy hotel near the attraction to rest up and sleep in as much as possible.  For example, the Cincinnati Marriott Northeast is minutes away from Kings Island and offers great rates, comfortable and quiet rooms and my favorite feature- a coffee bar in the lobby! When you can literally roll out of bed and be at the theme park in no time flat, you'll all definitely have an amazing start to your day.
Purchase a Souvenir Drink Bottle – Hydration is key for everyone when you are doing any activity and the Kings Island Souvenir Drink Bottle is a great deal.  You'll get free refills for a day with $1 refills all season or you can purchase unlimited free refills all season long, if you plan to visit the park more than once.  The prices star at $10.99, making it a fantastic deal when you are spending the entire day at the park.  Refill stations are everywhere and the bottles have a very handy strap on them that makes them super easy to carry throughout the day.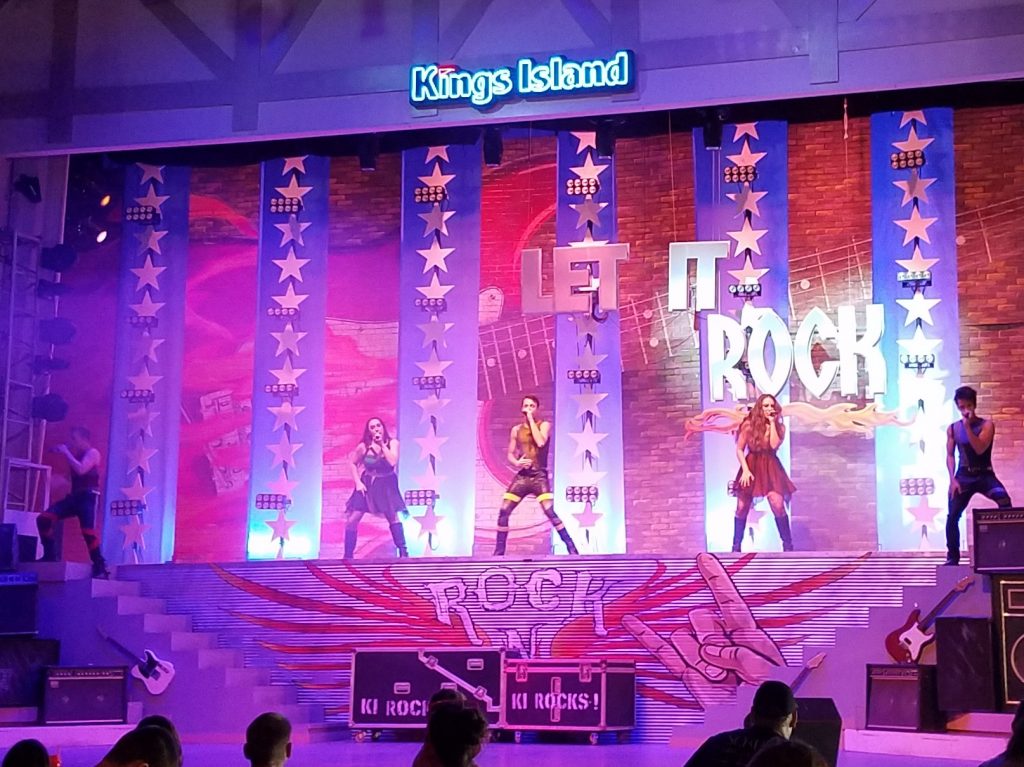 Travel Light.  Toting around a heavy bag all day gets very cumbersome and seriously, you never wind up using even half of what you brought!  Carry only the essentials you absolutely know you will need like your wallet, cell phone, sunglasses, medicines, a travel size bottle of sunscreen, lip gloss, small snacks, and maybe a few band-aids.  I highly recommend investing in a small, waterproof bag to tote everything in, too.  This way you won't have to worry about bringing/storing your bag on water rides.
If you feel the need to bring more or of course, if you plan to spend half your day at the Soak City Waterpark section of Kings Island, a locker is a wise investment.  You can store your bathing suits and towels there until you need them to avoid toting everything around the park.
Pack a Change of Clothes.   We always brings a full extra outfit (including socks and shoes) and store them in our car for emergencies.  If you get a little too wet on a water ride or have an unexpected accidental collision with a ice cream cone, you will be thrilled to have the extra clothing close by.  If you've ever walked around in wet shoes and socks all day, you totally understand how wonderful it is to be able to put on a dry pair asap!
Make Time for Family Time.  My teens and I do not have the same Top 10 favorite rides list.  I don't mind following them around and chatting along the way, then sitting out while they go on a ride or meeting up with them later, but I think it's important we share full family experiences throughout the day.  Up front, before you fully immerse yourself in the theme park, take a few minutes to agree on a few activities that everyone will enjoy and set a time (or anticipated schedule like "in the afternoon") for each.
For example:
catch a live entertainment show together
find a common ride everyone will enjoy
make a point to have a sit-down lunch and/or dinner together.
We did all of the above and it truly made the day more magical and memorable for everyone.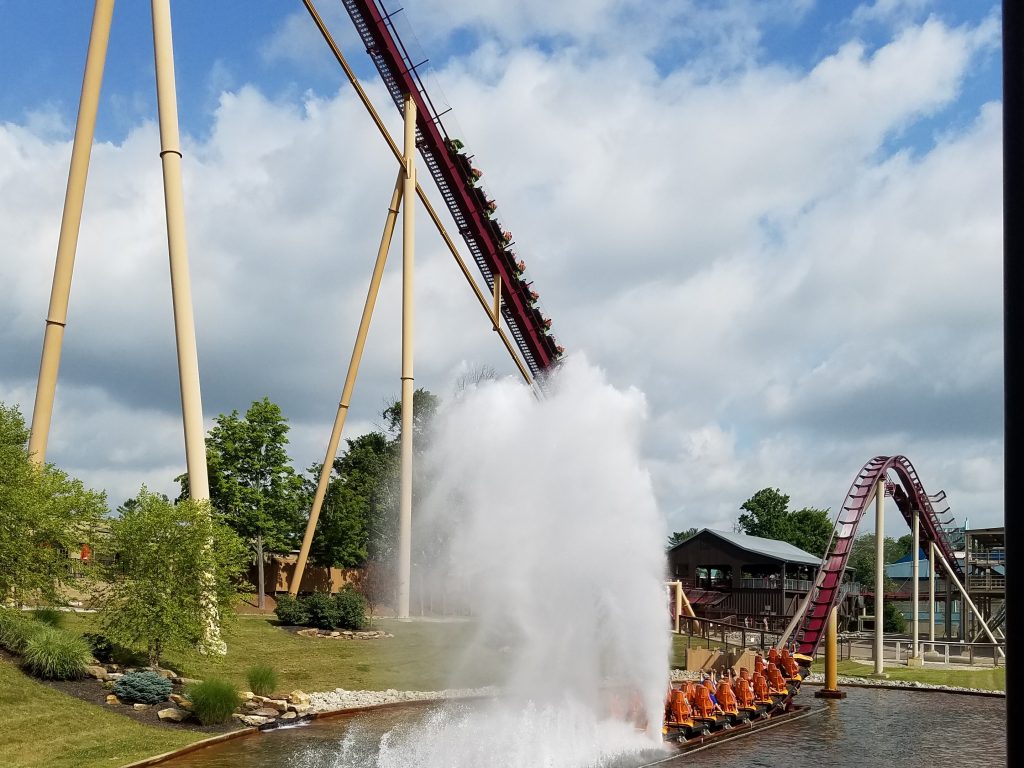 Have you visited Kings Island? What attractions would you add to our top 10 for teens?