There are truly times you must pinch yourself to see if you are dreaming.  When I reflect back on my life, in my wildest dreams I didn't think I'd ever make it to a red, errr green carpet, yet on Monday, there I was, a special guest of Walt Disney Studios Motion Pictures hitting the green carpet at the world premiere of PETE'S DRAGON held at the El Capitan Theater in Hollywood.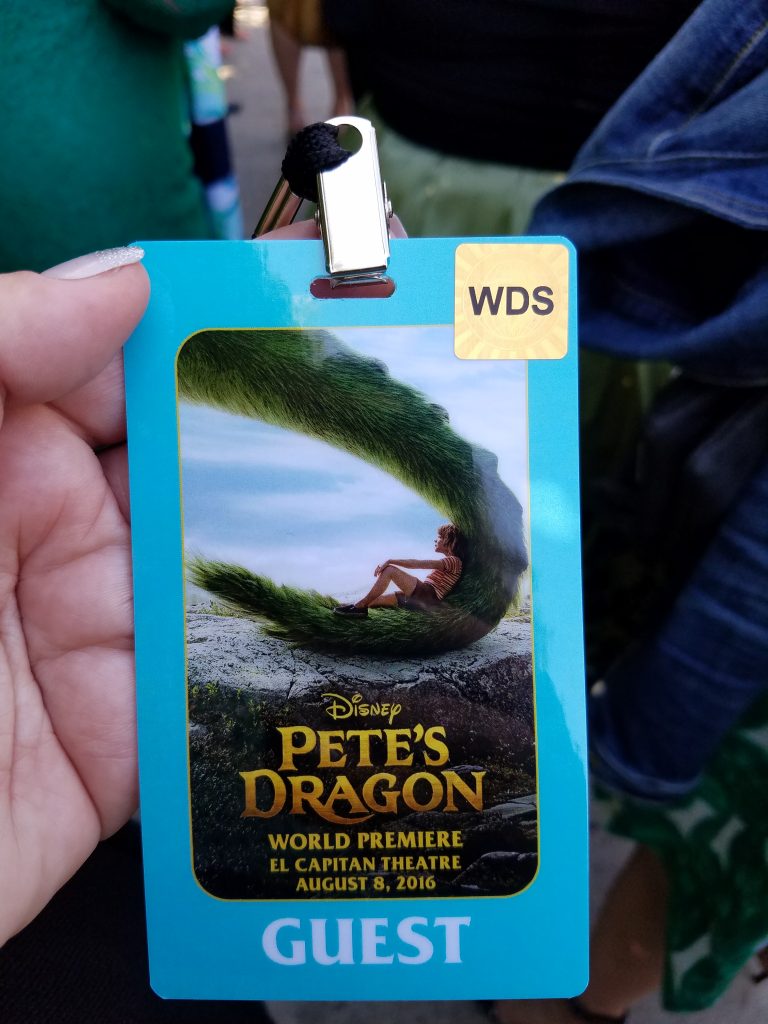 I love that life's circle has brought me such unique opportunities in my writing career to experience such magical moments, it's truly a blessing!  Sharing the memory is also very special, and I'm glad you stopped by to take a peek behind-the-scenes of the green carpet.  In the words of nostalgia from my childhood days, "Welcome the dragon while you have a chance, give him his moment to rise up and dance!" ("There's Room for Everyone" lyrics from the original Pete's Dragon)
PETE'S DRAGON Pre-Party
The theme of the day at the Pete's Dragon pre-party celebration was definitely "green!"  The room had the aura of a dragon's lair with the grand rooms where vaulted ceilings and green lighting offered a cavernous-like backdrop.
Celebrities and guests mingled throughout several rooms full of PETE'S DRAGON- inspired activities including a virtual reality experience where guests could fly with Elliot, have fun green-screen photo opps, get a dragon airbrush tattoo, make various crafts or enjoy a delicious bite to eat including a "dragon's breath" dessert (a flash-frozen crispy rice treat that emitted smoke when eaten.)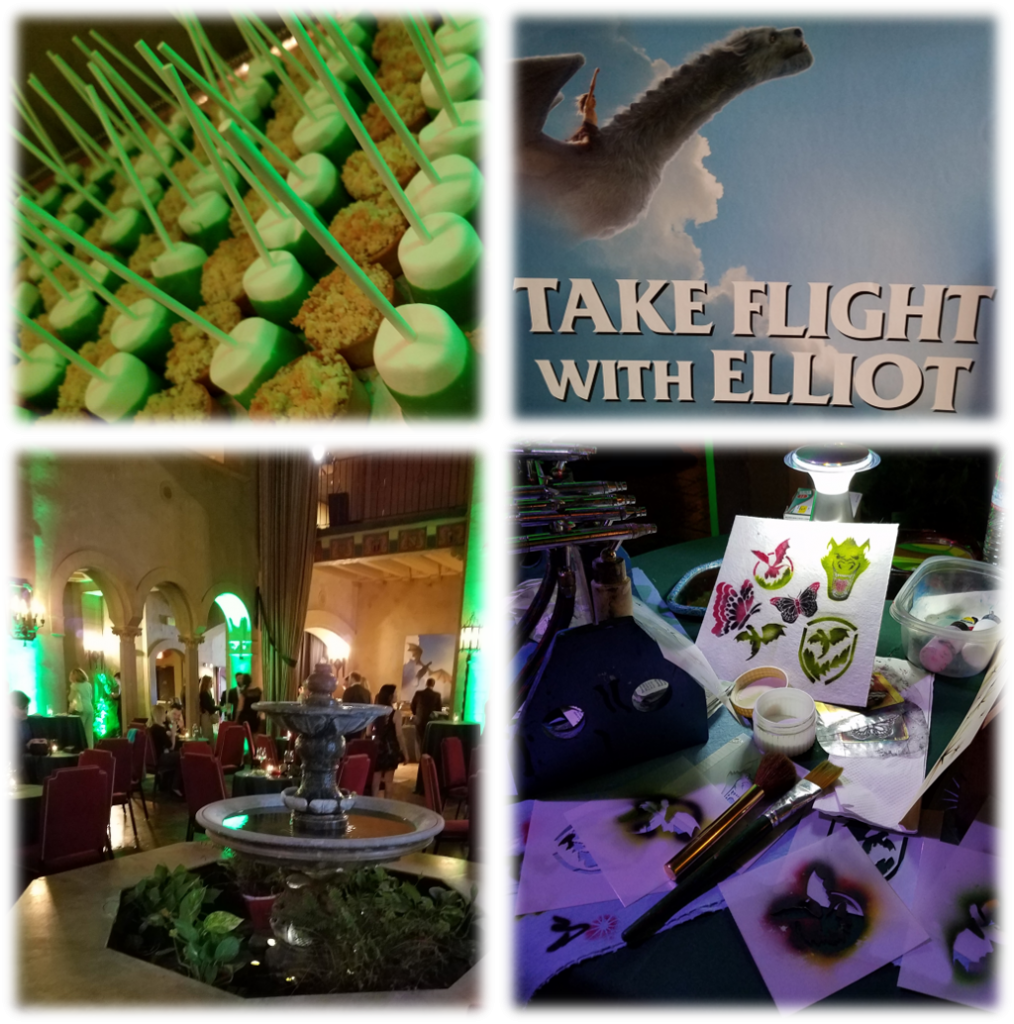 Celebrities from the film including Wes Bentley, Oakes Fegley, Bryce Dallas Howard and Oona Laurence joined by many other Hollywood stars including Mario Lopez, Beverley Mitchell Pete Wentz, Tiffani Thiessen, Rachel Roy, Matthew Lillard, Scott Speedman and more.  A treasured moment for me was meeting Lou Diamond Phillips, an actor I've long admired since his early role in "Miami Vice" and film appearance in "La Bamba."
PETE'S DRAGON World Premiere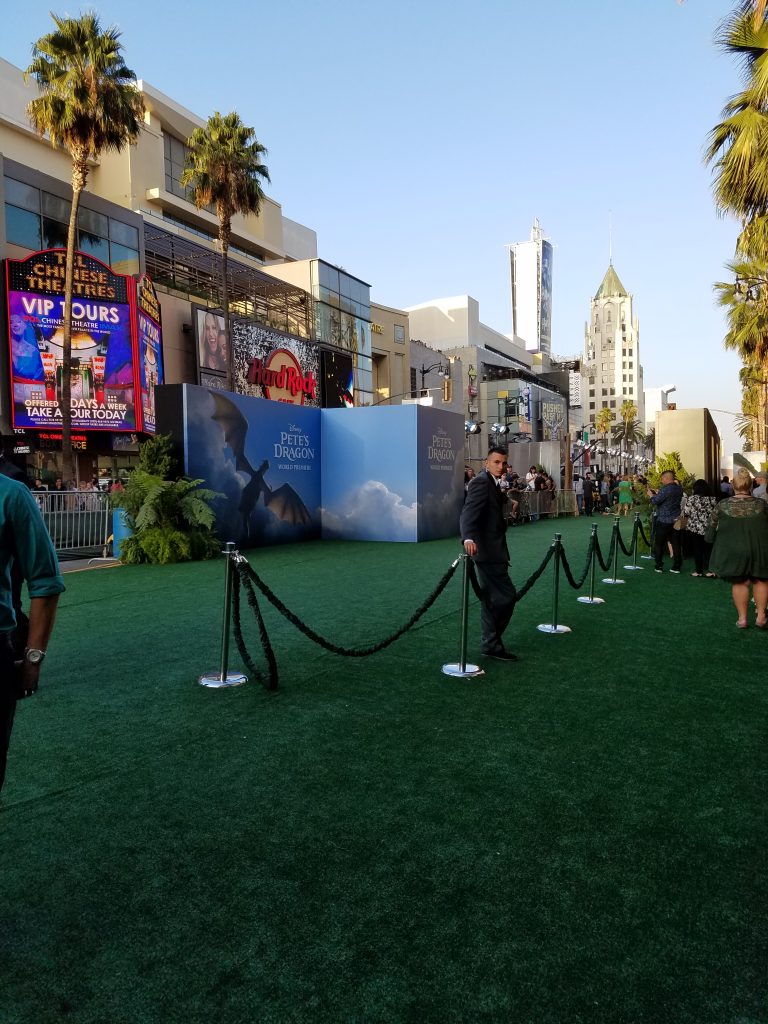 After the exciting pre-party, it was time to walk the green carpet for the world premiere viewing of PETE'S DRAGON at the famous El Capitan Theater.  This is only my second experience on the red carpet and it was equally enchanting as the first.  The nice thing was that I was more relaxed this time and able to immerse myself into the experience more fully, which made things even more fun!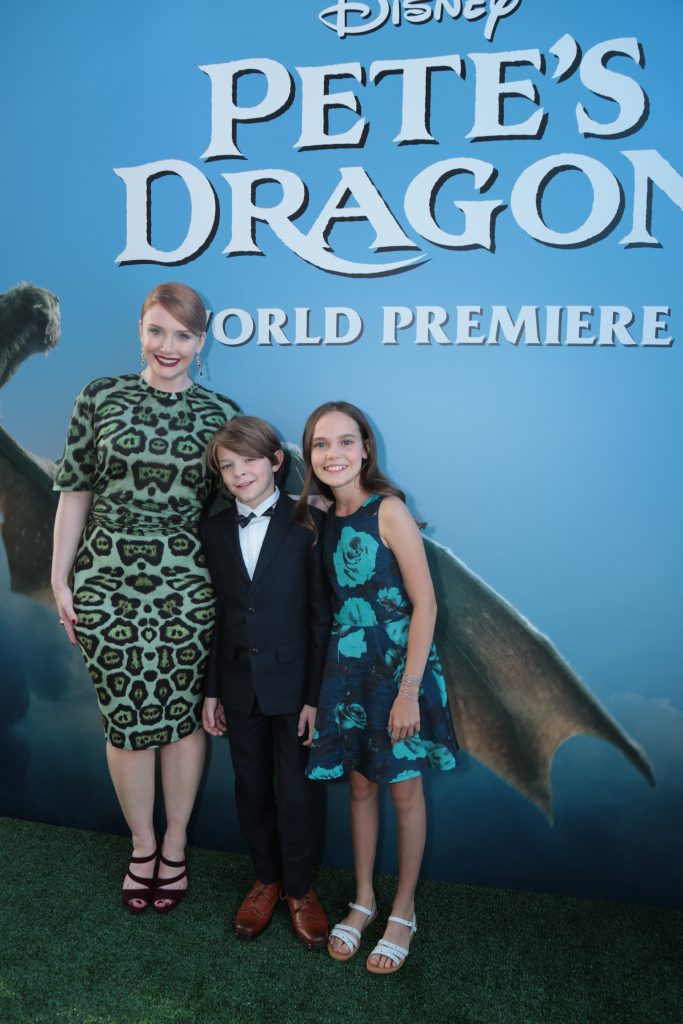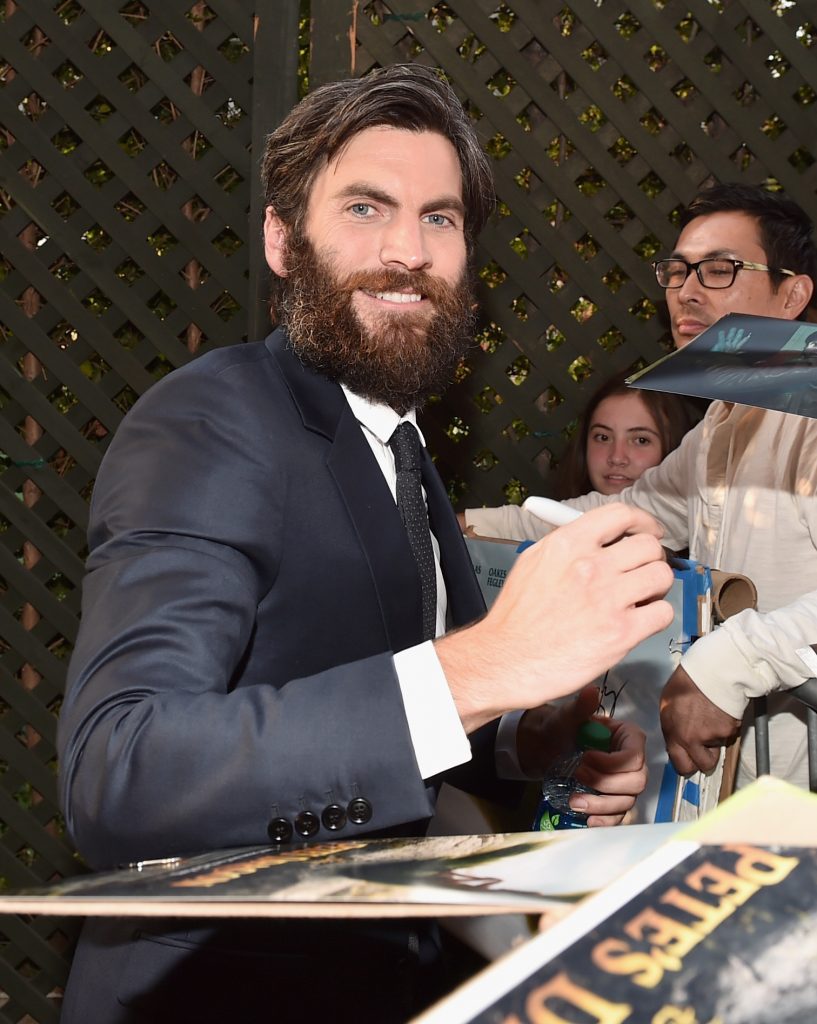 Again, green was the theme, with a lush green carpet sprawling down Hollywood Boulevard to the entrance of the El Captian Theater.  Celebrities walked the left side of the carpet to take a moment for pictures and press interviews, guests (like me) walked the right side of the carpet where we were greeted with plenty of greenery and fun photo opps.  Everyone converges at the end for more fun photo opps and a chance to mingle a few minutes before entering the theater.  At that intersection, I had a very special moment meeting Auli'i Cravalho, who you will soon get to know well as she is the voice of Moana (in theaters 11/23/16), and her wonderful mother.   They have amazing spirits, such an honor to have the gift of spending a few special minutes with them.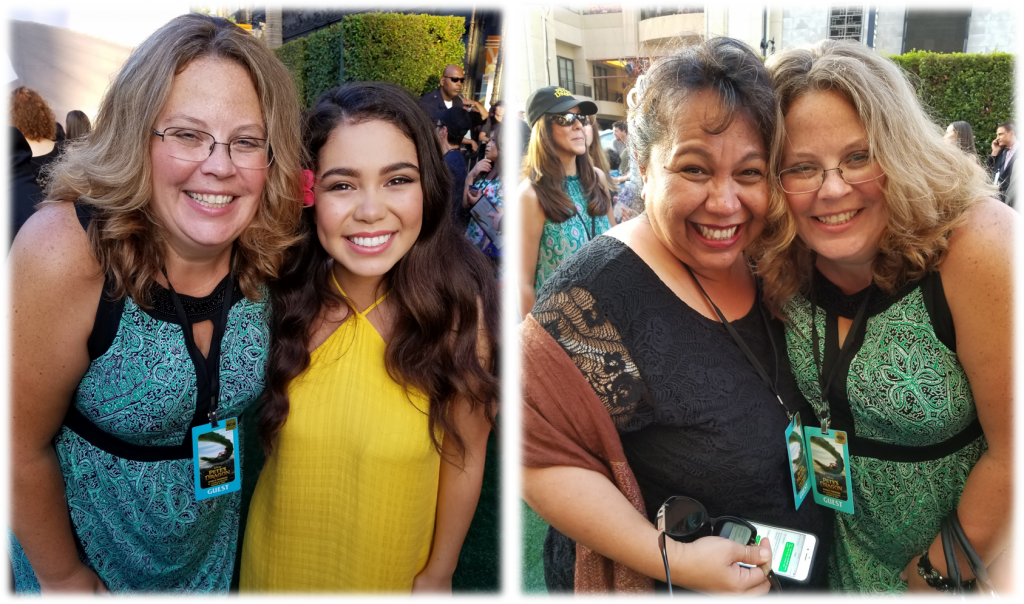 After our dazzling time on the green carpet, it was time to settle in and enjoy Disney's re-imagined PETE'S DRAGON take flight.  The film is truly a delightful, heart-warming family film and I'll be sharing more thoughts soon in a full review, so stay tuned!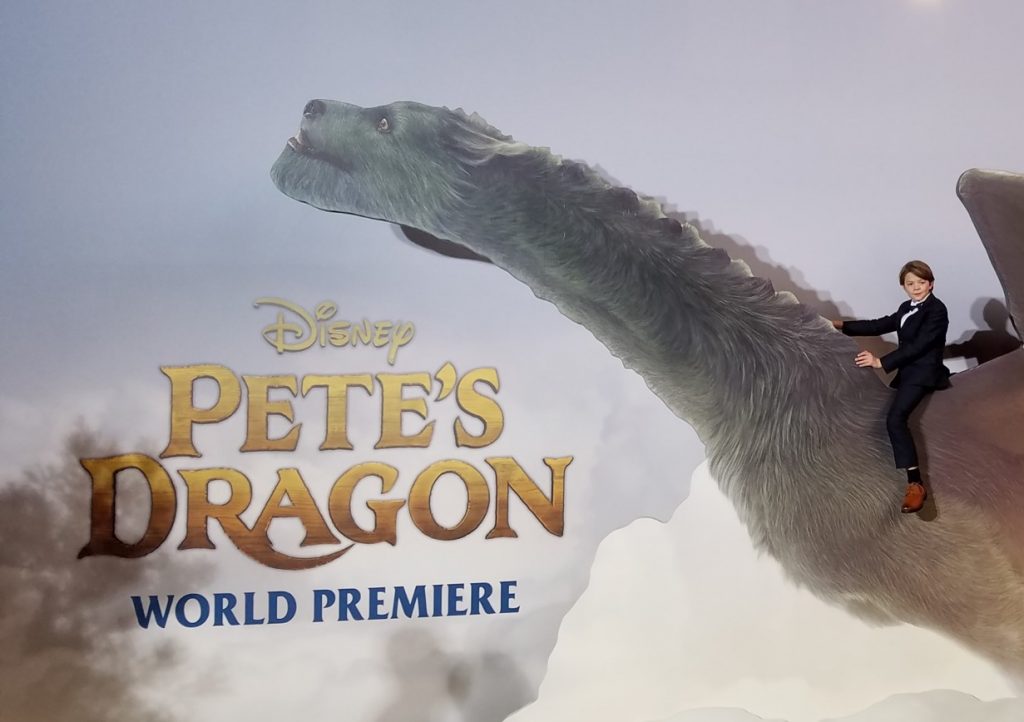 Inside the El Capitan Theater
The day following the world premiere of PETE'S DRAGON, our group had the opportunity to get a special behind-the-scenes tour of the El Capitan Theater which was a real treat! The El Capitan Theater is an exclusive first run theater for Walt Disney Pictures. 
Most impressive is the architecture and luxurious decor details that make the theater so magical.  The restoration process for the theater was intense.  Designers took measures to ensure the theater was returned to its original glory, going so far as to match the pigments in the paint.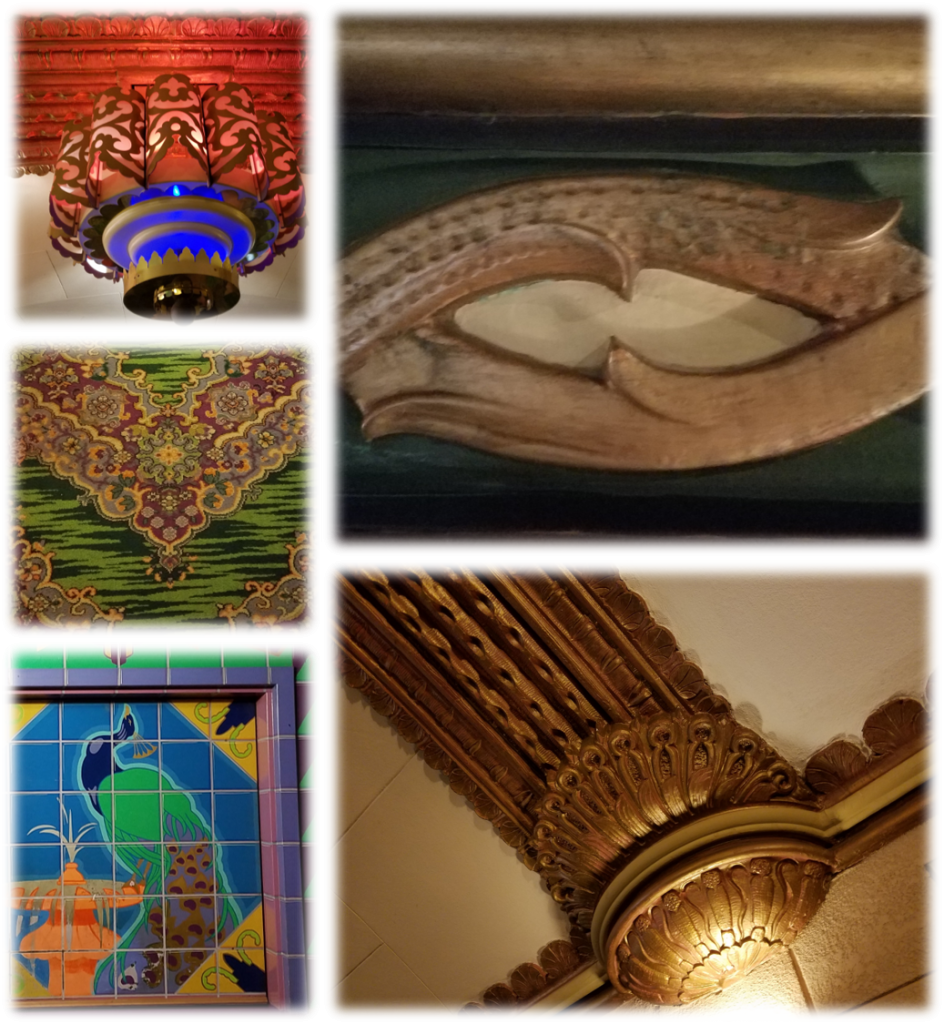 We learned the theater opened in 1926 and is considered to be "Hollywood's First Home of Spoken Drama." The building has a Spanish Colonial exterior and a an East Indian interior designed by San Francisco architect G. Albert Lansburgh.  Though the theater now is restored to its original elegance, there are some modern additions for movie-goers that truly enhance the experience like the Dolby ATMOS sound system featuring over 100 speakers and Christie Solaria series digital projectors.   With the exquisite decor, innovative technology and dramatic curtain opening for films, an movie experience at the El Capitan is certainly like no other!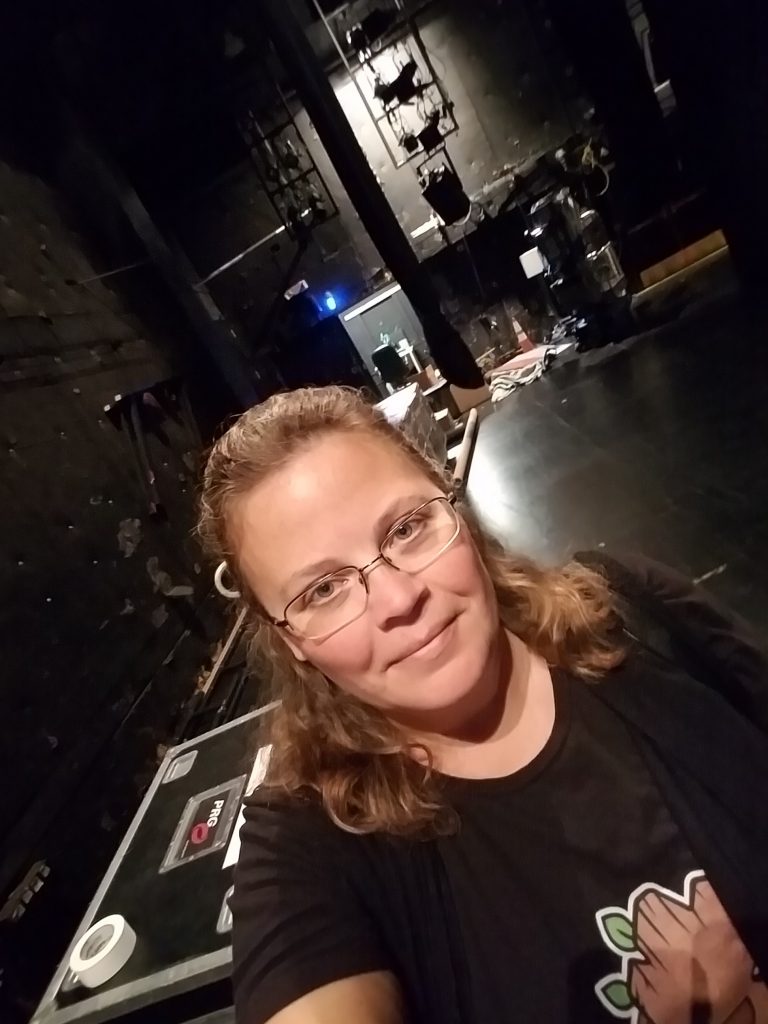 Be sure to continue to follow my coverage via @ruralmoms (Twitter) @Barb_Webb (Instagram) and RuralMoms (Facebook)- look for the #PetesDragonEvent hashtag.
PETE'S DRAGON flies into theaters everywhere on August 12th!
Disclosure: I attended the #PetesDragonEvent My expenses were covered by Disney. All opinions are my own.