It's funny how much our phones become a part of us. Even with limited cell service, I still relied on mine to enhance my recent cruise experience. Between the camera and some really cool apps, I didn't even miss having service at all! As a result, I thought I'd share a list of must-have apps for cruising.
Note: Be sure to install apps before you leave home to save on roaming charges.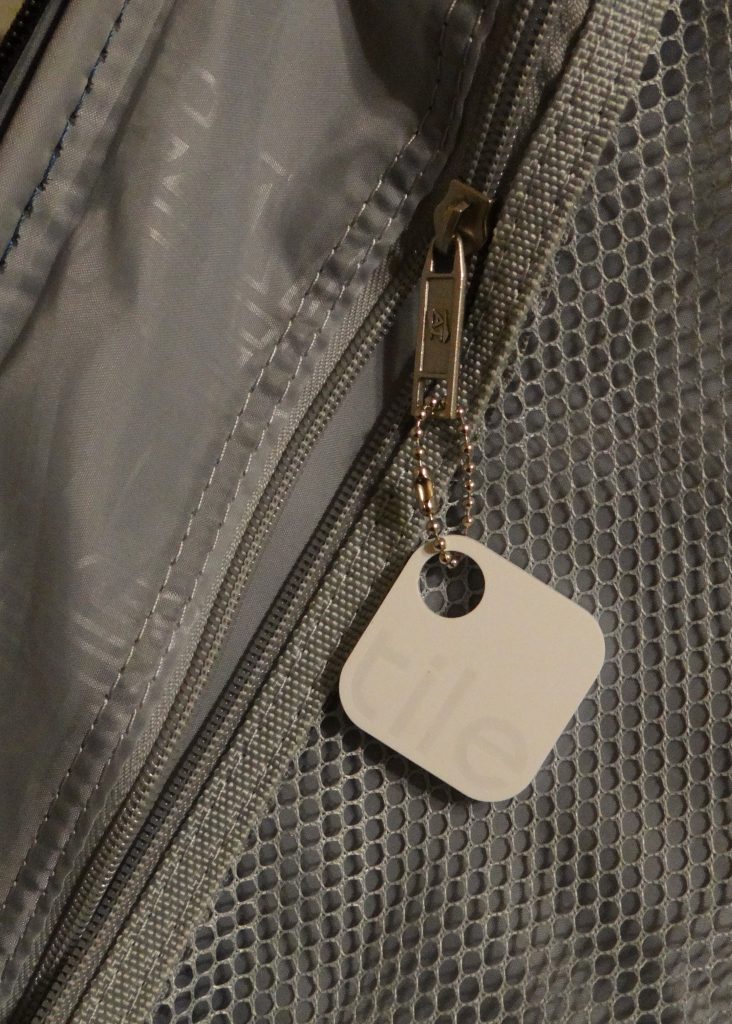 My number one go-to app for traveling, whether it is by cruise ship, overseas or just a simple quick flight to Chicago is the Tile App.  As part of a great group of Verizon influencers, I received a Tile to test drive and share my honest thoughts on. I can honestly tell you that this product is a frequent traveler's dream companion!
The one question every traveler dreads asking is "where is my suitcase?" With Tile, I no longer have to ask. I just place the tiny Bluetooth tracker in my suitcase and use the app to locate my gear.
When I'm embarking on a cruise, I can easily find out when my luggage arrives and locate it quickly on the carousal upon debarking. When I fly to and from the port, I can typically connect with my Tile while I'm getting situated for my flight to make sure my luggage is on board, too (particularly handy knowledge to have when I'm making connecting or rerouted flights!)
There is a cost associated with purchased the Tile, but it's a blessing to have. Simply place a Tile in your luggage and you can use the App to locate the Tile, which means you will then know where your luggage is or isn't.  You can also attach a Tile to your keys, wallet, beach blanket or any other object of value to you that you wish to keep track of during vacation or when at home.
Additional cruise apps that I've found to be valuable are:
Shipmate: Touted as the number one cruise line app, it certainly does have it merits! You'll get tips and tricks beforehand as well as reviews, pictures, and the ability to see where the ship is at any given time. Also a great cruise planning tool and works with most cruise lines.
Onavo Extend: This app will help you cut your data and roaming charges wherever you are. It's a must-have.
XE Currency: Helps you figure exchange rates and is definitely an essential if you plan on doing any shopping in foreign lands.
Anti-Mosquito Sonic Repeller: Turns your phone into a device that emits a super high pitched frequency mosquitos hate but you can't hear. Especially with Zika virus on the rise, this app could be really helpful.
World UV: Finally an app for those of us who are tan-challenged! This app uses your phones GPS to tell you how strong the UV rays are in your area and what kind of sunscreen you'll need. Hopefully you brought extra!
VSCO: This is a great photo editing app. Even the not-so great shots can be edited easily to look like great ones, and you'll want to take lots to share with friends and family.
WhatsApp Messenger: For those who have things at home they absolutely need to check on, this app will allow you to send texts, pictures, and videos using the ship's Wi-Fi connection. It's perfect for getting in touch with family members in an emergency as well as uploading pictures of elephant-shaped towels and tin foil leftover swans to Facebook.
StarWalk: If sitting under the stars is one of your favorite parts of cruising, this app is for you. It pinpoints your location and will tell you exactly what stars and constellations are in the sky above you. This one is $2.99 but a well-loved app that stargazers will use long after the cruise is over.
Cruise Card Control: If you're trying to stay within a budget on your cruise (Who isn't?) this is definitely the app you need. It allows you to categorize and keep track of spending as you go so that there are no surprise bills at the end of the cruise.

These apps are really just the gravy atop the mashed potatoes (somehow saying "tip of the iceberg" seemed in poor taste) when it comes to cruising. There are many, many more out there that will surely make your cruise experience more memorable.  If you have a favorite, please share!