This year marks the 142nd Kentucky Derby, a tradition celebrated heavily in my neck o' the Kentucky woods!  The greatest two seconds in sports will soon determine who goes home a little richer and who simply goes home with some great memories of the celebration after.  No matter where you are, you can join us and get into the festive spirit at home with one of these amazing, inspired Kentucky Derby cocktail recipes.  Each embodies the flavors and spirit of the Derby, delivering a delicious finish.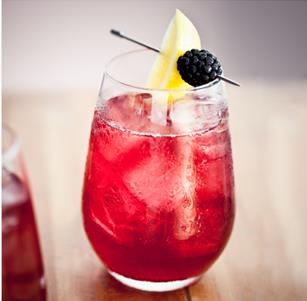 For a truly authentic experience try the GREY GOOSE Oaks Lily cocktail, the official cocktail of the Kentucky Oaks races, which take place on Friday at Churchill Downs. This signature cocktail, served in a commemorative glass, is a Derby fan-favorite, outselling the famed Mint Julep on Friday at the races, year after year.  If you make it out to the races, the GREY GOOSE Oaks Lily will be available on the red carpet and for purchase at racetrack concessions and VIP areas throughout the races, with a portion of the proceeds from the sales of the GREY GOOSE Oaks Lily to benefit Horses and Hope.
GREY GOOSE Oaks Lily
Ingredients:
Part GREY GOOSE® Vodka
½ Part Orange Liqueur
½ Part fresh lemon juice
2 Parts cranberry juice
Method: Fill glass slightly above rim with cubed ice. Pour ingredients in order listed to ½ inch from top of glass. Stir slowly and present with a fresh blackberry and a slice of lemon.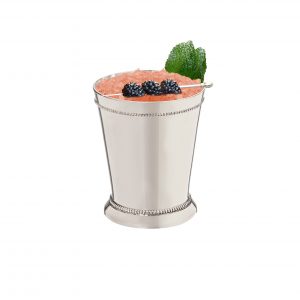 Cruzan® Hats Off Julep
from our friends at Cruzan Rum
Ingredients:
2 parts Cruzan® Estate Diamond® Dark Rum
1⁄2 part Turbinado Simple Syrup*
Pinch of Mint
3 Blackberries
Crushed Ice
Method: Muddle Mint and Berries in a julep cup. Add Cruzan® Estate Diamond® Dark Rum and Turbinado Simple Syrup (recipe below) and fill with crushed ice. Take a bouquet of Mint and rinse with water, then sprinkle Mint with powdered sugar for garnish with 3 speared Blackberries.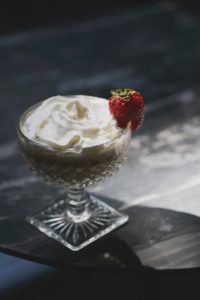 The Queen's Cup
Created by Mixologist Lauren Davis
Ingredients:
1 oz Baileys Original Irish Cream
1 oz Ketel One
1 oz Cold Brew Coffee
5 Strawberries
Whipped Cream
Preparation:
1. Place 4 strawberries in cocktail shaker and crush with muddler.
2. Add Baileys Original Irish Cream, Ketel One, cold brew coffee and ice to the cocktail shaker. Shake well.
3. Strain contents into a Martini glass.
4. Top with whipped cream.
5. Garnish with remaining strawberry.
Ideal Serve:  Martini Glass
Yield: 1 drink, no drink contains more than 0.6 fl oz of alcohol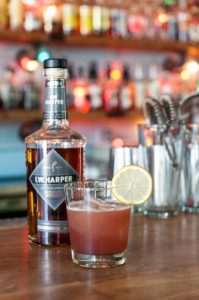 Harper's Bet
Cocktail developed by Mark Corley, The Silver Dollar in Louisville, Kentucky
1.5 oz. I.W. Harper Kentucky Straight Bourbon Whiskey
.5 oz. Grenadine
.5 oz. Lemon juice
.5 oz. Grapefruit juice
3 Dashes Orange bitters
Method: Shake and Strain over fresh ice in an old fashioned glass. Garnish with a lemon wheel.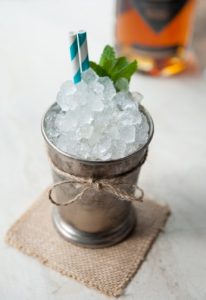 Vinceremos Julep
Cocktail developed by Marie Zahn, Hawthorn Beverage Group
1.25 oz. I.W. Harper Kentucky Straight Bourbon Whiskey
.75 oz. Amontillado Sherry
1 tsp. Ginger Syrup
8 Mint leaves and 3 fresh mint sprigs
Glassware: Julep Tin
Instructions: Lightly muddle mint and ginger syrup, add other ingredients and top with pebble/crushed ice. Swizzle briefly and top with more ice. Garnish with three mint sprigs and straw.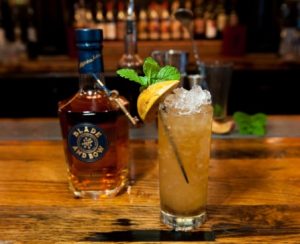 Blade in the Bluegrass
Cocktail developed by Michael Harper, OBC Kitchen in Lexington, Kentucky
1.3 oz. Blade and Bow Kentucky Straight Bourbon Whiskey
1 oz. Roasted peach-infused simple syrup
6-8 mint leaves
crushed ice
Method: In shaker, add mint leaves and roasted peach-infused simple syrup. Gently muddle ingredients to express essence of mint. Add freshly cracked ice and Blade and Bow. Shake well. Crush fresh ice and pack into Julep Cup. Fine strain drink over crushed ice in Julep Cup. Garnish with fresh mint sprig and bruleed slice of peach.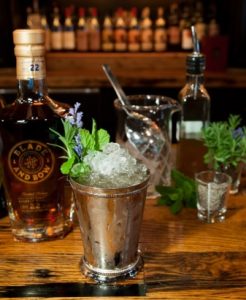 Thoroughbred Special
Cocktail developed by Adam McCraith, OBC Kitchen in Lexington, Kentucky
1.3 oz. Blade and Bow Kentucky Straight Bourbon Whiskey 22 Year Old
.5 oz. Honey simple syrup
5-7 Mint leaves
Sparkling brut to finish
Method:  In mixing glass, add mint leaves and honey simple syrup. Gently muddle ingredients to express essence of mint. Add freshly cracked ice and Blade and Bow 22 Year Old. Stir well. Crush lavender infused ice, and pack into Julep Cup. Fine strain spirit over crushed lavender ice in Julep Cup. Top with sparkling brut. Garnish with sprig of lavender and mint.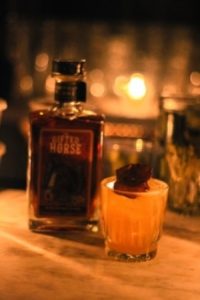 The Paddock
Cocktail developed by Destinee Almonte, No Vacancy LA*
1 oz. The Gifted Horse American Whiskey
.25 oz. Velvet Falernum
1 Quarter roasted pear
2 Bar spoons sugar
1 Dash Cardamom Bitters
Topped with soda
Garnish with a sugared pear.
Method:  In addition to the information above, I included a link below that will take you to high-res bottle shots and fact sheets.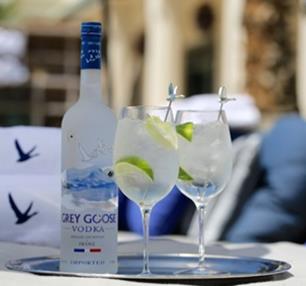 GREY GOOSE vodka will also raise a glass and toast to the arrival of summer at this year's Kentucky Derby with the refreshing signature summer serve, "Le Grand Fizz." The cocktail will be served on The Kentucky Derby Red Carpet and is a balanced, effervescent combination of GREY GOOSE Vodka, St-Germain liqueur's floral sweetness, topped with soda and a squeeze of lime juice.
GREY GOOSE Le Grand Fizz
Ingredients:
1 ½ parts GREY GOOSE® Vodka
1 parts ST-GERMAIN® Elderflower Liqueur
½ part freshly squeezed lime (approx. half a lime)
2 parts chilled soda water
Method: Build ice into an oversized cabernet wine glass. Add GREY GOOSE vodka and freshly squeezed lime juice. Top with ST-GERMAIN elderflower liqueur and chilled soda water. Garnish with two lime wedges and a GREY GOOSE stirrer.