We are curiouser and curiouser to see Disney's ALICE THROUGH THE LOOKING GLASS this weekend and can't wait to revisit with our beloved characters from Lewis Caroll's imagination.  This time Alice returns to Underland to save her friend, the Mad Hatter in a spectacular adventure that's sure to be full of magical whimsy!
Naturally, as we get ready to head to the theater, we are celebrating at home with plenty of fun ALICE THROUGH THE LOOKING GLASS activities.  From creating our own tea garden to watching preview videos and coloring pages of scenes from the film – it's definitely time for a little creative madness around here.  Hope we inspire you to invite a bit of Alice into your home this weekend, too.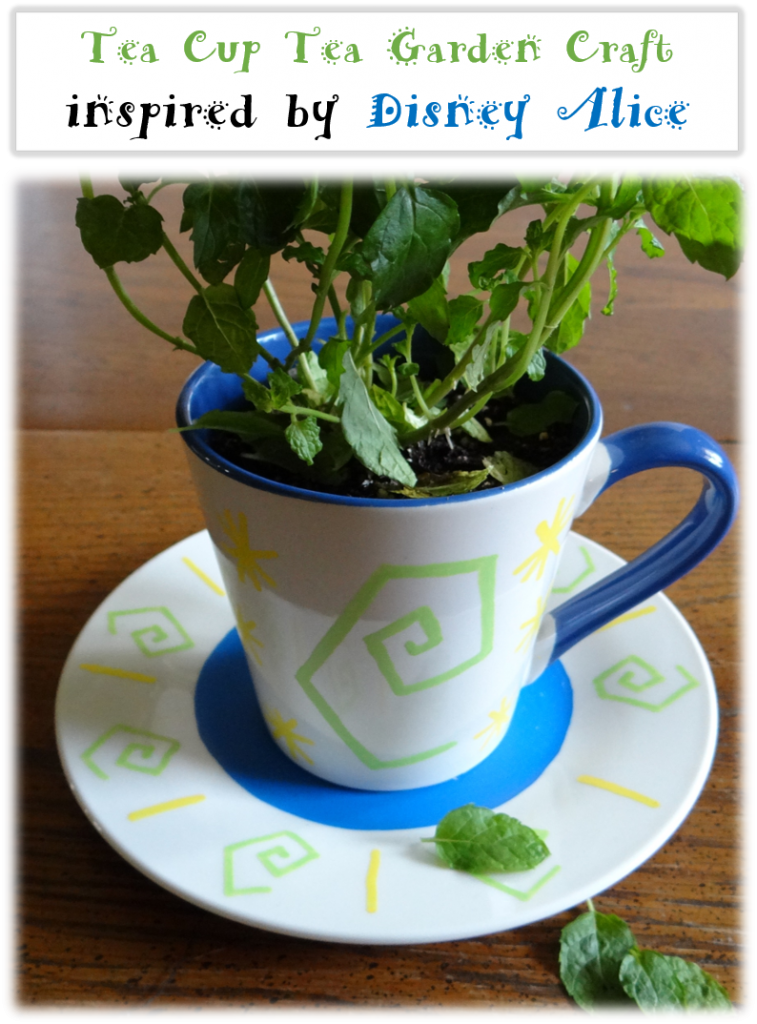 "ALICE THROUGH THE LOOKING GLASS" TEA CUP TEA GARDEN CRAFT:
For several years now, I've been growing my own tea ingredients and the upcoming ALICE THROUGH THE LOOKING GLASS film inspired me to take things up a notch and create a Tea Cup Tea Garden to brighten up my kitchen windowsill.  The design I chose to use is reminiscent of the Mad Tea Party ride in Disney World's Fantasy Land (one of my all-time favorite rides,) using simple shapes and bright colors.  You can certainly use any pattern, colors and design that suits your home decor or reminds you of Disney Alice and her adventures.
Materials used are Painters Pens and a plain white cup with blue accents and white plate I found at our local dollar store.  The rest is simply using a little creative imagination to paint a design.  Be sure to allow the paint to dry before switching colors.
When you are ready to plant your herbs for your tea (suggest mint, lemon balm, lemon verbena, and chamomile as great plants to start with,) add a thin layer of small rocks inside the cup and fill with soil.  Plant your herb seeds or starter plant and viola! You have a cute tea cup tea garden display.  This is an ideal setup for starter plants that you will then transplant to a bigger container later.  However, plants like mint will continue to flourish when you remove clipping regularly.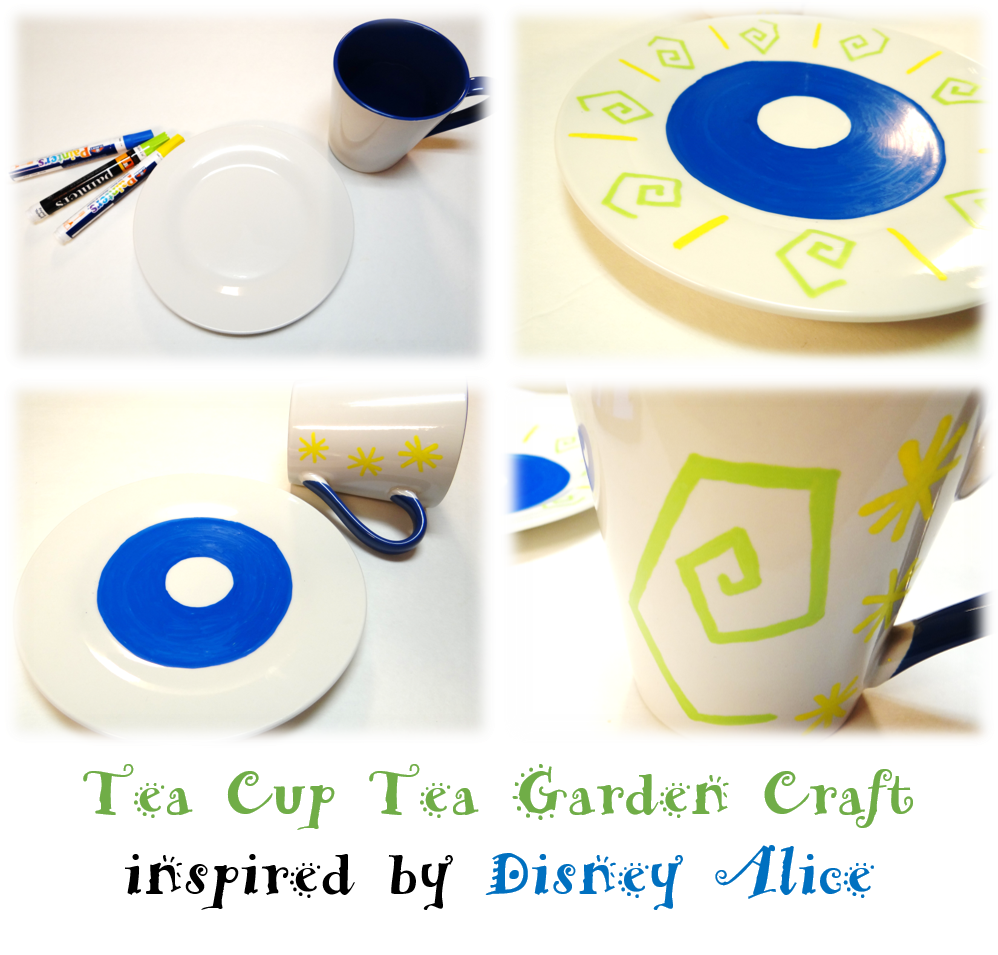 "ALICE THROUGH THE LOOKING GLASS" ACTIVITY SHEETS:
MORE "ALICE THROUGH THE LOOKING GLASS" FUN: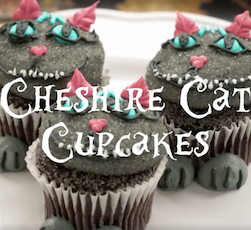 Create ALICE THROUGH THE LOOKING GLASS snacks for your family to enjoy.  Check out these three fabulous dessert videos with ideas for creating delicious macaroons, Cheshire Cate cupcakes, and Time's Gear Cookies:
Travel Through The Looking Glass and transform yourself into your favorite ALICE THROUGH THE LOOKING GLASS character:
Treat yourself to a preview of the film: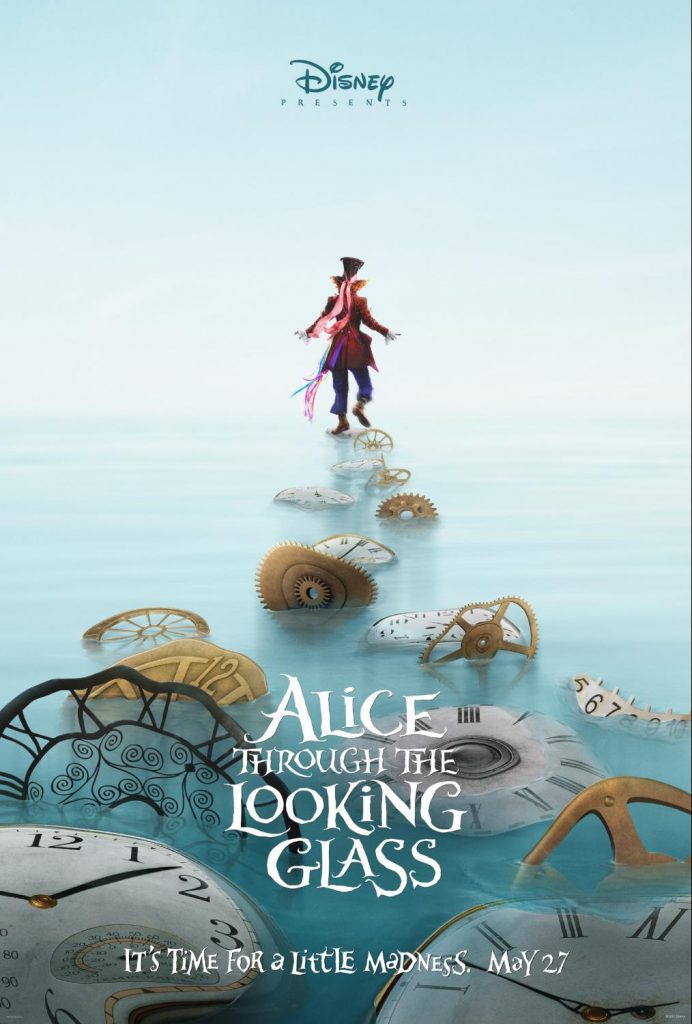 Like ALICE THROUGH THE LOOKING GLASS on Facebook: https://www.facebook.com/DisneyAlice
Follow ALICE THROUGH THE LOOKING GLASS on Instagram: https://instagram.com/DisneyAlice
Follow Walt Disney Studios on Twitter: https://twitter.com/disneystudios
Visit the official ALICE THROUGH THE LOOKING GLASS site here: http://movies.disney.com/alice-through-the-looking-glass
ALICE THROUGH THE LOOKING GLASS is now playing in theatres everywhere!