As a member of a great group of Verizon influencers, I occasionally receive cool products to test drive and share my honest thoughts on. No additional compensation is provided, neither were any favorable comments promised. All opinions that follow are my own.
We know I love my smartphones, and the Samsung Galaxy S7 might be my favorite one so far! Samsung has really gone above and beyond with this model. It still has everything I love about all the previous Galaxy S versions, plus they've added more incredibly useful features.  To date, it's the bomb-diggity of amazing smartphones to find a home in my purse (or pocket!)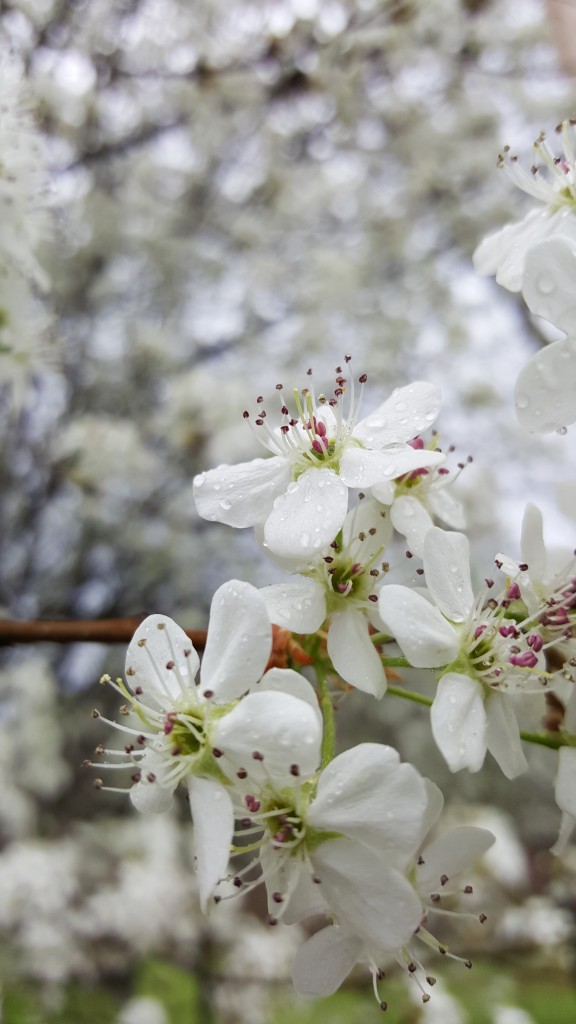 First, it's water resistant. That's a huge plus for me. I'm always watering plants, filling water bowls, washing dishes or doing laundry…you name it. There is a whole lot of water involved in my life. A water resistant phone is really a smart choice for this girl. The S7 resists spills and splatters. Obviously that doesn't mean you can go swimming with it, but if you have it on the counter and one of the kids (or your husband!) knocks their glass of water over on it, it will be fine.  Or as I've already tested (see picture above,) you can stand in the rain and capture beautiful photos of your favorite Pyrus (ornamental pear) tree without having to worry about damaging the phone.
Another thing I love is the fast charging. They say patience comes with age, so that would explain why I have so little. It's tough being 25 forever! Silliness aside, this phone charges faster than any other I've seen.
The memory is expandable. I take a LOT of pictures, and I love a good app. The S7 comes with 32GB pre-installed, but can be expanded to up to 200GB with a microSD card. That's a crazy amount of memory. Aside from apps and photos – you could download lots of full length movies on there. The amount of expandable storage is perfect for someone who spends a lot of time traveling. If you stored your favorite TV shows and movies on your SD card, you could watch them while you're waiting for your connecting flight without using extra data.  A phone that holds a lot of videos is also a great distraction for kids. Download the latest Disney movie and let them watch it while you're driving to cure "Are we almost there?" syndrome.
Usually I don't do this, but I have saved the best for last. The 12-megapixel camera on this phone is absolutely phenomenal, and I'd buy the phone just for this one feature. It's the first smartphone with dual-pixel technology. That means that the camera can focus on the subject almost instantly and you get many more action shots and much less blur.
It also has a new and advanced sensor that makes the camera take much better pictures in low light conditions- especially with April showers underway, the low light sensors make all the difference.  Now if Samsung could make a smartphone with a self-cleaning lens, I'd be in heaven!
I stress photo quality as, like most people, it's of uber importance to me.  I don't want to miss a moment when spending time with family, in the garden or on-the-road.  The Samsung Galaxy S7 allows me to carry one small device to do so, rather than lugging around my bulky camera.  This has been revolutionary for my personal memory keeping capabilities and my professional needs.
Combine all of this with Samsung Pay (convenient mobile payment) App that's standard and the latest Android operating system, Marshmallow, and you've got one pretty amazing phone!
Curious to know more? For more information on the Samsung Galaxy S7, visit http://www.samsung.com/us/explore/galaxy-s7-features-and-specs/