Lupia Nyong'o walks into the room and her presence immediately commands your attention.  Her smile reveals a glimpse of her inner strength and regal beauty that rivals her exterior.  This actress is a powerhouse through and through.
In contrast, when you sit down with Giancarlo Esposito, you sense he holds the keys to many truths and if you hang around long enough, listening very closely you may share in the secret.  Quiet and gentleman-like in word and mannerisms, he is boisterous in spirit.
Together this duo is a formidable pair, captivating audiences onscreen and off, revealing clearly why they are well-suited for the role of raising on a man-cub in Disney's THE JUNGLE BOOK.  You instantly know that Mowgli is one lucky member of the pack!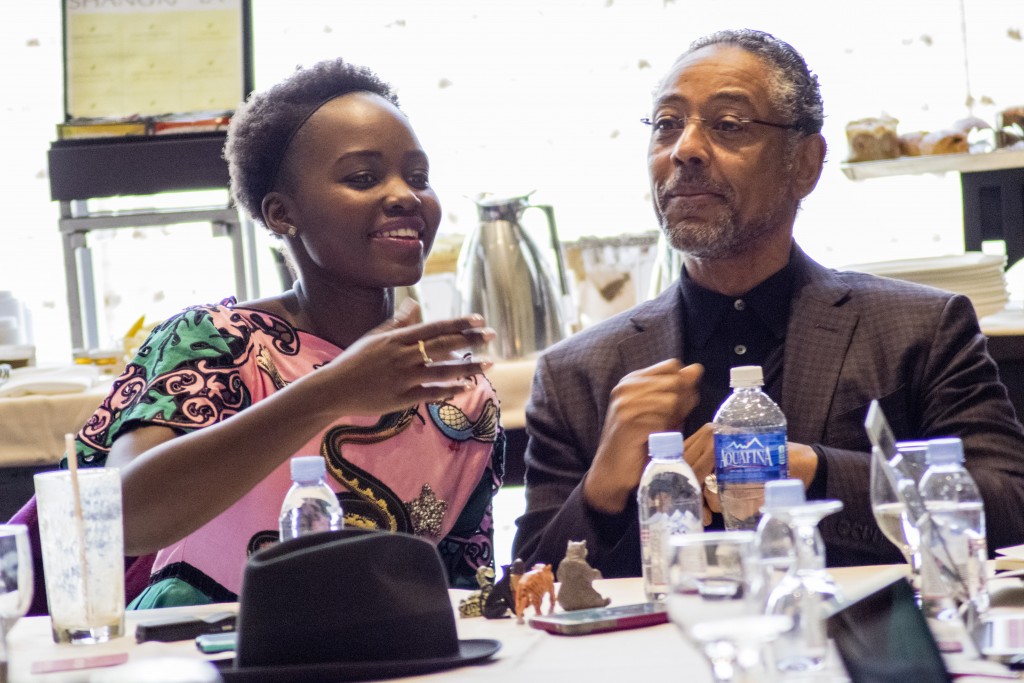 The role of Raksha is Lupita Nyong'o's first role as a mother, appealing to her as something she had not yet done, particularly in a voice-over capacity.  She says she has alsways loved children and had been fantasizing about motherhood since she was around two-years-old!
To play the wolf character, Raksha, in The Jungle Book, Nyong'o says she found inspiration in the very powerful women in her life, starting with her own mother.  In her culture, Nyong'o shared that her mother's sisters and her father's sisters were also mother figures to her.  The "fierce love" Nyong'o says her mother had for her children translates brilliantly onscreen with Raksha, who is determined to do right by her adopted man-cub.
"That spirit, that tenacity of mothering was something that inspired my version of Raksha," Nyong'o said.  "Beacuse it takes a woman with one huge heart to take on not only a child that's not hers, but of a completely different species."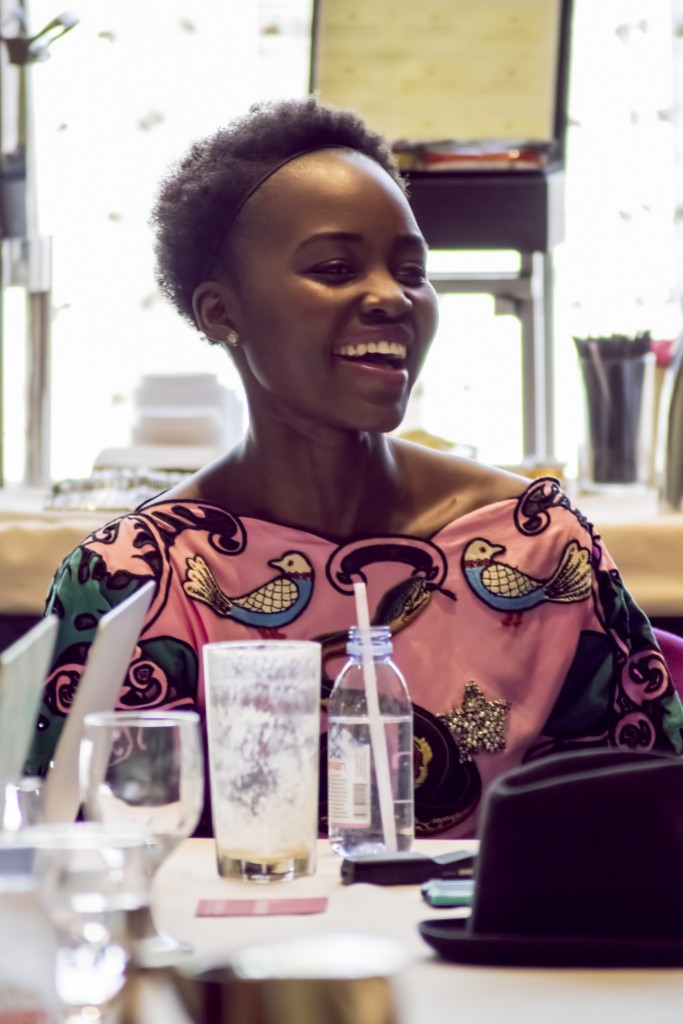 Another aspect of Raksha's character is having to let go of Mowgli so that he may make his way in the world.  Nyong'o again identified with this struggle from her own life citing that she went through a similar experience with her mother.  These experiences were moments she reflected on when playing the role of Raksha in The Jungle Book.
"And I love my mommy," Nyong'o added, tugging on the heartstrings of all of the mommies in the interview room.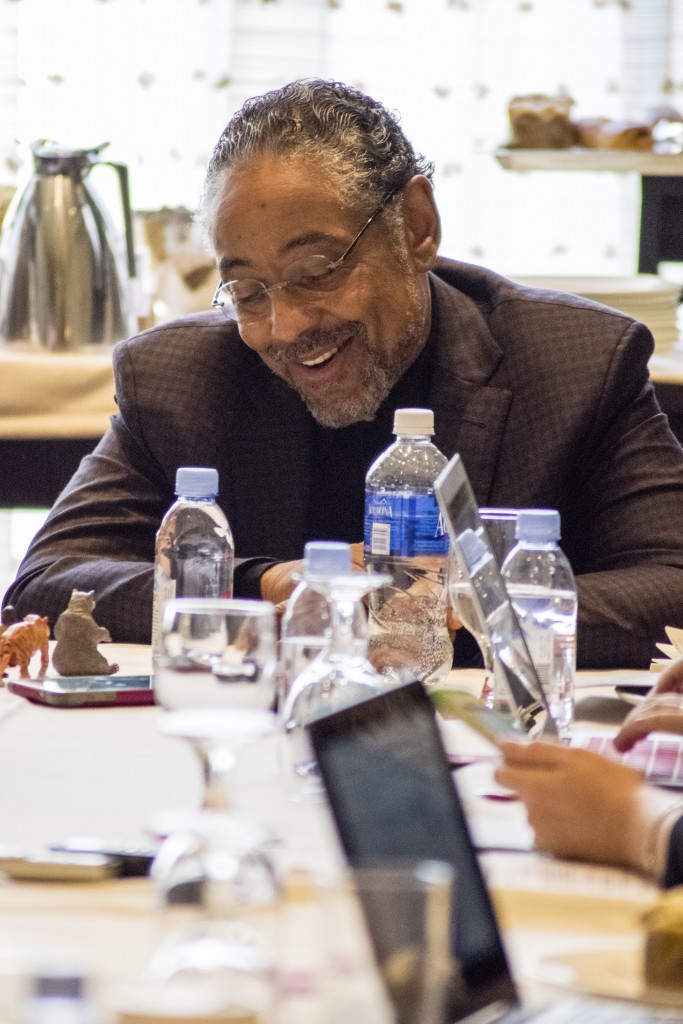 Giancarlo Esposito read Kipling's "The Jungle Book" when he was about ten-years-old and then talked about the book afterward with his mother.  He feels his life has come "full circle" now that he is starring in the film.  Despite lending his voice to Akela, father figure to Mowgli in The Jungle Book, Esposito jumped on the motherhood theme of the conversation and had plenty of praise to offer those in the real life role of "mother."
"I feel like the importance of the female and the mother presence in our society is greater than ever," said Esposito.
Esposito is out-numbered by women in his home with four daughters, ages ranging from twelve to nineteen, he believes the journey to motherhood starts when children are very young.
"I have this vision that I'm really watching each one of my daughters start to become women and mothers," Esposito said. "And this is what's going to save our planet.  I know it!"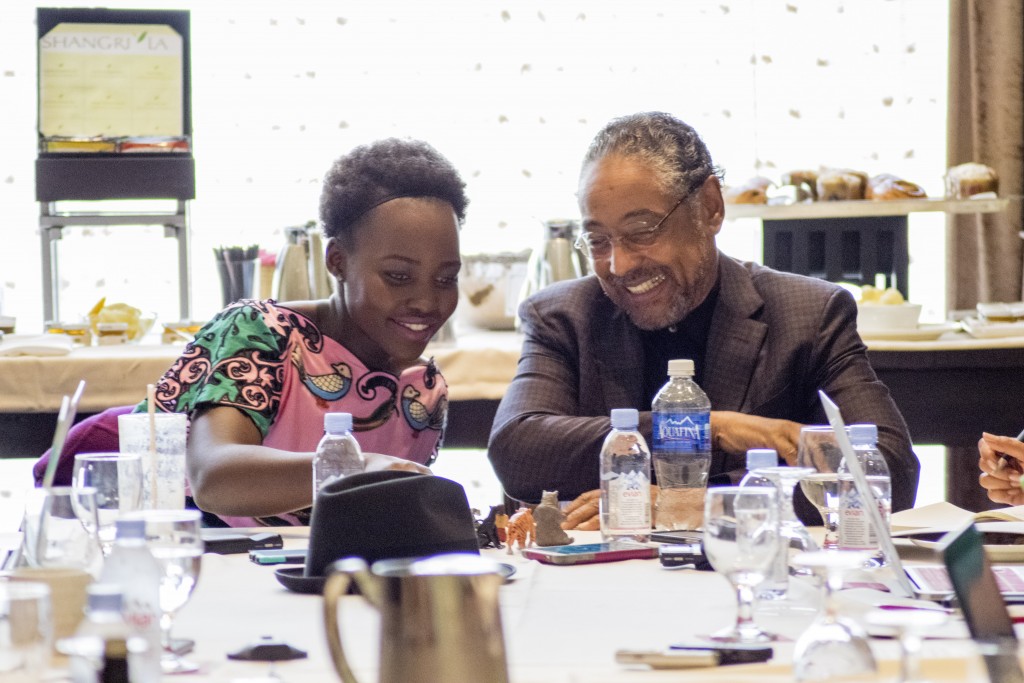 The grace and understanding in the female persona are attributed Esposito admires.  He talked about how women pass on their souls and intelligence to their children in addition to nurturing and raising them.  As you listen, it becomes clearer and clearer that women have played a significant role in Esposito's life and in fact, he attributes his learning to "become a progressive man" to his four daughters and their mother.
"It is this strength of the mother that is going to change the way the world is," said Esposito. "It's the compassion, the love, the very open-spirited mother and woman that will move us forward in this new century.  It's no doubt."
This "strength of the mother" is central to the theme of The Jungle Book, where Mowgli is seeking a home and Raksha offers him one.
"What Raksha offers him is home," said Nyong'o. "Her… as home.  And as an anchor.  I think that's a really important thing for children to have, so that they can veer away from it, but always be able to come back when they need to."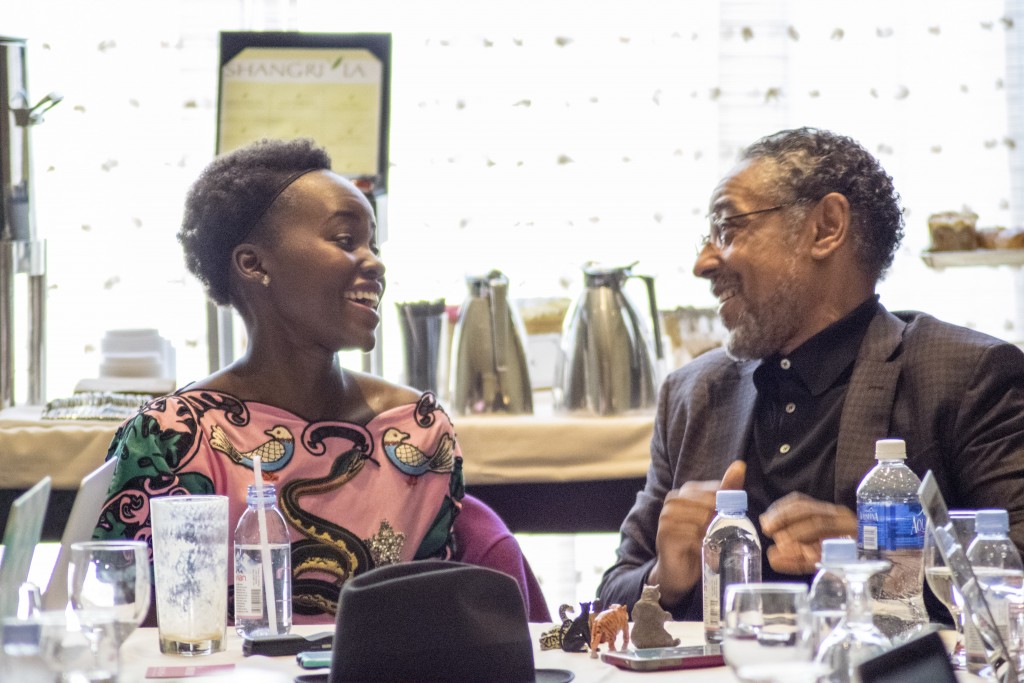 Esposito knows people will identify with the deep motherhood and belonging aspects of the film, and also hopes people will remember to be playful.
"We're here in this wonderful and incredible world, " Esposito said. "And we're supposed to have fun, and we're supposed to play."
"What I want people to get from this movie is that sense of freedom," continued Esposito. "That sense of abandonment in the ride, of this film, the sense of connection with family, even if you don't have a family."
Nyong'o stated that people's hearts have been opened by the film. I have to agree. And it's thanks to good part to Lupita Nyong'o and Giancarlo Esposito that they have been swayed by the messages of love, family and courage that are so eloquently portrayed in their characters Raksha and Akela in "The Jungle Book."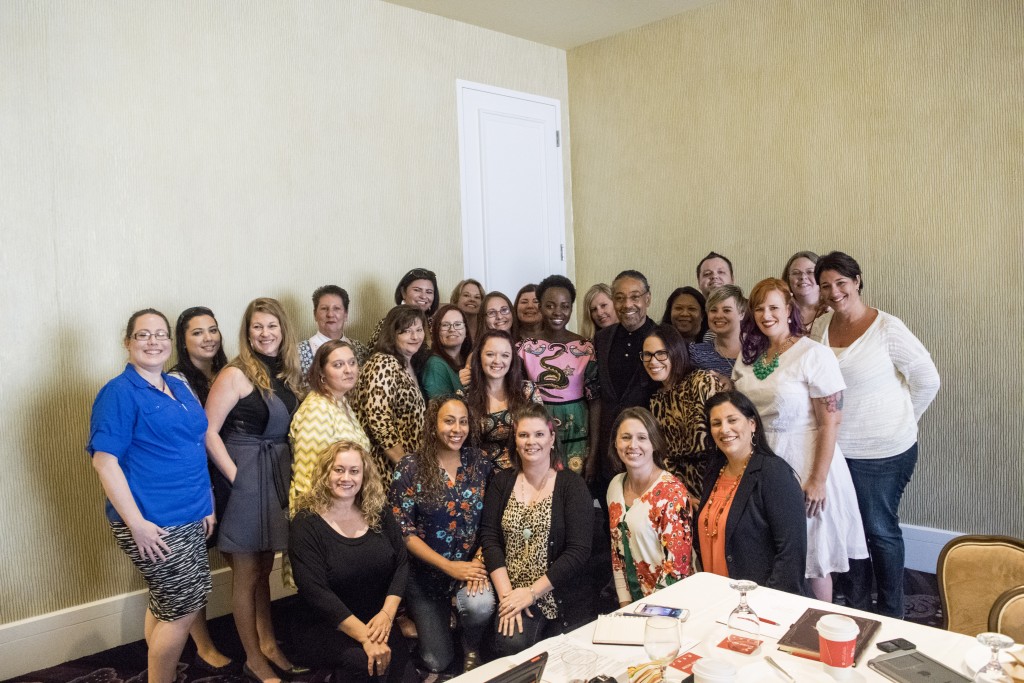 For more information on THE JUNGLE BOOK film, visit the official website: http://movies.disney.com/the-jungle-book-2016
Be sure to continue to follow my coverage via @ruralmoms (Twitter) @Barb_Webb (Instagram) and RuralMoms (Facebook)- look for the#JungleBookEvent hashtag.
THE JUNGLE BOOK opens in theatres everywhere in 3D, RealD 3D, and IMAX 3D on April 15th!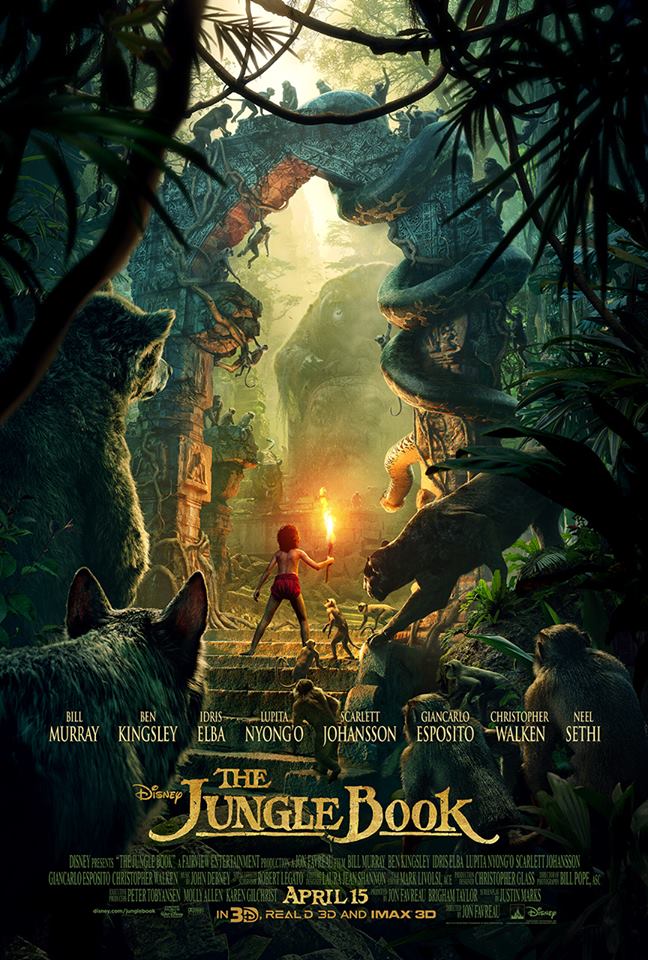 Disclosure: I attended the #JungleBookEvent My expenses were covered by Disney. All opinions are my own.