If you are looking for ways to help teach your children to be more responsible or seeking a fun way to visually track and reward your child for their help with daily chores, a chore chart is a great tool to have.  Thanks to our friends at Walt Disney Studios, we have a super cute Snow White "Whistle While You Work" Chore Chart for you and your kids to enjoy!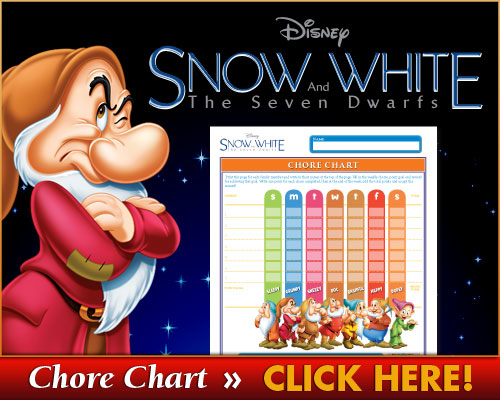 A colorful chore chart like this one is a visual treat for children which also inspires them to fill it each day.  The rewards for your child when working with a chore chart are many including:
helps children to understand team work and their role in doing their part in creating a happy clean home
encourages consistent behavior which eventually turns into healthy habits
builds confidence as children visually see the results of their work
encourages children to take better care of their belongings (and yours!)
helps develop basic task management skills that will help them in school and later on, at work
equips them with positive life skills as they learn how to be self-reliant and more responsible
Of course, you can also reward your child with special treats or prizes for successful completion of chores.  An allowance is a popular reward but non-monetary rewards like allowing them to choose a movie for family movie night or having an extra hour of video play time can be equally motivating.
Print off the Snow White "Whistle While You Work" Chore Chart to get started today:
Do you use a chore chart at home?  What type of rewards do you offer for completion of chores?