This post is sponsored by Vocalpoint and Life Reimagined ®. All opinions are my own.
No one tells you that major surgery not only alters your body but also your mind. Through all my research pre-lung surgery, I uncovered plenty of advice for pain management and physical therapy, but no one addressed the emotional scars that I would also have to heal.
When you are faced with a life altering and potential life-threatening event, you may not only suffer from mood swings and depression but can consequently be left questioning everything from your lifestyle choices to the very meaning of life itself.  It's quite a journey and in the end can leave you a bit bewildered with a lack of focus or direction for what comes next.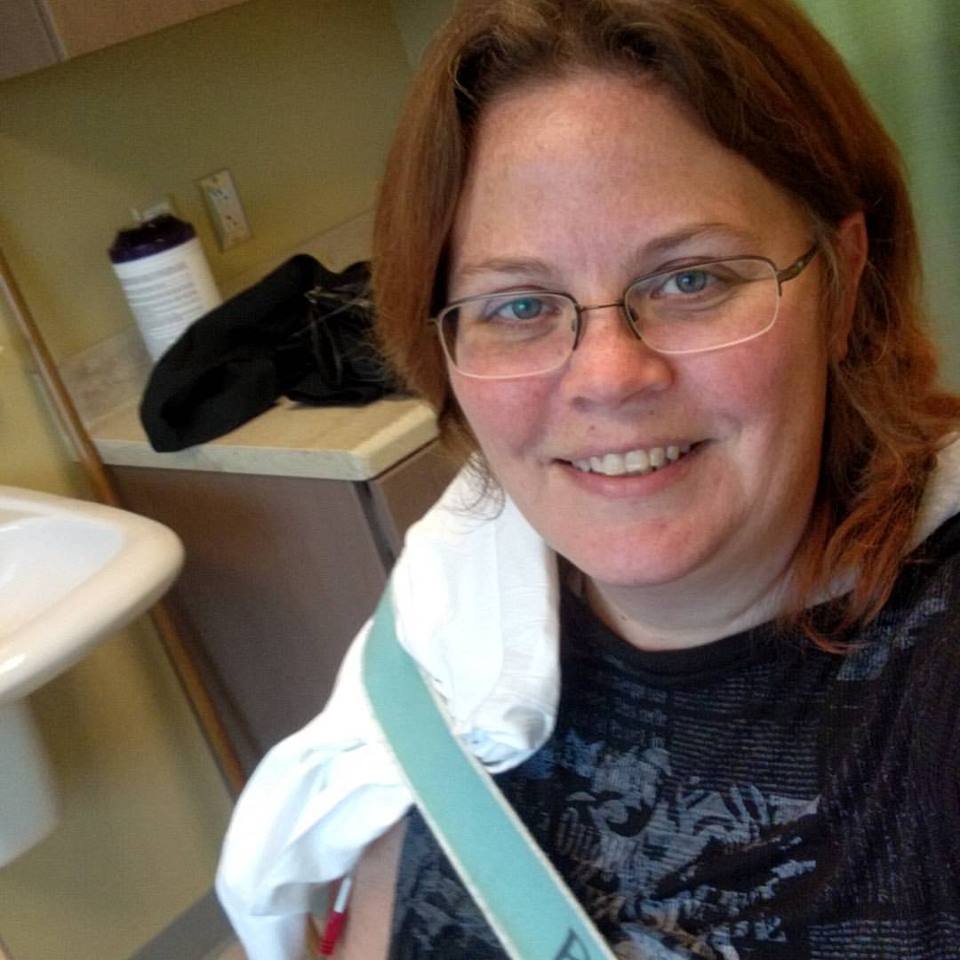 When you find that you no longer see things the same way and parts of your life (like your job or the stuff you've accumulated in your craft closet) no longer hold the same appeal they once did and consequently leave you unfulfilled – what do you do?
Because I subscribe to the notion that we should seize the moment and live life to the fullest, I didn't have any regrets, per say.  I'd accomplished most everything I dreamed of doing and crossed all all the major items on my bucket list in the years prior to surgery, so I was content that I've have a rich, full life filled with joy and blessings.  What I also had, though, was a great restlessness and a deep-seeded need to answer the question "what's next?"  I was so happy to be alive, so thankful for my wonderful family and friends, and for all that I had accomplished, yet this major surgery stripped me down to what felt like the beginning of all things.
In essence, this life event was a rebirth.
When I entered this second phase of what would now be my life, slow healing and contending with major changes to my body and health, I can render no better truth than to simple say it honestly scared me. As someone who is generally grounded and centered, it's truly unnerving not only be esoterically challenged but to find that many of the "old" patterns, particularly related to work and my daily schedule, now felt foreign to me and not an at all like an authentic sense of myself or life purpose.
I needed some answers, but more so – I needed some direction!
Talking with friends and family was therapeutic, reading self help books pushed me back towards the positive frame of mind I like to dwell in, and taking time to rest and nourish my body with healthy foods and supplements helped accelerate my healing process.   I still felt like I was on the edge of awakening, though, like an elusive thought was waiting for me to claim it and find the finishing pieces of the puzzle.
It's generally at this point we either go through the motions anyhow, sink into despair or find that incredible "ah-ha" moment that makes sense of the struggles.
I'd love to tell you my "ah-ha" came first.  In truth, I went through the motions day after day, flirted with depression and continued to waffle around for awhile, praying for clarity and guidance.  As my belief in the power of the universe to deliver when we open our minds and hearts to listen is still intact, it is not surprising to me that this is exactly what happened.
Initially, I received an opportunity to travel, just when I grew so restless from being couped up inside I could hardly stand it.  Slowly, I began to receive writing assignments that seemed to tailored just for me and my particularly circumstances or ones I knew would bring joy in the artistic en-devour to myself and my audience.  And then it happened… the project that would change everything…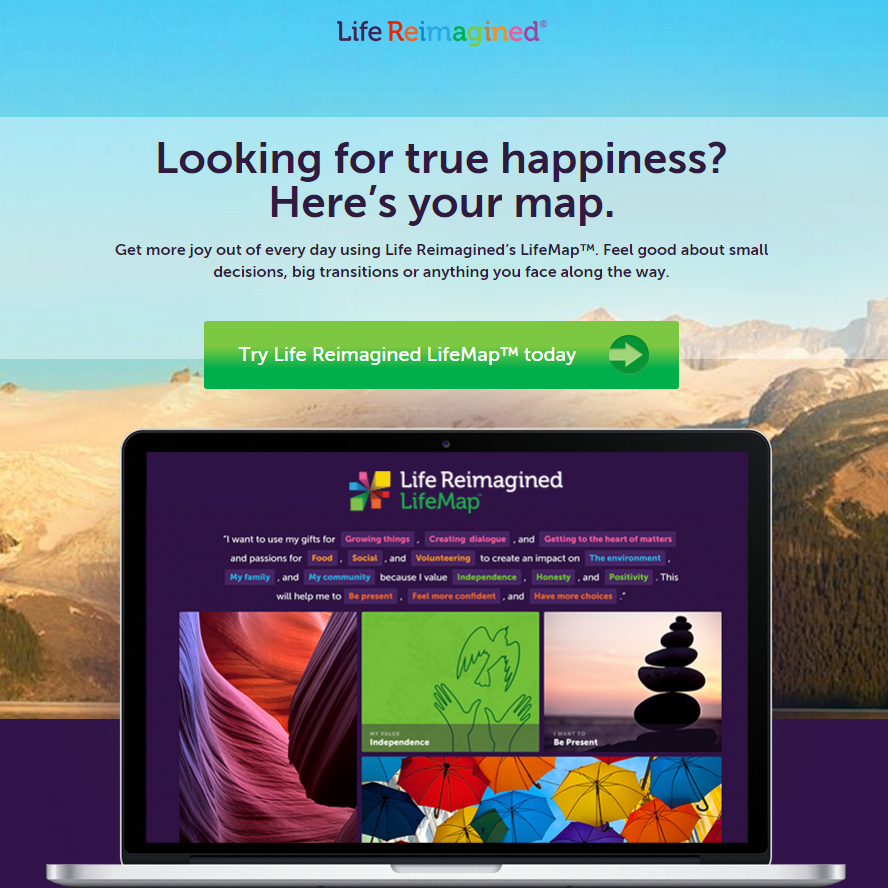 My Life Reimagined
The lovely folks at Vocalpoint offered me the opportunity explore the Life Reimagined® website and to work with a Life Coach.  I didn't know what to expect, had never worked with a life coach before, but I was at a point where I absolutely hands-down needed to reimagine my life and expected a coach would have some idea how I could map out some plays to start winning the game!  Just the notion of the possibility of getting some clear direction lit the spark!
As soon as I received the instructions for setting up an appointment with a Life Reimagined Life Coach, I headed off to the website to do so.  I expected a simple bing-bang-set-the-date-and-your-done experience, but what I found was so much more glorious and life-changing!  The first step on the Life Reimagined site is to create a LifeMap.  This is achieved through a series of visual quizzes that are designed to help you hone in on your talents, passions, values and goals to create a beginning mission statement.
The LifeMap quiz really made me think and to reassess where I was at and where I would like to be.  It challenged me in the exact way I'd been hoping for, to dig deeper and put the pieces of the puzzle together, to help me gain clarity of purpose and to center myself again after the storm I'd been spinning in.  At the end of this very simple and fun exercise, I had a nice little painted picture of my present needs and desires and a point from which to begin my plan.  I also gained access to book an appointment with a life coach and to begin that adventure!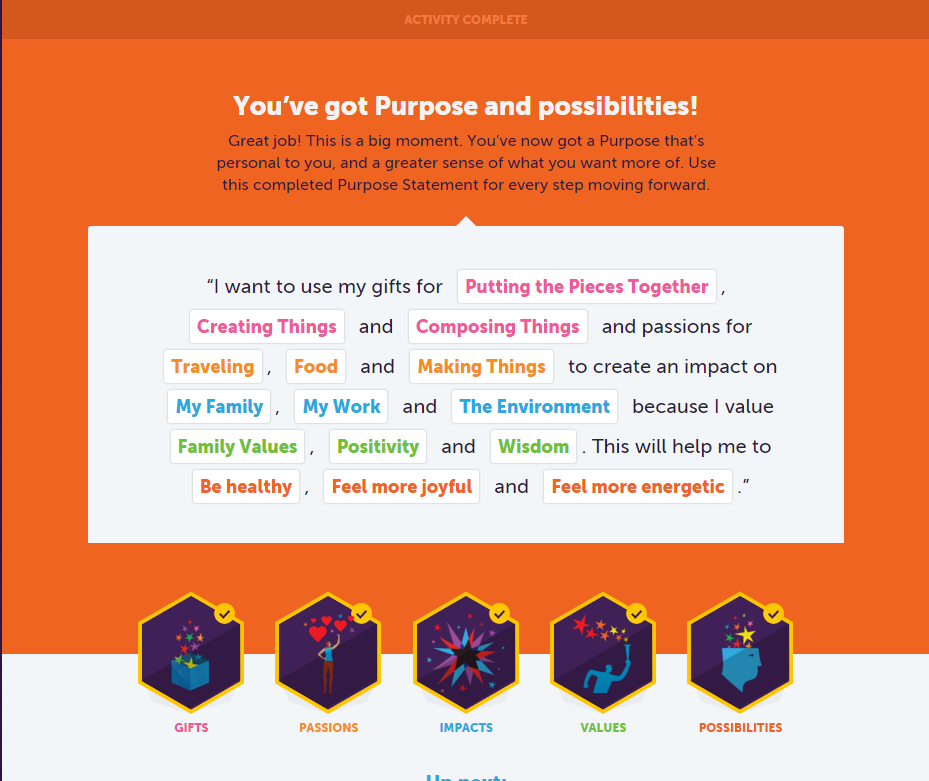 I didn't stop at the LifeMap and continued on with some of the additional exercises on the website that drill down further into topics like determining your calling, understanding your gifts and focusing on your resolutions.  When I was working through "Embracing Your Calling" I found that elusive "ah-ha" moment.  My "calling cards" suggested that I'm a social person with an artistic side who would do well in an enterprising environment… and as soon as I read those words, I knew exactly why my current job is not as fulfilling as I would like it to be and where my life path needed to head.  The words "art" and "therapy" honestly flashed like neon signs in my mind and at once, I felt at peace as the joy of rediscovering my purpose flooding in.
Excited, I began to research (something I'm prone to do!) and for the fun of it looked up what requirements I would need to pursue a Master's in Art Therapy and began exploring and thinking about other avenues around that notion.  Would it be feasible?  After all, I'm midlife, would I recoup the cost of a Master's program at this stage?  Were there things I could do instead?  I'm an accomplished writer, a craft aficionado and I have a solid work history in communications and management.  Each question lead to another question and… I COULD NOT WAIT TO TALK TO MY LIFE COACH!!
Whew!  I hadn't even made it to the call yet but thanks to the Life Reimagined website, I was already on fire with the possibilities, a renewed sense of joy and best of all, I finally had a starting place!
There was a terrific selection of experts available and I chose the wonderful Paulette Fried as my Life Coach as I identified with her eclectic list of talents and her passion to "partner with others seeking fulfillment, security, renewed energy and the discovery of real and exciting possibilities" along with her other lengthy credentials.  Totally a great fit for me.  We set up a call and my very first adventure in video conferencing was a visual and spiritual success.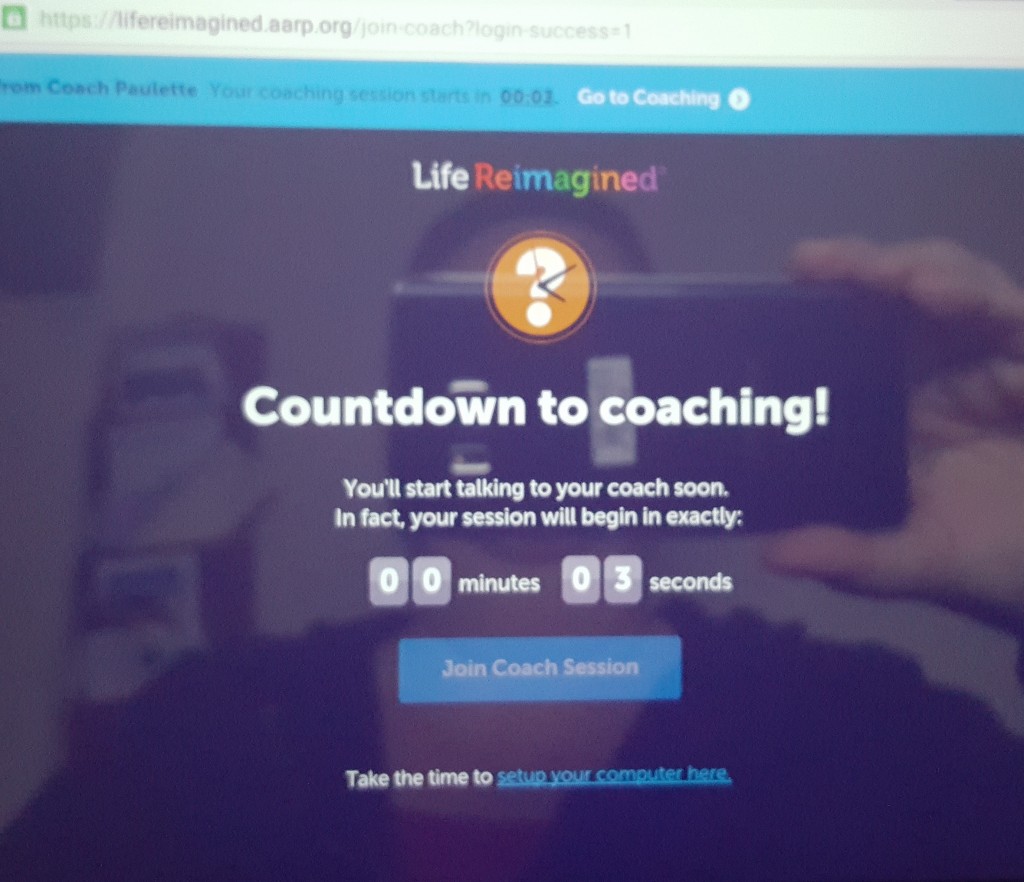 During my Life Coaching session, Paulette listened to my journey, my discoveries and went through my LifeMap with me.  She pulled even more out of me in terms of expertise I already had and life experiences that could contribute to my pursuit of considering some type of art therapy role in my future.  We had additional "ah-ha" moments in considering environmental therapy options (putting my passion for sustainable living together with helping others) and even entertained the idea of looking into drug addiction counseling and teaching adult education or culinary arts as potential career paths.
Writing will always be a part of my life, but it's time that I put my other talents to good use and also bring the social aspect back to my work life.  Being an author, columnist and blogger is a very isolated profession.  Granted I'm able to help others (a true blessing) and use social media to connect on a more personal level, but I'm missing that key component of live connection with my community.  I get this interaction from my active community volunteerism, which is a fabulous balance, but I know that I'm craving more and feel that I can do even more good by bringing that one-to-one caring component to my profession.
I walked away from my Life Reimagined Life Coach session with a renewed sense of purpose, affirmation that I was on the right track, and a plan of action to begin identifying the modes and mediums I'm talented in, exploring demographics that I'm interested in working with, researching opportunities for learning and honing in on what truly makes my heart sing and of course, helps pay the bills in the process!
To say I'm thrilled with this experience is truly an understatement.  This has been, by far, one of the healthiest self assessment and life exploration journeys that I've been on.  I plan to touch base with Paulette Fried again (on my own, not sponsored) to continue this extremely valuable path of discovery.  As I research and explore, I know I'm going to have more questions and Paulette's input, insights, and ability to help me look at the big picture and set goals will be invaluable.
Now, no recovery period is as quick as we would like it to be and I'm not going to sit here and spew all sunshine and rainbows.  I'm still addressing the physical changes and nursing my body back towards health after my lung surgery.  In the same spirit, I'm still healing the emotional aspects but I have made progress in leaps and bounds towards defining my new purpose in life and reclaiming the joy and happiness I thrive on.  The ability to move forward in a positive light now is pure awesomeness.
I am so very grateful to Life Reimagined for giving me back my Mo-Jo!