Like many of you, weight loss is a top goal of mine.  I know that I will feel better, improve my health and live a more fulfilled life when I shed unwanted pounds from my frame.  As I'm still recovering from lung surgery and addressing my hashimoto's thyroiditis, I have to address my other health concerns first, but have still been wanting to do something – anything productive – to take steps towards a leaner me.  After reading the first chapter of THE PRIME: Prepare and Repair Your Body for Spontaneous Weight Loss, I knew the book was written precisely for my needs and sensed the universe just delivered a great gift!
Author Kulreet Chaudhary, M.D. has "been there, done that" and suffered through all the bewilderment of weight loss battles, mind fog and health hurdles we all have.  She addresses the key components we are missing in weight loss efforts and speaks very directly to our disparaged souls.  This feature is sponsored by Harmony Books but my thoughts, opinions and sheer gratitude for this discovery are certainly that of my own!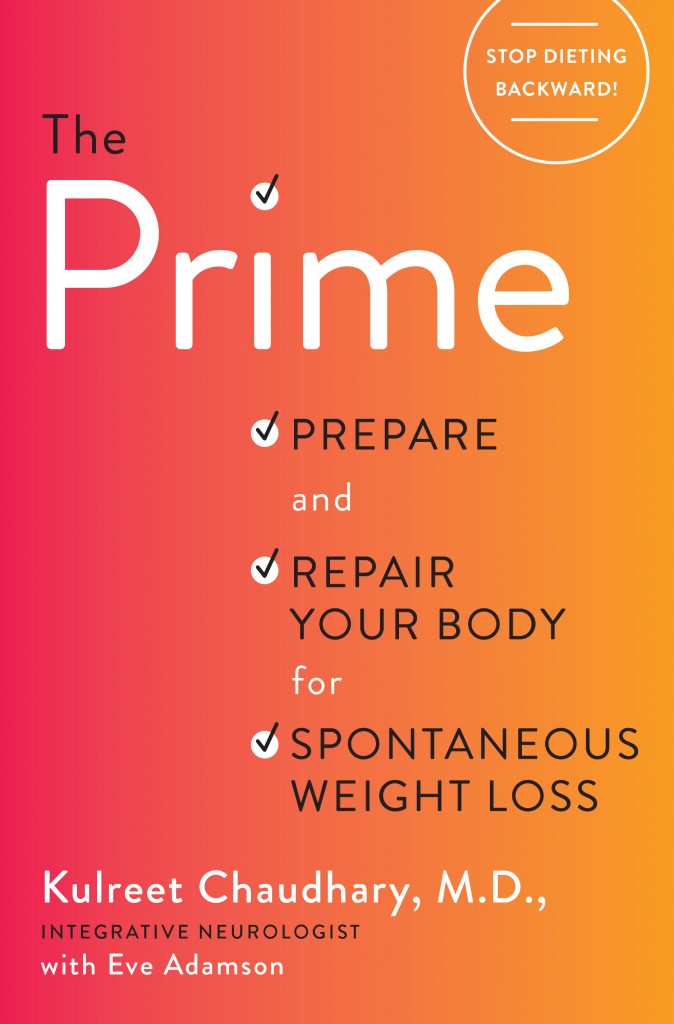 Burning the midnight organic soy candle, I devoured the pages of THE PRIME in one evening, stopping only when I arrived at the steps for Stage 1 (of preparing my body for success.) It is here that I begin my personal journey and will continue reading as I progress through the stages towards what I believe will be a better, healthier, post-surgery, livelier me.  I absolutely love Chaudhary's natural holistic approach, simple steps and have faith that this is the leap-of-health journey I'm destined to be on.  It fits into every other measure of effort I'm taking as it's designed to be symbiotic with our lifestyles not in opposition to.
Very simple changes, like adding Triphala to my diet as advised in Stage 1 have already had positive results on my digestive system (if you suffer from Hashimoto's thyroiditis, you'll totally understand what a Godsend that is!) In a nutshell, this is the most informative, sensible book I've read in a long time with very realistic and achievable goals.  It's too early to tell if weight loss will be a welcomed side effect from my efforts but I'm very optimistic from the onset of positive changes I'm noticing and regardless, if this takes me to optimum health, it will only serve to make any of my weight loss efforts easier in the long run!
One of the most enlightening segments in the book from the onset was the conversation Chaudhary introduces about "fake fat." Eye-opening, to say the least! Take the Fake Fat Quiz below to see if this is something plaguing you, too:
It's clear at this point, I'm sure, that I'm quite zealous about the discover of THE PRIME (for good reason!) but is this book for you, too?  I had the chance to catch up with Kulreet Chaudhary (total thrill, she's like a health guru rock star to me now) and have more insight to help you out:
What If I'm Already On a Weight Loss Plan?
This is the first question I asked for the obvious reasons.  It's the new year and we are all already embarking on some sort of "new year, new you" bandwagon right?  Whether you have your own DIY plan or have started popular programs like Jenny Craig or Weight Watchers, the great news is THE PRIME is easily incorporated into the efforts you are already engaged in.  Chaudhary has no opposition to common weight loss plans and applauds programs that teach people who want to lose weight how to change the way they are eating but there's still a missing component.
"There's this really important biochemical step missing," says Chaudhary. "It's a little bit like sending somebody out in the world to climb a mountain, then saying 'I'm sorry, I forgot to give you the rope, and the shoes that you need to be wearing,' and all the other tools that you expect them to use when they're climbing that mountain.  So, I'm not against the climb, but give them the appropriate tools, so they're like 'Hey, I'm actually scaling this thing, and I'm succeeding.'"
I Already Have So Much to Do/Remember/Etc. 
Friends, I'm in the same boat, so this was a huge concern for me, too!  From my personal experience so far, it hasn't been a challenge at all.  You move at your own pace, makes the swaps or take the steps and incorporate them into your lifestyle easily.  For the most part, we are taking very simple changes that will become habits very quickly without disrupting or adding to your already busy schedule.  Chaudhary understands this perfectly as when she started THE PRIME lifestyle herself, she was working 15-plus hours a day trying to juggle many of the same things we do on a daily basis.
"What I found going through this is that I had a huge self-care mountain to overcome," says Chaudhary. "I started to realize that what was taking me 15 hours, I was now doing in eight hours, and that there are so many problems that are created because you're not mentally clear when you're addressing them.  You don't have the energy, and when you don't have energy, you make a lot of mistakes…As I became more effective as a person, all the things that I was making excuses for as to why I wasn't taking care of myself were getting taken care of so much faster. "
Can I Get Immediate Results? 
It's no mystery we live in a "hurry up and go" society where we've come to rely on and often expect instant gratification, but it's more than that, it's truly motivating when you can see and feel something working from the onset. Chaudhary encounters this question a lot in her practice, particularly from family members of patients who have noticed how well the patient is doing when moving through the stages of THE PRIME.  As will any step towards improving health, results are not instantaneous, but Chaudhary often suggests starting with The Prime Tea.
"[The Prime tea] is so gentle but it has such a powerful effect, and people start noticing changes fairly quickly," says Chaudhary. "I think it's so easy to do, but there's such a notable improvement.  It's so tied in to what needs to happen through the whole program that you could be sipping your tea while you're reading the book!"
It may take a little time to go through all the steps of THE PRIME and put the plan into complete action for optimum results, but Chaudhary says "when I got to the end of it, I was exactly where I wanted to be."
At the end of the day, I think that's exactly where we all want to be!
Want to know a little more about how quickly you might move through the states of THE PRIME?  Take the Gut IQ Quiz below: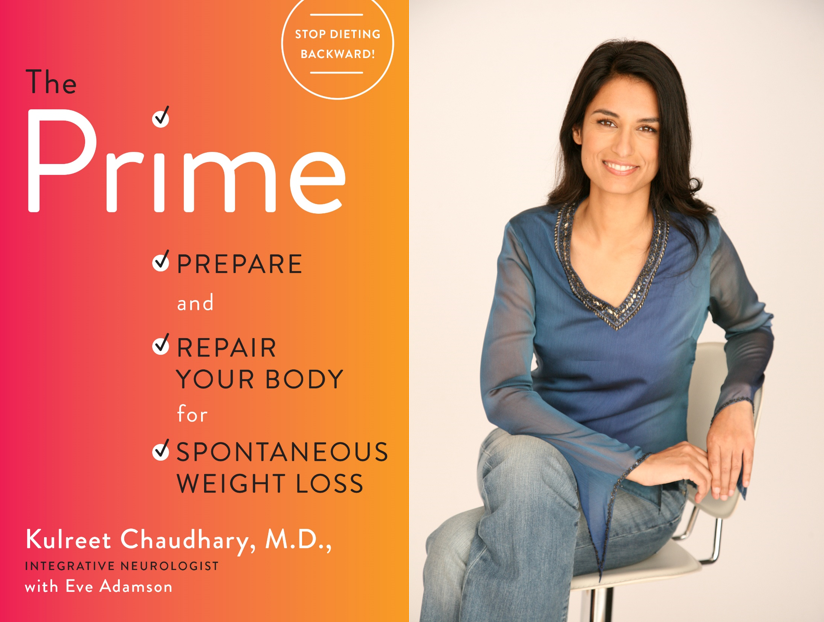 ABOUT THE BOOK  ~  LOSE WEIGHT, GET SHARPER… NO DIET REQUIRED
Integrative neurologist Dr. Kulreet Chaudhary discovered a beautiful side effect to the eating and lifestyle tools she gave her brain patients–shedding excess pounds. In this, her first book, she shows readers that weight gain is a result of the body being in a toxic, inflammatory state. If your body is not prepared or 'primed' for weight loss, you will fight an uphill biochemical battle, and the odds of succeeding are slim. So she's reverse engineered our way of eating, so we can stop dieting backward and start succeeding instead.
Using a blend of cutting-edge science and ancient wisdom, Dr. Chaudhary has crafted a plan like no other. In it, she shares:
–          The importance of neuroadaptation, food addiction, and the brain (or, why it's not your fault that dieting has been so hard in the past!)
–          Why it's not what you eat, but what you digest
–          How to determine if you have a Leaky Brain—and what The Prime can do about it (hint: everything)
–          The 4 Stages of the Prime
Activate a Biochemical Shift
Crush Cravings (No Willpower Required)
Ignite Energy and Fat
Biohack Your Lifestyle Habits
… and how they'll help you spontaneously shed pounds, by adding (not subtracting) simple teas and supplements and without giving up any foods you love.
Lastly, you'll learn how to live fully Primed, the secrets of the Super-Primed, and, when you're ready to explore new foods, how to eat according to your unique constitution.
ABOUT THE AUTHOR
Dr. Kulreet Chaudhary is a neurologist, and the director of Wellspring Health at Scripps Memorial Hospital and a pioneer in the field of integrative medicine. She received her internship in internal medicine at UCLA and her neurology fellowship from UCSD. Her research includes groundbreaking work in stem cell therapies for diabetic peripheral neuropathy and drug development for the treatment of ALS. She is the co-founder of Habit Change, and she is committed to bringing national awareness to the need for a paradigm shift in medicine that focuses on patient empowerment and a health-based medical system.
Visit drkulreetchaudhary.com for more info, Follow the author on Facebook and Twitter
WIN IT! 
Thanks to the generous folks at Harmony Books who, like me, would love to see you succeed with your goals, one (1) Rural Mom Reader will win a copy of THE PRIME: Prepare and Repair Your Body for Spontaneous Weight Loss by Kulreet Chaudhary, M.D.! 
Giveaway open to US addresses only.
Prizing and samples provided by Harmony Books.
ENTER via the Rafflecopter below:
Have you heard of "fake fat" before?  What are your health goals for 2016?