If you've been reading Rural Mom for any length of time, you're probably very familiar with our Great Pyrenees. We love to find the best options, treats and DIY  for them and of course, share! The thing about larger breed dogs is that because of their weight, they tend to have joint problems as they age. Such is the case with our beloved dogs. Obviously, I want them to be able to run and jump and play as much as they did when they were puppies, so I was highly interested in Dr. Harvey's Orthoflex for dogs.

My boy Great Pyrenees suffers the most with joint pain and I truly sympathize with him!  After lung surgery, I've had a lot of joint and motion problems with my right shoulder and recovery has been an arduous process.  Just as I take care of myself and my family, I take care of my dogs, after all, they are family, too!
I discovered Dr. Harvey's at the annual BlogPaws event (a conference for pet bloggers) and the company was nice enough to send over some awesome products for us to test out.  We've been supplementing Nanuk's diet with Dr. Harvey's Ortho-Flex and Organic Flax Seed Oil for about 5 months now with very good results.  We started with a daily regime and have now moved to an every-other day regime based on his needs.  He is still aging, still has some difficulty (particularly on damp days,) but is showing signs of improvement.  He's perked up, responds faster, walks with less difficulty and as a pleasant side effect, his skin is healthier and his coat softer.
The thing I like the best about Dr. Harvey's is that it's an all-natural solution. It makes me feel great to know that I'm not giving my dogs some sort of chemicals that may cause them to have cancer or respiratory problems or other health issues in the long run. It's simply all natural vitamins and minerals – mainly bee pollen, nutritional yeast, flax seed meal, lecithin and spirulina – that they just don't normally get out of their food.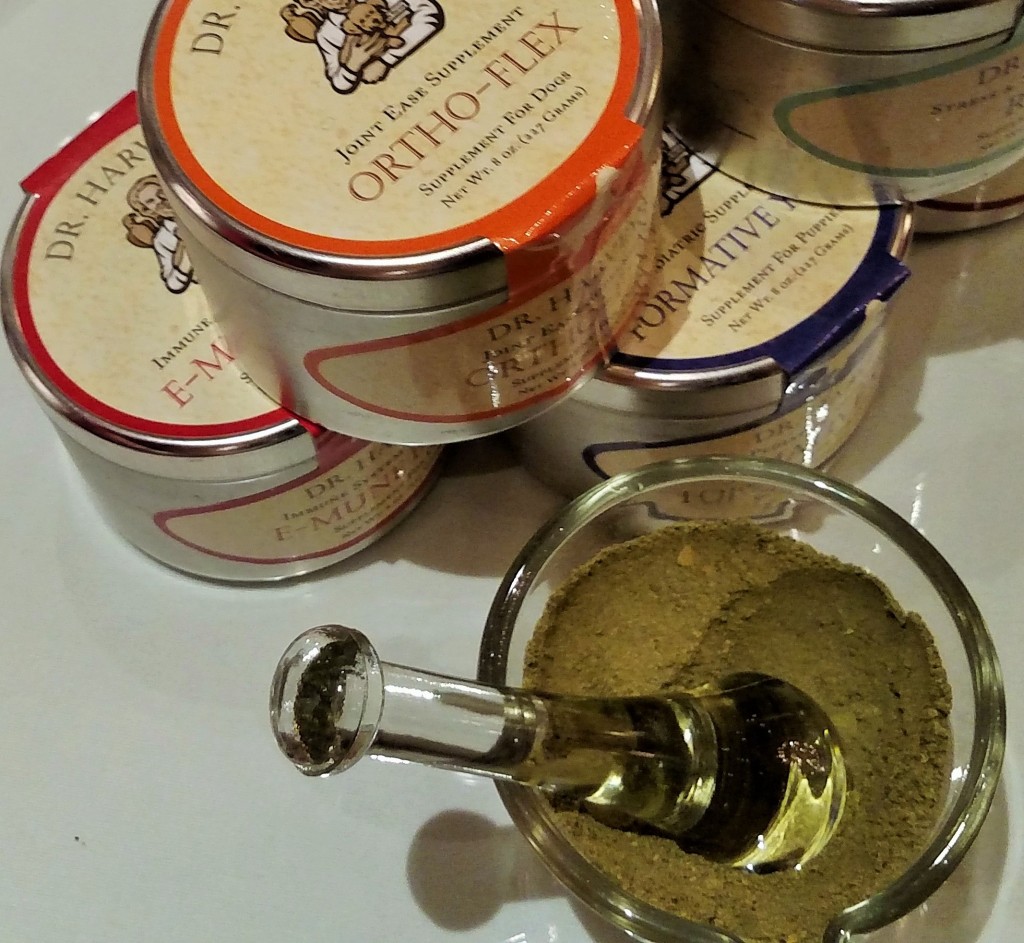 The next best thing about the joint formula is the ease of use. The powdered formula is very simply added to the dog's food, and they don't even notice it's there. The dosage depends on the size of your dogs. We use 4 scoops, but smaller dogs only need 1 scoop. The container holds approximately 88 scoops, so for our dog, it lasts about 4 weeks. For a smaller dog, it would last almost 3 months. Even with the larger breeds, the cost of the product is a small investment toward your dog's optimal health. Our dogs are a part of our family, and they're worth every penny!
It's also worth mentioning that the products are made in the USA, which you know is always important to me. I also like that they can be found online or in over 400 stores across the country, so I'll never have a problem finding more.
Dr. Harvey's has got over 30 years of research and development under their belt and is a great brand when it comes to caring for companion animals. They have products to suit the needs of animals ranging from birds to horses. Some other products they're proud of include treats, chews, chemical-free grooming tools, and other vitamins and supplements to help your pets live long and happy lives.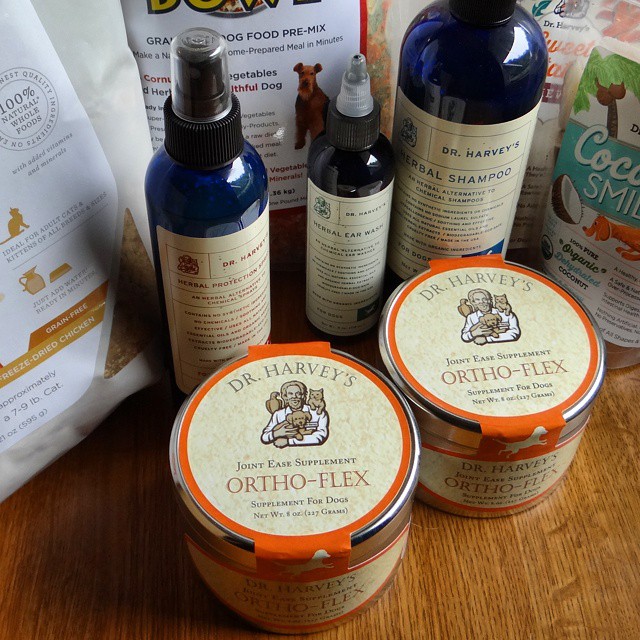 When I see that Nanuk is having less trouble climbing stairs and is running around with more ease, I'm thrilled with the joint formula (combined with the flax oil) results. We certainly intend to keep using this mix and have already purchased our own supplies to continue improving our pups quality of life.  That, in itself, is priceless!
Do your dogs have joint problems? What do you do to help them?