Despite the lack of snow in Kentucky this year, the temperatures are still frigid and it's getting harder and harder to chase away the chill each day!  It's this time of year, I pull out my recipe files to find the best soups to help warm up our winter.
There's nothing more filling and comforting than a rich, hearty, steaming bowl of soup to help curb the winter cold and fill our bodies with nourishing fuel.  Most soups are heart-healthy fare, too, making them great for helping us with our new year goals.  A true win-win-win dish!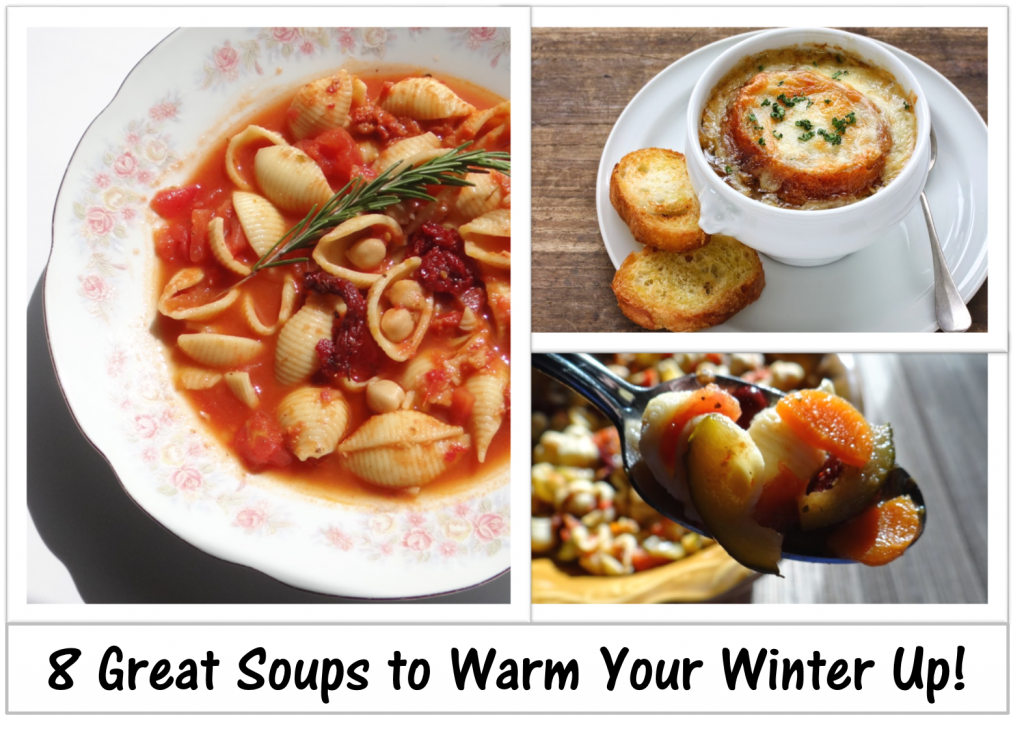 Here are eight of my favorite soup recipes for inspiration.  I hope you find one to warm you up this winter:
If the weather or a common cold has you feeling blue, Hearty Garlic Chicken Noodle Soup is a great pick-me-up full of nourishment that your body needs!
Want a crowd pleaser, comfort dish for supper?  Cheeseburger Potato Soup is a family favorite.
My favorite soup is chock full of veggies, flavor and all the good stuff you crave… and best of all, it's super diet-friendly:  Rich and Hearty Slow Cooker Minestrone Soup
For a little East meet West flair, check out our tasty Asian Egg Drop Soup.  Easy to make, inexpensive and chock full of goodness!
This French Onion Soup recipe is one we received from our friends at Disney and it's truly fabulous!  Best French onion soup recipe around.
Italian Garbanzo Bean Sun Dried Tomato Soup delivers a little taste of Tuscany on a cold winter day.  With one bite, you'll be transported to sunnier days!
Our Loaded Ham and Cheese Broccoli Soup was created to make use of holiday leftovers, but it's terrific any time of year.  It's a great way to get kids to eat more veggies, too, as they love the cheese and ham so much, they gobble the vegetables up, too.
Our friends at Smucker gifted us this recipe a few years ago and it's a continued favorite.  Pumpkin Soup isn't just for fall, you can use organic canned or jarred pumpkin puree to enjoy this rich soup anytime you'd like a special treat.
What's your favorite winter soup recipe?