As an avid movie-goer, I'm always a bit giddy when the movie releases for the new year are announced, especially when it's the Walt Disney Studios motion picture lineup!  I know I'm about to discover an amazing array of well-crafted films to love with old favorites returning and delightful new ones.
To say I plan my calendar around film releases isn't too far off, I always add them and pay close attention to summer and holiday releases as I know they'll be scheduled in to our family activity planning for the year.  While they are all penned into my planner, I have to say I'm most excited for May when CAPTAIN AMERICA: CIVIL WAR and ALICE THROUGH THE LOOKING GLASS arrive, anxious to see both! Also love seeing PETE'S DRAGON on the lineup, it was a childhood favorite of mine and I'm curious to see the updated version.  DR. STRANGE looks like it's going to be a very cool movie and will definitely be our annual Thanksgiving family movie pick.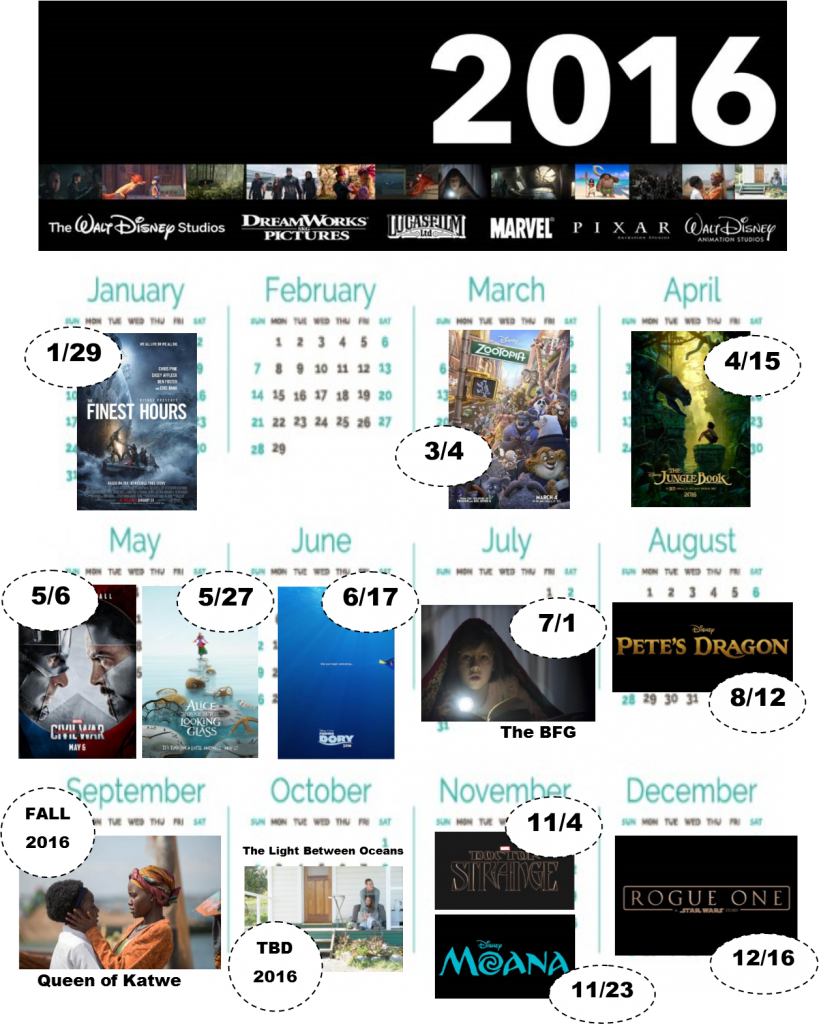 Thanks to our friends at Disney we have the 2016 Walt Disney Studios Movie Lineup to share along with a fabulous, printable with preview notes on each film.  To help you stay organized and gift your family with a fun visual, we've created a printable calendar page for your use, too.  Print off a copy, hang it on the fridge or next to your family planning calendar to be sure you save time to catch a viewing your favorite Disney film this year!
2016 Walt Disney Studios Movie Lineup
January 29 – The Finest Hours
March 4 – Zootopia
April 15 – The Jungle Book
May 6 – Captain America: Civil War
May 27 – Alice Through the Looking Glass
June 17 – Finding Dory
July 1 – The BFG
August 12 – Pete's Dragon
November 4 – Doctor Strange
November 23 – Moana
December 16 – Rogue One: A Star Wars Story
Fall 2016 – The Queen of Katwe
TBD 2016 – The Light Between Oceans
What Walt Disney film are you most excited to see in 2016?