The release of Star Wars: The Force Awakens is awakening a little bit of hunger around here! We're huge fans so it's pretty fitting that we'll be putting together some Star Wars themed snacks for the occasion. I've scoured the interwebs looking for some stellar Star Wars inspired recipes, and here are some of my favorite finds: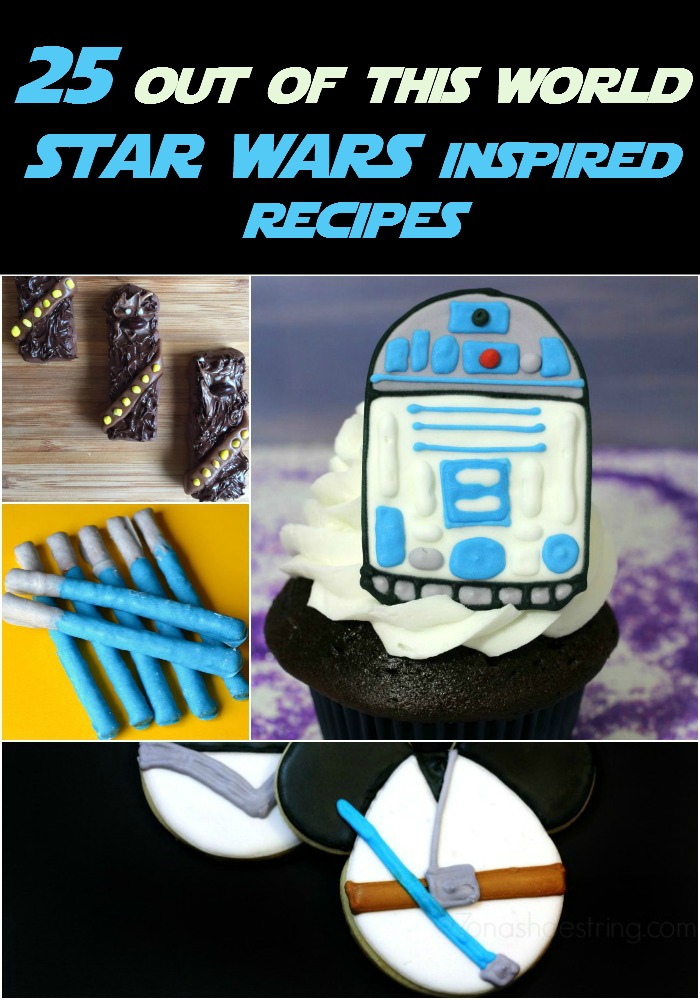 1. Mickey Luke Skywalker cookies
2. R2D2 Granola Bars
3. Princess Leia and Anakin Mickey Star Wars Cookies
4. R2D2 Edible Cupcake Toppers
5. Lightsaber pretzels
6. Star Wars Inspired Chicken and Turkey Gumbo
7. How to Make R2D2 Smores
8. Star Wars Chewbacca Smash Cakes
9. Galactic Cheesecakes
10. Star Wars Cupcakes
11. Chewbacca Granola Bars
12. Skywalker Smoothies
13. Millenium Falcons
14. Disney Star Wars Cookies
15. Star Wars Sugar Cookies with Royal Icing
16. Star Wars Scrunchies
17. R2D2 Cake
18. Yoda Swamp Soda
19. C-3PO Pancakes
20. Blue Milk
21. Star Wars Cupcakes
22. Wookie Cookies
23. Death Star Cookies
24. Yoda Cookies
25. Obiwan Kenobi (for adults only!)
Are you whipping up some Star Wars inspired recipes in anticipation  of the new film too?  Be sure to share your ideas with us!