In case you hadn't noticed… around here, we're pretty big Star Wars fans! In anticipation of Star Wars: The Force Awakens being released, we thought it would be really fun to put together some Star Wars craft ideas. I took a look around the blogosphere and found some awesome ones. Take a look, give some a try, and tell us what you think!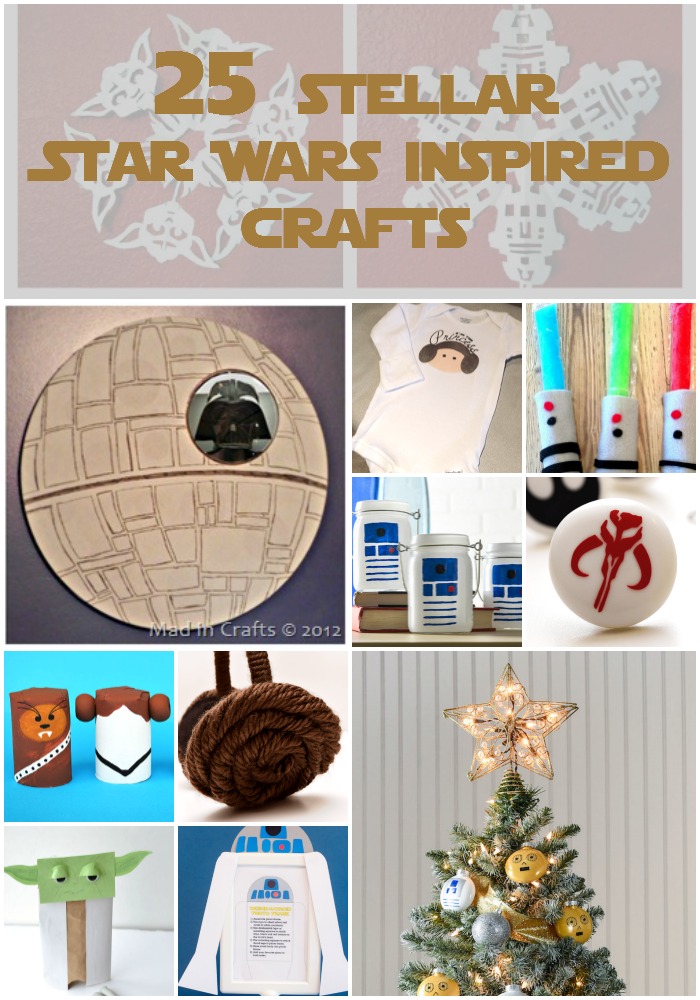 1. DIY Star Wars Popcorn Box
2. DIY Star Wars Earrings
3. DIY Star Wars Mickey Ears
4. DIY Light Saber Reading Pointers
5. R2D2 Star Wars Party Favor
6. DIY Star Wars Light Saber Idea
7. Ewok Hood
8. Lightsaber Phone Case (& Other Star Wars DIYS)
9. Star Wars Droid Christmas Tree
10. Yoda Paper Bag Puppet
11. Toilet Roll Characters
12. Star Wars Snowflakes
13. I'm The Princess Onesie
14. Star Wars Stitch Craft for Kids
15. Chewbacca Bandolier
16. Light Saber Pencils
17. DIY Death Star Mirror
18. R2S2 Luminaries
19. Star Wars Light Saber Pens
20. Light Saber Popsicles
21. R2 D2 Pencil Holder
22. DIY Star Wars Tumbler
23. Star Wars Tin Can Lanterns
24. Princess Leia Yarn Headband
25. Chewbacca Craft From a Paint Stir Stick
and we also have Star Wars: The Force Awakens Coloring and Activity Sheets and Star Wars Origami for you to enjoy!