'Tis the season for holiday celebrations and last-minute dashes to find a treat to share or gift to a special someone you forgot to add to your shopping list!  Or a scramble to come up with a clever way to show your extended family, coworkers, teachers, neighbors and other important people in your life that you are thinking of them this holiday season… without busting your budget in the process!
I'm sharing our experience with and ideas for creating quick and easy Christmas Cookie gift ideas with Krusteaz Bakery Style Cookie Mixes as part of a sponsored post opportunity with Krusteaz.  As always, all thoughts, opinions and love of holiday baking are that of Rural Mom.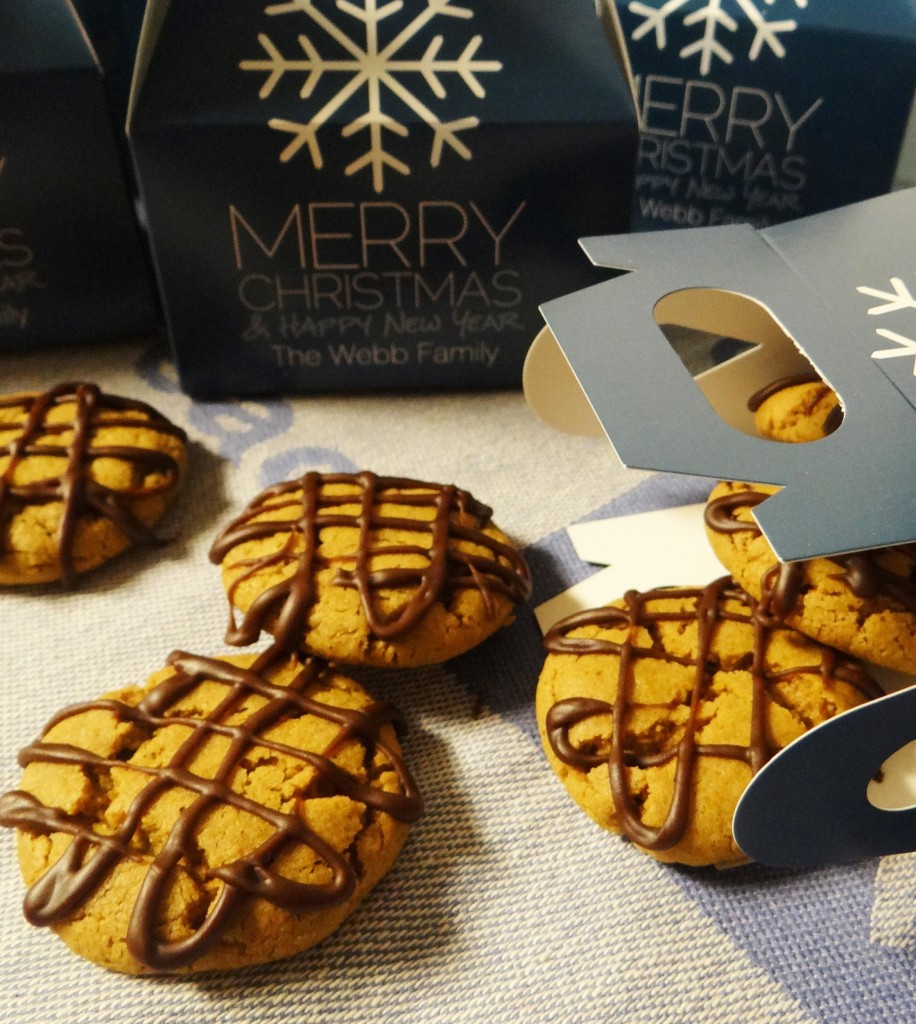 As you may already know, I'm an avid baker and often whip up farm fresh recipes from scratch, but with the hustle and bustle of holiday overload, I don't always have time for scratch baking.  I also love to create a wide range of cookie flavors for the holidays and rather than having to shell out an exorbitant amount on oodles of special ingredients, I love the ease of having a mix to help me out.  It's important, though, that the mix I choose delivers a fresh, homemade taste with quality results.  This is why I rely on Krusteaz to be my cookie helper during the holidays.
Some holiday favorite Krusteaz cookie mixes are:
Krusteaz Bakery Style Butter Vanilla Sugar
Krusteaz Bakery Style Gingerbread
Krusteaz Bakery Style Snickerdoodle
Krusteaz Bakery Style Oatmeal Scotchie
Krusteaz Bakery Style Shortbread
My personal favorite is the Shortbread, which I find to rich, delicious and better than any other shortbread mix I've tried before. My sons, family and friends all love the Gingerbread cookies (they turn out so soft and delicious,) that's it's also a go-to mix for me.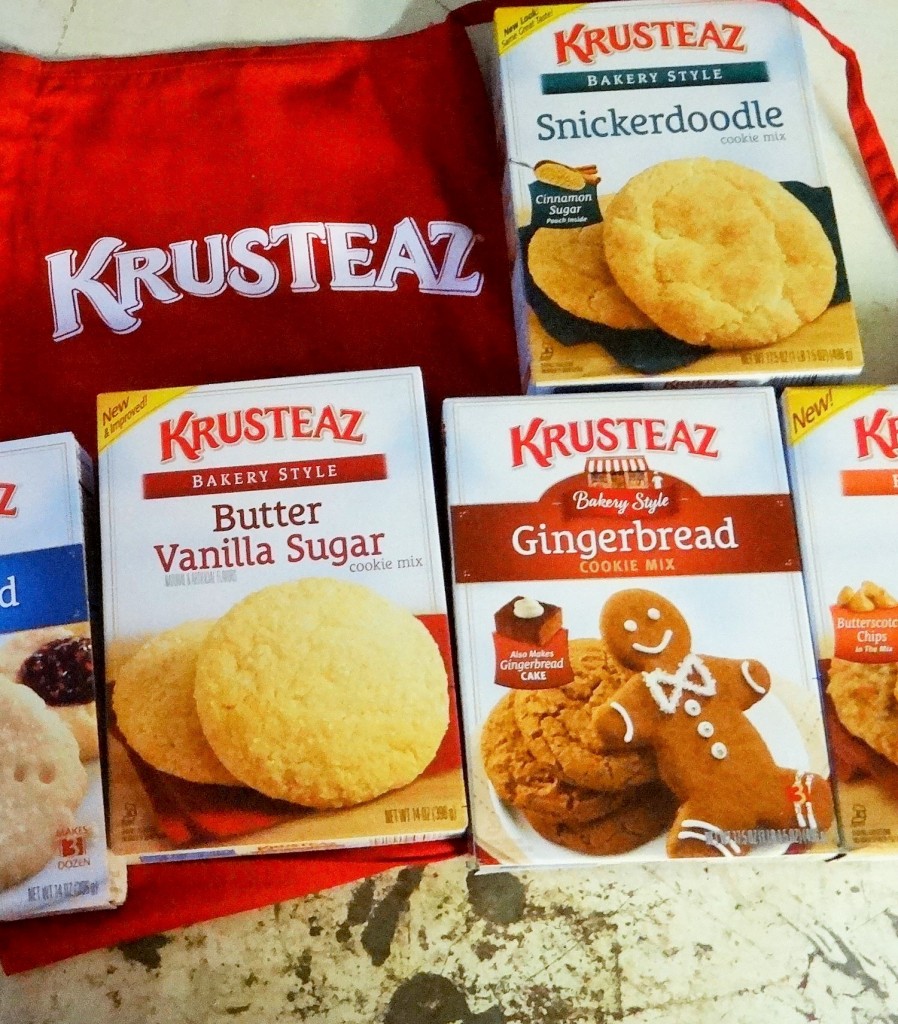 The Krusteaz cookie mixes are all fabulous on their own merits, but adding a little extra flair or cute packaging details really elevates the cookies from "yum" to "wow!" when it comes to gift giving.  One of my favorite tricks is to melt chocolate and drizzle it over freshly baked cookies.  It instantly turns the cookie into a gourmet treat and makes it look like you spent hours in the kitchen… it'll be our secret that we didn't!
This year I opted to make gingerbread cookie drops and drizzle dark chocolate in a basic swirly criss-cross pattern.  The result (as you can see from the pictures) looks great, but it also tastes divine!  And the best part, you can complete these cookies from mix to finish in less than a half an hour.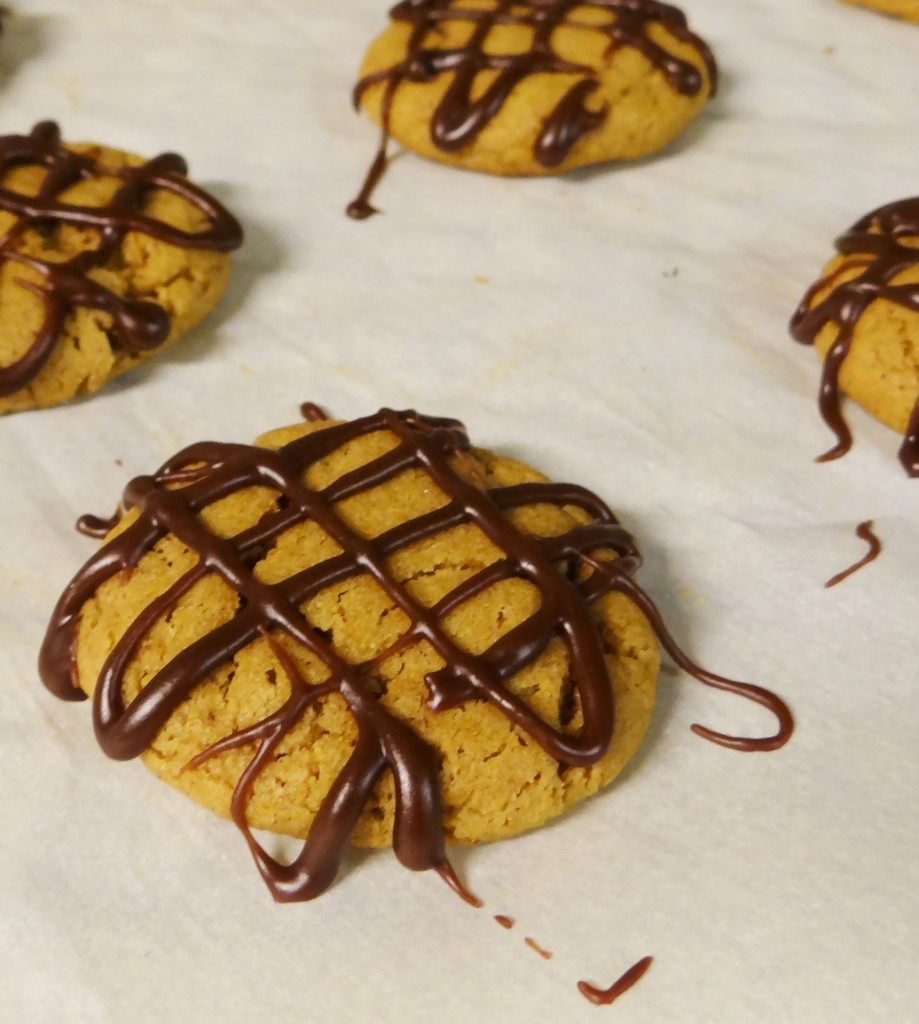 It's easy enough to create your favorite holiday classics like thumbprint cookies, too, with the aid Krusteaz.  It's as simple as using the Shortbread cookie mix and raspberry jam.  Using my favorite baking hack of adding a bit of drizzle decoration on the cookie, add a powdered sugar frosting to create special holiday flair.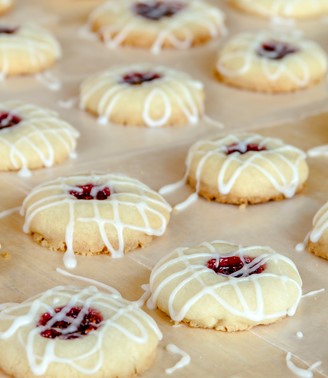 If you'd like to make delicious, quick and easy Raspberry Jam Thumbprint cookies for your holiday gift giving, I've included recipe instructions below:
Easy Raspberry Jam Thumbprint Cookies with Powdered Sugar Drizzle
Ingredients
1 package Krusteaz Shortbread Cookie Mix
1 1/2 sticks for butter, softened
1 cup powdered (confectioner) sugar
2 tablespoons milk
1/4 teaspoon vanilla extract
raspberry jam
Instructions
Preheat oven to 350 degrees Fahrenheit
In a medium bowl, mix Krusteaz Shortbread Cookie Mix and butter until soft dough is formed.
Drop rounded tablespoons of dough, 2-inches apart onto a cookie sheet lined with parchment paper.
Bake for 11-13 minutes or until light golden brown around the edges.
Remove from oven.
Immediately press the center of the cookies with the back of a small spoon.
Fill the reservoir created by the spoon imprint with raspberry jam.
Grip the edges of the parchment paper and transfer the cookies (cookies should remain on the parchment paper) to a baking rack.
Allow cookies to cool for 10 minutes.
In a small mixing bowl, mix powdered sugar, milk and vanilla together until a thin frosting forms.
Drizzle frosting in a criss-cross (or other desired pattern) over the raspberry thumbprint cookies.
Allow frosting to set for ten minutes.
Serve and enjoy!
Store cookies in an airtight container, using wax paper between cookie layers.
Notes
If frosting needs to be thickened, add additional powdered sugar until desired consistency is reached.
https://www.ruralmom.com/2015/12/quick-easy-christmas-cookie-gift-ideas.html
copyright 2018 by Barb Webb, RuralMom.com
Once you have your cookie creations baked, you can use decorative bags, tins or plastic containers to portion them out for gift giving.  If you are in a hurry, use a little bow and some ribbon to spruce the package up.  If you have a little more time, consider making a more personalized statement with custom packaging.  The boxes below (customized at Zazzle.com) are the perfect size to house about a half dozen medium-sized cookies and certainly make an impressive presentation!   They are perfect for family gatherings, cookie exchanges, co-worker gifts or to have on hand for impromptu gifting.  Use them for party favors, too, at your holiday celebrations.  Everyone would love to take a few cookies home to enjoy after Christmas.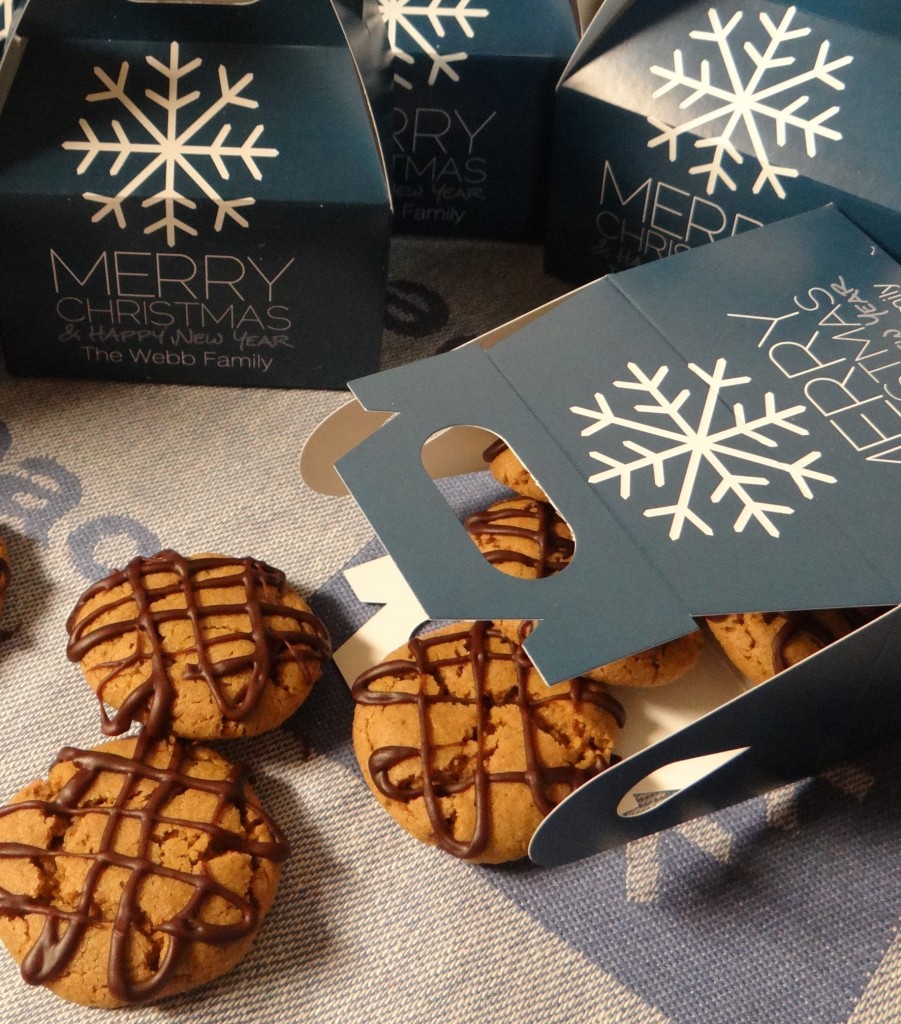 My favorite all-purpose container is a mason jar.  I use them for everything, even Christmas cookie gift giving!  Dressed up with a fun custom gift tag with a little twine or ribbon, they make a charming presentation.  You can even purchase colored lids for mason jars now in colors like red, blue and purple to elevate your gift fashion to the next level.  When your gift recipient is finished enjoying the cookies stacked inside, they can use the jar around their kitchen or home.  It's a delicious and practical gift all in one!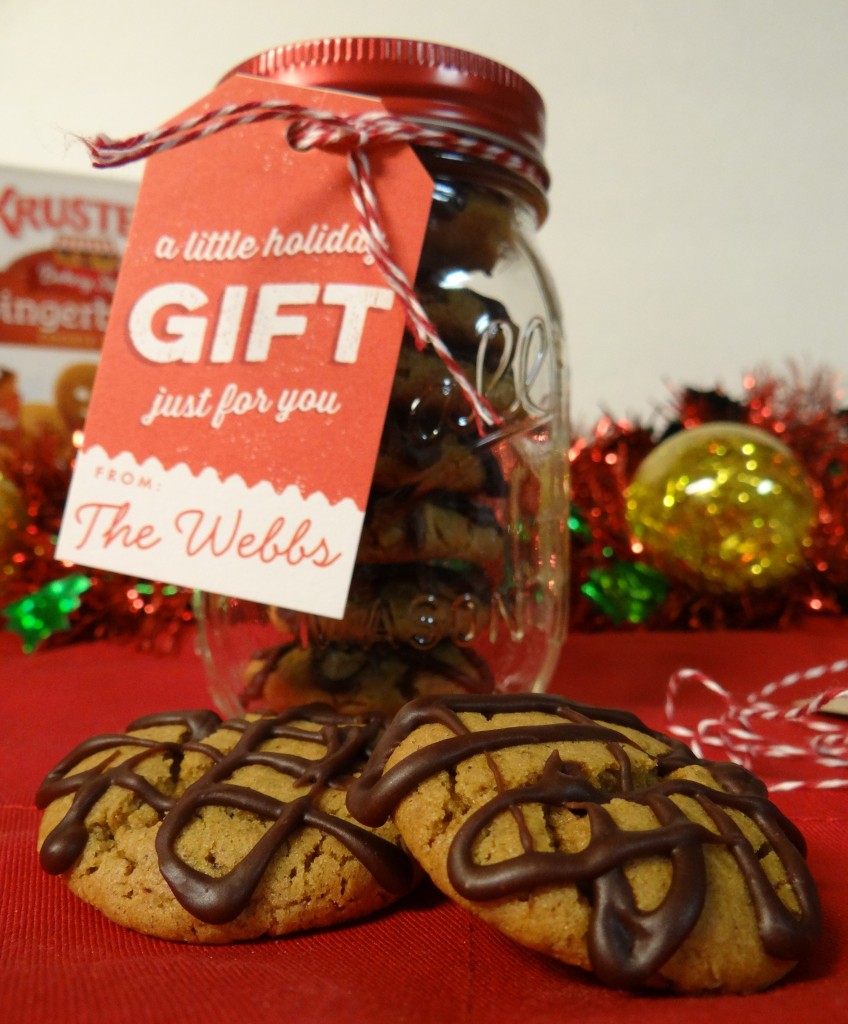 I hope you found a few Christmas cookie gift ideas here to help you save time and money this season!
Are you looking for more quick and easy ideas and recipes?  Check out our other Krusteaz cookie posts:
 Jolty Scotchies recipe and Snack Ideas
Giant Pumpkin Pie Cookie with Pumpkin Spiced Cream Cheese Frosting Recipe