As the fall leaves begin to swirl towards the ground, the onset of the "cold" season drifts in. I absolutely love the vibrant colors and cooler weather fall brings, but at the same time, I dread dealing with coughs, colds and sore throats!
Inevitably, someone in our rural home picks up a "bug" and spreads it around until we've all had our sniffly-stay-under-the-covers-until-it-goes-away kind of days.
We definitely work towards minimizing our risks, though, and generally are successful in having few repeat episodes if we do manage to get bogged down by a seasonal cold.
Tackling the challenges of the cold season means making sure our plan of counter-attack includes having products on hand to help manage and alleviate symptoms. Lozenges, cough syrups and tissues are a few of the typical staples we rely on and now we've added the SayAhh! Sore Throat Home Exam Aid to our medicine cabinet.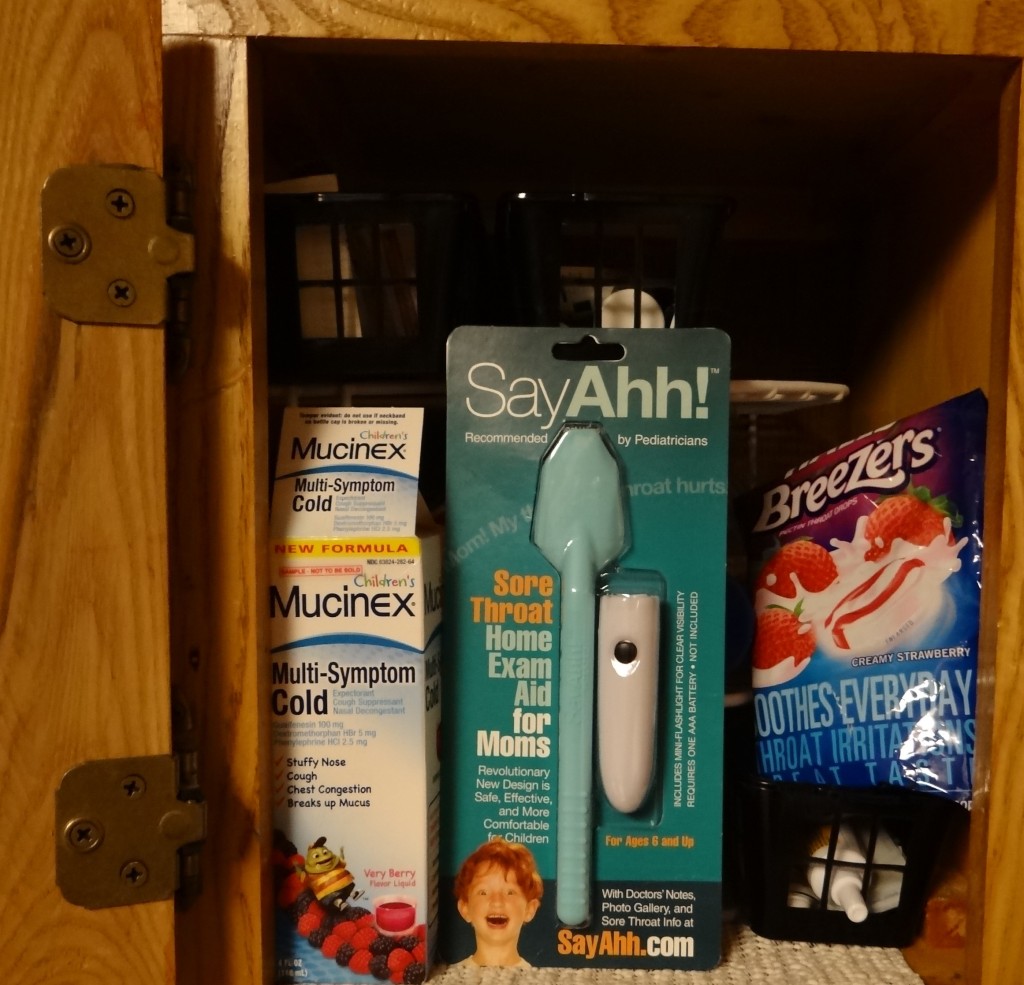 When the first (or second, or third..) cold bug invades your home, do you find yourself wondering if a trip to the doctor is in order? Me, too! Did you know that many illnesses begin with a sore throat but 90 percent of them turn out to be viral (aka the "common cold")? This really makes the deliberation of a doctor's trip that much more difficult!
The SayAhh! Sort Throat Home Exam Aid aims to help make your deliberation easier by offering a tool that helps you observe, compare and report to your doctor what exactly is going on in your child's throat and mouth. This valuable information can help you and your doctor decide whether just simple at-home rest or a a doctor's visit is in order. Potentially saving you an unnecessary trip to the doctor's office and unnecessary out-of-pocket expenses like co-pays!
Safe for kids six years and older and perfect for anyone with a strong gag reflex , SayAhh! Sore Throat Home Exam Aid includes a scientifically-designed, patented tongue depressor that minimizes the gag reflex, flashlight and a chart with medical-grade illustrations and descriptions of six common childhood throat ailments like strep throat, coxsackie, and mononucleosis, providing you with a solid basis for comparison to what should be seen in a normal throat. You gather all this vital information and then report this to your doctor's office who can advise you further.

Want to learn more? Additional information can be found on https://goo.gl/jh9hfQ and on the SayAhh! Exam Guide App available in the Apple App Store and coming soon to Google Play. You can also "like" the SayAhh! Facebook page at https://goo.gl/NFTvk5 to keep up with the latest news and offers.
Save $1.00 on your purchase of the new SayAhh! Sore Throat Home Exam Aid with my special promo code "mom411". Purchase online at http://sayahh.com/purchase.html.
What are your go-to must have cold season items? How do you prep your medicine cabinet for the cold and flu season?
SayAhh! Cold Season Survival Stash Sweepstakes
Cold and flu season is just a sneeze away! Be in-the-know and avoid missed school and work days by being prepared with a full stash of cold season survival products, including the NEW SayAhh! Sore Throat Home Exam Aid – a scientifically-designed, easy-to-use, unique health tool and management system that helps parents to easily observe, compare, and report their child's sore throat symptoms to their doctor. Now through September 18, 2015, enter the SayAhh! Cold Season Survival Stash Sweepstakes for the chance to win a $25 American Express gift card to stock up on cold/flu supplies.
Fifteen winners will be randomly selected on September 18, 2015. AND AS A BONUS… if the SayAhh! Facebook Page reaches 1,500 FAN LIKES by the time the giveaway ends, we'll prize a $200 American Express gift card to an additional (1) Grand Prize Winner! Learn more about the new SayAhh! Sore Throat Home Exam Aid at https://goo.gl/jh9hfQ​.
Now through November 1st, get free shipping when you purchase the new SayAhh! Sore Throat Home Exam Aid online at http://sayahh.com/purchase.html!
This is a product-provided, sponsored conversation that contains affiliate links. All opinions, text and experiences are my own.