Mexican-inspired cuisine is one of my favorites to enjoy all year 'round, but particularly in the summer months, when the lighter vegetable-based fare lends itself well to balmy days and breezy nights.  If you're looking for a wonderful Meatless Monday menu to enjoy, I hope this Mexican Fiesta Night progressive meal offers you oodles of inspiration!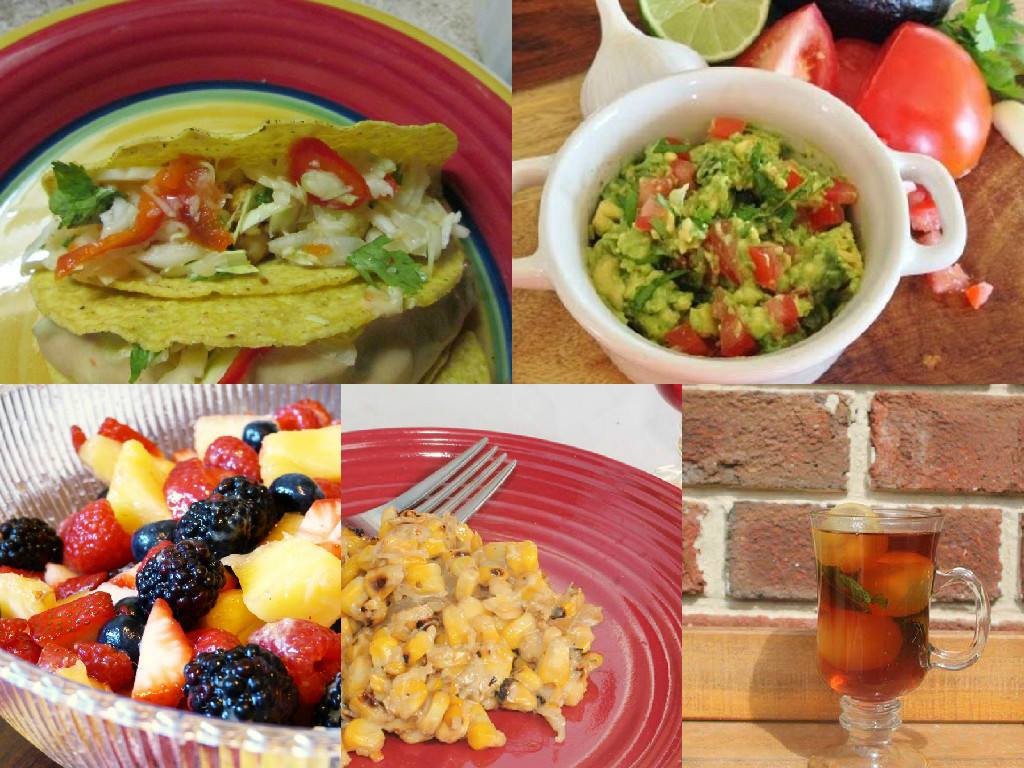 The first stop in our progressive meal hop is our very own Rural Mom's Farm Fresh Chunky Guacamole Dip which makes a great appetizer, side or condiment for your Meatless Monday Mexican Fiesta Night meal!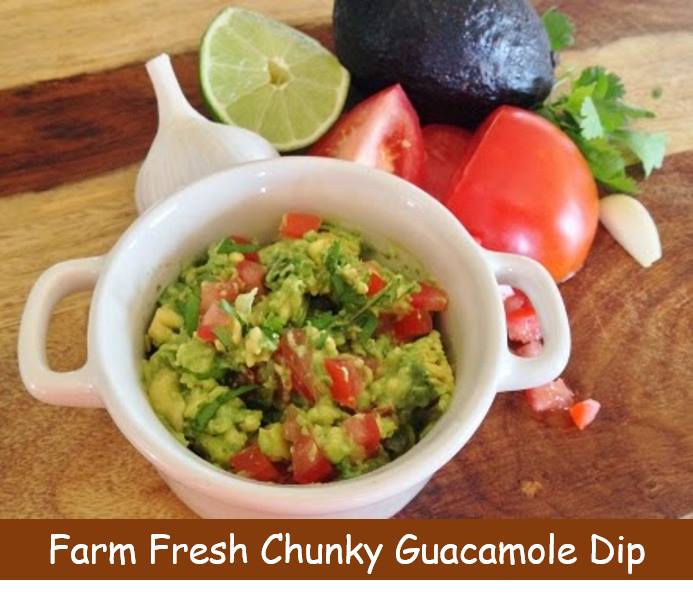 Chunky Homemade Guacamole
Ingredients
2 ripe Haas Avocados
1 ripe fresh tomato, seeded and diced
1 large clove fresh garlic, finely minced
1 fresh lime, juiced
1 tablespoon (+ extra for garnish) fresh cilantro leaves, stems removed and finely chopped
Salt and pepper, to taste
Instructions
With a sharp knife, slice the avocado from top to bottom, cutting all the way around the fruit. Place the avocado in the palm of your non-dominant hand and gently the top half clockwise until it easily separates into two pieces.
To remove the seed, "whack" the seed with your sharp knife so the blade sticks into it. Gently turn the knife until the seed pops out.
To dice, score the avocado while still in its skin but cutting equally sized slices from top to bottom. Then, rotate 90 degrees and do the same thing going side to side. This combination of horizontal and vertical cuts will give you equal sized chunks of diced avocado.
To remove from skin, take a spoon and gently scrape all on the bottom of the flesh (where it meets the skin) until all your diced chunks are removed.
Place diced avocado in bowl. Add diced tomato, garlic, lime juice and fresh cilantro to bowl and combine with a fork. Season with salt, pepper and additional lime juice, if desired.
Serve your fresh chunky guacamole with your favorite Mexican-style entrees or enjoy with crunchy tortilla chips.
https://www.ruralmom.com/2015/07/monday-dinner-menu-mexican-fiesta.html
copyright 2018 by Barb Webb, RuralMom.com
Continue with our progressive meal on the next stop at Grace from Blessed Elements for Vegan Chickpea tacos. Then check out the Berry Fruit Salad from Melanie at My Side of Life, Mexican Street Corn from Pam at Simply Southern Mom and lastly, a find a refreshing Blackberry Mint Sweet Tea from Brittany at A Southern Celiac.  You can find all the links in the linky below and you can also join the Meatless Monday Mexican Fiesta by adding a recipe of your own for everyone to enjoy!