Summertime is full of so many amazing activities and opportunities for some super fun in the sun! While my family and I prefer to go "off grid" for our adventures to create quality family moments, we still tend to use our tech to enhance our experiences.  Rural Dad, my Rural Boys and I got together and assembled our favorite top 10 apps for summer fun to share with you.  I hope they enrich your summer as they have ours!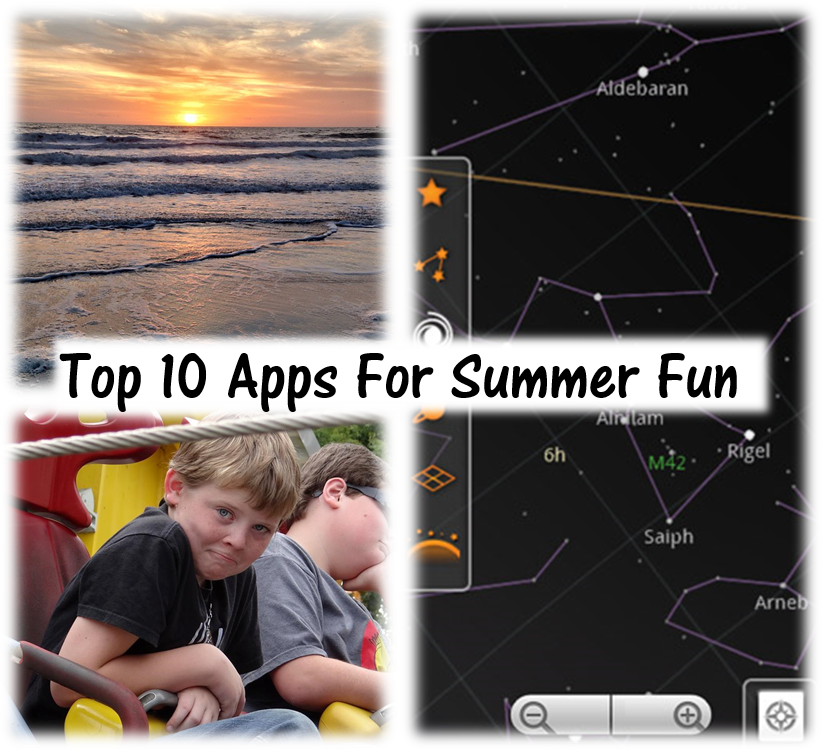 Be Skin Smart App – Before we head out into the sun, I like to make sure my family will be safe from the potential harm of the sun's rays.  The Be Skin Smart app lets you calculate your skin type and then factor in the SPF  you are using to calculate how long you can stay in the sun and set alerts for sunscreen re-applications.
Google Sky Map App – We love stargazing in the summer time, especially when enjoying a night in our backyard or a camping trip at our nearby state parks.  The Google Sky Map app turns your smartphone into a window on the night sky by identifying objects that appear in the sky.  Kids love finding the shapes in the stars and with this app, you'll be sure to help them identify each one.
Photo Grid App – If you are like me, when you're on vacation, you take a gazillion photos to help preserve the special moments!  Trying to post them all to Instagram or other social media platforms is a sure-fire way to overwhelm your followers though and clutter your feed.  The Photo Grid app lets you select some of your favorite photos and put them together in a fun collage format. You can also add text, format photos, apply filters, add backgrounds and more to share a creative glimpse of your vacation with your friends and family.
Omaha Steaks Steak Time App – Though we like to grill year round, summer is definitely the time to break in the barbecue!  This easy-to-use app offers recipes, tips and an innovative grilling timer that allows you to cook the perfect steak for everyone!
U.S. Coast Guard Mobile App – As boating is one of our favorite activities, boat safety is a top concern.  The U.S. Coast Guard Mobile app lets us find the latest safety regulations, request a vessel safety check, file a float plan and even report hazards or request emergency assistance.
AllTrails App – Love to camp, hike and explore the great outdoors?  We do, too!  With this app, you can discover nearby trails, track your progress and even share your adventures with friends.
S.O.S. App – No one wants to have a summer mishap, but should you find yourself in the midst of an unwanted encounter such as a jelly fish sting, the S.O.S. app provides the information you need to deal with any emergency in a pinch!
Our Rural Boys insisted these last three be put in for the best of the best in summer app entertainment.  All are great for surviving long road trips or playing with on rainy days:
Jurassic World: The Game App – The blockbuster movie captured our imaginations and the app is quite enthralling, too! The official mobile game brings to life more than 50 colossal dinosaurs from the new film.  Players can challenge opponents in earth-shaking battles and construct the theme park of tomorrow.  My sons assure me it is the epitome of "dino cool."
Dubsmash App – This app puts you in the starring role on video by allowing you to act out favorite scenes from movies, lip sync popular songs and more.   When you are finished recording you can create collections, add stickers and personalize your creation in a variety of ways.  The end result is often hilarious!  This is  a great app for family night fun and for sleepovers, too.
Hungry Shark Evolution App – What could be better than a game where you are shark who central goal in life is to eat everything in sight? It's also a survival game as you have to watch out predators and pitfalls! Well, at least according to my sons there's little better than playing with this app on a long car trip… but it's also a game that requires use of logic skills, it gets a thumbs up from this mom.
What apps would you add to our list?  I'd love to hear what apps help enhance your summer fun!