Father's Day is soon approaching! I always try to get gifts for my husband that are unique and well thought out rather than some random thing I found at Walmart at the last minute. He does so much for us and it's the least I can do to show our love and gratitude for the great father he is. If you're like me and you'd like to get your husband or father something a little bit different than the same old same old barbecue set or tie, take a look at this list of eight unique gift ideas for Father's Day.  There are some really cool things on here that the dad in your life will be sure to love!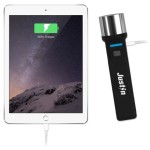 For the dad who likes to be prepared – the Justin Emergency LED Flashlight with Power Bank will be a favorite. It's a combination of a flashlight and charger – it charges your tablet or smartphone via a universal USB port. The flashlight itself is also rechargeable so you'll always have light and battery power when you need in an emergency.
The light comes in an assortment of colors – there are colors and options to fit any dad's style (even pink camo so you can get one for yourself!) and they all have a chrome top and rubberized finish so they won't get scuffed up easily. These will come in handy in every home – the gift of preparedness is one that comes at the best possible time every time.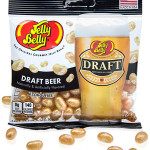 For the dad that's a draft beer connoisseur – Jelly Belly Draft Beer Jellybeans will tempt his taste buds. Jelly Belly is known for crafting candy that tastes amazingly like what it's named for, and the Draft Beer jellybeans are no exception. The golden, iridescent jellybeans have a crisp, clear draft beer flavor, and since there is no alcohol in them, he can eat them any time he wants.
If you want to get really crafty with the jellybeans, you can concoct some amazing flavors like Beer Sangria, Apple Cider Shandy, and Michelada. (Recipes for these can be found at the link above.) They're also great all on their own.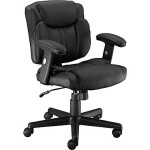 For the dad who wants to work and relax at the same time – the Staples Telford II Luxura Manager's Chair is perfect. It's comfortable, attractive, and fully adjustable to his height and sitting style. It's also got lumbar support, which is great for dads that have extra tension in their back from working long days. It will look great in any room in your house too, so no need to confine it to the office.
It does require assembly, so if the dad in your house is the primary assembler, you may run into a small hiccup there. However, the directions are pretty clear and simple so putting it together yourself shouldn't be too much of an issue.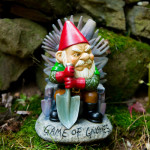 For the dad who loves to play in the dirt – the Game of Gnomes Garden Gnome. I can't even tell you how adorable this is! He's the perfect guard for any garden. The gnome stands under a foot tall and holds his little shovel commanding attention! He's vibrantly colored and sure to make any Game of Thrones fan smile.
If dad isn't into Game of Thrones, you can grab him another gnome – choose from fun characters like The Gnominator, Skeeter the Redneck Gnome, and the Garden Gnome on the Throne (different type of throne here), among several others. They're too cute to pass up!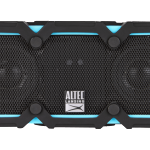 For the dad who enjoys a good tune in the great outdoors- the Altec Lansing iMW575 LifeJacket Bluetooth Wireless Speaker is a must-have. The speaker is dustproof, waterproof, snowproof, shockproof, and sandproof. This means that dad can use it while listening to music while working in the yard, swimming with the kids (the speakers even float!), and for just about anything else. The speakers even have power bank capability so they'll charge his devices at the same time! How genius is that?
The wireless range is a generous 33 feet, so he can move around the yard with the speakers and never have to take his phone out of his pocket. It's also a great gift idea for the dad who's a little rough on his phone – by using a durable speaker system instead of the phone itself, he'll save significant money on phone repairs and replacements.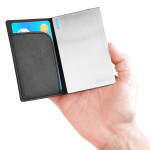 For the dad who forgets to charge things before leaving home – the Justin Ultra Slim Power Bank is the perfect companion. It's as small as a credit card so he can keep it in his pocket, and when dad's phone dies he can just charge it via the power bank and continue on with his day. When he's done charging, the lightweight and slim design stores nicely in a synthetic leather carry case.
Now that you've got a way to keep him connected after he forgets to charge, all you need is a way to get him to remember to charge the power bank! (Maybe you should get two.)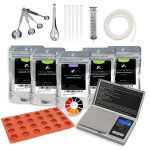 For the dad who loves to experiment – a Molecular Gastronomy kit is probably the coolest thing you could ever get him. Basically, there are several different kits that make the most amazing scientifically designed foods you've ever seen. Examples include Plum Caviar with Basic Spherification, Carrot, Orange & Mango Spheres with Rose Crystals, and White Sangria in Suspension.
The bonus to this gift is that not only will dad love them, mom and the kids will too. The creations you can make with these kits are nothing short of absolutely awesome, and it's something the whole family will enjoy making (and eating!)
Now that you've taken a look at my list, tell me what's on yours? Anything cool and unique?
Disclosure: We may receive sample products for review for our holiday guides, many of which are donated to local charities after gently testing and inspecting. If it's not a gift we wouldn't love to receive or personally gift to a loved one, you will not find it in any RuralMom.com holiday guide. We do not accept payment for placement of items in our guides. If it made it to our top holiday gift pick list, it's earned a spot based on its high quality, reasonable price point, and overall excellence in durability and/or functionality.