Some of my favorite everyday use products have come from brand challenges – a company invites you to try your product and share your experiences. Such is the case of the Purina ONE 28-Day Challenge. Thanks to Smiley360 and Purina, I received complementary products and information to get started.  Purina is a trusted name and a product we have turned to time and time again over the years to keep our pets healthy and well-fed, so I was excited to try the new challenge with our dogs. What follows are my personal opinions and experience with the 28 day challenge: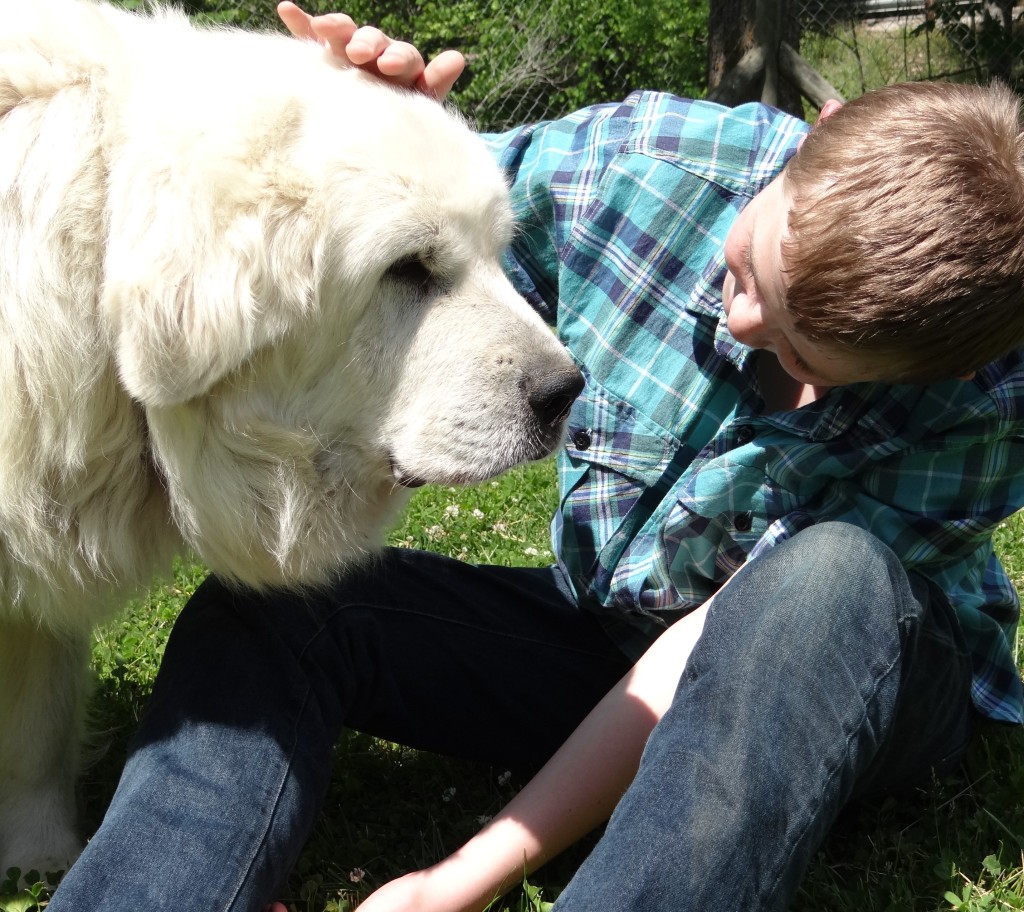 If you've followed us for any length of time, you're likely familiar with our gorgeous Great Pyrenees, Snowflake (my youngest son's best buddy) and you're familiar with the fact that we treat our animals like family around our Rural Mom farm.  That's why it's so important to us that they have the best care possible and are satisfied with their daily diet.  Purina brand is one we've come to trust to and we love all the new developments and the company's commitment to continued innovations.
The Purina One 28-Day Challenge we embarked on this month invites dog owners to switch dog food and see what difference Purina ONE dry dog food may have for your pup.  The challenge begins with a lesson on transitioning your dog's food and encourages you track visible changes.  Participants have noticed effects like their dog is more energetic, healthier and, as a result, better looking, after only 28 days. When you sign up, you'll also get tips, materials, progress reminders and even a coupon for $3 off of your first bag of Purina ONE dry dog food to get you started.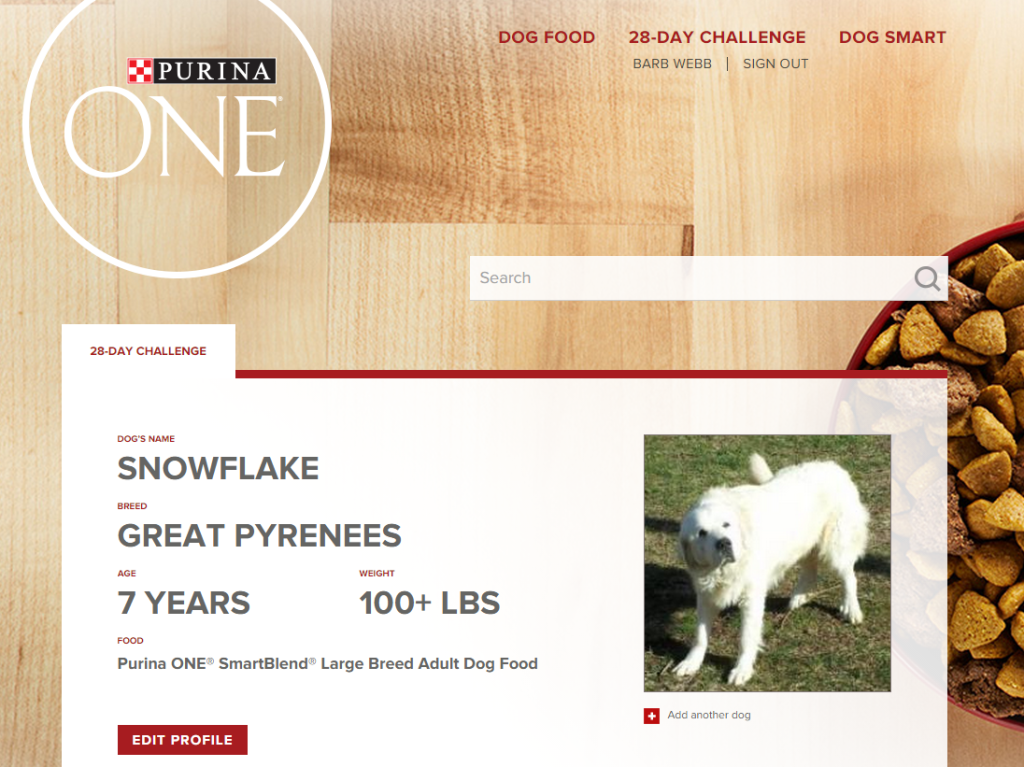 We began (and finished) our challenge using the Purina ONE SmartBlend True Instinct with Real Salmon and Tuna Dog Food.  This is a nutrient-dense food that helps provide the protein and energy active adult dogs need.
Purina claims that from day one, your dog will love the flavor of Purina One. They'll finish the entire meal, have a healthier appetite, and while you're transitioning to Purina One from another food, you'll likely notice that the dog eats the Purina One first and then finishes his other food.  We found that Snowflake did love the taste of the Purina ONE SmartBlend True Instinct with Real Salmon and Tuna Dog Food, which surprised me a little bit.  In the past, I often thought of fish as component for cat food, not something I looked for in dog food, but we were really missing out!  Though we are focused on Snowflake in this challenge, our other Great Pyrenees loved the new food flavors, too.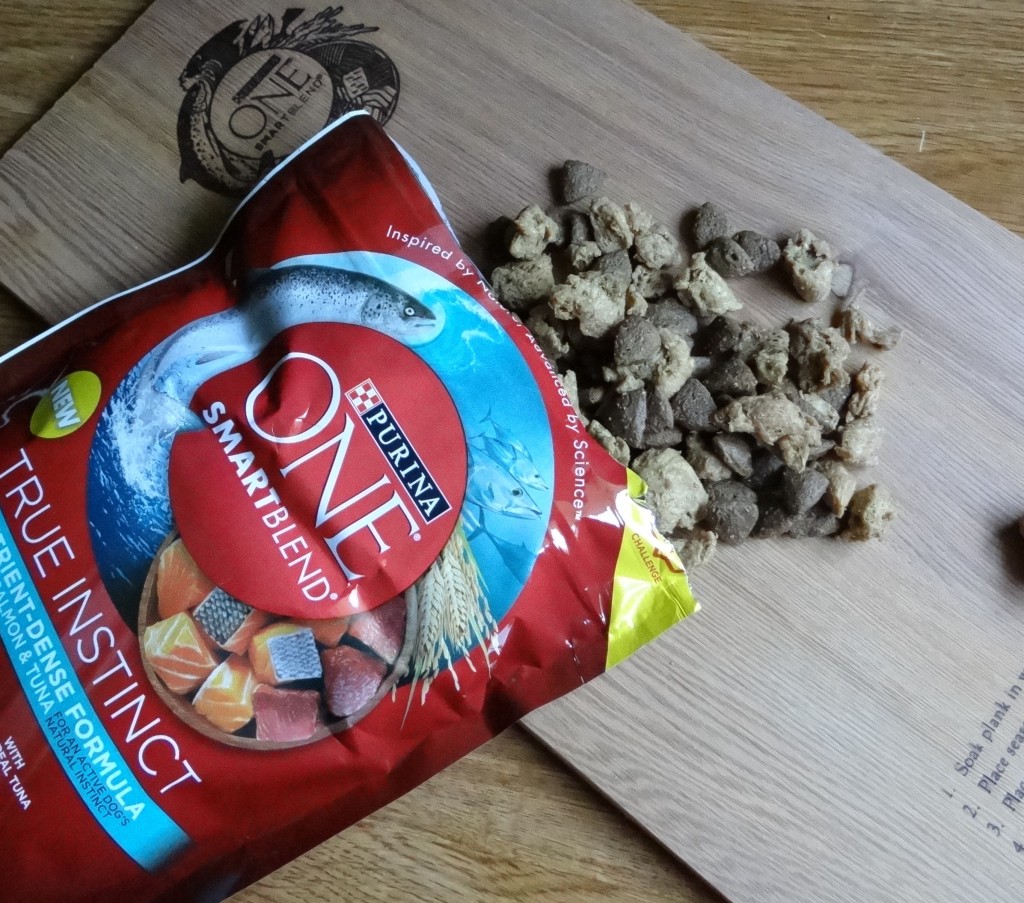 The weekly observances that Purina suggests you will see during the challenge are:
One week into the challenge, you'll notice that your dog has more energy. The complete nutrition of his new food will have him bouncing to the door to see you and wanting to run and play more than he did before.
Two weeks in, you'll notice that their digestion has improved (scientists have proven that digestive systems are an important part of overall canine health. The more nutrition they get out of their food, the healthier they'll be.)
Three weeks into the challenge, you're likely to notice that your dog has a healthier coat and skin. At this point, they'll also be looking at you with brighter eyes. A dog's eyes are a window to his health. The more sparkle in his eyes, the healthier he is.
By the 28th day, your dog will have healthier teeth and gums. The nutrition combined with the texture of Purina One is like a natural toothbrush.
Here's what I noticed in my own dog during the challenge:
Week 1 – Snowflake transitioned easily to the Purina ONE food and seemed to highly enjoy it.  She's normally pretty active, so it was hard to gauge if there was extra pep in her step, but she certainly didn't slow down any!
Week 2 – Great Pyrenees have finicky digestive systems, so one thing I watch for was to make sure she didn't have any digestive woes during the challenge period.  Again, A-okay in the this area, she was happy as could be with no digestive challenges.
Week 3 – This is the week I did notice subtle improvements in her coat and definitely her eyes.  The whites of her eyes are very bright and clear! Her coat seems a little silkier and shinier than normal, too.  This certainly made us happy to see Snowflake with a bit brighter glow about her!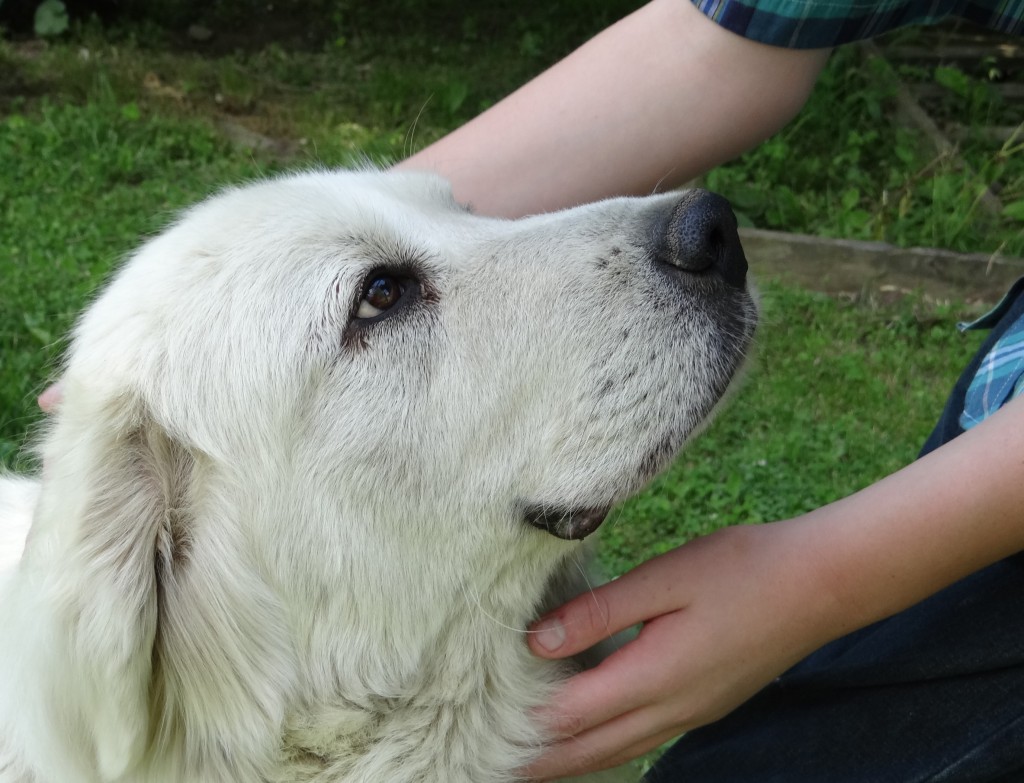 Week 4 – We already use products to help keep our dogs teeth and gums healthy, so again, this was tough to gauge if the challenge had additional positive effects, but it certainly did not have any negatives ones, so I have to conclude the food continued to enhance and support our regular efforts.
At the end of the Purina One 28-Day challenge, overall, I'm very satisfied with the results.  The fact that my dog loves the Purina ONE SmartBlend True Instinct with Real Salmon and Tuna Dog Food and that it helps brighten her glow is certainly enough good cause for me to continue to incorporate this food selection in her daily diet.  We'll also be trying out addition Purina ONE SmartBlend varieties.
So how do you get in on the challenge? Purina has all the info on their website. All you have to do is
1. Register for the 28-Day Challenge.
2. Choose which Purina ONE dry dog food is right for your dog.
3. Create a profile for your dog and follow the guidelines for switching to Purina ONE.
4. Track and share the changes you see in your canine companion.
There are already all sorts of dog owners in all stages of the challenge reporting their findings. It's awesome to see so many happy furry friends living healthier lives!
For us, we're just happy to Snowflake thriving, with plenty of spunk and vigor to follow her best buddy on his next adventure!