After this very long and cold winter, I can't wait to start grilling again! There's just something about the flavor of Barbecue that makes a person think of lazy summer days. If you feel that way too, you'll love this list of the 25 Best Backyard Barbecue Recipes!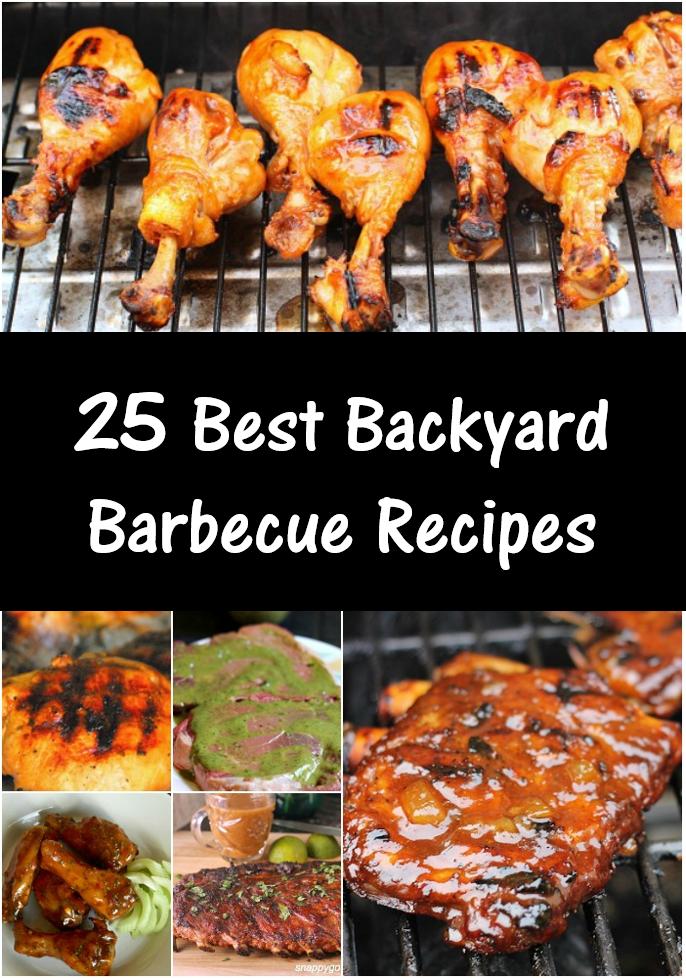 There's a little bit of everything here – from homemade barbecue sauce, marinades, and spices to chicken and steak and even some veggies.  If you don't have a grill, I've got you covered there too.  Some of these are crock pot recipes, so you can still have some good old-fashioned barbecue flavor anyway. Slow cooker barbecue recipes are also great for rainy days when you don't want to stand outside grilling!
How to Make Homemade Barbecue Sauce
Homemade Barbecue Spice Mix
Flavorful Chicken or Lamb Marinade for the BBQ
Meats
Tri Tip Fajitas and Pico de Gallo
Grilled Herb Chicken
Citrus BBQ: Vodka Lime Chicken and Orange Chicken
Grilled Buttermilk Chicken with Old Bay Seasoning
Sirloin Steak with Tangy Herb Sauce
Tropical Pineapple Honey BBQ Ribs
Grilled Cilantro Lime BBQ Party Wings
Tangy Sweet Pineapple BBQ Spare Ribs
Sticky Saucy Barbecued Ribs
World's Best BBQ Pork Ribs
Grilled Chicken with White Barbecue Sauce
BBQ Chicken Drumsticks
BBQ Jerk Chicken
Fruits, Veggies, and Desserts
Grilled Honey Balsamic Carrots
Grilled Caramel Apple Crunch
Grilled Pineapple and Watermelon Fruit Kabobs
Banana S'mores
Slow Cooker Barbecue Recipes
Slow Cooker BBQ Pulled Chicken Sandwiches
Slow Cooker Hawaiian Barbeque Pork
Slow Cooker BBQ Sandwiches
Slow Cooker BBQ Pulled Pork Sliders
Other
How to Make Bread on a BBQ – This is just awesome!