The second the first warm breeze of Spring whisked in my window, I began dreaming of Spring and Summer vacations.  Visions of  kicking back in my beach chair on the sand and sipping on an ice-cold fruity drink with a tropical umbrella filled my mind so clearly I could hear the ocean and nearly feel the sunshine on my skin.  Ahh… paradise!
When reality set back in, I realized it would probably be a few months before my beach dreams could become a reality, but there's no reason I can pamper myself with a fun, fresh fruity scent to add a little bit of tropical spa paradise to my daily beauty routine.  Vitabath Fruit Fanatics offer a luxurious, refreshing experience infused with nature's sweet scents!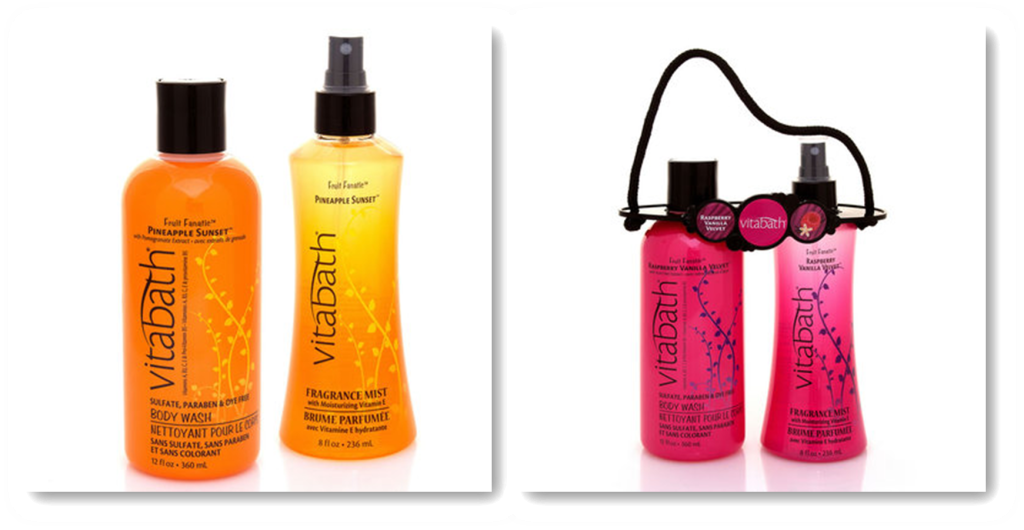 Now available in Pineapple Sunset and Raspberry Vanilla Velvet, Vitabath Fruit Fanatic body wash and mist will have you dreaming of cool summer nights on the beach and fun summer days full of delectable fruit flavors!
Vitabath Fruit Fanatic Pineapple Sunset is a blend of sweet pineapple, sun-kissed melon and passion fruit laced with lush coconut and rays of golden cashmere musk.  Vitabath Fruit Fanatic Raspberry Vanilla Velvet is an alluring blend of lush black raspberry and Mirabelle plum softened with rich warm vanilla, caramel and sensual amber.  Both are sulfate and paraben-free and antioxidant rich!  It's one thing we love about Vitabath products, they leave the chemicals out but leave your skin feeling smooth, refreshed and happy.