There are many idyllic family vacation spots to discover in our 50 great states, but no other spot where history, nature, gourmet foods, artisan crafts, thrill-seeking adventures and heaps of family entertainment collide under the umbrella of the tranquil lush, Smoky Mountains.  Plenty of good reasons why Gatlinburg, Tennessee is on FamilyFun's 2015 Top 10 Tourist Towns for Family Travel, including the fact that it's and excellent vacation spot for families with teens!
If you currently have a pre-teen or teen living at home, then you can likely identify with how challenging it can be to find teen friendly travel that keeps them not only highly-engaged but happy and entertained throughout your trip! It's hard enough to remove their fingers from their cell phones or game players, let alone coax a willing smile for family photos but to keep from hearing the words "I'm bored" or "that was lame" from escaping from their lips is a daunting task.  With the endless supply of family-friendly activities in Gatlinburg, it's surprisingly easy to score points with your teen and have them thanking you for the stellar vacation by the end of your trip.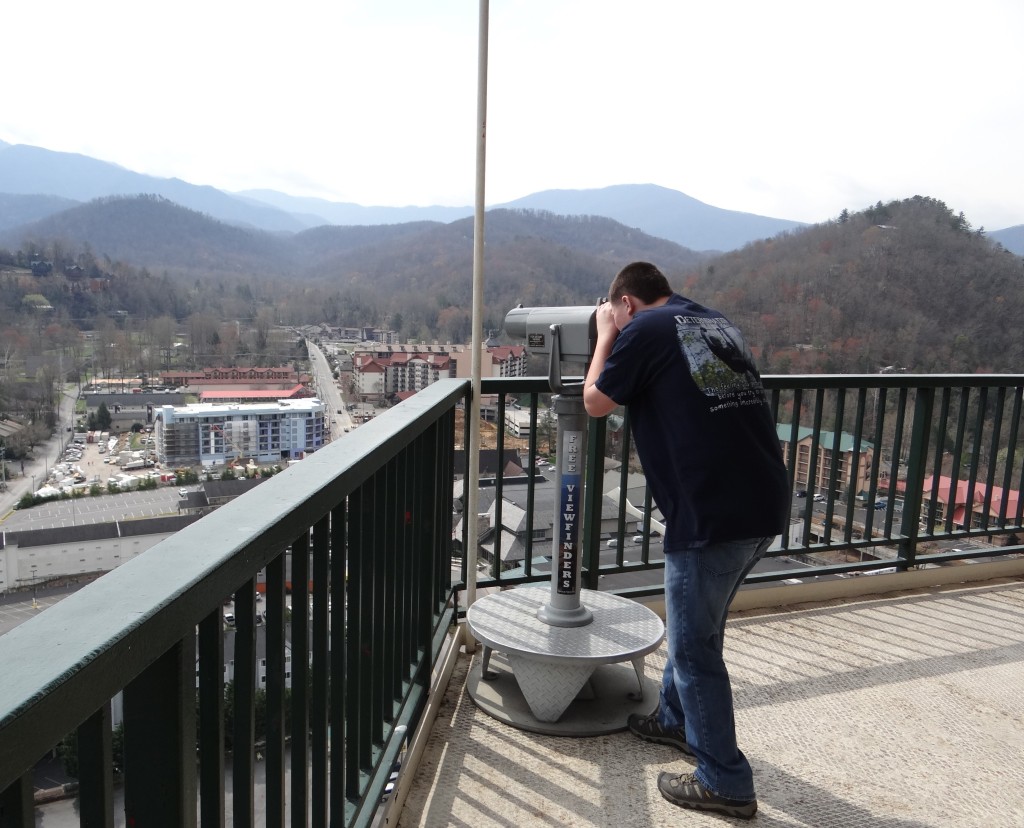 With a little help from the travel gurus in Gatlinburg, we put our pre-teen and teen boy's reactions to the test for a variety of family-oriented activities.  The results were a little bit surprising, everything we thought they would like, they sure did (as expected,) but several things we thought might be duds were also met with rave reviews.  (Moral of that story, do leave room in your itinerary to try out some new things, your teens may just find new activities to love!)  
As always, please not that as a member of the press, I received some free and discounted services throughout our stay in Gatlinburg, Tennessee.  Regardless of whether I paid out-of-pocket or received a courtesy pass, what follows is my honest opinion, thoughts and ideas of where you will find the best hot spots for enjoying your Gatlinburg family vacation with your teenagers!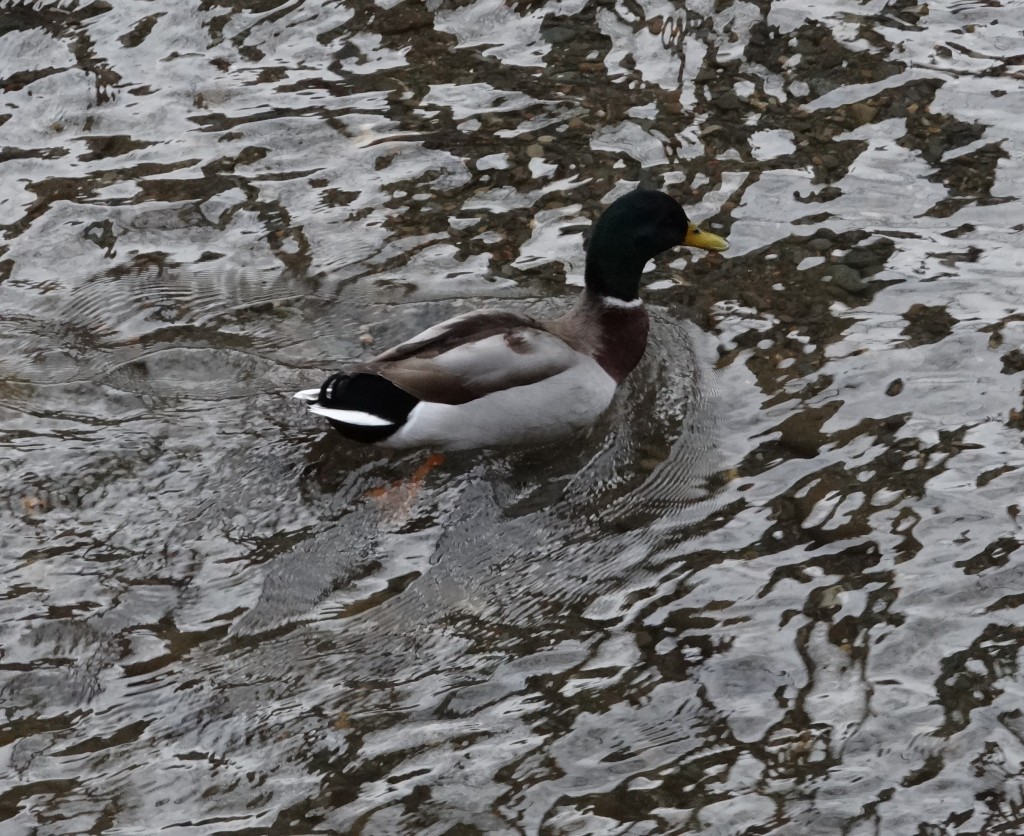 Chill Out in Center of It All
While the Smoky Mountains offer splendid views and quiet retreat areas, if you are headed to Gatlinburg for the entertainment value, it pays to stay near the downtown hub of activity.  You'll not only be close enough to walk to plenty of the main attractions, it will save you the expense of parking fees and the hassle of finding a good parking spot. Staying on the downtown strip does put you in the center of the action, but there are several affordable hotel spots like the Greystone Lodge on the River that still offer a tranquil setting that's only a few steps away from attractions.   This hotel is situated off the main street down the road from Ripley's Aquarium (a main attraction in Gatlinburg) and across the street from a major trolley stop.  Ask for a room facing river side and you'll return to lovely little respite each night with a patio or balcony overlooking the flowing river and wildlife in the area. It's the best of both worlds!
If you don't mind driving a bit and paying to park for the day, Gatlinburg is home to a wide variety of rental cabins.  Nestled in the mountains and away from the busy sections, you'll be up close with the breath-taking wilderness and enjoy options like private hot tubs or family game rooms depending upon where you decide to stay.  Some also are roomy enough to accommodate multiple families making them ideal for travel with relatives and friends.  Most cabins require a minimum of two day rentals to secure, so be sure to plan ahead and utilize for longer trips.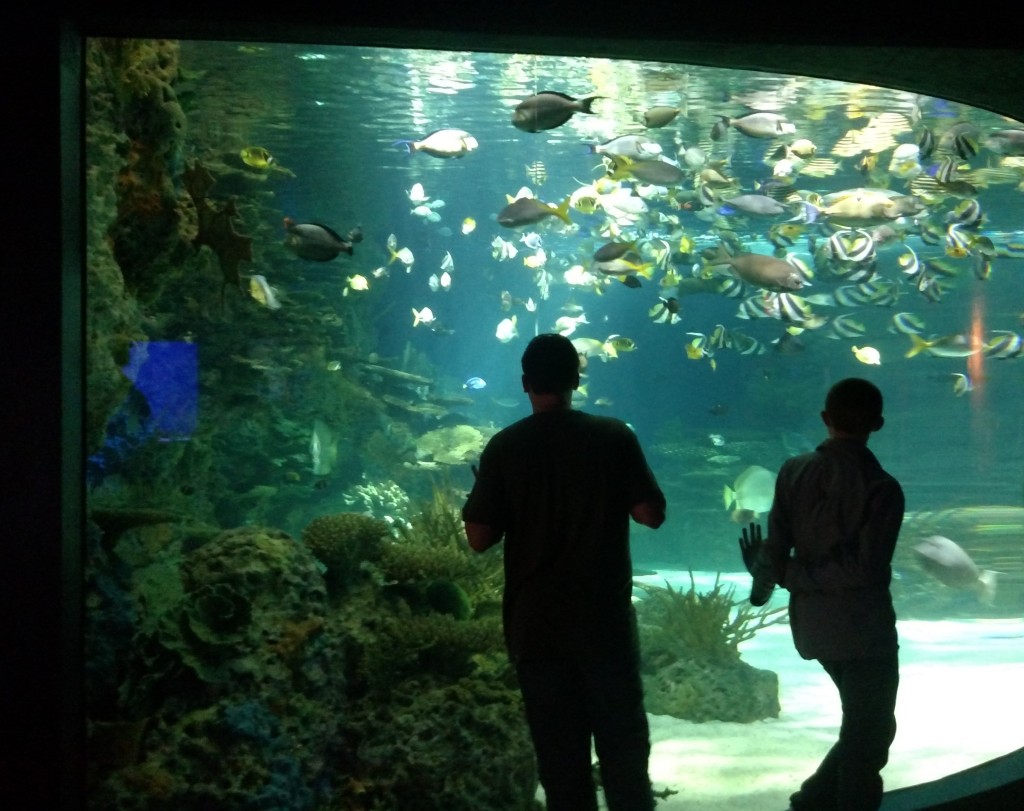 Where Will Your Trail Lead You?
Honestly, I could go on-and-on about the almost endless variety of options available to visitors of Gatlinburg.  Depending upon the time of year, you'll find everything from skiing to white river rafting to laser tag, hiking, helicopter rides and shopping galore!  This is truly what makes it an ideal location for travel with teens as there is a little bit of something for every interest and age group.  A few of our favorites, or what I would deem as attractions that should be on the top of your list for consideration are:
Ripley's Aquarium of the Smokies – a visual feast for the eyes complete with some great up-close and hands-on learning experiences for all ages.
Ober Gatlinburg – Winter sports enthusiasts will love the ski slopes and snow tubing, but there's also plenty fun to be found in the summer months, too with the Alpine Slide, Scenic Chair Lift, Wildlife Encounter and (year-round) indoor Ice Skating rink.  For the a great view of the Smokies on your way up to Ober Gatlinburg, take the Aerial Tramway.
Hillbilly Golf – there's no shortage of mini-golf courses in and around Gatlinburg offering a great time for the family, but this personal favorite offers 18-holes on the side of a mountain with some lovely views and fun challenges.
Hollywood Stars Cars Museum – even just walking past the place is quite fun as you'll see some famous rides like the Avengers S.H.I.E.L.D. Hummer H3T, but step inside and you'll find an incredible collection of television and movie memorabilia and vehicles and even a few surprise celebrity rides.  I've honestly never seen my (now teen) sons so attentive and engaged with museum exhibits before.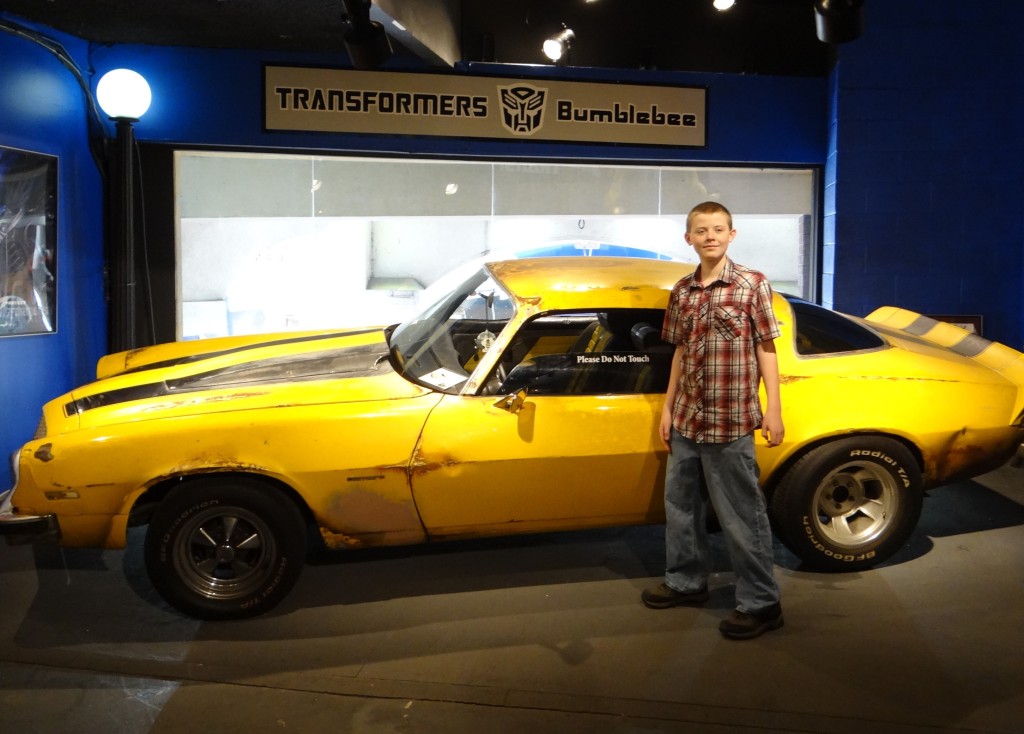 Gatlinburg Mountain Coaster – I'll let you in on a little secret here, I am not a thrill-ride-seeker or lover of heights.  I don't do zip-lines, coasters or other activities that make me dangle somewhere up high.  Nope, not for me.  With the encouragement of the staff at the Gatlinburg Mountain Coaster, I set aside my fears and tried it only because they promised me I would be closer to the ground and there would be no horrible-scary drops or curves that looped me upside-down (or my stomach inside-out!)  And… there were a few moments I held my breath and maybe re-thought my decision, but it quickly dissipated into oodles of enjoyment as I flew around the track!  The track follows the natural slopes of the mountain, keeping you closer to the ground than a traditional coaster and the best part, you are in control of your speed to enjoy the ride as you see fit.  I was told I went quite fast for someone who was intrepid.  All I know is I had a great time and I'd totally go again. (My family agrees, by the way, definitely a cool adventure for everyone!)
Sweet Fanny Adams Theater & Music Hall – I've seen quite a few of the elaborate theater shows in the Gatlinburg area and hands-down, this one is my favorite of all!  Despite the fact that I was coaxed onto the stage as part of an audience participation number (thankfully, only my family bears witness to this unless, of course, you stop over to watch the embarrassing video my hubby purchased of the show some night…) my family and I had a rip-roaring time!  The cast and crew of this wonderful production are exceptionally talented and though most do not get coerced to make a brief appearance on stage, each and every audience member will walk away feeling like they were part of the show.  We'll be making a point to return on our next trip to Gatlinburg – it's a total "must-see" extravaganza!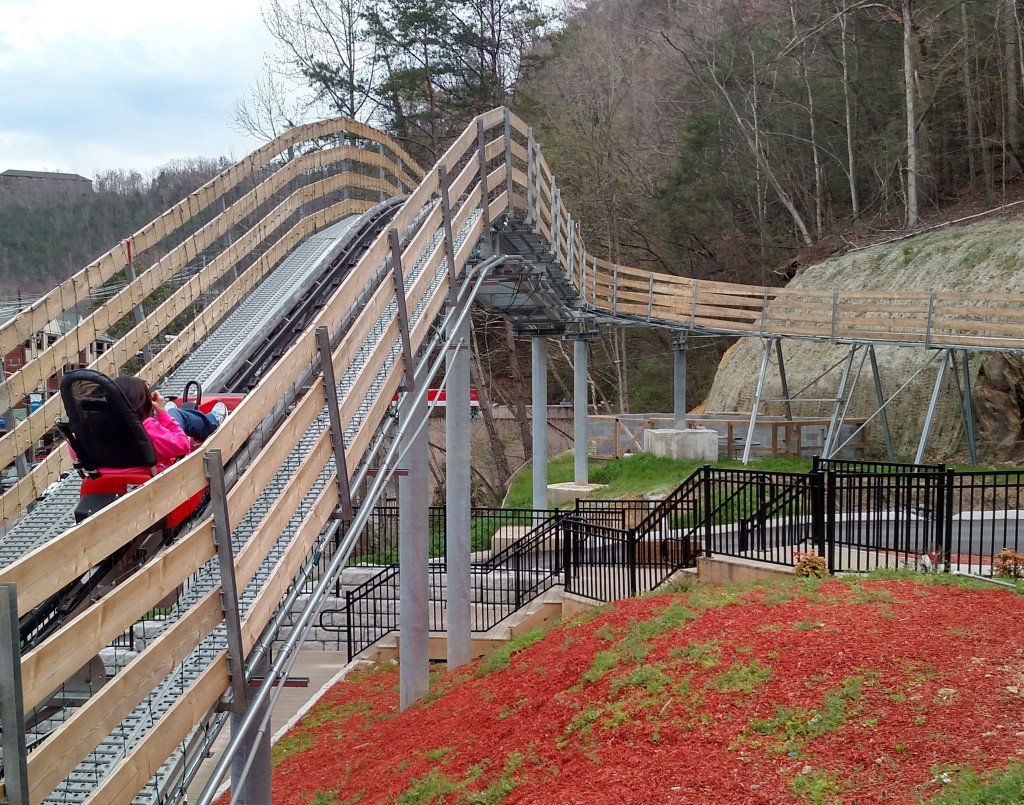 During our recent exploration of Gatlinburg, we discovered so many impromptu activities that caught our attention, like Cooter's Place (where you can race a General Lee go-kart) and the Gatlinburg Space Needle (a 360-degree observation deck that rests 400-feet over Gatlinburg, offering breath-taking views.)   If you are a planner, be sure to leave room in your itinerary for new experiences and also for local events that may be happening during your stay like the Beans and Cornbread Festival (May) or the Craftsmen's Fair (October.) 
Of course a visit to the Great Smoky Mountains National Park is a necessary component of any great vacation in Gatlinburg.  Whether you drive along designated routes or hike through some of the majestic trails, you'll find a beautiful view.  One of the best places to view the landscape of Eastern Tennessee is to drive up to Clingman's Dome.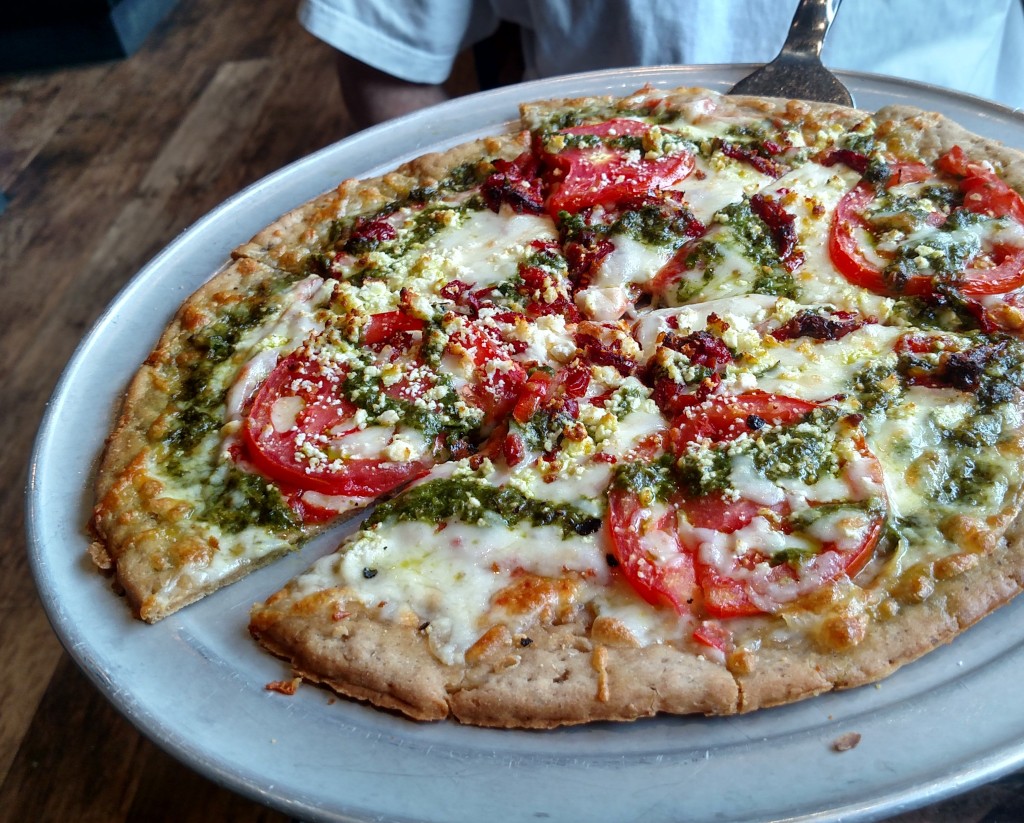 Satisfying Your Hungry Crew
Not sure how your teenagers are, but one thing my teen boys are very adept at is letting me know how hungry they are, like clock-work on the hour.   Luckily, there's no shortage of food vendors and restaurants.  Whether you want a chocolate-dipped waffle cone, a quick burger or a superb Italian pasta meal, you'll find it!  Every location has it's stand-out locations, though, the ones that have unique local flavors and flair or the ones you wish you could return to again and again.  A few locations we found that should rank high on your list of considerations for remarkable vittles are:
The Donut Friar – located in The Villiage Shops center, open at 5 a.m. daily you will find a wide array of tempting bakery and pastry delights along with a great cup of espresso for your morning fix.  Arrive early to get the best selection and consider doubling up your order to take a stash back to your cabin.
No Way Jose Cafe –  you'll always see a line forming at dinner time at this popular spot for good reason, their fresh Mexican dishes are delicious!  If you want to up your chances for quick service, stop in at lunch time, rather than dinner when the crowds are bit lighter.
Mellow Mushroom – Best gluten free pizzas in the area and there traditional offers are excellent, too.  My sons are huge fans of the meatball subs and we all really love their unique southern-style pizza offerings.
Park Grill – make reservations at least once during your Smokey Mountains stay to enjoy this local favorite.  The rustic-style menu and heaping platefuls of food remind me of ski lodge dining, definitely the fresh grilled tastes of the mountain fare!   The Fresh Mountain Rainbow Trout is very flavorful (order it grilled) and the Southern Pecan Chicken is an all-around crowd pleaser.  For a sweet treat, top things off with the Jack Daniel's Crème Bruleé.
Pancake Pantry – I think it's like a customary right of passage to eat at a Gatlinburg pancake joint before you leave the area.  One of the best spots (as is obvious from the line of folks clamoring to get in the door is the Pancake Pantry.  Get there a little early (before 8 a.m.) to beat the crowds and enjoy a fluffy stack of buttermilk pancakes or if you prefer, fresh crepes.
No matter where you end up staying, what you do or how much you eat, you'll be glad you took the time to discover Gatlinburg.  There's just something about the fresh mountain air and music of the streams that truly refreshes your body and spirit!
For more information and ideas of where to stay and play in Gatlinburg, visit http://www.gatlinburg.com/