My oldest son is graduating 8th grade this year and to be honest, I'm having a little bit of a "mom moment" with this milestone.  He's super excited and I'm excited for him, naturally, but also a little misty-eyed at the thought that my baby is taking this next big step in growing up!  To distract myself from rifling through his baby albums one more time, I'm starting to plan a great party to celebrate the big day.
While I know his graduation day will already be very special and filled with loving family and friends, I want to add to the occasion with some cool decor, fun treats and ways to capture some of the memories of this occasion.  I also want our guest to feel special and be immersed in the festivities so I'm starting my planning by assembling a top-notch graduation party guest table for everyone to enough, thanks to Oriental Trading.  The following is reflective of my opinion and experience with Oriental Trading products. I was provided samples free of charge by the company. No other type of compensation was received for this review.  I hope you enjoy the ideas and find them helpful in putting together a fabulous graduation party guest table for your celebrations!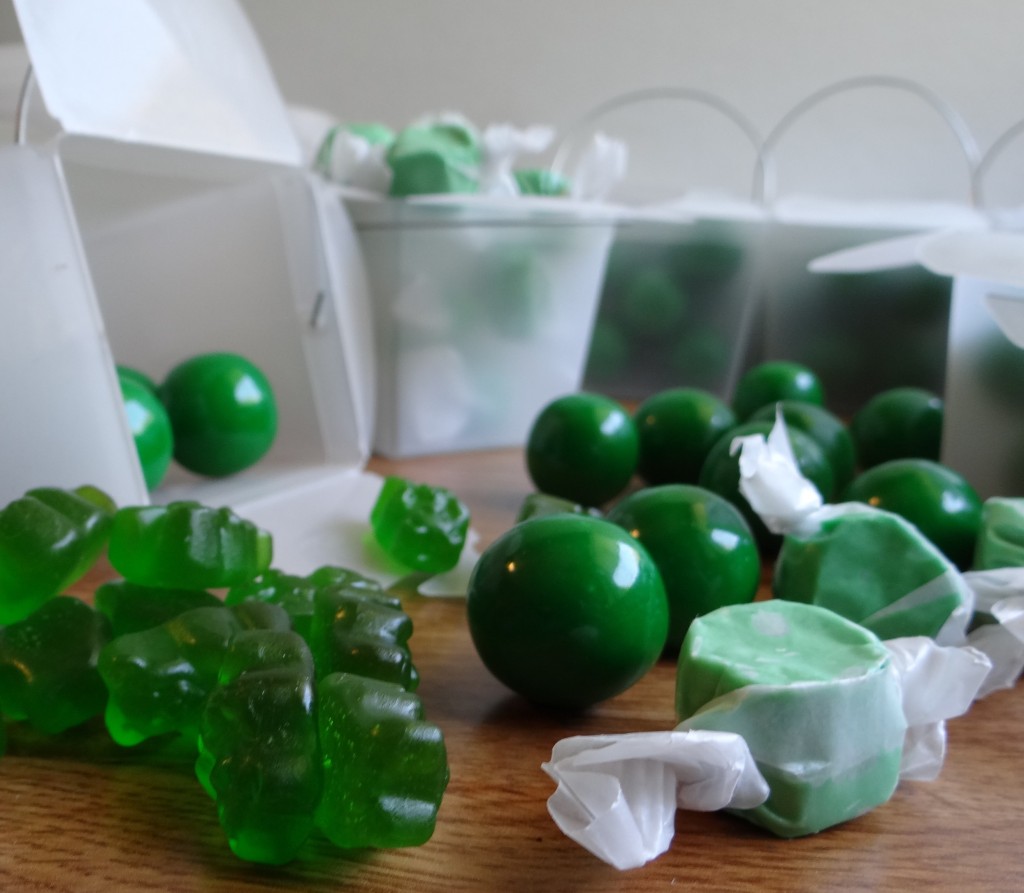 When I think about what makes or breaks a party, I have to say I always think of food first!  No matter what the celebration, everyone tends to remember a little about what was served! We are going to plan a lovely buffet but also want to add in a few indulgent treats and snacks, too.    As I started looking on the Oriental Trading website for graduation decorations (like table clothes and napkins, which they have plenty of to choose from!) I noticed they offered graduation items by color selection.  The "ah-hah" moment arrived and I knew right then one of the best ways I could design the graduation guest table would be to theme it by school colors.
The two prominent colors we have are green and white and as I started searching, everything fell into place rapidly!  There were so many great candy, snacks and containers to choose from, the toughest part was limiting myself from ordering everything! I decided to put together a little portable treat for guests so that they could carry them around the party easily or take it home as a remembrance of the day, if they preferred to enjoy the treats later.  To create this sweet guest gift with I used these products from Oriental Trading:
Frosted Take Out Boxes – 12 count package (2)
Large Green Gumballs – 120 pieces
Green Salt Water Taffy – 3 lb bag
Green Gummy Bears –  5 lb bag
Green Chocolate Candies – 2 lb bag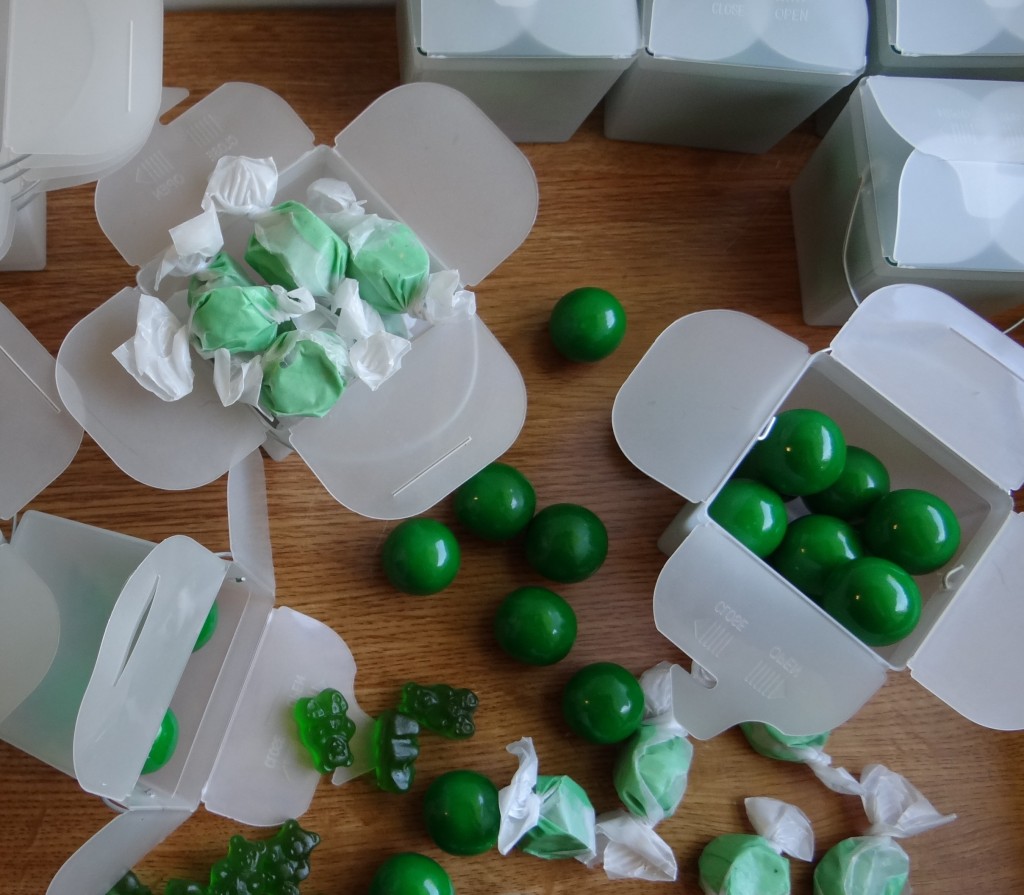 The take out boxes are excellent quality, sturdy and well designed.  All of the candy has a great taste (well, you know, for review-sake I had to sample some, right? So I can actually attest to that!) I enjoyed the apple flavor of the taffy and really appreciate how soft and fresh they are! I know our guests are going to truly enjoy this.  I decided I'm going to place a single candy in each container and let guests choose their favorites.  You could easily mix them up, too, and put a little of each candy in the containers.  Any extras, I'll put out around our home to add little more themed color to our home decor and to offer an impromptu treat for guests to grab throughout the party.
For guests who don't like sweets or wish to not indulge with them, it's always great to have a candy alternative available.  Oriental Trading offers some fabulous Green Congrats Grad Popcorn Boxes to satisfy that component.  I'm opting to fill them with some gluten free white cheddar popcorn that everyone can enjoy.  They would be equally great for pretzels, chips, trail mixes, nuts or whatever alternative snacks you'd prefer to offer.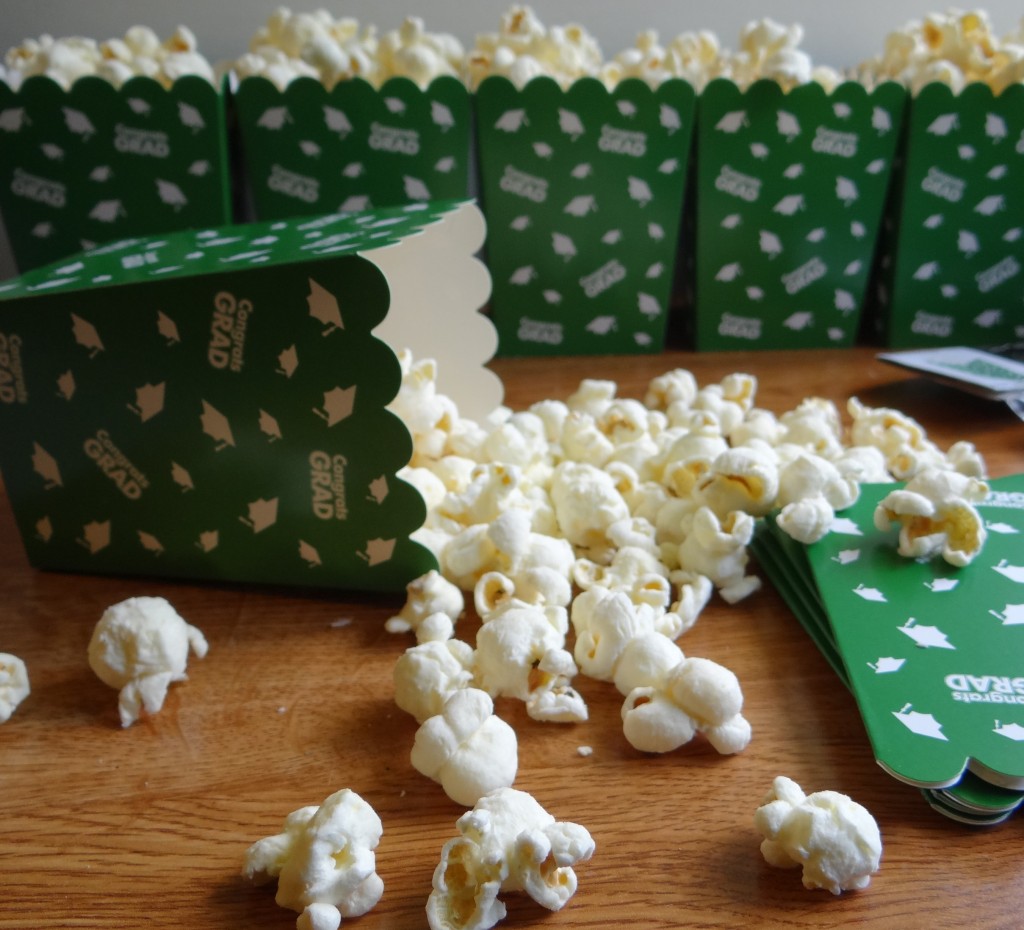 Food is always part of the memorable party experience, but of course, it's consumed during or soon after.  Since preserving the memories of the momentous occasion is also important, I wanted to find something to help record the day in a special way.  Something my son could keep and treasure throughout the years.  When I saw the Autograph 2015 Pillow I knew I had a winner! This soft, plush pillow is has a nice, big surface (20 1/2″ x 3″ x 8″) to hold plenty of sentiments from everyone at the party, making it a truly one-of-a-kind remembrance to cherish.
Oriental Trading also offers other stuffed plush graduation autograph designs including puppies, teddy bears and owls along with other cool autograph-ready items like beach balls, table runners and journals.  There's a little something for every grad!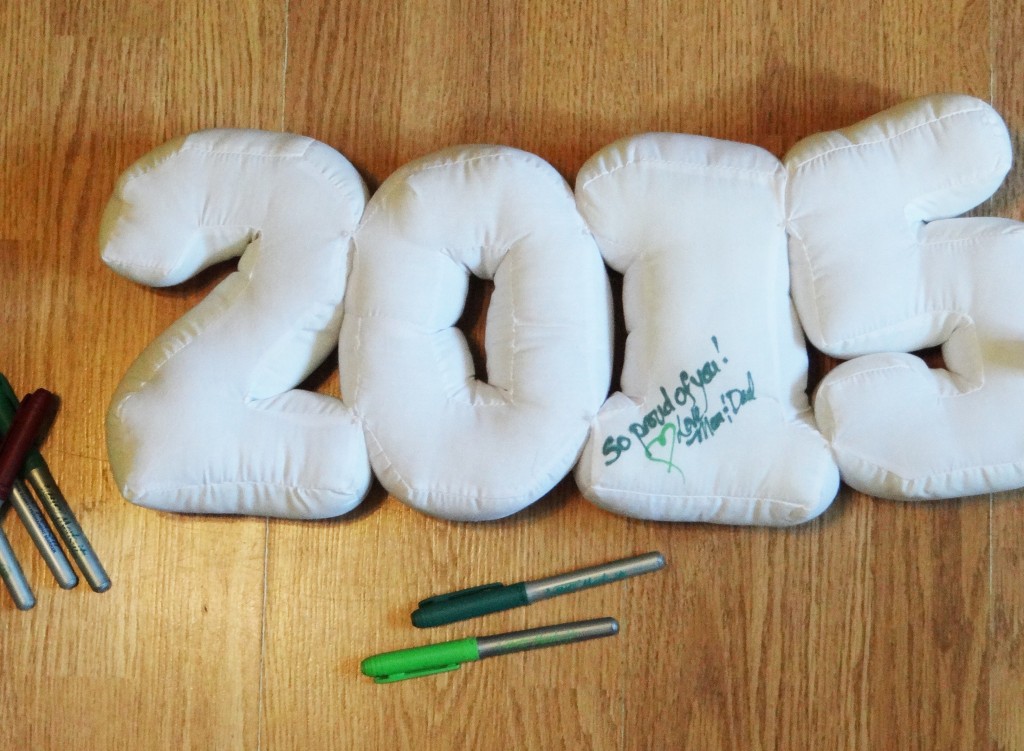 To complete my ideal graduation party guest table, I used one of the popcorn boxes to hold markers for the plush pillow and added a "Congrats Grad" Green Card Box.  Your guests will be looking for a convenient spot to place gifts and cards and the card box offers a great drop off point.  The box keeps cards sorted and stored in one location and guests can place wrapped gifts next to the box or near the table.  This will make it easy for guests to ensure the graduate gets their gift and will make it quick to collect the gifts for the grad to open later during the party.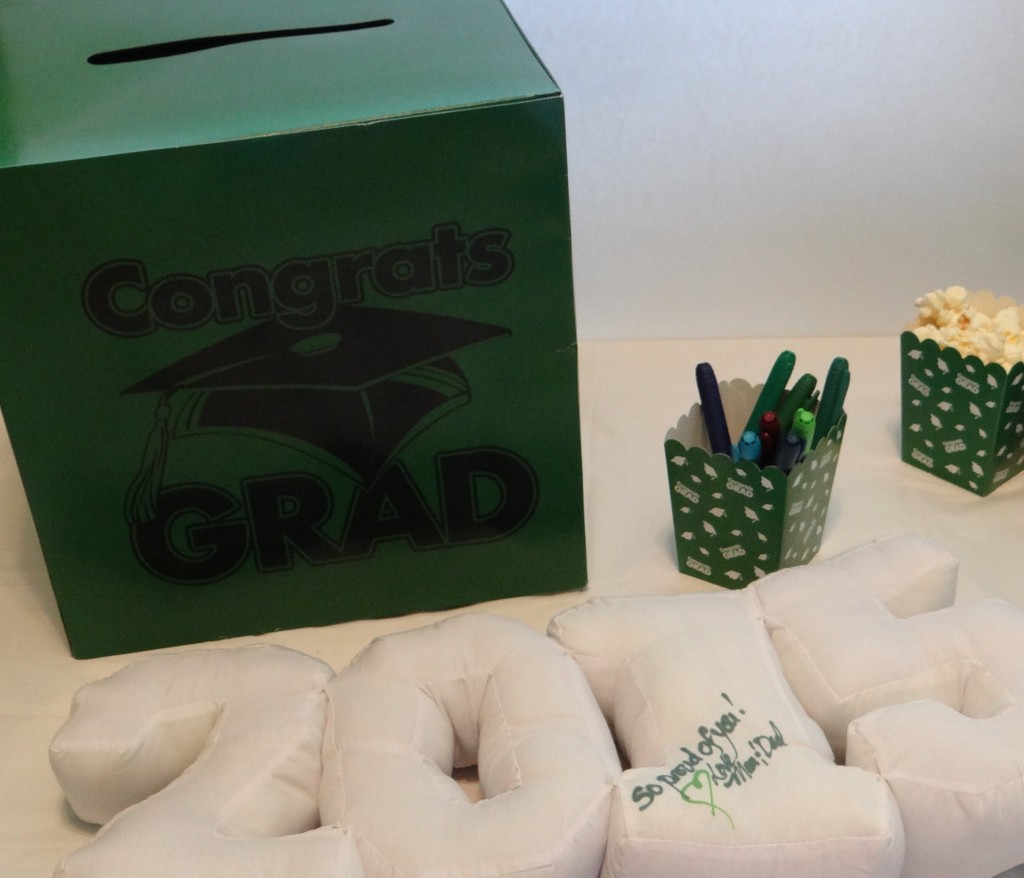 I love how easily my vision of a great graduation guest table came together with the help of Oriental Trading easy-to-navigate website.  I also love how budget-friendly it is to put your party decor together when ordering from Oriental Trading.  The entire set up for this fabulous display retails for under $75!!
If you want to add a little personalized style to your celebration you can easily dress up the boxes for your graduation party guest table with stickers, markers, glitter glue or simple printables from your computer.  I created a basic circle design with "class of 2015" using word-processing software on my computer.  After printing a sheet full of this design, I used specialty scissors to add extra flair to the trim around the circles and then used double-sided tape to adhere them to the top of the candy take-out containers. You can easily add your graduate's name, the exact date a photo or whatever designs you choose to customize your table.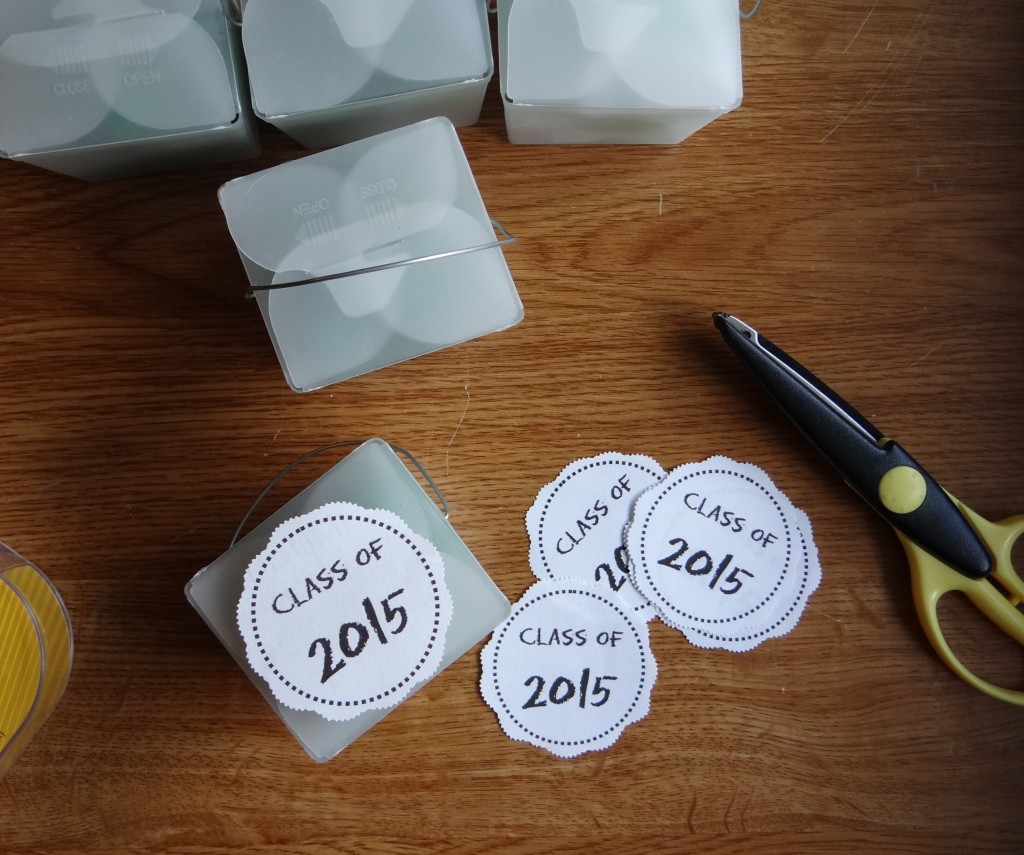 This is my path to assembling a first-class graduation party table for our guests with products from Oriental Trading.  With so many options and products to choose from, I'm sure that you will find even more inspiration and ideas for themes to make your celebration unique and memorable!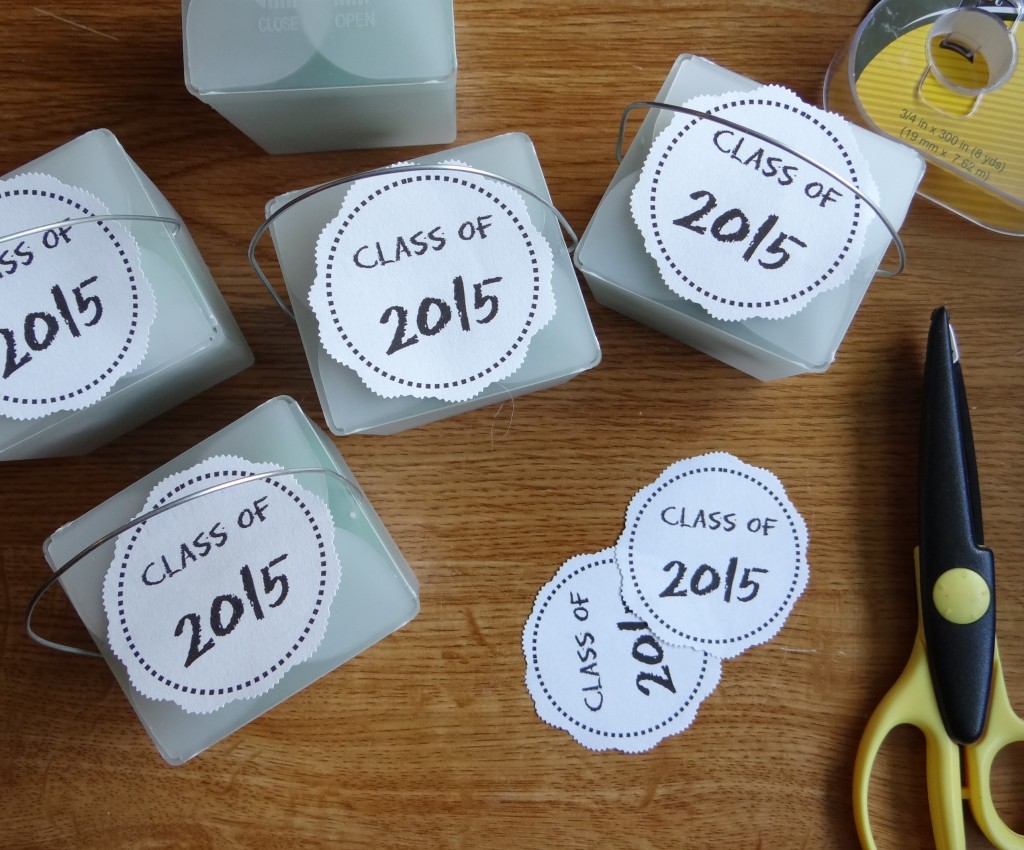 What would you add to make your graduation guest table special?  I'd love to hear your ideas!