One of our favorite days of the year is quickly approaching. Free Comic Book Day 2015 is May 2nd! Free Comic Book Day is the comic book specialty market's annual event where participating comic book shops across North America and around the world give away comic books absolutely free to anyone who comes into their comic shops.
The event is held the first Saturday in May and is the perfect opportunity to introduce friends and family to the many worlds of wonder available at local comic book shops. From super-heroes to slice-of-life to action/adventure and beyond, Free Comic Book Day has a comic book for everyone!
This year's highlights include a a ​free Doctor Who comic! Th​is​ special issue will include three brand-new short stories featuring the Tenth, Eleventh and Twelfth Doctors!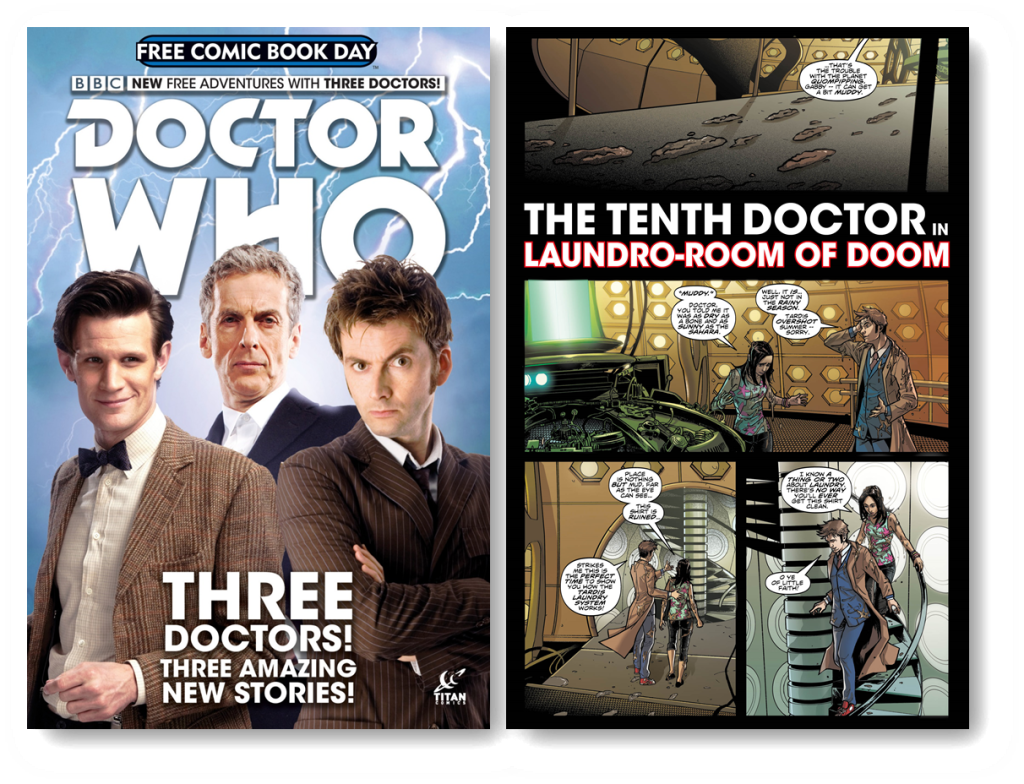 Take a blistering trip through time and space with three stunning ALL-NEW short stories featuring Tenth Doctor, Eleventh Doctor and the brand-new Twelfth Doctor by the ongoing DOCTOR WHO creative teams – PLUS a sneak peek of the TOP SECRET Summer 2015 event! Be the first to get a hint of the epic that will shake the Doctor to his core! It's an unmissable read for fans, and the perfect primer for anyone looking to jump on board the TARDIS!
There will be 50 FREE comics available to choose from, 12 of them being the Gold Sponsor Comics that all participating comic shops will have for fans to choose from.
Free Comic Book Day 2015: Gold Comics
ARCHIE COMIC PUBLICATIONS| DARK CIRCLE COMICS PREVIEW
BONGO COMICS| 2014 BONGO COMICS FREE-FOR-ALL
BOOM! STUDIOS| BOOM! STUDIOS TENTH ANNIVERSARY SPECIAL
DARK HORSE COMICS| FIGHT CLUB/ THE GOON/ THE STRAIN
DC COMICS| TBA
DYNAMITE ENTERTAINMENT| BOB'S BURGERS
IDW PUBLISHING| TRANSFORMERS ROBOTS IN DISGUISE #0
IMAGE COMICS|SAVAGE DRAGON: LEGACY #1
MARVEL COMICS| SECRET WARS
TITAN COMICS| DOCTOR WHO SPECIAL
UNITED PLANKTON PICTURES|SPONGEBOB FREESTYLES FUNNIES
VIZ MEDIA/ PERFECT SQUARE| POKÉMON
In all, over 2,300 comic shops are participating and over 5.6 million comics are expected to be handed out.  Many shops will also host special events for communities including costume celebrations. You can see the 50 free comics and find participating comic shop at www.freecomicbookday.com
Not convinced that you need to get out of the house May 2nd and head towards your neighborhood comic book shop?  Perhaps, Mark may help convince you?
Known for his role as Luke Skywalker from Star Wars, Mark has also been a part of the comic book culture as he played the voice of The Joker in various Batman animated TV shows, movies and video games. He is also making a return as the Trickster in new episodes of The Flash.