Anyone who knows me will tell you that I happen to love a great App! I use them for gardening, cooking, enhancing my productivity, catching up with friends and family, and even for playing the occasional game (I may or may not have a slight addiction to Star Wars Tiny Death Star.)  The latest apps I'm in love with are for vacation planning. Did you know that you can plan your entire vacation with your smartphone? How cool is that?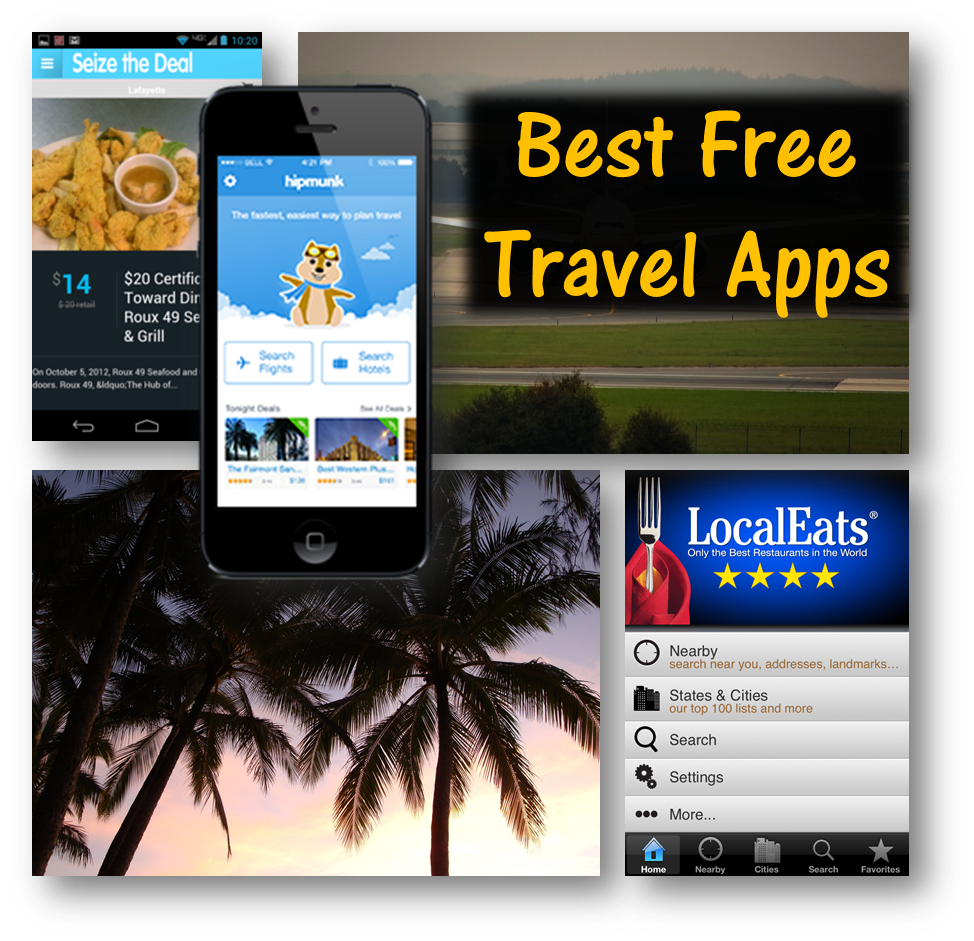 Here's the rundown of some of the best free travel apps I've been trying out lately. Let's start with the accommodations and transportation:
Expedia. The Expedia app is much like the infamous website, only better. Not only can you search for transportation and a place to stay just like if you were sitting at your computer, but you can also get exclusive mobile-only discounts using the app. What's not to love?
Hipmunk. Hipmunk is for those who are…hip! So hip that you'd have no problem sleeping on someone's sofa while on vacation to save a few dollars and make some new friends. Hipmunk lets you search flights and accommodations – even non-traditional accommodations like HomeAway.
Orbitz Flights, Hotels, Cars – This one is much like Expedia, allowing you to search for both transportation and accommodations, however, Orbitz offers a lowest price guarantee, so you can relax knowing that you're making the most budget friendly travel plans you possibly can. (And then you'll have more money for fancy food and souvenirs!)
Booking Now. The Booking Now app from Booking.com will give you plenty of options for accommodations in your desired vacation spot, and they boast that they have the world's largest amount of hotel reviews. At this time, however, it's only available for iPhone users.
Hotwire. Hotwire has a user-friendly app to help you find super cheap hotel deals – up to 60% off according to their site. The Hotwire app also gets great reviews from the media and other customers.
Once you've reached your destination, you'll find that a different type of app will be a huge help. Check out these apps for dining and attractions:
LocalEats. Looking for a fabulous Thai place? How about the best pizza in the city? LocalEats connects with local blogs and brings you the best deals on the best places. Even better, there are no chains included and restaurants can't pay to get on the list. What you get is honest reviews written by other customers.
Urbanspoon. This one is a little bit more well known, and with good reason. With a quick shake, Urbanspoon will sort through over a million dining establishments and give local results in your specified price range that even include table availability.
Foursquare. This is a well-loved app that will give you dining, attractions, and shopping options in your area and tell you where you can find just about anything your heart desires for less. You can also download the companion app, Swarm, and let your friends and family know where you are and what you're up to!
Seize the Deal. This app is great for those of you who show up on vacation with no particular plan. The app lets you know what's available in your area, and because you're shopping last minute, you'll get last minute deals.
Eventful. This is a great app for finding something you can do alone or with your entire family. The app lets you search according to your needs and gives you detailed maps with the results. This is also a great app to use at home – you can set it to alert you when your favorite performer or event is scheduled in your area. You'll never miss Frozen on Ice again. (Unless you want to!)
In the category of "other", here are some more free apps I regularly use while traveling:
Photo Grid. Photo Grid lets you take all of those photos you've been shooting and make a nice collage out of them so your friends and family don't get overwhelmed by them popping up in their feeds. You can edit photos and make collages right from the app. It works especially well with Instagram. Speaking of Instagram, you'll probably want to make sure you have the Twitter, Facebook, and G+ apps too so you can keep in touch with loved ones at home.
Currency. If you plan on traveling somewhere that uses foreign currency, you'll love this app for quick and easy conversions.
Babbel. Again, if you're traveling outside of the country, the Babbel app will make your trip go much smoother. It will literally teach you how to speak another language at your own pace, so you can start long before your trip and be pretty lingual by the time you get there. (Or at least you'll know how to ask for directions to the nearest bathroom!)
Uber. This app uses your phone's GPS to let you to hail a car from your phone rather than standing on a curb with your arm in the air hoping no one drives by and splashes you like a scene out of a bad comedy.
Wi Fi Finder. This one will find the Wi Fi hot spots for you and therefore save you lots of money on data charges incurred for using all of the above.
Now that you've got a nice little list of essentials, tell me what your favorite app for travel is! Let's share and compare!