Bunnies and chicks are all the rage at Easter time, but don't forget to treat your dog with some holiday goodies, too.   Putting together an Easter Basket for your dog is easy and fun. Need a little inspiration?  Check out our ideas for the perfect round-up of products for your pooch to enjoy!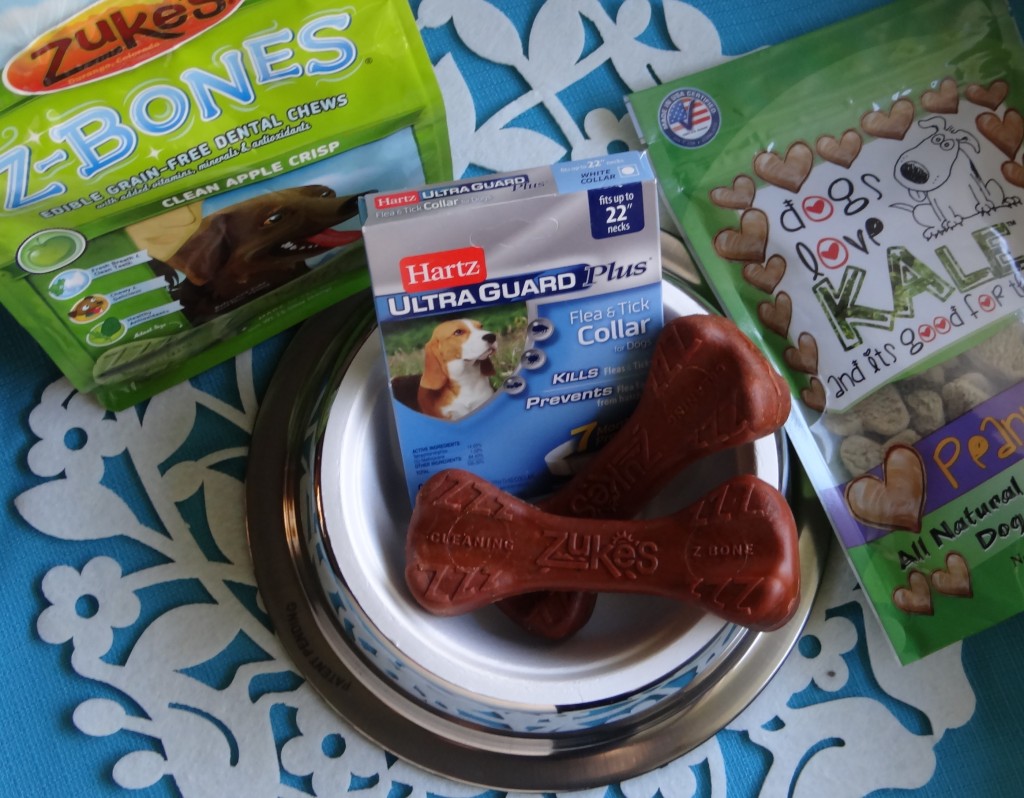 Find the best Easter dog basket:  You can use any wood or plastic Easter basket you might find in a mass retail store, just be extra careful to make sure your dog doesn't get ahold of the basket and start chewing on it.  Some materials can be toxic to animals.  A better solution would be to use a metal bowl or perhaps purchase a brand new dog bowl water or feeder bowl for your pup to use as a basket.  A great eco-friendly stainless steel bowl option, the Kinn Kleanbowl (pictured above,) has an innovative design that helps reduce health risks to pets.  It also offers a no-mess convenience (which is a wonderful gift for you!)
Be cautious with fillers:  Easter baskets are known for having mounds of fake grass spilling over the sides but should you use it for your dog's Easter basket?
Dog training expert, Denise Mange says "although you may wish to decorate the basket with traditional Easter grass, it needs to be safely removed from the animals reach before letting them explore the contents."
Mange regularly gifts clients with Easter baskets for their pets but if she decorates them with traditional Easter grass, she includes a note to remind them to remove that element to avoid choking or intestinal obstruction from ingesting the plastic grass.
If you want a creative and practical alternative to traditional Easter grass, use Earth Rated's cute green waste bags.  It's a mess-free approach that is quickly removed to keep your pet from ingesting.  Just scrunch a few up to use as a festive liner and then set them aside in a safe location to re-use them later on walks with your dog.
Select the right treats:  Bottom line, Easter candies are not suitable for pets.  Chocolate is the most well known toxin that is poisonous for dogs but any sugary candy or treat can make your pet ill.  Candy wrappers can also be life-threatening if ingested by your dog.  These items should not be in the Easter basket for your dog and should be kept in secured places in your home out of the dog's reach.
"When it comes to Easter gatherings, remember that your guests may not be experienced with pethood, and may absent-mindedly leave behind chocolate treats, wrappings, and Easter grass within your pet's reach," says Denise Mange. "As competitive Easter egg hunts ensue (and cocktails flow freely), it is helpful to leave posters in key places throughout your home reminding folks to be cognizant of your pet and what could present a potential hazard to him/her. I recommend posting these flyers in common gathering places, like the front door, porch/back door, and near food and cocktail stations. Bathrooms are also a great spot where you know you have a captive audience!"
Mange offers a printable flyer on her website for reference and use at
What your dog should receive in their Easter basket from you is a variety of treats you know they already love and maybe a few healthy surprises, too.  
 Zuke's Z-Bones are edible, made-in-the-USA, grain-free dental chews that fight doggie breath and clean teeth the natural way, with whole food fruits and vegetables. Available in four sizes to accommodate dogs 10 pounds or larger in flavors perfect for Easter and spring: clean apple crisp, clean carrot crisp, and clean berry crisp.
Another fresh all-natural treat for your dog is Dogs LOVE Kale. Also made-in-the-USA, Dogs Love Kale uses wholesome ingredients like rice flour, kale, whole oats and flaxseed, adding either all-natural peanut butter "Peanutty", pumpkin "Punkin", or apple "Apple Crisp" to create the various flavors. No animal ingredients are included, which makes this treat a clean and safe snack for your pup.
Fill your dog's Easter Basket with even more love:  Of course dog treats aren't the only things you can put in your canine's Easter basket.  Gift your dog with some special items to commemorate the holiday or simply to show your appreciation and love.  Dog toys are an easy pick.  A new leash or a cozy new dog bed (which could also double as your basket!) are also a great gifts.
How about a custom collar for your favorite dog?  Lilly & Abby offers an incredible selection of fabrics and personalized options to create a unique dog collar tailored to your pet.  Collars are available in sizes small to extra-large with variable widths.  It's a fun way to express your personal tastes, too, and match your pet's collar to your fashion style!
Also add in a flea and tick collar, like the Hartz® UltraGuard™ Flea & Tick Collar for Dogs.  This product kills both fleas and ticks for 7 months and there's certainly no better way to show love for your dog than to keep him/her protected!
Denise Mange's top 5 favorite gifts to include in her Easter basket gifts for client's dogs are:
a St. Francis guardian angel medallion for dogs
a KONG Duck Dog Toy
a portable water bowl
plastic Easter eggs filled with mini treats
the Busy Buddy Twist n Treat food dispenser
"Dogs tend to be food-motivated, so the treats definitely put a smile on my furry friends' faces!" says Mange. "However, it was surprising to learn how many pups actually used the plastic eggs as a toy (like a ball), rolling and chasing them back and forth. When you live in a typical Manhattan 500 square foot apartment, any exercise you can get your pup indoors is welcome! The ducky was a strange phenomenon. It was like catnip for dogs… So many took the to stuffed toy, making them top of the list!"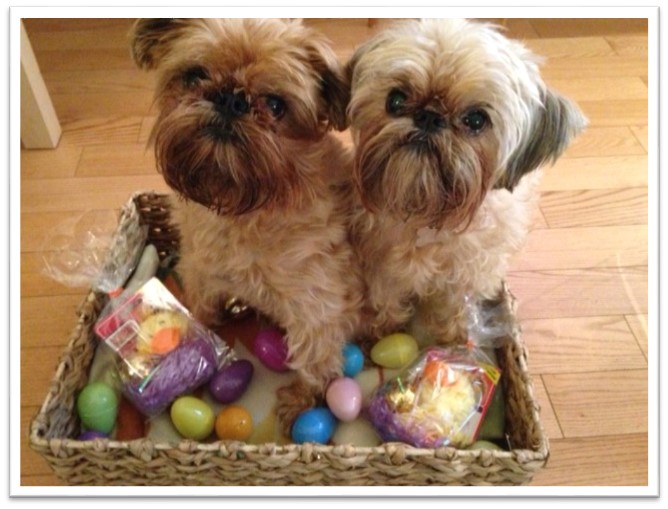 Don't have time to put together an Easter basket for your dog?  Consider gifting them a subscription to PawPack, an all-natural monthly subscription service that delivers treats for pets.  Pre-made basket selection, like the "Pamper Your Pooch Dog Gift Basket" from Premier Home & Gifts is also a fun alternative.
Do you gift your dog an Easter basket?  What fun ideas do you have?