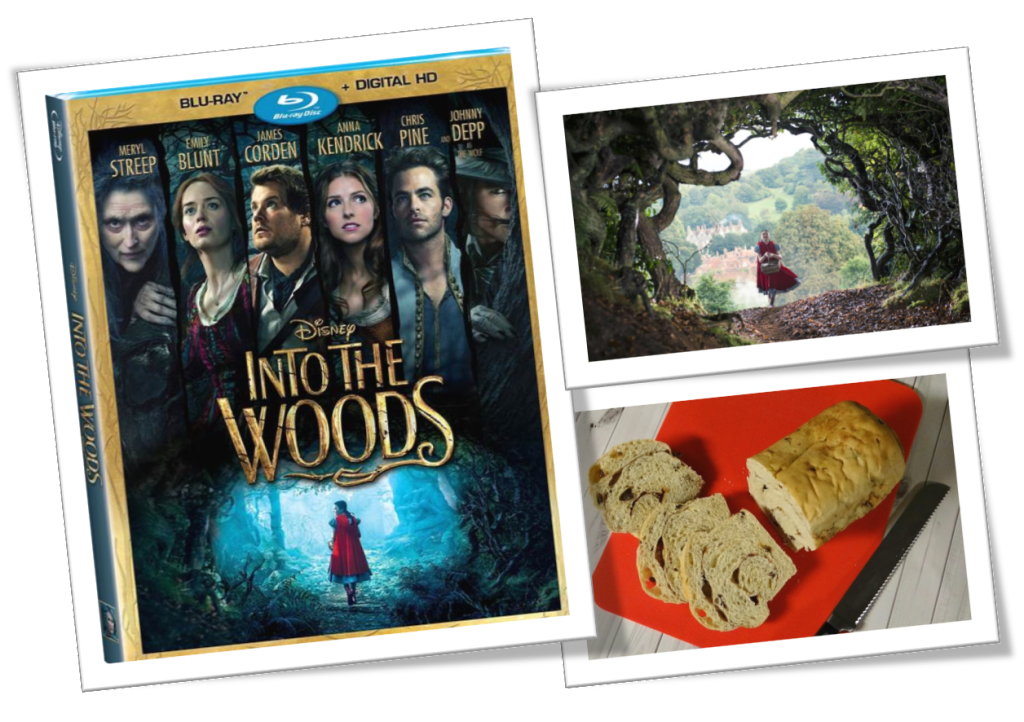 From the get-go at the theater, Disney's
INTO THE WOODS
drew me into the magical, topsy-turvy world of fairy tale intrigue.  Immediately, the, the stage was set that we were about to embark upon a journey with our iconic favorites like none we had seen before.  By the time the scene with Red Riding Hood in the bakery popped on the screen, I was hooked… and also left craving carbs.  So what better way to celebrate the film debut on Blu-ray & Digital HD than with a baking frenzy of delight whipping up 
Cinnamon Rum Raisin Bread
.  Much like the characters in the film, this light and airy loaf hold a rich dark, sweet surprise!
ABOUT THE FILM: 
Synopsis: Iconic characters, such as Cinderella, Little Red Riding Hood, Jack and the Beanstalk and Rapunzel, find their fates intertwined with a humble baker and his wife, whose longing to have a child sends them on a quest to reverse a witch's (Streep) curse. With an all-star cast, this spellbinding adventure is everything you could ever wish for!
MY THOUGHTS:


Even if you are not a tremendous fan of musicals, it's difficult not to be enchanted by the stunning talents of this exceptional cast.  With headliners like Meryl Streep, Emily Blunt, James Corden, Anna Kendrick, Chris Pine and Johnny Depp, you'll easily be mesmerized and quickly find yourself immersed in the wild, dark and twisted woods. I thoroughly enjoyed this surprising musical film even more than I expected.  Having no experience with the play the film is based on, I wasn't quite certain what to expect and found myself thoroughly amused, often bemused and itching to belt out in song.  In fact, I can't even see the INTO THE WOOD Blu-Ray box on my movie shelf without humming one of the clever songs from the movie!
Available now on Digital HD/SD, Blu-Ray Combo Pack and Disney Movies Anywhere (DMA), Disney's INTO THE WOODS is a great at-home movie night selection and definitely a keeper!  Bonus features include the never-before-seen Sondheim Original Song "She'll Be Back," behind the scenes exploration of the musical, cast interviews and access to musical song segments from the film with optional sing-along lyrics (my favorite!)
PS Rural Moms:  Though INTO THE WOODS is rated PG, it's not quite for the wee little crowd.  Children below teen-age may not take much interest in anything other than the music and the base concepts in the movie will surely go zoom! straight over their heads.  The film is a bit "dark" in its sometimes haunting scenes which may be intimidating for the super littles and a bit complex in terms of its (amazing) exploration of emotions, personal choices and what's truly behind the person niched into the role they must play.
BACK TO THE RUM: 
Maybe it's all the Baker's goods in the film, maybe it's the way Red Riding Hoods delights in her sweets, or perhaps it a little bit of pirate association with Johnny Depp, but Cinnamon Rum Raisin Bread was the bakery item of the week to settle down with for a night of Disney's INTO THE WOODS magic.  The recipe I use is an old-world Amish one my neighbor once gifted me with that I've tweaked over the years up to including rum-soaked raisins.  There's really nothing to making rum-soaked raisins, you simply marinate raisins in rum over-night and viola!  Of course, if you prefer to use plain raisins, you certainly may.  Either way, I hope you enjoy the recipe and the film!
Cinnamon Rum Raisin Bread
Ingredients
3 1/2 cups all-purpose flour
1 cup rum raisins
1/2 cup peeled and mashed potatoes
1/4 cup plus 1 tablespoon butter
3/4 cup milk
1/3 cup plus 1 tablespoons sugar
1/4 cup warm water
1/4 ounce yeast
2 teaspoons cinnamon
1/2 teaspoon salt
Instructions
In a saucepan, over a medium-low heat, bring milk to a low boil. Remove from heat.
Add mashed potatoes, 1/2 cup butter, 1/3 cup sugar and salt. Whisk until thoroughly combined. Set aside to cool.
In a small bowl, mix yeast with warm water. Pour into the milk/potato mix. Stir gently to distribute. Add flour and raisins. Mix thoroughly form dough.
Place a clean towel lightly over the top of the bowl, set dough aside in a warm, dry location to rise for 1 hour.
When dough has risen, preheat oven to 350 degrees Fahrenheit.
Lightly flour a clean, flat surface and rolling pin. Using rolling pin to flatten dough into a 1/2-inch thick approximately 9 x 6-inch rectangular shape.
Melt 1 tablespoon of butter. Lightly brush butter across the top surface of the dough.
Sprinkle cinnamon evenly across the top surface of the dough. Sprinkle 1 tablespoon of sugar evenly across the top surface of the dough.
Lift the edge of the longer (9-inch) side of the dough and begin to roll dough towards the opposite edge (like a jelly roll.) Pinch and flatten edged of bread.
Set bread into a non-stick or pre-greased 9 x 5-inch bread pan.
Bake for 45 minutes or until crust is golden brown and bread is firm.
Remove from oven and cool on baking rack. Bread may be served warm or completely cooled and stored for later use.
Notes
To make rum raisins, simply soak plain raisins in spiced or clear rum overnight. Place raisins in a glass jar, then pour rum over the raisins until they are completely submerged. Loosely cap the jar and allow it to sit overnight in a cool, dark, dry location. When ready, remove raisins from rum and gently pat off excess moisture.
Plain raisins may be substituted for rum raisins.
https://www.ruralmom.com/2015/03/cinnamon-swirl-rum-raisin-bread.html
copyright 2018 by Barb Webb, RuralMom.com