With all the Indian decor, fashion and treats at Cost Plus World Market, I can easily create my vision of a perfect high tea inspired by upcoming film, The Second Best Exotic Marigold Hotel. This is a sponsored post and I'm excited to share new ideas and product selections from Cost Plus World Market with you!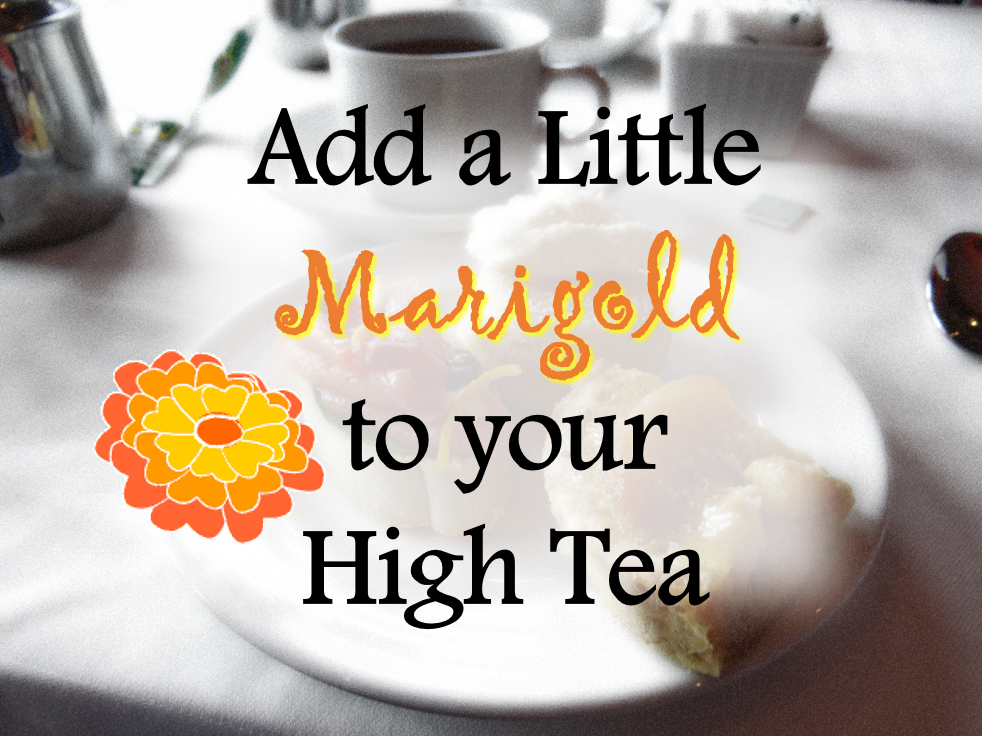 My fascination with European tea customs stems back to my early reading days when classics from authors like C.S. Lewis, Charlotte Bronte and Lewis Carroll delivered grand descriptions of tea settings. From contrite and refined to rambunctious and bizarre, I found the concept of low and high tea times appealing and quite exotic to my young mind.
Though I've attended my share of tea parties with friends and am known to stop in every tea house I encounter my first "authentic" experiences (in Ireland) with low and high tea are recent.  I thoroughly enjoyed the daily ritual as it offers a lovely time for reflection and a nice respite from the day's activities.  It also offers the chance to turn strangers into friends, when you are sitting in a comfortable spot with a plate full of goodies and a warm mug in hand, conversations tend to flow as easily as the tea!

With the upcoming movie premiere of The Second Best Exotic Marigold Hotel on the horizon, I'm totally in the mood for an India-inspired High Tea to celebrate this amazing film! My love for the first film runs as deep as my love of tea customs, not only for my delight in seeing these customs play such an intricate role in the film.  The first movie, "The Best Exotic Marigold Hotel" is so full of heart, vibrancy, joy, meaningful commentaries on life and aging and incredible acting that it is among my top favorite films.
Take a peek at the trailer for The Second Best Exotic Marigold Hotel (in theaters March 6) and then scroll down for my ideas on how to add a touch of "Marigold" to your high tea! 
Plot: In the The Second Best Exotic Marigold Hotel, Sonny (Dev Patel) has big dreams to expand on his original hotel idea. The problem is, his time is in high demand due to his pending marriage to the love of his life, Sunaina (Tina Desai.)

The residents of The Best Exotic Marigold Hotel for the Elderly and Beautiful also have their share of complications as a new resident, Guy (Richard Gere) arrives and new roles and relationships develop with the original cast.
Personally, I'm most eager to see what happens between Evelyn and Douglas (Judi Dench and Bill Nighy) and how all of the characters handle the intricacies of a traditional Indian wedding.  Things I'll certainly contemplate while enjoying my high tea!
The term "high tea" is really just the fancy way of saying evening or dinner tea.  Traditionally this tea (and meal) time began around 5 pm.  "Low tea" is the term associated with afternoon tea.  No matter what time you take your tea, it's always delightful!  I chose high tea to focus on as two of my favorite characters, Evelyn (Judi Dench) and Douglas (Bill Nighy) from the first film (The Best Exotic Marigold Hotel) have a pivotal scene where 5 pm tea is discussed (and that's all I'll say about that in case you haven't seen the first film!) 
Cost Plus World Market
is the easy choice for selecting
Indian decor
to set up a lovely high tea with a touch of "Marigold!"  With so many quality products to choose from that are made in India, England and all around the globe, you can set the stage for a wonderful tea to match any
international food
or theme you select for your inspiration.There's no need to spend a fortune because:
a) you'll find plenty of reasonably priced items at Cost Plus World Market
b) less really is more!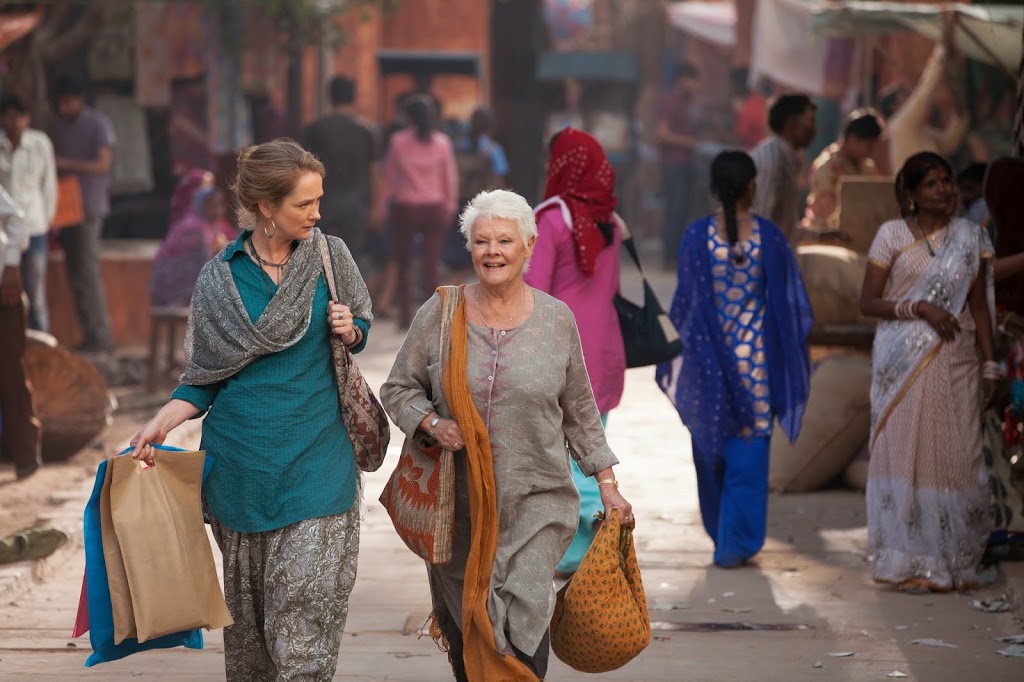 You can certainly go full-blast and purchase an entire tea setting and cover your entire room with Indian decor, but it's also effective to incorporate select decor to change the look and feel instantly. A few thoughtfully selected pieces like these  Antiqued Zinc Latika Tabletop Lanterns will instantly elevate your efforts, transporting the mood of your high tea straight to "Marigold" level!
You can even use the movie for inspiration when selecting tea time decor like the 
Love Birds Tea Towel
 which is characteristic of the key themes of the film.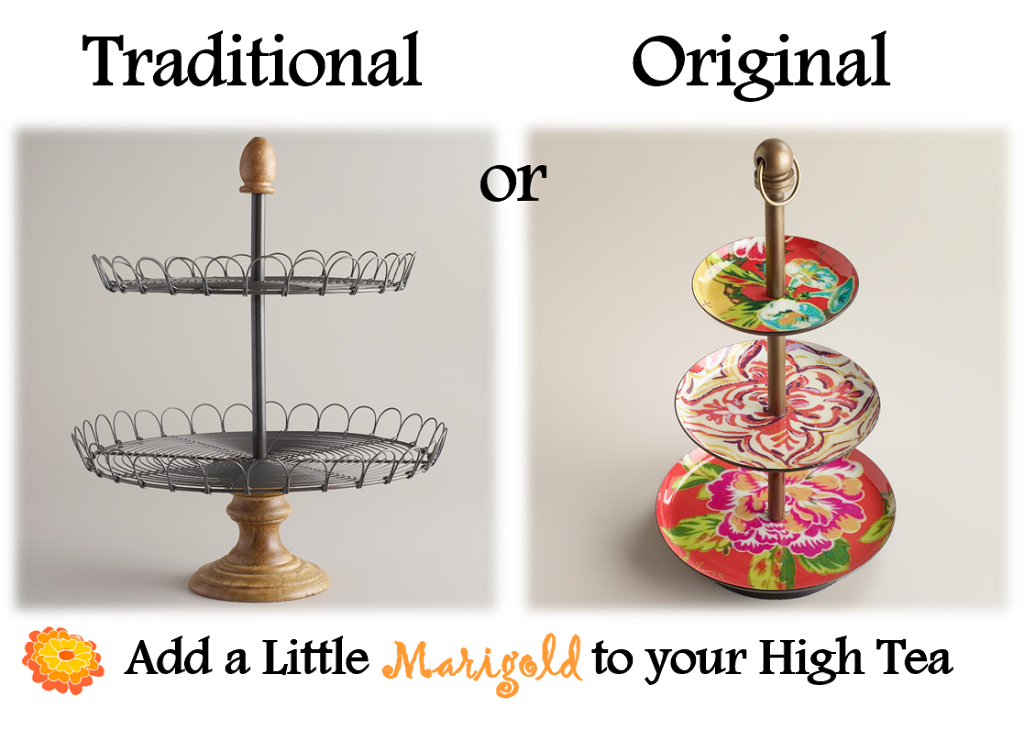 When you want to take things a bit further, think outside the tea box to add a touch of "Marigold" to your tea time.  The Edin Wood 2-Tiered Stand (pictured above: left side) is an elegant choice for serving teas cakes, biscuits, finger sandwiches and other assorted delights in traditional style.
Or you can step outside the tea box a little bit and use an unexpected element like the Red Enamel 3-Tier Jewelry Stand.  The design is bright and colorful as the markets and fabrics in India, making it a great piece to use for an India-inspired tea setting.  Instead of using one stand, purchase several of these smaller ones to use as individual servers for treats.  They'll instantly add style and interest to your table.
Once you have the elements of your "Marigold" High Tea in place, there's no better way to fully immerse yourself in the spirit than by dressing the part!  Again, keep it simple.  A few accessories will do to spruce up the wardrobe you already have.
Pair a set of handcrafted Mint Rhinestone Estate-Style Drop Earrings with a Pashmina Shawl  to wear with your best tea dress.  Put on a plain black shirt and dark blue jeans then toss on patterned Infinity Scarf to jazz things up.  Match a Turquoise and Rust Drop Statement Necklace with a fun purse or clutch… or think a little outside the fashion box, too and use an item like cleverly-designed Blue Carpet Travel Pouch to carry your essentials for a tea time outing on-the-go.
When you head off to shop Cost Plus World Market for all your Indian decor for a magical high tea with a touch of "Marigold," be sure to also visit www.worldmarketsweepstakes.com to enter the World Market's Best Exotic Marigold Sweepstakes! 
You could win their Grand Prize Package which includes a Trip for 2 to India (6-day trip includes airfare, accommodations and excursions) and Free movies for two for a year, $1,000 WM gift card!