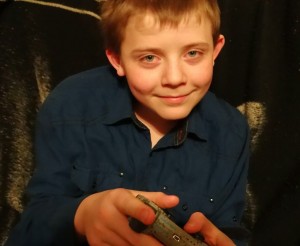 Did you have a favorite MONOPOLY game piece growing up?
For me, I always wanted to have the ship or the iron.  Not sure why I was fascinated with the iron, but the ship was iconic to me for its association with the ocean and in my young mind, the Navy in which my father had served.  A place full of adventure from the long-winded but fascinating stories my dad told of his travels.
The endless joy and laughter-filled hours I spent playing board games with my siblings and friends in my childhood certainly contributed to my desire to keep the spirit of board game play alive in my adult life with my family.  Every week we have at least one family game night, typically more as my sons are always enthusiastic to play.  I love that we can spend so much quality time together and I also love all the things games help teach our children like good sportsmanship, fundamental skills, cooperation, strategy and often creativity.
In our current age of technology, my sons, of course, are highly attracted to video games, and though we have a few interactive video games we enjoy playing as a family, we had yet to move our board game play onto the Playstation.  Installing and testing out MONOPOLY Plus for Playstation 3 was our first experience and it certainly turned out to be a super-fun family board game night filled with fun visuals, good opportunities to teach the kids about finance and loads of laughter!
The new MONOPOLY Plus brings the world's favorite family gaming brand to a new level with the original 2D MONOPOLY board as well as a colorful and lively animated 3D version that evolves as you progress in the game. You can choose your favorite board pieces, use various 'House Rules' to customize gameplay, play the game online or offline with up to six players, and play MONOPOLY in an exciting new way on your home entertainment center.
3D animation brings the board to life, adding intrigue and interest to every action from the rolling the die to "passing Go" and collecting your money.  It's the same MONOPOLY that you loved as a child super-charged with all the exciting and highly enjoyable features you could imagine and then-some!
The ship I love to select as my board piece is no longer stagnant.  Now with the 3D option, it's a lively ship with personality and sound effects!  My family and I agree, MONOPOLY Plus for PS3 is a game we'll be regularly adding into our family game nights and plan to entice our guests to play, too, when they stop over.
Do you have a favorite game for family game night?  Have you tried playing MONOPOLY Plus or other interactive board games on your video game player?   
I was selected for this opportunity as a member of Clever Girls and the content and opinions expressed here are all my own.