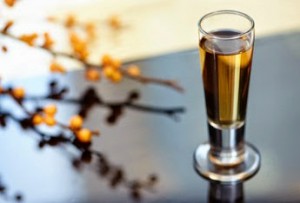 Pie is by far, one of my favorite holiday treats.  Every year I look forward to all the wonderful flavors – peppermint, mincemeat, pumpkin, pecan… so many wonderful holiday pies!
Now, the amazing flavors of your favorite pies have been infused with whiskey for a taste experience that's, well, spectacular! Inspired by Grandma's homemade pie recipes, PIEHOLE is a new-to-world product line that features a delicious blend of Canadian Whiskey and pie-flavored liqueur.

PIEHOLE, best sliced up as a shot, is now available in the following tempting flavors that your pie hole is sure to love: Apple Pie, Cherry Pie and Pecan Pie.  The Pecan Pie flavor absolutely blew us away when we sampled it – it's truly just like the real thing with a little extra kick!
This holiday season, serve up a tempting treat that is sure to entertain and delight your guests by serving shots of PIEHOLE or be a little more daring and create a signature cocktail like the "Just Like Ma's" drink below.
Just Like Ma's
· 1.25 oz. Piehole Apple Pie
· .25 oz. Stirrings Ginger Flavored Liqueur
· 1 dash of angostura bitters
· Splash of sour mix
Glassware: Shot glass
Preparation: Add ingredients to an ice-filled shaker. Shake and strain into a shot glass.
As always, be sure drink responsibly while enjoying your favorite holiday pie flavors this season!