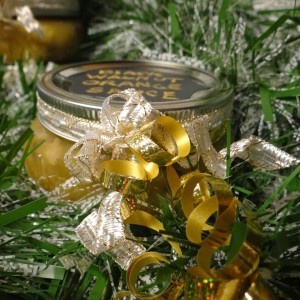 Th
is holiday season, we are making and gifting some amazing fresh preserves with a little inspiration from Ball Canning and Jarden Home Brands! Be sure to check out Ball Canning's 25 Days of Making and Giving for more wonderful holiday gift ideas throughout the month of December! #sponsored
As I look back over the years, the gifts that have always meant the most to me are those that were hand-made.  I cherish every cleverly crafted ornament my grandmother created, continue to wrap myself in the warmth of the crocheted blankets my mother lovingly stitched, and treasure the memories of holiday candies, pies and cookies they each gifted us every year.

My wish has always been to continue this tradition and since my artistic talents are best put to use in the kitchen, each year I enjoy gifting hand-crafted goods that incorporate the bounty and blessings of our farm along with the amazing flavors of the holiday season.
The Black Walnut Orange Sauce (recipe below) I created this year was inspired by the abundance of nuts we harvested and the sweet memories of the crates of fresh oranges my grandparents used to ship us from Florida each Christmas.  With a little bit of flavor enhancements (maple syrup and spiced rum,) this sauce beautiful pairs with any fowl or fish dish and is equally grand served atop waffles, ice cream or pound cake for a sweet and savory dessert.

Ball Canning wants to help inspire you give meaning back to gift giving with the Ball Canning 25 Days of Making and Giving, presented by Jarden Home Brands
Through December 22, 2014 (Ends 12/22 11:59:59PM EST)  visit http://www.freshpreserving.com/25days  and follow the instructions to enter.  You can enter once a day, each day, to win that day's Daily Prize.  Today (Day 11) you can register to win a Hot Jar Handler, 1 Case Ball Pint and a Half Jars!
PLUS, each entry during the first 24 days for a Daily Prize also grants an entry toward the Grand Prize (the FreshTECH Automatic Home Canning System – valued at $299!) which will be selected once the contest concludes.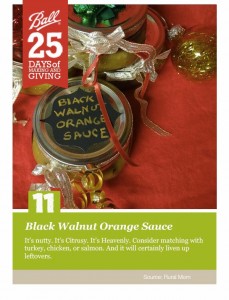 You'll also find Day 11: Rural Mom's Black Walnut Orange Sauce on the 25 Days of Making and Giving Pinterest board http://www.pinterest.com/ballcanning/25-days-of-making-giving/ along with other fabulous recipe and gift ideas to help you create amazing home-made gifts for your friends and family!
Find more information and inspiration by following Ball Canning on Facebook and Twitter @BallCanning too!
Black Walnut Orange Sauce Recipe #MadeFromHere
Ingredients
2 C oranges peeled, cored, seeded and chopped
2 C black walnuts, chopped
2 C fresh orange juice
1/4 C pure maple syrup
1/4 C sugar
2 Tbsp orange zest
3 Tbsp dark spiced rum
Instructions
Prepare 1/2 pint jars for boiling water canning method.
In a large sauce pan, over a medium heat, add oranges, orange juice, sugar, maple syrup and orange zest.
Mix ingredients thoroughly. Increase heat to medium high and bring to a rolling boil, stirring occasionally.
Reduce heat. Stir in black walnuts and rum. Cover and simmer for 15 minutes, stirring occasionally. Sauce should begin to thicken.
Ladle orange sauce into 1/2 pint jars, leaving a 1/4 inch headspace. Remove air bubbles. Wipe off rim. Secure seal and ring to jar. Process for 15 minutes using boiling water canning method.
When ready, remove jars from canner and set on towel to cool. Leave a 2 inch space between jars when cooling. Allow jars to cool for 24 hours. Check lids for proper seal.
Wipe any residue from jars. Decorate with labels and/or trim, as desired.
Notes
Sweet and savory, this sauce pairs well with chicken, turkey and salmon and is equally great served over pound cake for dessert time!
https://www.ruralmom.com/2014/12/black-walnut-orange-sauce-recipe.html
copyright 2018 by Barb Webb, RuralMom.com
Black Walnut Orange Sauce_RuralMom_BarbWebb by Barb Webb