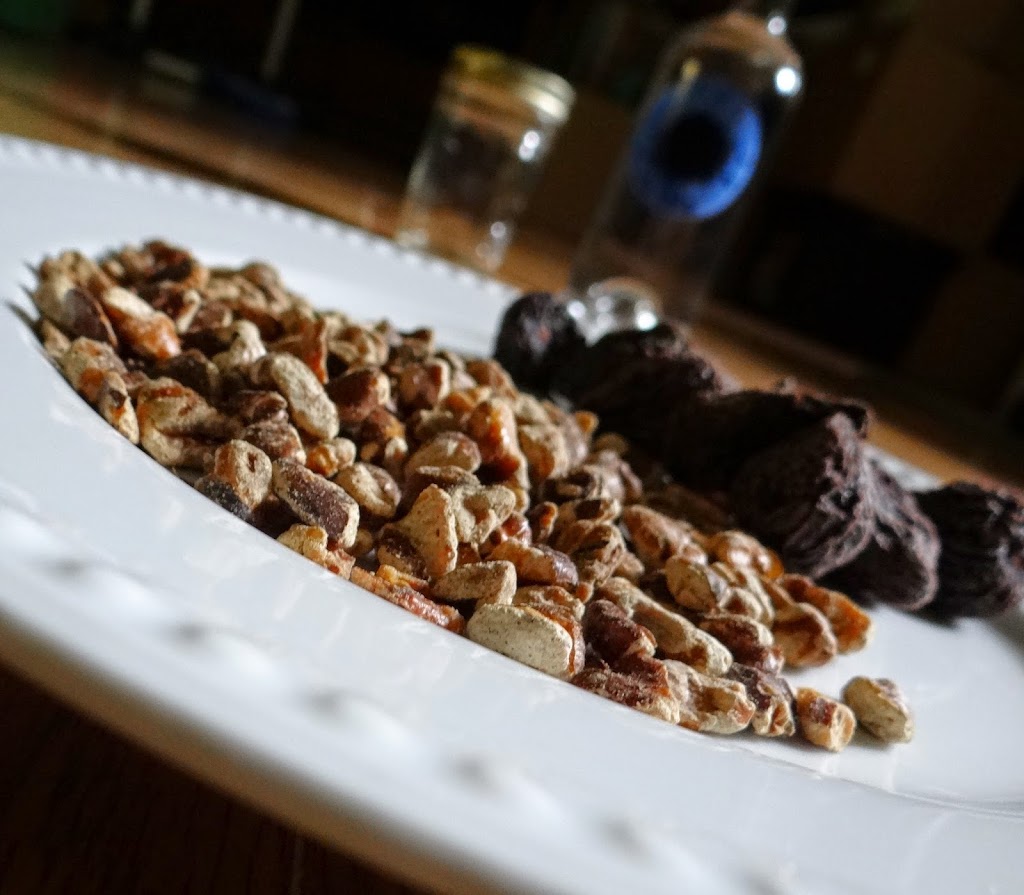 Coffee, tea, essential oils – the process of infusion or steeping of plant materials to extract flavor dates back to ancient times.  The art is simple, the results spectacular.  If you're looking to create a one-of-a-kind treat or signature cocktail for the holidays, alcohol infusions are easy enough for even inexperienced mixologists to whip up.
In fact there's very little to creating an interesting infused alcohol with simple or complex flavors to enjoy on its own or as the base of your favorite cocktail.  Just a few basics to learn and you'll have a unique holiday spirit to share.

Various alcohols can be used for infusion, but the best overall base is vodka. An 80 proof quality vodka will deliver exceptional results.  Look for a mid-range to top shelf vodka and avoid the low shelf vodkas.
If you are seeking gluten-free alternatives, go for a top brand like Azzurre Vodka (the brand we use for our infusions.)  Azzurre is a naturally gluten-free, no sugar added vodka hand-crafted in the US.  Smooth and great tasting on its own merits, it provides a clean base for infusion – which is key.  If enjoy the taste of the vodka straight from the bottle, it's going to produce superior taste after infusion.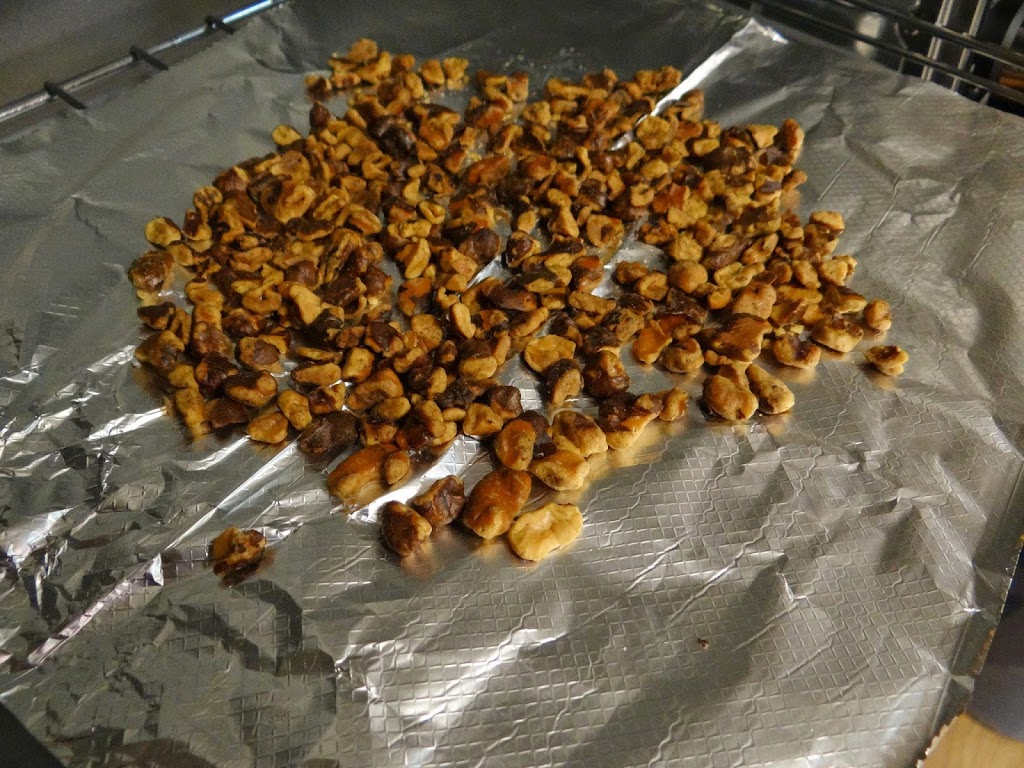 Once you've selected your base, it's time to start thinking about flavor.  What do you want to infuse your vodka with?  Ideally, head for flavors you already know you enjoy, holiday-inspired flavors (like cranberry, fig or mint,) and take into consideration whether you will be enjoying the vodka as a cordial without mixing, or if you'll be mixing the infused vodka into a favorite drink.  If you have a favorite drink in mind, consider mimicking the flavors or complementing the flavors of the add-ins, such as orange or cinnamon if you will be adding orange juice to make the final drink.
For this tutorial, I selected black walnuts (a treat we have an abundance of right now on our farm,) and fig, a seasonal flavor I know will complement the walnuts well while imbibing the essence of the holiday.  Though my aim is to create a sippable cordial, I also suspect this base will go well with any number of popular vodka drinks like Black Russians and Martinis I may choose to mix up.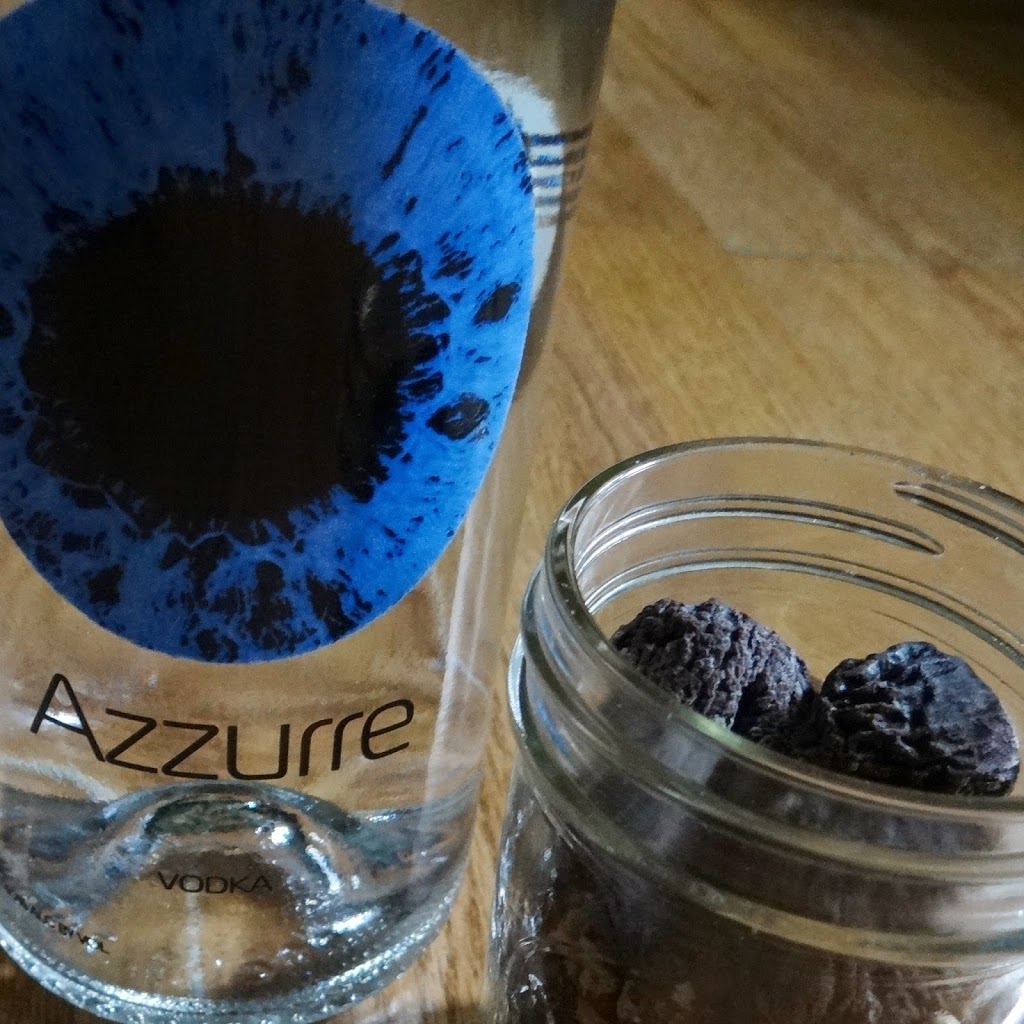 To extract the richest flavor from the black walnuts, I first toasted them.  You could use them straight from the shell, too, or you could use green walnuts to create an Italian Nocino (but that's a different tutorial!)
Once the toasted walnuts have cooled, simply fill a pint jar with a mix of black walnuts and dried figs (I find that dried fruits tend to create more intense flavors than fresh.)
To begin, I always use a half pint or a pint jar to create the first batch.  This way, if things go awry and don't turn out as expected, you haven't wasted a lot.  Once your first batch is satisfactory, you can head toward creating quarts of infused goodies!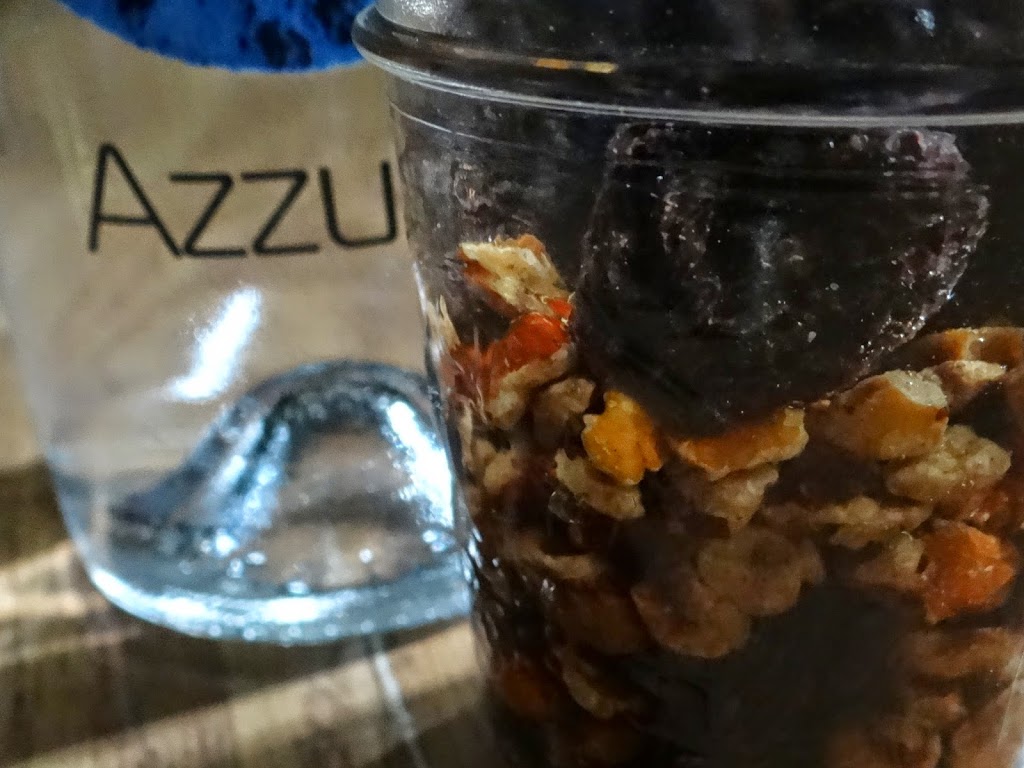 After filling your pint jar with black walnuts and figs (or other ingredients of choice,) pour the vodka directly over the ingredients until all fruit and nuts and are fully covered, leaving about a 1/4-inch headspace at the top of the jar.
As you can see below, almost immediately the figs and toasted black walnuts begin to deliver a rich reddish-brown coloring to the vodka as the flavors begin to meld.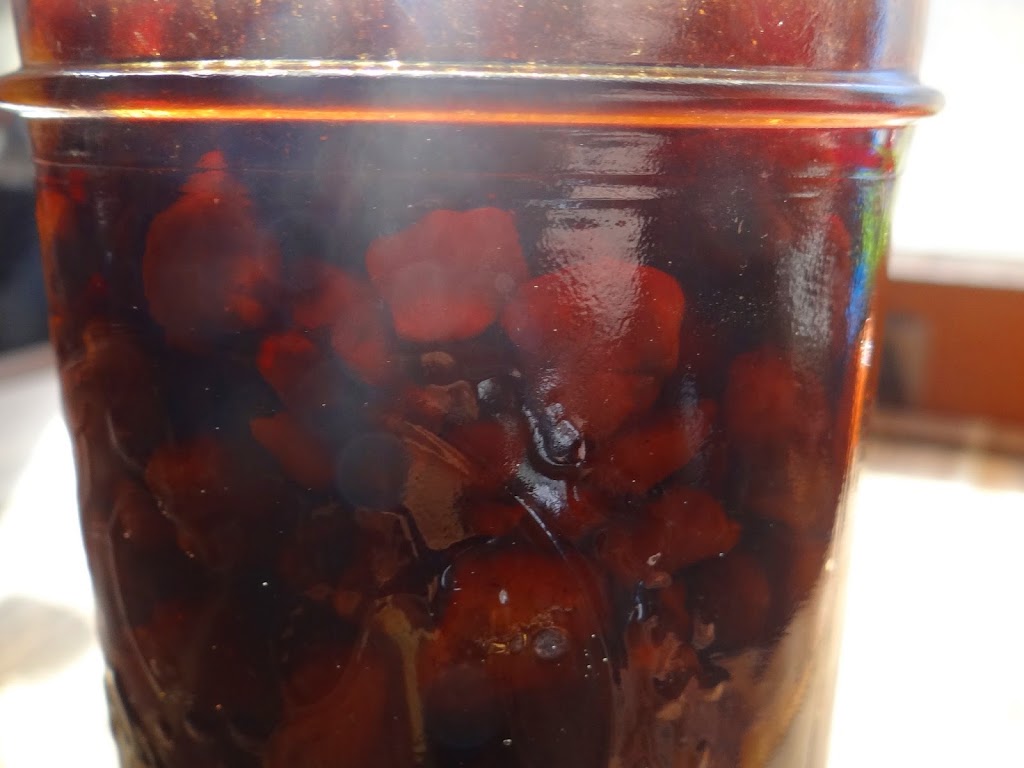 Now comes the hardest part – waiting!  Seal your jar tightly and place it in a cool, dark, dry spot that will not be near any source of heat or receive any regular sunlight or artificial lighting.  A cabinet or pantry shelf are generally ideal locations.
Within 5 days, your flavors will have infused to the point that you can sample and enjoy the alcohol infusion.  The longer you wait, generally the more intense and fully merged the flavors will be.  2-3 weeks is a good time frame to target.  This step is totally up to you.  Some experts will tell you to wait months before opening and using the infusion.  In truth, by the end of the first week, most flavors are fully incorporated.  It's a matter of choice and preference.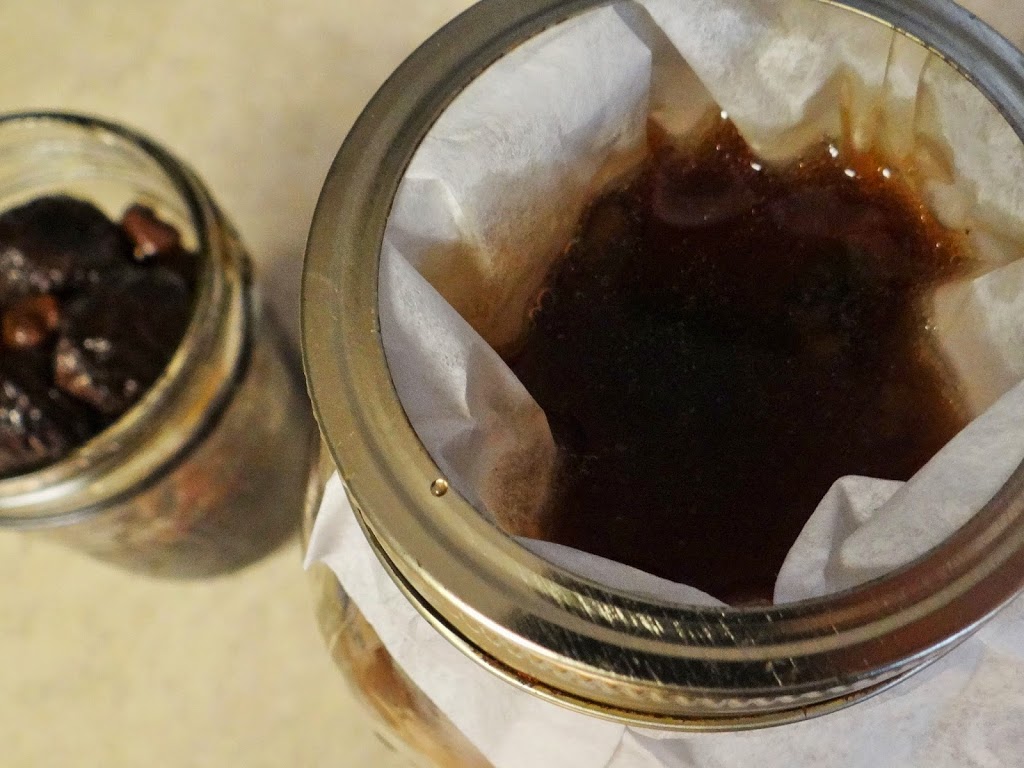 Once you have the vodka infused to your preference, strain the alcohol to remove any unwanted residue.  A simple strainer may be created using a mason jar and a coffee filter (as pictured above.) There are plenty of more elaborate systems and materials, but if this is your first try or you plan to only occasionally infuse vodkas, this simple system will suffice.
The straining process will generally take several hours.  The walnuts and figs left behind from the straining process may be consumed, used as garnish for drinks or baked into breads (try adding the walnuts to banana breads for some truly flavorful results!)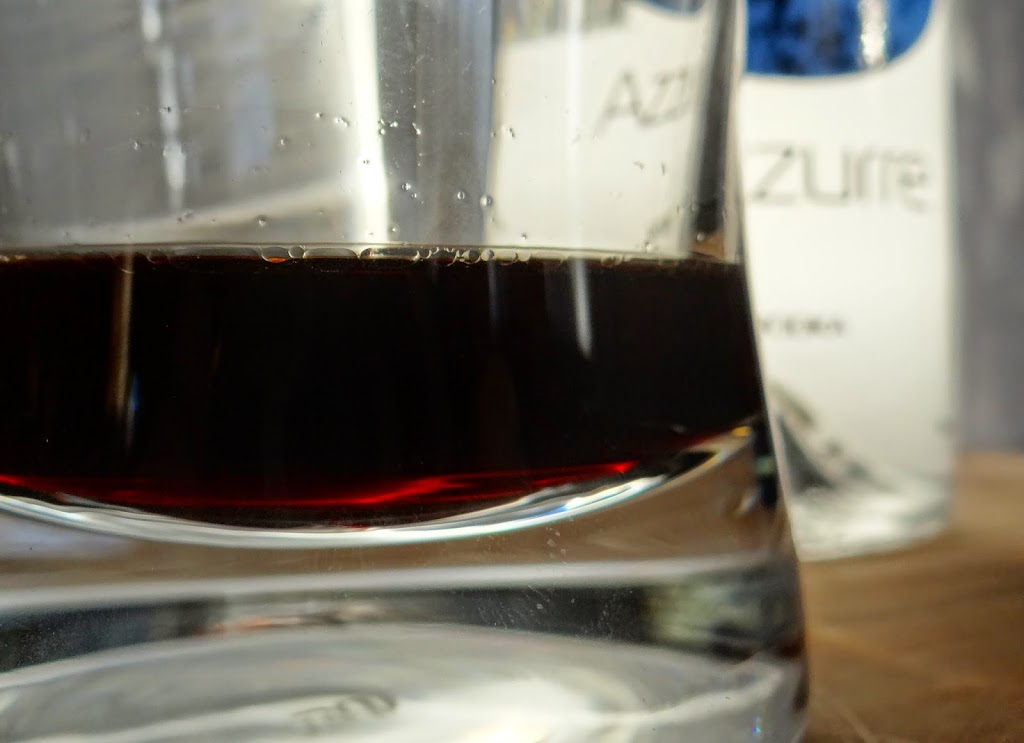 After the straining process, you'll be left with a gorgeous cherry-brown vodka infusion that chock full of toasted black walnut and fig flavor.  As I started with the very smooth, lightly sweet base Azzurre Vodka offers, my end result was a treat easily enjoyed on its own as a terrific fall after-dinner cordial.
The biggest challenge when you find an infused flavor you love is parting with it!  So once you have that recipe down-pat, be sure to duplicate in large quantities to ensure you have enough for gift giving, too.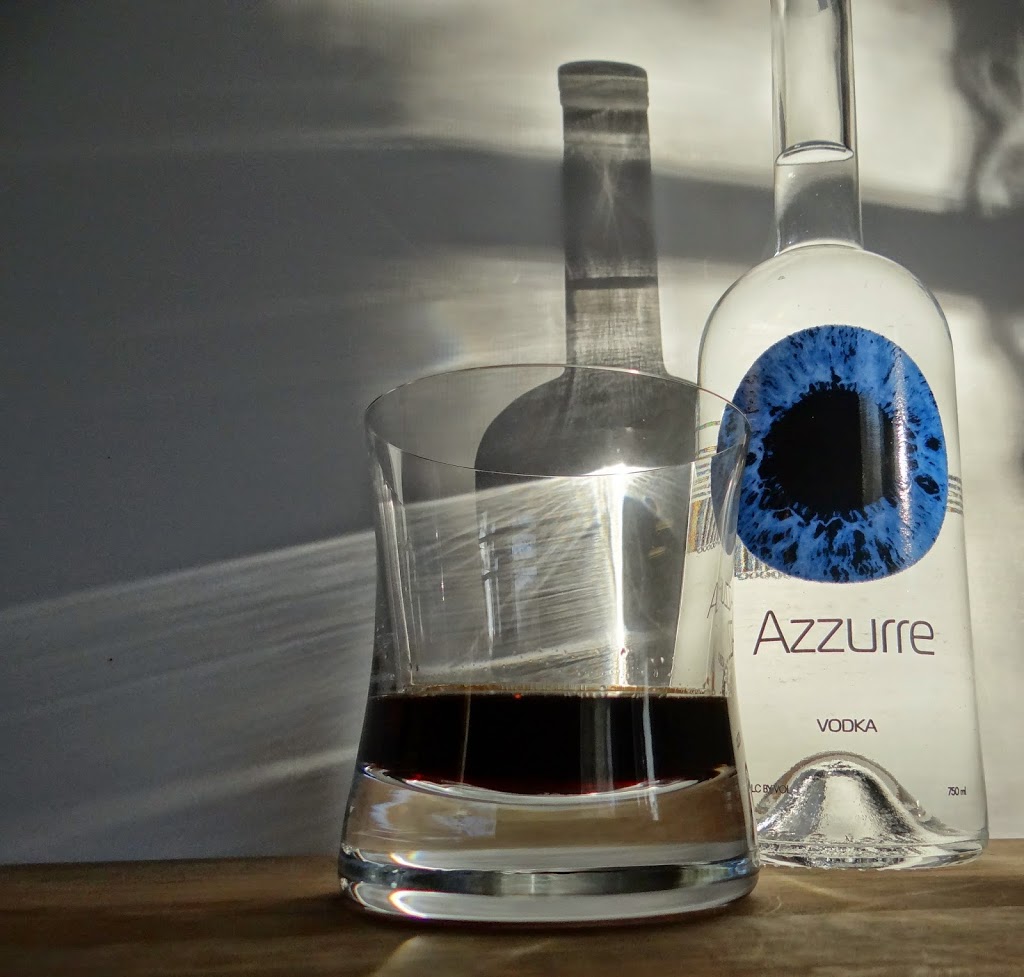 Special thanks to Azzurre Vodka for providing us with a sample for this recipe feature.  All thoughts and opinions are that of Rural Mom.