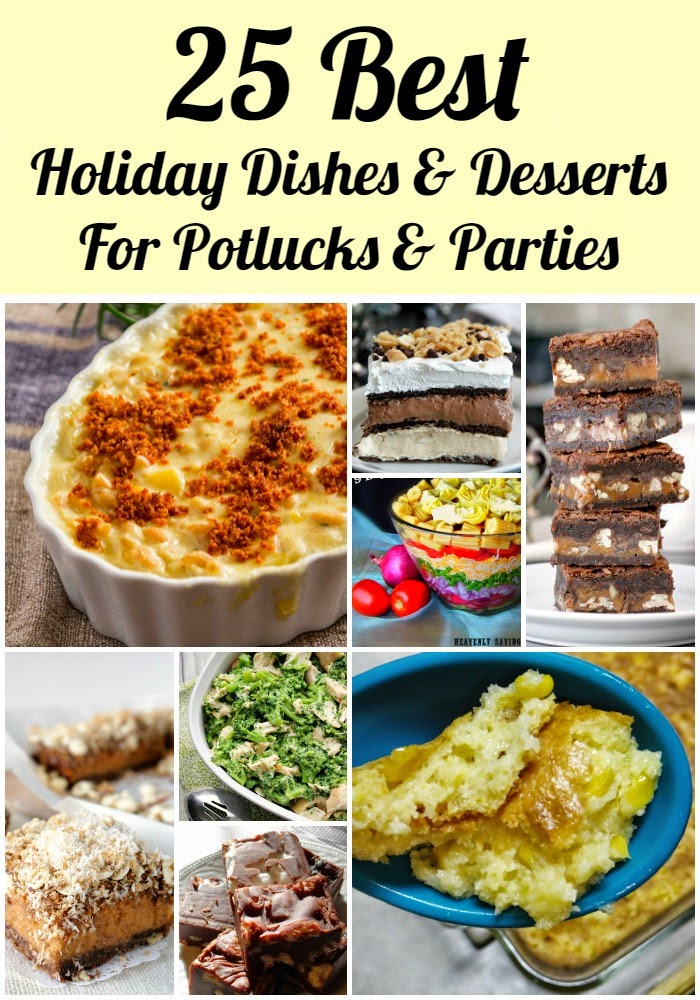 It's Holiday party season!
Whether you're looking for a great recipe to bring to a church function, the holiday office party, or Thanksgiving and Christmas dinner at your mother in law's house, We've got you covered.  I've scoured our personal recipe files and the blogosphere to bring you 25 of the best holiday dishes and desserts for potlucks and parties. There are recipes for salads, casseroles, sides, and desserts.
Try one (or all of them) and let us know what you think!  Feel free to share your favorite potluck recipe in the comments as well. Happy Partying!

1. Mashed Potato Cupcakes
2. Grandma's Shrimp Salad
3. Mezcal Chocolate Truffles
4. Apple Cider Barbecue Chicken Wings
5. Cucumber Bites with Salmon Mousse – always a crowd pleaser and so easy to make!
6. Maple Roasted Candied Walnuts
7. Gourmet Pumpkin Pie Hack
8. Holiday Mince Pie
9. Mac and Cheese with Butternut Squash
10. Easy Guacamole
11. Bacon & Broccoli Salad
12. Toaster Oven Cornbread Casserole
13. Herb Smashed New Potatoes
14. Easy Dirty Rice
15. Loaded Baked Mashed Potatoes
16. Mashed Gorgonzola Red Potatoes
17. 9 Layer Summer Salad (Great any time of the year!)
18. Farm Garden Vegetable Dip
19. Dark Chocolate Stout Cake
20. White Chocolate Coconut Sweet Potato Pie Bars
21. Quick & Easy Black Walnut Rocky Road Fudge 
22. Beer, Bacon, and Cheddar Cupcakes
23. Homemade Snickers Bars
24. Slow Cooker Pizza Dip
25. No Bake Peanut Butter Chocolate Lasagna
Looking for more ideas? 
How about our reader favorite Farm Fresh Peach Cobbler, our popular crowd-pleaser Kentucky Bourbon Fudge and you'll be sure to find plenty of sweet ideas in our 23 Quick & Easy Christmas Cookies, Fudge, Brownies and Bars feature.