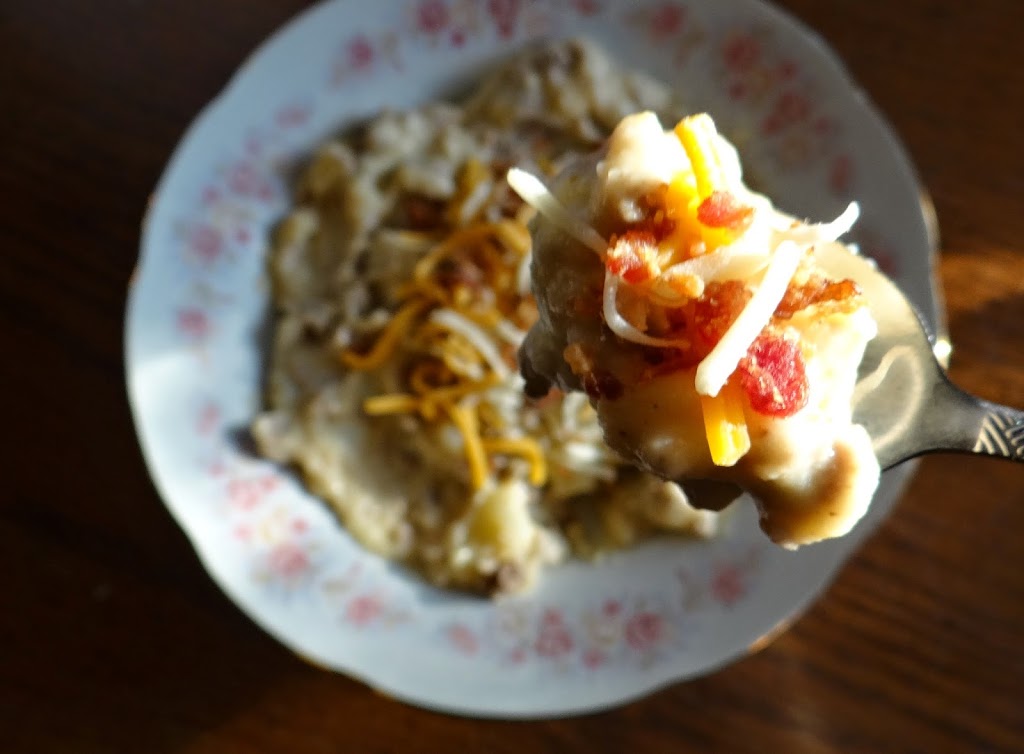 With the cold weather about to set in permanently, I'm craving comfort foods like crazy!  Times like this, I turn to tried-and-true family recipes to warm up my crew.  It's tough to get my kids to eat soups  and they'd generally turn their nose up at potato soup in the past, but when I chose to add in a cheese blend and some hamburger – the scenario changed dramatically.  Now I had a flavorful soup that truly caught their attention and taste-buds with it's cheeseburger-like characteristics.  Add a little bacon to the top and now we're really talking my son's language!
This year, when making my family-favorite soup, I was able to test the Xtrema 10 Qt Versa Ceramic Dutch Oven in our Rural Mom kitchen and truly love the results.  One of the most impressive features, to me, was the lightening fast clean-up. I was able to simply use hot water to rinse off any residue and then wash and dry for storage.  No scrubbing, no muss or fuss.  Good food and kitchen tools that deliver results with easy clean-up after is an excellent kitchen win for any mom.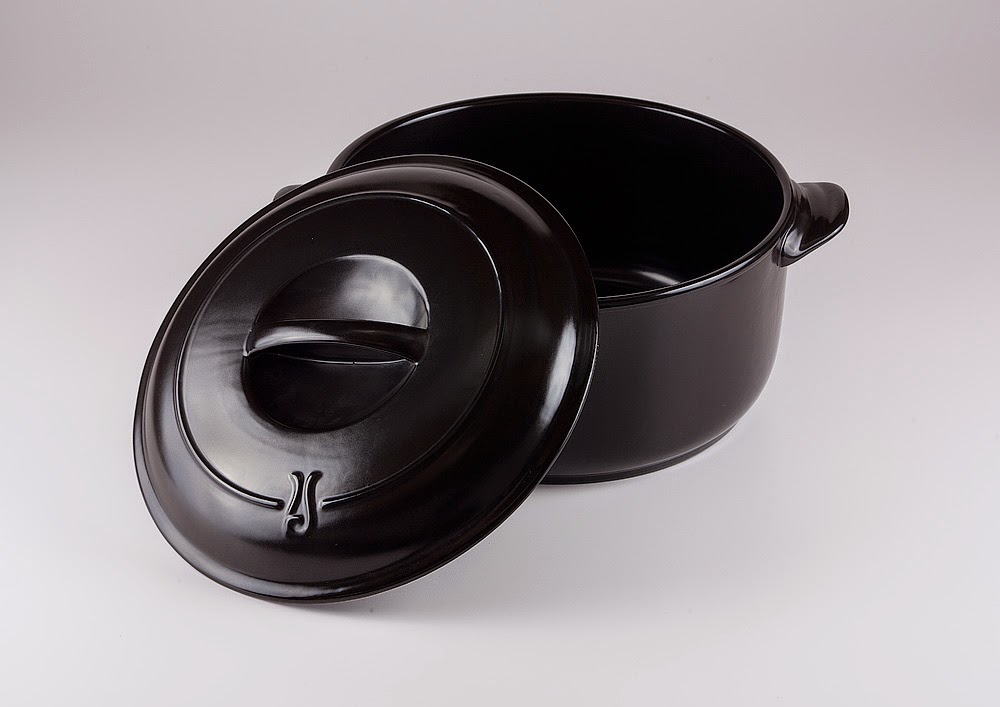 A large Dutch oven is a fabulous kitchen tool to own. The Xtrema 10 Qt Versa Ceramic Dutch Oven is the largest ceramic dutch oven in the world. Boasting a 12 inch diameter and 6 inch height, it's bigger than your standard slow cooker, but can be used for the same things – soups, sauces, stews, and many other one-pot dishes. It even comes with a lid so that you don't get anything spilling over the sides.
The dutch oven is also extremely versatile – it can go from freezer to oven to dishwasher with no damage. It's scratch resistant and the sleek black design will enhance any kitchen décor. The ceramic construction ensures durability and even heating, as well as the absence of any sort of chemicals leaching into your food during the cooking process. Each piece is handcrafted, so you can rest assured that you're giving a quality gift that will last for years to come.
Hearty Cheeseburger Potato Soup
Ingredients: 
10 C potato, peeled and cubed
5 C chicken broth
5 C milk
1/2 C all-purpose flour
3 C mild cheddar cheese, shredded
2 C mozzarella cheese, shredded
2 pounds lean hamburger, cooked and crumbled
1 tsp salt
1 tsp pepper
Directions:
In a large Dutch oven (like the Ceramcor Xtrema 10 Qt Versa Ceramic Dutch Oven,) over a medium heat, add chicken broth and potatoes.  Gradually bring to a boil.  Stir gently, then cover and simmer for 20-25 minutes (or until potatoes are tender.)
Uncover and gently stir in 3 cups of milk, salt and pepper.
In a small bowl, add flour and remaining 2 cups of milk.  Whisk until smooth.  Stir flour and milk mixture into the soup.  Increase heat to medium and gradually bring to a boil, stirring occasionally until soup is thickened.
Reduce heat to simmer.  Add cheese.  Stir until fully combined.
Add cooked hamburger crumbles and stir until fully incorporated.  Remove soup from heat and serve.  Optional:  Top with shredded cheese and bacon crumbles.
Cool and store left-over soup in the refrigerator for up to a week.  Soup may also be frozen using freezer storage containers or freezer bags.  Reheat on stove top in a sauce pan over low heat.
The Ceramcor Xtrema 10 Qt Versa Ceramic Dutch Oven made our Top 10 Gifts for Home Chefs list this year!  Learn more about this product and the other products selected at https://www.ruralmom.com/2014/11/Top-10-Gifts-Home-Chefs-2014.html