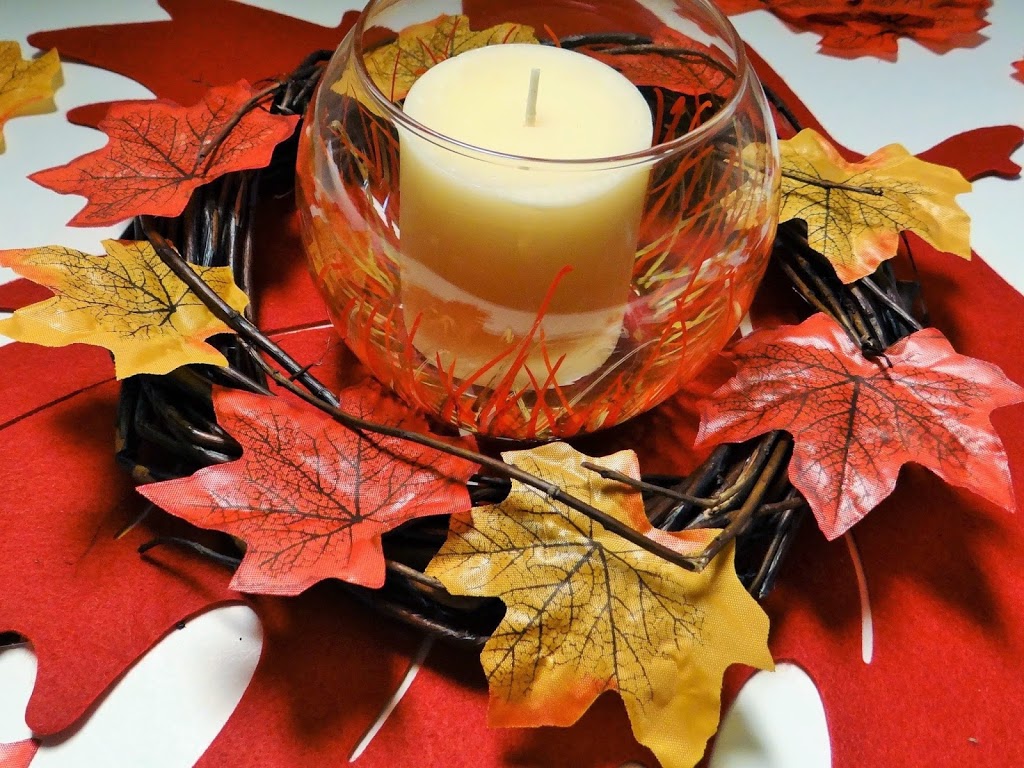 We're creating a festive Thanksgiving centerpiece with a little help from Dollar Tree! #spon
Family, friends, good times, great memories and lots of food!  There's plenty to be thankful about during Thanksgiving time.  By the time I purchase all the food and beverages we need for our big gathering, I'm often left with a tight budget for decor, but with a little ingenuity and a trip to our local Dollar Tree, I easily have the solutions I need to create a table top worthy of all the Thanksgiving fix'ns that we'll enjoy there!
In our holiday get-togethers, the food takes center stage but I still like have a lovely centerpiece to help add to the festive atmosphere before, during and after we dine.  This time of year, I like to turn to nature for inspiration and stay true to the hues of the season.  So when I spotted the fall leaves and fall leaf place mats at Dollar Tree, I knew I could easily put together an eye-catching centerpiece with them.

I opted to go with a candle centerpiece as when night time rolled around, I could light it and create an entirely new ambiance for our holiday table.  Plus, I can tuck the materials for the centerpiece away for next Thanksgiving when I'm done, but still enjoy the candle throughout the year.
Materials: 
Luminessence Vanilla-Scented Pillar Candle
Round Glass Candle Holder, 3 1/2-inch
Fall Leaves, 50 Count
Fall Leaf Placemat
Small Grapevine Wreath
Paint Markers
Permanent Markers (optional for name plates.) 
Total project cost:  $5.00 (plus cost of paint markers and permanent markers if you do not already own these craft mediums.)
To enhance the glass candle holder and tie all the components of the centerpiece together, I used paint pens in yellow, orange, red and gold.  To create a "flame-like" pattern, I turned the glass candle holder upside down.  Beginning with a yellow paint pen, I started from the base of the glass and made random downward strokes of color around the arc of the glass (as illustrated above.)
Allow the first layer of color to dry, then repeat with as many colors as you wish, over-lapping the lines and allowing each layer of color to dry before applying the next.
The finished effect transformed the simply glass candle holder into a festive fall showpiece.
Next I placed the candle in the center of the candle holder, then sat the candle holder in the center of the grapevine wreath.  I began randomly tucking in leaves and viola! A magical, autumn centerpiece worthy of my Thanksgiving table appeared (as shown below.)
You could stop at this point and simple use this arrangement as your centerpiece.  You might also make a cluster of candle with multiple holders, wreaths and leaves or place several candles in a row along the center of your table.
I opted to play with the display a little bit more by placing the leaf place mat underneath the wreath and holder and scattering leaves around to extend the centerpiece.  If you have a very large table, this style will balance out the proportions of your centerpiece to table cloth ratio.  You could also place a runner underneath the centerpiece to create another layer of richness.
With the low cost of the centerpiece materials, there's plenty of room for experimenting to find just the right look for your Thanksgiving table!
As I have plenty of left over leaves, I thought it might be a cute idea to use them as place cards, too.  Using a permanent marker, simply write the person's name on a leaf (as shown below) and place the leaf next to their place setting, tuck into a napkin holder or place on top of their plate.
The leaves would also be fabulous to write words of thanks on.  Leave markers, leaves and a small square of foam board near your table for guest to write what they are thankful for and then scatter the leaves around your centerpiece prior to dinner.  It will serve as a lovely reminder of gratitude throughout the meal and can be saved later as a special keepsake.