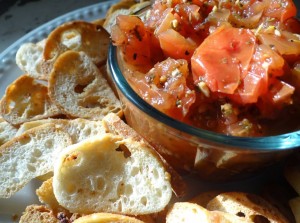 Thanks to Ball FreshTECH, we're adding some amazing, rich Italian flair to our pantry staples!  All opinions are that of Rural Mom.
Bruschetta is one of our all-time favorites to accompany our Italian-inspired dishes.  From serving it as a side with crouton chips to baking on bread or mixing into salads and pastas, this versatile treat adds spunk and flavor to your recipes.  I love to have plenty on hand which is why I chose this recipe for my first test run of the Ball® FreshTECH Automatic Home Canning System.
Designed with SmartPRESERVE™ technology, the Ball FreshTECH Automatic Home Canning System helps take the guesswork out of canning by controlling various facets like time and temperature automatically.  As someone who has been canning for a long time, I can attest that this machine is a brilliant powerhouse!  So simple, so elegant and so easy to use, it takes a lot of the chore-work out of canning, making it a process you could honestly consider performing daily.
The Ball FreshTECH Automatic Home Canning System comes pre-programmed with with popular Ball recipes including the Bruschetta Recipe I opted to use for my first run.
When your ready to make this delightful mix, you'll find the full recipe here:
http://www.freshpreserving.com/recipes/bruschetta-recipe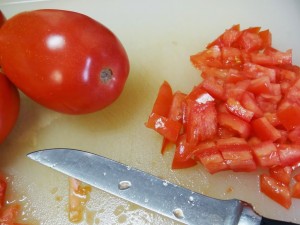 Bruschetta calls for plum tomatoes, garlic, dry white wine, white wine vinegar, water, sugar, dried basil, dried oregano, and balsamic vinegar.  For this recipe I used Roma tomatoes as my base.
Half pint or pint jars work best for storage and use.  With the Ball FreshTECH Automatic Home Canning System, you'll be able to heat the jars in the canning system until ready for use.  I found this feature to be remarkable!  No more finding a clean spot to steep the jars in hot water.  No more checking the water temperature.  You just place the jars in the FreshTECH (as pictured below,) close the lid and remove them when you are ready to fill.  Super easy-peasy!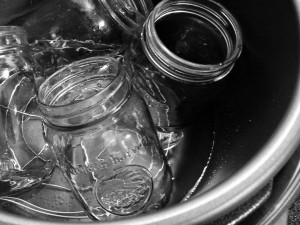 After your ingredients are prepped for the bruschetta, they'll be cooked in a separate stockpot.  Then you'll remove the hot jars from the FreshTECH Automatic Canning System and fill them with fresh, aromatic bruschetta, leaving the appropriate headspace.
Remove air bubbles as per normal. Wipe the rims of the jars and apply bands and in the jars go to process in the Ball FreshTECH Automatic Home Canning System.
Here's where things get even more fun!  As the recipe is preprogrammed into the appliance, you will close the lid and punch in the appropriate recipe combination.  For the bruschetta I made, the combination was "Salsas" and the number "2."  When you press start, the machine automatically does the rest, perfectly controlling the temperature and pressure cool-down period to preserve the food perfectly.
That's it!  You can walk away and your Ball FreshTECH Automatic Home Canning System does the rest.  The machine will chime when the process is complete and you'll be able to use the tongs included (pictured above) to remove the jars for cooling prior to storage. (And, of course, as per usual canning safety guidelines, you'll want to inspect the jars after cooling to ensure they processed correctly.) 
My results on first trial run exceeded my expectations.  I was utterly amazed how easy the Ball FreshTECH Automatic Home Canning System made the canning process including clean-up, which amounted to no more than simply wiping down the jars and the inside of the unit with a little soap and warm water.
My enchantment isn't just with the fast process, ease of use and easy clean-up, though, I'm also quite thrilled to learn that the Ball FreshTECH Automatic Home Canning System uses up to 60 percent less energy and up to 85 percent less water than traditional canning methods.  This eco-friendly boost certainly makes my sustainable heart smile!
If I could find a drawback, it's size.  I'd love to see a bigger Ball FreshTECH Automatic Home Canning System developed to house more jars.  Right now, the unit comfortably holds 3 quart size jars which is ample for smaller project, but not ideal for large seasonal canning efforts.
However, my husband and I both agreed that we'll be using the FreshTECH regularly for seasonal salsas, jams and also for canning smaller quantities of fruits and vegetables.  It's going to be great to have on hand for using up small batch garden hauls.  To me, this is a huge bonus as I've often struggled to find alternative storage methods for produce until I could gather enough for a large canning batch.  Also ideal for quickly canning spaghetti sauce and pizza sauce – both of which I generally have an over-abundance of after making.
Overall, I think the Ball FreshTECH Automatic Home Canning System is a well-designed, quality machine capable of enhancing any kitchen and preservation efforts.  It's a fantastic appliance for beginners to start canning with and for experienced canners to have on hand for small batch or daily preservation efforts.  If you are seeking an energy-efficient, speedy and precise way to produce fabulous canning results, this is the appliance for you!

For more information on the Ball FreshTech Automatic Home Canning System, visit:  http://www.freshpreservingstore.com/ball-freshtech-automatic-home-canning-system/shop/613560/